Samsung's Android Go phone revealed in numerous hands-on photos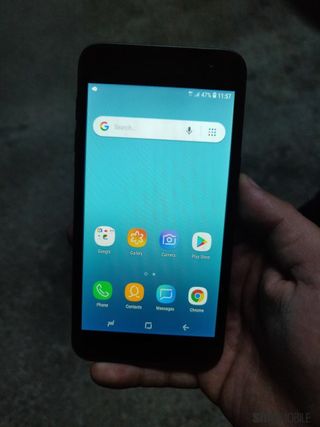 We're expecting Samsung to launch its first Android Go phone at some point this year, and leading up to its official unveiling, SamMobile's provided us with numerous hands-on photos that showcase the device from a few different angles.
It was previously rumored that Samsung's Android Go phone (currently rumored to be the Galaxy J2 Core) would ship with a stock build of Android, but as we can see from the above photos, that's not the case. Instead, the J2 Core will come equipped with a slimmed-down version of the Samsung Experience and Google's official Go apps.
The back of the phone is home to a single rear-facing camera and LED flash, and even though you won't find any fancy Infinity Display here, Samsung's using on-screen navigation buttons, anyways.
We still don't know when the Galaxy J2 Core will be released or how much it'll cost, but even so, this is shaping up to be a solid handset if you want a Samsung handset while staying on a strict budget.
These are all the Android Go apps you can download right now
Joe Maring was a Senior Editor for Android Central between 2017 and 2021. You can reach him on Twitter at @JoeMaring1.
Imagine a Samsung phone that didn't have a TouchWiz layer! I hate their icon set. And Samsung specific apps should all be removable if you want.

Samsung has a theming system that allows you to apply a wide variety of themes. So you can change things, and you can use launchers like Nova to make the system work more the way you want. Except speed of course.

Still don't understand why they are so dead set on keeping the back button on the wrong side.

The back button doesn't feel on the wrong side of you are not used to it being in the other side. But I also feel that it's a pity that they can put a layer of Samsung Experience on top of Android Go. That seems to disrespect the whole system.

You can change this on recent Samsung phones.

I prefer it that way. Easier to reach on a large phone with my right thumb.

Icons can be changed easily as well as the back button location.

I thought that the whole point of Android One and Go was that they WOULDN'T have any manufacturer customisation beyond maybe the odd app, such as the Nokia Support app, installed?

Oh well another Samsung phone to avoid since Samsung will p**s all over Android Go with their abomination of Android that only their fanboys and fangirls love.

But yet this phone will be NEW, unlike your second hand pixel 2 xl.
Will have a much better screen too.

Don't be an idiot, my Pixel 2 XL is brand new and you know damn well that cheap Samsh*t screen is inferior to my lovely Pixel 2 XL screen. Moron and loser!

Your pixel screen sucks LG used the **** screens for the pixel xl 2. Get a hair cut!!!!!!!

Get lost Sampoop loser, my Pixel 2 XL display is gorgeous. Keep your Sampoop lags to yourself.

Me no idiot. I wouldn't buy that lg made pos with your money. No one could be the idiot, loser, moron that you are.
You should have spent that $10 on a haircut instead of that plastic toy phone.
Geeezzz...... Ohhh the humanity!!!

I wouldn't buy that bling bling bloatware infested POS glass more like fake glass Sampoop with your dirty drug money. Since you've been living under your sh*tty Samsung rock, the newer models of the Pixel 2 XL doesn't have any more issues now do one and f*ck off ya Samsh*t loser and coward. Now go away and don't bother me with your samsh*t cos I'm not listening anymore. You Samsh*t fanboys are the cancer of Android and worse than iSheep.

Really? what age are you? sampoop? if your gonna diss Samsung at least back up your statement instead of childish comments.

Lol
He cracks me up. Get a haircut shaggy....

"Spoiler alert — there's no stock Android." As if we expected otherwise so what makes this Lite then, did they just remove Bixby and chuck on a few Go branded apps and expect no one would notice. Samsung have THE worst manufacturer software with HTCs Sense UI being "a snapping at their heels" second. The only "experience" I've ever had with a Samsung Android device has been ALL bad, with front facing buttons not working after a security update being the best experience, yes you read that right A SECURITY UPDATE disabled the front facing buttons.
Android Central Newsletter
Get the best of Android Central in in your inbox, every day!
Thank you for signing up to Android Central. You will receive a verification email shortly.
There was a problem. Please refresh the page and try again.