Samsung will show off redesigned Wear OS experience on June 28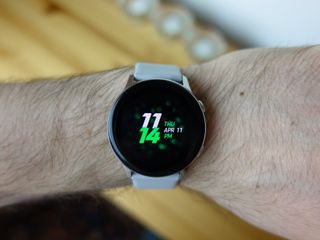 (Image credit: Daniel Bader / Android Central)
What you need to know
Samsung may be giving us our first look at the new Wear OS this month.
The company is hosting an event showing off its "reimagining" of smartwatches at virtual MWC on June 28th.
The company announced its combined smartwatch OS efforts with Google.
Samsung might show off the new Wear OS watch operating system later this month at virtual the MWC 2021 conference. The company has hinted at this in its MWC session description, spotted by 9to5Google. The session will take place on June 28.
The description reads:
Samsung's Tizen smartwatch operating system may be a known quantity that leads to some of the best smartwatches, but the company has opted to align more closely with Google in recent weeks. The next entry into Samsung's Galaxy Watch will run an operating system that's heavily influenced by Google.
While we haven't seen much of what this operating system will offer yet, at least we know Samsung will introduce it to the world in early summer. The company will also show off how it plans to skin the smartwatch OS, creating a cohesive design with its existing slate of devices.
One mistake Google made was allowing Android OEMs to build their own custom versions of Android while not allowing them to do the same for wearables. It was seen as a good thing, and many may see it that way from a consumer level; users were guaranteed a consistent experience no matter which manufacturer they purchased from.
As a manufacturer hoping to capture an Apple-like experience with its own slate of devices, Wear OS may not have been appealing since it took a strictly Google approach. There has been a small level of customization with devices like the OPPO Watch, but generally, all Wear OS smartwatches offered the same experience. Google adopting this new, more open path is likely to lure more OEMs back to their side. Some may think it's too little and too late, but if Samsung leads, others will certainly follow.
We'll get our first look at this new operating system in the coming weeks.
Get the Android Central Newsletter
Instant access to breaking news, the hottest reviews, great deals and helpful tips.
Cannot wait. Galaxy watches have been crying out for this for way too long

Here's hoping it supports Google pay and assistant, but works identically to the current galaxy watches.

Yeah they've not said how they're going to handle Samsung's services. Bixby on their watches is atrocious so Google Assistant please but Google Pay isn't really necessary. Samsung Pay also work well. When I used my Galaxy Watch I used Google Pay on my Samsung phone
and Samsung Pay on my watch. Google Pay because if you're not in a country that needs MST it's easier to use and has farther reach.

I'm in the UK so MST would be entirely useless even if my devices had it (it's officially dead everywhere), but my bank doesn't support Samsung pay, so its very existence is detrimental to me.

😮 I thought all UK banks supported Samsung these days as long as they you have a contactless debit card?
I think I've only ever used it once anyway and only because I left my phone in the car and needed to pay for something in the petrol station. Apart from that it's Google Pay all the way

I'm with NatWest. If I try to set it up, I get a message saying something to the effect of "card issuer not supported".

Samsung Pay is terrible, at least on my S20 FE, I've switched to using Google Pay which works better and the Google Pay set-up is much better too.

Wear OS and Tizen aren't being merged. Samsung are bringing Tizen features to Wear OS.

That sounds like merging to me!

Recently bought a Huawei GT 2 because the best battery life we can expect is 4-5 days. The GT 2 lasts 2 weeks. No Mobile Payments or App Store but you don't need these on a watch. Does everything else I used my Galaxy Watch for. I'd only consider going back to a watch with an app store if Samsung can manage 7 days absolute minimum. Which I'm not expecting. Still it'll have better battery than Apple's poor Apple Watch 1 day can offer. My Galaxy Watch lasts 3 days.

Wear OS is great in its current iteration and is only held back in two serious ways: soc and fitness tracking. If I got a watch running Wear OS on a modern soc (exynos) with Samsung's fitness tracking, I'd be over the moon.

Samsung's fitness tracking is way off for accuracy. I have a Galaxy Watch 3 and Watch Active 2 but have to swap back to my Garmin everytime I go for a run because the pace shown is so far off from reality. Distance is fine but not tracked speed so it's pretty much useless for showing real time information

Will our current watches software be switched or will they remain Tizen?

i believe we are not getting upgraded it just makes me wonder if we will still be supported at least.

I'd be interested in a Wear Watch if Google release one.