Samsung's Wear OS Galaxy Watch tipped to pack impressive performance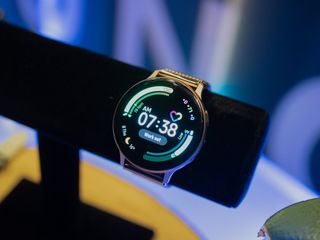 (Image credit: Android Central)
What you need to know
The upcoming Galaxy Watch Active 4 is tipped to feature a new 5nm processor.
There will reportedly be two versions; titanium and stainless steel.
The Galaxy Watch 4 and Active 4 are expected to launch later this year, running the updated Wear OS.
While it was teased at the Google I/O keynote that the next Galaxy Watch would run the joint Google and Samsung Wear OS platform, there have been no official details on the actual device. However, tipster Ice Universe took to Twitter to divulge some alleged hardware details about the Galaxy Watch Active 4.
According to Ice Universe, the upcoming successor to the best Android smartwatch will reportedly feature a new 5nm processor. That is in stark contrast to the 12nm process on last year's Qualcomm Snapdragon Wear 4100, and even the 10nm process on the Exynos 9110 found on the already impressive Samsung Galaxy Watch Active 2.
The new Galaxy Watch Active 4 may also feature a narrower bezel and 2D glass over the display, so it won't be as rounded as the current model.
Ice Universe states that he expects the watch to be made of some titanium alloy, although another tipster, Roland Quandt, chimes in, saying that the watch will feature an aluminum model and a stainless steel model.
1 model Aluminum, 1 model stainless steel.1 model Aluminum, 1 model stainless steel.— Roland Quandt (@rquandt) May 19, 2021May 19, 2021
If the details are to be believed, it will help to back up the claims from Samsung and Google about Wear OS running more efficiently on "the latest chipsets." It's been assumed that this would refer to the Snapdragon Wear 4100, although it may also be about new chips altogether.
That said, the Snapdragon 4100 already performs admirably on the Mobvoi TicWatch 3 GPS, and Google is claiming 30% faster app launches on Wear OS. Any additional hardware improvements could spell impressive performance gains for Google's smartwatch platform.
This year will undoubtedly be an interesting one for Wear OS, thanks to the upcoming launch of the next Galaxy Watch, the rumored launcher of the Google Pixel Watch, and the teased launch of Fitbit's Wear OS smartwatch.
The best of Wear OS
(opens in new tab)
The best Wear OS watch you can buy right now
The Mobvoi TicWatch Pro 3 GPS is the best Wear OS smartwatch you can buy, thanks to its dual-layer display, large battery, and newer Qualcomm Wear 4100 chipset. Updates from both Google and Mobvoi continue to improve the watch, bringing more features and faster performance.
Get the Android Central Newsletter
Instant access to breaking news, the hottest reviews, great deals and helpful tips.
Derrek is a long-time Nokia and LG fanboy who loves astronomy, videography, and sci-fi movies. When he's not working, he's most likely working out or smoldering at the camera.
Yes yes yes, but without a glucometer like Apple's upcoming watch, it'll be DOA.

Why will it be dead on arrival just for lacking a niche sensor? Nice to have for some people but hardly a deal breaker

Yeah, I've seen this a few times. Even in the US I doubt diabetes is so common that it's really a make or break feature. They should put it in though, if for no other reason than to get it approved.

There are millions of people in the US with the need for a glucometer. Millions - a lot more than you might think. For now, most of these people have to measure their glucose levels by pricking their finger or their arm. Some people have to do this several times per day. To do this, requires the purchasing of blood collection strips and lancets (the needle that pricks you). Again, this is a problem that is suffered by tens of over 34 million people in the US alone. I can promise you this:
If the new Apple Watch has a noninvasive way (e.g. no more pricking) to take a glucose reading, this will be a HUGE DEAL.
For one, its a lot more convenient. It will allow people to make decisions on the fly about what to eat and what not to eat - and do so in a discreet manner.
Secondly, its a lot more sanitary - in the age of COVID. No more dealing with blood and having to suffer through those pricks.
Thirdly, it will be a LOT CHEAPER! No more having to constantly purchase strips for the glucometer, lancets, or batteries.
Fourthly - and this is hugely important - People can get a reading (or a chart) throughout the day of their glucose numbers and incorporate that data to help inform their lifestyle health choices. People can see, for example, the effect their morning coffee has on their blood sugar levels without having to prick their finger before and after the coffee. People can see the effect than a half-hour walk or run will have on their blood sugar levels.
Lastly, such a device could help alert people who may be pre-diabetic and not aware of it. Type 2 diabetes is something that can develop mid-life for millions of people - and too often it sneaks up on them. With such a device, it can alert people who could have pre-diabetic levels of glucose in their blood so that they can take active steps to ensure that it doesn't develop into full-blown diabetes. I can also promise you that if Apple succeeds at this and its FDA approved, they will make a HUGE DEAL about this (and rightfully so). The market share that Apple will gain from this would render anything Android or Samsung has as irrelevant marketplace noise. They will be completely pushed to the sidelines. And it might be nearly impossible for them to win back any market share afterwards when they do get around to releasing one with similar capabilities.

Several companies are already working on non-invasive testing, and there's a lot of skepticism it'll happen any time soon; it's sort of a white whale. Apple would just be one of many, including Samsung. As always, Android will maintain the advantage of not requiring hardware ecosystem lock-in, but Apple will likely be able to hype the feature better; never mind the perception that they "invented" it.

It really is about time they upgraded the processor in their watch. Keep up with Apple, not Qualcomm.