Samsung says that overheating not to blame for warped Galaxy Tab S back covers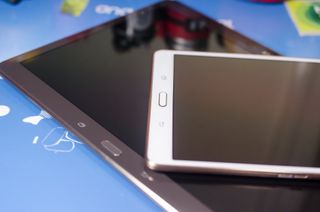 A number of Samsung Galaxy Tab S users have been reporting that the backs of their devices were becoming deformed, which is apparently due to defective back covers. While it was initially speculated that the deformation was the result of overheating, this appears now that this is not case. Samsung has apparently already solved the problem, which affected a limited number of devices. A Samsung spokesperson had this to say:
Have you noticed any problems with the back of your Galaxy Tab S? Tell us below in the comments.
I thought mine looked slightly warped in a very small portion of the corner. Nothing major, and you probably wouldn't notice it uness you were looking for some sort of warp. I love my Tab S! It's a beaut! Never going back to iPad.

My suggestion, don't take any chances. It might get worse over time. See if you can get it replaced.

Please see my comment dated Sept 22.

Please see my comment posted Sept 22 on this site.

Technically, I suppose the processor isn't "overheating".

I am pretty sure processors have built in protection to prevent damage to them from overheating. I suppose they could get hot enough to melt plastic but not damage themselves but I doubt it.

I believe they shut off entirely if they get to hot. like my LG phone won't let me turn brightness up too high if it's hot to prevent overheating and auto shut down. Posted via Android Central App

G3? Posted via Android Central App

Mkbhd mentions this Posted from my Nexus 7 2013 running Android L or Samsung galaxy S5

Optimus G does this too. It must be a LG thing. Posted from my LG LS970 using my thumb

Samsung's got automatic brightness control under those circumstances too, have had so for years.

"A number of Samsung Galaxy Tab S users"
When a reporter says "A number of" it means they have no idea how many but have only heard it from one. However, if they were to say one person reported the incident people would question why an article was being written for only one reported incident and accuse the author of making a big to do about nothing. Good journalists never use that phrase simply because the public has caught onto this practice.

Only heard it from one huh? Wow and Samsung doesn't even pay you to say such things lol

Can't really be surprised to find a kool-aid drinker defending App.. Err Samsung. :-) Posted from my HTC One M8 via Android Central App

Well it was one user who posted pics of it

Must we consumers always end up doing the testing! Posted via Android Central App

We don't know how many people actually had a problem. It could have been two for all we know. Any time you manufacture a few million of something, there's a certain percentage that's *expected* to have some kind of minor issues. Quality control tries to catch as much as possible, but a couple are bound to slip through from time to time, especially if it's an obscure problem that doesn't appear until later.

No problem with mine. Posted via Android Central App

oh man, I just took off the book cover and what do you know, I have a slight depression near the bottom where the charger plugs in. I wonder if they will replace my tab, or put a new back on it. I would rather get a completely new one.

Just looked at mine and I unfortunately have 2 warped dimples just like in the pictures. Had mine for less than 2 weeks from Samsung direct. Wonder if they will do an advance exchange. Posted via Android Central App

I contacted Samsung customer support and technical support and they are making me jump through hoops to even acknowledge there is a problem in my tablet is less than 14 days old I sent them 4 pictures of the back of the tablet but unfortunately the pictures do not capture the back worked areas as well as seeing it in person. they said they will analyze the pictures somemore and get back to me tomorrow

My 8.4 gets pretty warm but not overheat per say. The back of my tablet is warped though in 3 spots. I bought mine from Samsung direct and was told to RMA it after I sent in pics. Questions is how to determine when I buy a new one at say a retail store if they have the batch that has the production issue, or not. Samsung couldn't answer that either.

i upgrade my tab last thursday july 17 and i feel that a heat on the cover beside the camera so i call up my provider why this happen they connect me to SAMSUNG AND SAMSUNG TECH told me to bring my tab for repair and told guy this is a new one it is 7 days old when you repair this one it is no longer brand new so i call up my provider and he said return my tab for replacement because you have 14 days to return it....

I have returned mine to Argos, just mentioned the deformation on the back cover. Bought another one online for 254 compared to 319 at Argos.
I have contacted Samsung support and this was their reply: Thank you for your email. Your customer reference number is ****************** Further to our conversation I can confirm Samsung is aware of the fault with the Samsung Tab S. To rectify the issue with the device we are replacing the back cover free of charge for customers. I hope this helps your query. Please do not hesitate to contact Samsung again if you require further information. Kind Regards, Maneesha Customer Service Representative Samsung Electronics UK Tel - 0330 726 7864 www.samsung.com/uk

Had the problem with mine , the 10.5 inch. Bestbuy Replaced it as they were honorable about it. When i called Samsung it got all the way up to executive services and they claimed not to have heard of anything even remotely having to do with the deforming of the back of my unit. THIS WAS 3 DAYS AGO.They released a statement and I read it to them and they said that that was not from Samsung, really sad INCOMPITANT costumer service from Samsung.Best Buy said they were not surprised about how Samsung has handled it.

Just discovered a problem with mine. Didn't notice anything until i bought a book cover. When i put the device in the book cover it started to malfunction. I removed the device from the book cover and closely inspected it and discovered the lower right corner of the outer frame was slightly ill fitting, loose, with the touch sensitive screen. The snug fit of the book cover caused the device to malfunction due to the slight warp in the frame.

i bought the tab in january along with an expensive samsung cover. i have not noticed warping of the back cover but it does get hot running apps like sim city buildit; so much so twice i have had error msg warning of overheating and to adjust display to an extent i am now down to basic display. despite that it gets warm and i power off and use my old trusty transformer prime instead. hence not happy customer.
Android Central Newsletter
Get the best of Android Central in in your inbox, every day!
Thank you for signing up to Android Central. You will receive a verification email shortly.
There was a problem. Please refresh the page and try again.