Samsung Replenish video hands-on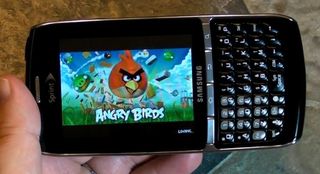 Youtube link for mobile viewing
It's been a couple weeks now since our Samsung Replenish initial review, forged from a barstool in Midtown Manhattan, so it's time to take another look at Sprint's new eco-friendly phone. (It's made of 80 percent recycled material!)
And our initial impressions pretty much remain the same. You've got a mid-level Android smartphone (it's running Android 2.2.2 with a 600MHz Samsung processor) with a small 2.8-inch touchscreen and an pretty good physical keyboard.
So you'll be banging out messages left and right on the Replenish. That's a given, right? But let's talk turkey. Or, rather, Angry Birds. As you'll see in the video, Angry Birds runs just fine, but it suffers like most other apps on a phone like this -- the 320x240 resolution just doesn't get it done anymore. That's a trade-off you're just going to have to make, apparently, if you want a portrait keyboard (ie BlackBerry-esque) on an Android smartphone. And it's a shame, really, cause it's a form factor we really do want to get behind, and it could go a long way toward eating into RIM's dwindling-but-still-prevalent market share.
Samsung Replenish Specs | Samsung Replenish Forums | Samsung Replenish Accessories
Huh? Come on Phil, you know you can get twice the resolution on the Motorola Droid Pro a.k.a. XPRT and still eat your portrait keyboard cake.

Phones in that form factor already have a small screen. Why did they give that phone so much bezel? It's a 2.8 inch screen but they could of made it at least 3.1. It also looks terrible as well. Come on phone companies, take after HTC. We like more screen not more bezel.

Phil, hows the battery life ? The phone was on 5min from 7:20 - 7:25 in the video and went from half battery green to yellow warning.
Thx
Android Central Newsletter
Get the best of Android Central in in your inbox, every day!
Thank you for signing up to Android Central. You will receive a verification email shortly.
There was a problem. Please refresh the page and try again.