Samsung patent suggests the Galaxy Note 20 could feature an ultra-curved waterfall screen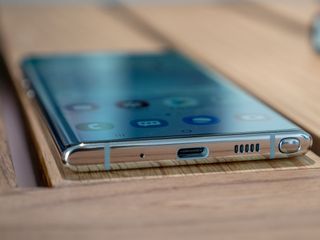 (Image credit: Android Central)
What you need to know
A patent won by Samsung recently suggests the Galaxy Note 20 might sport a waterfall screen.
The sketches in the patent show an ultra-curved display with physical buttons protruding through the edge glass.
OPPO and a few other companies are also expected to launch phones with "Waterfall" screens this year.
Samsung was recently granted a patent for a Galaxy smartphone with ultra-curved edges by the U.S. Patent and Trademark Office. The sketches in the patent (via Patently Mobile) suggest that Samsung could be planning to equip an upcoming Galaxy flagship with a waterfall screen, similar to the one showcased by OPPO last year.
Image 1 of 2
Unlike Samsung's current flagship phones, which have buttons protruding through the metal side edge, the patent shows a phone with the physical buttons poking out through the side glass edge. The patent description also mentions the presence of a hologram device, grip sensor, and a projector.
Since the Galaxy Fold 2 is unlikely to have a waterfall screen, it is possible that Samsung may use this design for the Galaxy Note 20. However, there is no evidence available yet to prove that the design described in the patent will actually be used for a phone this year, let alone the Note 20 series.
Currently, the only smartphones with a waterfall screen are the Huawei Mate 30 Pro. and Vivo NEX 3. Chinese smartphone maker OPPO is also working on a phone with such a screen. It was actually the first smartphone maker to showcase the display technology last year.
Could also mean nothing. I don't like these displays. They're unpleasant to use, easy to break and only exist because they look pretty.

Considering the only thing the S20 did right was ditch the curved displays altogether, I'd say it's highly unlikely that the Note 20 will bring one of these dumb, useless waterfall displays. Then again the Note 10 already ruined the Note line-up enough as it is by ditching basic features, so a waterfall screen on the Note 20 would just be adding insult to injury.

The Vivo Nex 3 also has a waterfall display and came out before the Mate 30 Pro FYI

No just no! Curved screens are awful! Jmo

They should be moving AWAY from curved displays. I haven't heard of anyone who actually likes to use the curved display. I know of a couple people who use them and don't like them and one person who specifically bought a Pixel 4 instead of an S10 because of not wanting the curved display.

I haven't bought a Samsung in years mainly because of the curved screens. Yes what everybody wants is one that curves even more and makes the phone more fragile!! How would a phone case even work on this?

I love curved displays. I owed the S7 plus and now the S10 plus. I have zero problems with the screens. I would never use any phone without a case and have never broken a display.

The Note should have a flat screen. Already on my note 9, I cannot write near that annoying reflecting curve.
An S is not A Note, so whether that works with a curved edge is matterless.

Please God no! I went to ROG 2 to get away from those terrible curved screens. They are impractical and make decent screen protectors almost impossible. Give me a flat option. Please....

If true, it will be the first Note I skip...since they seemed to be going the opposite direction (S20 is barely curved) I would hope the Note20 would be the official "done with curved displays" flagship.
Android Central Newsletter
Get the best of Android Central in in your inbox, every day!
Thank you for signing up to Android Central. You will receive a verification email shortly.
There was a problem. Please refresh the page and try again.