Samsung now sending approvals for free Gear VR with Galaxy S7 promo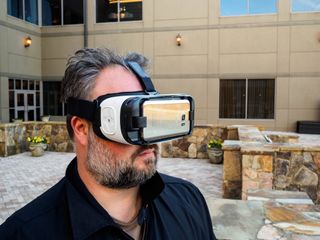 Samsung has now started sending out approval emails to customers who took advantage of the manufacturer's promotion offering a free Gear VR (or Gear S2 for Verizon customers) with the purchase of a Samsung Galaxy S7 or S7 edge. And while it's been a bit of a wait for some already, the email indicates shipping times may be pushed back as far as this summer due to demand. From the email:
While the shipping date may be up in the air, Samsung says that it will send out another email with tracking information once your Gear VR or S2 has indeed shipped.
Just got my email saying my VR is approved and a second email for my $100 Samsung code Posted via the Android Central App

Why a second email? Posted via S7 edge

Originally I thought I could only do it for one of the two phones I bought since it was the BOGO offer. Posted via the Android Central App

I've had my gear VR from that promotion for a week now!

Me too. Posted via the Android Central App

Yeah, I've had mine awhile now. The one time I could have submitted a scoop and I didn't!

I am rocking my gear s2 since tuesday. I hear alot of people got turned down for the gear s2 and had to get the vr

Me too, arrived last week.

I guess the folks who write articles for AC don't read the AC forums. The approval emails started going out over 2 weeks ago, and some have already even been shipped/received.

Well, being myself in Europe, we've had this for weeks. I've got my S7 for over a month and my free VR for around 2 weeks =P
That said, "Samsung says that it will send out another email with tracking information once your Gear VR (...) has indeed shipped." If it's anything like here, they won't. I got my VR delivered by surprise, without Samsung ever sending the email.

I got my free Gear S2 yesterday. :)

I've seen on XDA that some were given the 3G version. Was that the case for you?

Yep. And there was a slip on there that allowed me to get it added on my account for only $5/month. Posted via the Android Central App on the S7 edge

Verizononly has the 3G model. .. Rouble and AT&T have the 4G model

I received mine almost two weeks ago.

The other issue is that there seems to be no system. The email that went out today should have been sent out 2 to 3 weeks ago. My status on the Samsung website has reflected in was approved and a shipping date was pending. It has been this way for over 3 weeks. I submitted my claim 3/9/16. People that submitted claims more than a week after me have had their S2 watch for several days some as much as a week or more. I am not the only one. Just read the forums. Now I may have to wait for months!! I submitted the claim minutes after signing for the phone. This is upsetting a lot of loyal Samsung customers. Again those emails are being sent out 3 weeks late. Samsung is not doing anything special here. Posted via the Android Central App

I also have not received mine. It said my shipping date was May 8th..I contacted Samsung and they sent me the link to check status. They have been no help at all.. I am very disappointed in Samsung at this time..

Received mine 2 days ago, was gonna sell it but with 2 kids I decided not to. We actually use it quite often, glad I kept it. Posted via the Android Central App

Samsung this, Samsung that.... Posted via the Android Central App

U mad? Posted via the Android Central App

Too bad. They've been the top selling manufacturer for a reason you know. Posted via the Android Central App

You must work for Apple! Posted via the Android Central App Galaxy S7 EDGE

Received my vr 2days ago Posted via the Android Central App

I received my VR headset at point of sale.

I haven't received any notice!. I simply have forgotton about the promotion due to the time frame.l ordered my phone on March 1. I will move on for now and I hope samsung next promotion will be better orginized! Posted via the Android Central App

Hmm I pre order my S7 through T-mobile the same day. And I been having my VR for about a week now. I also got a $30 BestBuy gift card and a free wireless charger. So no complaints here :) Posted via Samsung's beast S7

Received both and sold both already (already owned one). Posted via the Android Central App

I so hope I get mine tomorrow. I received this email weeks ago, so maybe there is a chance. I'm going on a vacation, leaving by plane at 8 or 9 at night. If I had this for the plane, it would possibly be the greatest flight ever!

Got mine 2 days ago. Fuzzy image, so I can't see it being anything more than a dust collector in my house.
Yes my phone is clean and the plastic is off the lenses.

Before and after diopter adjustment? Posted via the Android Central App

I find it fogs up fairly easy but otherwise the image is only fuzzy with a bad data connection. luvin my s7 edge

I find that the product "Cat Crap" works very, very well to combat the lenses fogging up. Just one small dab on each lense and spread around with a Q-tip, then wiped clean with a microfiber cloth has rendered any fog powerless since the day I applied it.

Just got my Gear VR in the mail today actually.

I got my gear VR about 2 weeks ago, and I received the shipping notice 4 days after I had already received it.

Still waiting for my Gear S2 to ship. I did get this very email today. Guess I'll be waiting a while longer. Posted via the Android Central App

Here in the UK, the free Gear VR came in the same box/consignment as the S7...on the day of release! What a genius idea. Posted via the Android Central App

I received my free gear about a week ago. My approval came two days after I submitted that was two days after the phone came out Posted via the Android Central App

People have been receiving approval emails almost 2 weeks back, may do some digging before writing articles. Or what the heck just publish but we will call out other websites for other articles when they don't double check.

I got my approval about 2 weeks ago but for some dumb reason it said it wouldn't ship until 4/30 "Congratulations! Your submission has been approved. We will ship your
Samsung Gear VR to the mailing address you provided when registering
for this Offer. Your estimated shipping date is 4/30/2016" Posted via the Android Central App and my Galaxy S7

I contacted tmobile. I just discovered that my promotion had expired and I will not be receiving the vr or Netflix!. I processed my paperwork on March 14. Well before the deadline...I decided to check the status on March 28, and the Samsung system stated I needed proof of purchase(I am under the lease program) ..so I contacted tmobile and explained what had happened, and tmobile stated that there was an issues with the process and she could help me process my paperwork again. I decided to check back with tmobile and to see what the status was and I was told that my promotion had expired! And there was nothing they could do!!! I am so angry with tmobile, I don't known what to do!. Posted via the Android Central App

But you're the one who did not check the status until the 28th. I checked on mine like every other day. How is this tmobiles fault?

The paperwork was processed in plenty of time! To received this promotion, takes 4 to 6 weeks! Why would I check the status after 2 weeks?.I contacted tmobile after I discovered there was an issue, and tmobile stated they were issues with the lease program!!!!! Tmobile states they would fix the problem!!!!! This is there problem! Posted via the Android Central App

T-Mobile sold you the phone. The promotion was handled through Samsung promotions. Contact prize logic, the 3rd party company handling this for Samsung. Here is the phone #
888-795-6442 Stop blaming your stupidity and ignorance on others. Pay attention next time Posted via the Android Central App

Thank you for the information! But you don't to talk to me in that manner! Posted via the Android Central App

Check your email's junk mail folder and see if there's an email from Samsung stating that they needed additional information from you such as proof of purchase. I went through the same situation with Samsung claiming that my purchase fell out of the promotion date and I wasn't eligible when clearly I was. They sent me an email and it ended up in my junk mail folder. If you have clear proof of purchase, call Prize Logic and ask them if you can resubmit your paperwork. Be forewarned, however, that the people at Prize Logic can be very rude, so ask nicely. I called them with absolutely no help from the girl I spoke with, but after resubmitting my paperwork and leaving Prize Logic a scathing email regarding their customer service, my paperwork was finally approved. Worth a shot at least.

Jerrycau123.......That's not T-Mobile's fault.......that is your fault. Take responsibility. It was not a hard process. The process was clearly documented. T-Mobile doesn't lease phones, it's called installment billing. There is a difference. Posted via the Android Central App

I have moved on! I am happy that most people are there receiving there promotion! Posted via the Android Central App

T-mobile does lease phones, it's called Jump On Demand. The installment plan you mentioned is called Jump. The difference between the two is Jump On Demand is you lease your phone but you can upgrade your phone every six month; you must send your current phone in. OR at the end of 18 months you must purchase your current phone. You do pay monthly installments. The Jump program is, as you mentioned, you pay a monthly installment for your current phone. At the end of two years (unless you pay it off sooner) you own your phone.

For those waiting for the gear s2, sign up for FedEx manager. I also recieved the email saying it won't ship until may or summer 2016, but my FedEx manager shows:
1. A tracking number
2. It will arrive this Saturday. Just an fyi! Posted via the Android Central App

I received my VR April 5th and I love it. But I'm with T-mobile. Posted via the Android Central App Galaxy S7 EDGE

Once stock was low we were offered $100 Samsung store credit if we chose not to wait. I opted for that x 3 since my son wanted gi buy a Samsung TV that was on promo. $300 + 3 years of Netflix + bogo, wow this was an awesome deal on the best phone of the year. Posted from my S7e/Note 4/iPad Pro

I don't think you can combine the gift cards, though. Posted via S7 edge

Yeah, just found that out. Fortunately there's several things that we were having to get anyway so those $300 in codes still came in handy. Posted from my S7e/Note 4/iPad Pro

I got mine two weeks ago. Along with the Netflix code, which doesn't work! I've sent them emails about it and no response Posted via the Android Central App

In the UK I got my Gear VR the day before my S7 arrived.

Has now started sending out email approval? Lol, they did send me even the date of the delivery like 2 weeks ago. Samsung for life.

FYI: They don't send the shipped email with tracking, until it has already been delivered. I got my Gear S2 and sold it immediately. Posted via the app ~ GS7

I got my email yesterday. I'm with T-Mobile. It came with my code for Netflix. My code worked.

I received my VR two weeks ago. It was delivered on a Friday night, and the following Monday, received my email that it was shipping soon and included the tracking number. It's actually fun to use, but can get very warm in the goggles.

I got one of mine about 1-2 weeks ago. Still waiting for the other though.

Hey there everyone. I have a S7 edge European version. I wanted to watch a movie i copied to the sm card, but Ocolus Video only shows whats on the internal memory. I watch a youtube video how to make the phone believe that the internal and the external act as one big hard drive unit. I tapped 5 times on "Build" so the developer mode is activated on the phone, but i guess this next stage is where the US and the European is different. As i was told on the youtube video, the next step is to tap off the USB Debugging: "Debugging starts when USB is connected" , but there is no way to change it from on to off, not as shown on the youtube video where the USB Debugging option is lighted up, and ready to be changed when he enters that meny. That being the last thing he does in the video before the internal and external are as one. So i would love some help how to do this on the european version of the Samsung S7 edge. Is there any way to turn of the connector that connects the mobil with the Gear Vr? So Ocolus doesnt autostart, as there are several Vr players out there, that can play 3d movie from the external memory. In less words, i want to have the option if i want to use Ocolus Home or not.
Anyone who have a tip on which 3d player is best to use when using Ocolus Samsung Gear Vr goggles, if there is any possiblility to bypass the auto start of Ocolus Home when you connect the glasses. I would love any feedback at all.
Sincerely Ronny

I'm hoping that I will receive this +×+

Are you guys really that clueless? I've got my GearVR from that promotion sitting next to me. I've had it for more than a week.

Gear VR Promotion
March 8 - Submitted claim
March 22 - Received approval
March 27 - Shipped
March 29 - Received The game bundle I received was:
1 Mortal Blitz VR - Escape The Darkness (Episode 1)
2 Keep Talking and Nobody Explodes
3 Ocean Rift
4 Deer Hunter VR
5 Land's End
6 Herobound: Spirit Champion Your Galaxy S7 mounts on the front of the Gear VR and plugs into it though its microUSB port. When you have the Gear VR on your head you are looking at the screen of the S7.

Submitted my claim on March 19th
Approved on April 1st
Still has not been shipped.

I got a confirmation email saying the estimated shipping date was April 1st and that I would get a confirmation email. But haven't gotten one yet Posted via the Android Central App

Is there no way to disable the mico usb port, so when you put on the Gear Vr 2 on, it does not autostart Ocolus Home. I want to play movie file from the external memory, and the fix thats out on youtube, by tapping 5 times on "build", does not work, i guess because i have a european version of the Samsung S7 edge, or? Any help would be great! Ronny

Oh I'm wishing that something via this fab site to land at mine in Sydney

I still haven't received nothing!!!! Submitted March 15!

I think fraudulent advertising. I submitted my document on-time. They told me 4 to six months due to volume demands or $100. I chose the VR. Since then I heard nothing until I checked the status this morning. The message: "your retailer's name was not on the receipts uploaded" and that the promotion was over. No emails--inbox or junk box. I think that they were overwhelmed by the response that might have cut into their profit and now they (Samsung) are leaving us with unfilled promises. We purchased their products in good faith! Shame!

Wow, I'm glad I chose the $100 x 3 Posted via the Android Central App
Android Central Newsletter
Get the best of Android Central in in your inbox, every day!
Thank you for signing up to Android Central. You will receive a verification email shortly.
There was a problem. Please refresh the page and try again.