Samsung may not bundle a charger with its phones starting next year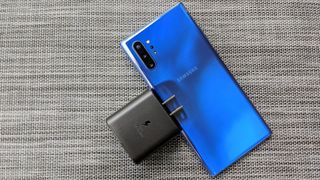 (Image credit: Ara Wagoner / Android Central)
What you need to know
Samsung will reportedly stop bundling a charger in the box with its phones from next year.
The move will help Samsung cut costs and also boost profitability.
Apple, too, is rumored to ship the iPhone 12 without a charger in the box.
In a note sent to investors last month, TF Securities analyst Ming-Chi Kuo claimed Apple's upcoming iPhone 12 models will not ship with a charger in the box. Now, a report from ETNews says Samsung is also considering the idea of selling phones without a charger.
As per ETNews, Samsung is currently discussing the idea with related companies, hoping to offset the cost of 5G chips. While nothing seems to have been finalized yet, the report suggests Samsung may not include a charger in the box with some of its 2021 smartphones.
The move will no doubt help the company boost profitability, although it isn't clear if the benefits from cost savings will be passed on to the consumers. Samsung is also expected to continue selling first-party chargers as accessories for its phones.
If Ming-Chi Kuo's information is accurate and Apple doesn't bundle a charger with its new iPhones this year, it is possible Samsung will not be the only company to start shipping new phones without a charging adapter in the box next year.
With the USB Type-C port now becoming popular even on budget phones, the move is unlikely to affect most buyers in a significant way. Since USB is interoperable, you don't necessarily have to use a first-party charger. However, you will have to spend extra to be able to take advantage of the faster charging speeds that phones are expected to bring to the table next year.
Android Central Newsletter
Get the best of Android Central in in your inbox, every day!
This shift shouldn't be surprising, since Apple is supposedly doing the same thing. It will be a more environmentally friendly move and will definitely cut down on the clutter when it comes to the chargers and cables you have in the house. However, for people like me who enjoy jumping from manufacturer to manufacturer with each new phone purchase, I often like using the chargers that are specific to that phone to charge it. Having to buy one would be kind of a drag.

Fire brigades are going to be busy though as people buy dodgy chargers off eBay and cause fires.

It's simple they are only doing it cause 'Apple' are doing it, just the same as the notch, Samsung created the hole punches on screens and removing headphone jacks! The big question here is will this result in the phones being cheaper for the customer? my other main concern is people will use crappy 3rd party leads and chargers hence damaging their phones.

The big question is where are we going to get safe chargers from that don't cost a fortune? Samsung have never used the notch 🙄. Apple removed the 3.5mm headphone port first. No phone manufacturer has removed a headphone jack. The jack is the connector. Or they all keep an eye on the industry and where it's headed. You're so sure Apple thought of this first?

You know what I'm getting at here, Apple do it first and Android manufacturers follow suit on hardware! like it or not facts support it! and have done for a long time! I never said Samsung used a notch but the notch sure made them create a hole punch on their screens, and I still maintain no other manufacturer would have ever done that if Apple never created the notch.

Alot of companies just follow /copy what Apple is doing. Apple has always been the trendsetter so it's no surprise that other manufacturers would eventually follow. Just didn't think Samsung would make it so obvious immediately, lol.

The jack is in the phone. The thing on the headphone cord is a plug. http://www.switchcraft.com/Category.aspx?Parent=651

Fire brigades are going to be busy as people buy dodgy chargers off eBay and cause fires. I wouldn't mind but official chargers are so **** expensive. Especially the 40 watt ones.

It just means new charging features will be lost on people until they're cheap enough to hit the checkout aisle at Target.

Removes liability from the phone manufacturer if you choose to use a 3rd party charger and it causes damage to your phone.

"The move will no doubt help the company boost profitability, although it isn't clear if the benefits from cost savings will be passed on to the consumers."
You don't boost profitability by passing on savings.

Seems like the move will complicate liability if there is a fire. You can't really be blamed for not using the "manufacturer supplied cable and charger" if they don't supply it.
I doubt Samsung would have made the decision if there were not already rumors about Apple doing it. Only positive I see is less electronic waste. I won't miss Apple's chargers because they were pathetic.
I like the high quality fast charger that came with my phone, but I charge from a 30 watt Power Delivery charger now. As for the rest of my devices, I have a Vicooda charging rack that powers six devices at once off of one plug.
Android Central Newsletter
Thank you for signing up to Android Central. You will receive a verification email shortly.
There was a problem. Please refresh the page and try again.