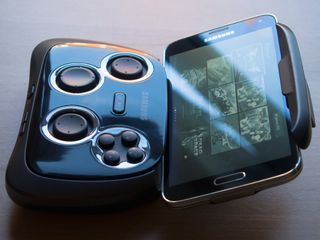 Samsung's controller accessory aims to turn your phone into a portable console
As smartphones become larger and ever more powerful, their gaming potential continues to increase, to the point where many high-end phones now match the graphical prowess of console titles from the previous generation. But while touchscreens are great for web browsing, apps games specifically designed around them, they're less ideal for traditional titles. There's something about playing a racing game, a shooter or a platformer on a touchscreen that just feels fuzzy and imprecise. Sometimes you just need an analog stick and some buttons.
As such, gaming accessories are big business, with the likes of Moga pushing portable controller accessories designed to fit your phone. Never one to turn down the chance to bolster its accessory lineup, Samsung recently entered the fray with its own gamepad accessory. The Samsung Gamepad — available now on ShopAndroid.com — has been a long time coming, first revealed in mid-2013 and having gone through some serious design changes since then.
Building on its strength in the Android smartphone space, Samsung's aiming to set its controller apart from the competition with a companion app, dubbed "S Console," to help gamers find compatible titles. So what's the end result? Join us after the break to find out.
Video walkthrough
Samsung Gamepad hardware
The Samsung Gamepad strikes a good balance between portability and ease of use. It's smaller (and flatter) than current console controllers, and just about small enough to fit into a pocket, at a push. There's nothing too fancy going on in terms of build quality — the pad's made of a combination of glossy and matte plastics, with grippy rubberized areas on the back and silvery accents around its buttons.
The business end is where you'll find your buttons — two analog sticks, a D-pad and four main buttons, along with Start, Select and a "Play" button, used to launch the S Console app when paired with a Samsung phone. Up top are the left and right shoulder keys — though these are just buttons, as opposed to the analog triggers you'll find on the top of an Xbox or PlayStation controller.
What sets the Samsung Gamepad apart from a general purpose Bluetooth gamepad is its retractable hinge, found along its top edge. This slides out and can be used to hold phones with screens up to 6.3 inches diagonally. The grip is pretty firm, meaning you shouldn't need to worry about your device falling out of the top, and there are rubber contacts on either side to prevent devices from becoming scratched.
There's also a microUSB port for charging the pad on its front edge, though no charging cable is included. Samsung doesn't provide a capacity rating for its built-in battery, nor any estimate of battery life, but we've yet to run out of juice using the Gamepad for a couple of hours at a time, trickle charging over USB when convenient.
Setting up the Samsung Gamepad
If you've got a Samsung Galaxy phone, setup for the Gamepad is extremely quick and easy. Holding the back of your phone over the NFC logo on the controller's back will pair the two devices together. From there, pressing the "Play" button will prompt you to install the S Console app if you don't already have it installed.
We couldn't get NFC pairing to complete on the couple of non-Samsung devices we tried, but pairing over Bluetooth the old-fashioned way worked without a hitch. As the S Console app is only available through Samsung Apps, however, you won't be able to download it if you're using a non-Samsung phone.
From there, you're good to go. Simply snap in your phone — or, if you're using the Gamepad with a tablet, just prop your device up in a stand.
Using the Samsung Gamepad
The Samsung Gamepad works great with the S Console partner app, but the fact that it's a regular Bluetooth input device means it can be used with many other titles. (In fact, you can even use the D-pad to navigate menus outside of games.) Outside of the curated selection available through S Console, however, your mileage may vary.
The buttons themselves are solid and responsive, with a firm action, though the main four buttons (numbered with dots) may be a little small for some tastes. The D-pad's also a little creaky, however it's easy enough to discern between the eight different compass points.
The Gamepad's analog pads move on a flat plane rather than around a ball like most analog sticks. The feel is a lot like the original Sony PSP, so using the analog controls in racing games, for instance, is a bit twitchier than you might expect. It also takes a bit more effort to push to the outer edges of the analog pad. Nevertheless, it's perfectly usable in racing games, platformers and fighters alike.
The only real usability issue we've noticed comes when using the Gamepad with the Samsung Galaxy S5 — the GS5's power button placement makes it very difficult to change the volume level when it's docked with the controller. Ironically, the LG G3's rear-mounted buttons make it much easier to nudge the volume up or down mid-game.
S Console app
Samsung's S Console app, available through Samsung apps, serves mainly as a guide to Samsung-approved games certified to work with the Gamepad. At the time of writing there are 53 titles to choose from, and this list has been slowly growing since the Gamepad became available.
And that's basically it — you get a scrolling selection of big-name games, all hosted on Samsung Apps, of course.
Fortunately you're not limited to just the few dozen Samsung-approved titles. Many shooters, racers and fighting games on Google Play work right out of the proverbial box with the Samsung Gamepad.
Samsung Gamepad: The bottom line
It's surprising how something as simple as physical buttons can transform a mobile device's gaming potential. The Samsung Gamepad isn't the perfect game controller — in fact, it's pretty basic. But it adds just enough to eliminate a major pain point of playing traditional console games on a mobile device — fiddly on-screen keys.
Time will tell how Samsung's curated approach through the S Console app plays out, but at least Android's vast library of games is there to pick up the slack, so you're free to play whatever you like from your app store of choice.
If you're looking to get a little bit more serious about Android gaming but don't want to shell out for a dedicated device like the NVIDIA Shield, the Samsung Gamepad is a great compromise, especially if you've already bought into Samsung's mobile ecosystem.
The Samsung Gamepad is available now from ShopAndroid.com, priced $99.95.
Alex was with Android Central for over a decade, producing written and video content for the site, and served as global Executive Editor from 2016 to 2022.
I was saying the same thing, they did show soul caliber in the video, the nfc feature is nice Posted via Android Central App

Not for a $100. The only thing I could see is that it might be portable but if not then you're better off buying a GameKlip (http://buy.thegameklip.com/), a cheap phone case and a Dualshock3 playstation controller. That winds up being a bit more than half the price of this and works great. I've done this with my old GS3 and has worked out awesomely, I connect it with the Sixaxis controller app but gameklip supplies a wire if you don't want to get the app.

Amazon has a Samsung gamepad for 79.99 when googling the compatibility of the device it appeared with a price. Now if I can just get games to work with a chromecast and controller I'd be set. Still trying to find out if it will work with the original Nexus 7, he said it does pair with non samsung devices, and did mention tablets, but how old is the key question.

It does pair with non samsung devices but only a handful of games work that way. Posted via Android Central App

I don't know about pairing with chromecast. If you want to use it on your tv just buy an HDMI adapter for your nexus, connect it to the tv and then pair with a PS3 controller via bluetooth (although you'll have to be rooted for BT pairing I think through the sixaxxis app). It works great.

One thing that is easily overlooked is that the controller is without second shoulder buttons on each side, which depending on your intended use may be a problem.

It hasn't been a problem for me so far. Games for mobile aren't really that complex yet. Posted via Android Central App

Extremely overpriced, but that seems to be the thing with these types of controllers.

My thoughts too. It's something like three times as expensive as a wireless controller for PC. Surely it can't cost $60-70 to fit a phone clip on a controller?

My friend bought one of the modded controllers that help you shoot faster and spped up all activity almost like game hacks for $120. I guess it's all about what works and what your needs are.

Don't similar game pads exist? How do they stack up?

Yes - the MOGA controllers and they are both cheaper and better in terms of ergonomics. Posted via Android Central App

Seemed like it may be worth getting until the $100 price was revealed. Maybe for $30. Posted via Android Central App

I don't like the dpad otherwise it seems nice. Overpriced though. I agree with above that I'd pay about $30 for it. Also, it only has two shoulder buttons? That means it wouldn't even be great for PSOne emulators.

Seems like a worthy buy. Will wait for it to become cheaper though!
I get that the clip holder thing works for devices up to 6.3 inches, but that still means that controller will work on tablets though rifgt? So if I put my Tab down on the table I can sit back and still play?
Posted via Android Central App Nevermind..... I just had a chance to watch the video... The answer to my question was yes!

I wish the 100 dollar price tag was higher up in the article, so I could have stopped reading earlier. There are some things Samsung shouldn't copy from apple, and these ridiculous controller prices should be one of them.

$100?! lol. I picked up a MOGA for $10 and it works perfectly and with the apps you can play a lot LOT more games (that aren't even MOGA supported) by mapping the MOGA as an input device. But sure, go ahead and waste $90.

I'm sorry. I love Android Central, but I feel this review is skewed by the fact you're selling them in your store. This controller looks terrible compared to both controllers from Moga. I'm not sure how you can review this and not mention both Moga options with superior build quality and much cheaper pricing. They can also be used to charge your device on the go and aren't limited to Samsung devices.

In Korea the Samsung Game Pad can be had for about $55 US depending on the exchange rate. http://prod.danawa.com/info/?pcode=2413979&cate1=224&cate2=739&cate3=470... God bless you guys but the store prices are for the most part are way way too high. If you want to be an online seller you need competitive pricing.

Looks nice, but doesn't look ergonomic.

Xbox 360 controller and a bent wire coat hanger (for the phone clip) working fine here. Way too expensive. Even at half that it is pushing it. Posted via Android Central App

If anyone is looking for a nice compact stand to hold up a phone on its own rather than stuck to the top of a gamepad (which just seems terrible to me, ergonomically speaking, very unbalanced), look into the Clearshot... Works very well, fits in your wallet. No affiliation to them other than having participated in the original Kickstart, liked it so much I got a bunch to gift away tho. Good for time lapses, selfie, etc too. Personally, if I'm gaming with a gamepad I'd probably do it on the tablet, Anker makes a nice cheap folding metal stand for tablets.

The moga pro power is $70... And it's way better. Posted via Android Central App

kinda wish the gamepad wasn't so glossy

It's not, really. It looks glossier in the photos. Posted via Android Central App

We have a Moga pro, works well, on Samsung and Sony phones and tablets. And it was a lot cheaper than that Samsung one. I can also use a Sony ps3 controller with my Xperia Z Ultra.. and those controllers are very much cheaper too.

hi could you please tell me if moga pro runs FIFA?
i want to buy one and i am crazy about FIFA. i wouldnt want to invest in it unless it runs FIFA.
please help me out.

Finally a good place for fake leather.. (or the new dimpled stuff) and they don't use it... Posted via Android Central App

"The only real usability issue we've noticed comes when using the Gamepad with the Samsung Galaxy S5 — the GS5's power button placement makes it very difficult to change the volume level when it's docked with the controller." Ahhh... turn it 180 degrees?

Nope, both sides get covered up by the controller. Posted via Android Central App

I have it and it's a nice device. From my experience the buld quality is close to excellent but there was little to no thought put into making the thumbsticks which get REALLY uncomfortable after just half an hour of gaming. Not only that but they are really inaccurate bevause they don't feature pressure sensitivity. Overall it's definitely not worth it's price but if you do find it for 30$ or less it' a bargain. If you enjoy gaming on your phone you should definitely get a gamepad but I urge you to consider the MOGA controllers. Posted via Android Central App
Android Central Newsletter
Get the best of Android Central in in your inbox, every day!
Thank you for signing up to Android Central. You will receive a verification email shortly.
There was a problem. Please refresh the page and try again.