Samsung Galaxy Watch 4 & Watch 4 Classic hands-on: Fresh start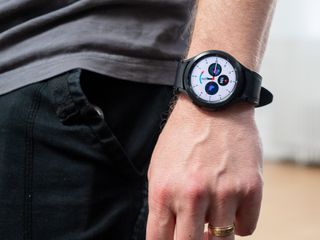 (Image credit: Daniel Bader / Android Central)
For the unassuming Samsung phone owner, the Galaxy Watch 4 series is the natural successor to the sporty Galaxy Watch Active 2 and Galaxy Watch 3, which are approaching their second and first anniversaries, respectively.
But for the technology enthusiast, the person following the waning fortunes of Google's Wear OS platform and the steady, stagnant progress of Samsung's Tizen, the Watch 4 is a revelation. It purports to combine Samsung's hardware prowess, of which there is no equal in the Android space, with the best of both Google's and Samsung's software platforms. It heralds a potential resurrection of the most potent Apple Watch competitor, bringing together performant, battery-friendly Tizen with the tight Android-first integration of Wear OS.
After spending some time with both the Watch 4 and Watch 4 Classic, though, I'm not ready to project dashed hopes, but merely to recommend that the enthusiast — the one who watched the Google I/O keynote eyes wide with wonder — temper their expectations a little bit. The Wear OS that you get on the Watch 4, at least without much modification, looks remarkably like what you got on the Watch 2 Active and Watch 3, with only slight hints that the underlying code, the foundation of the experience, is Google's.
Whether that's a blessing or a curse remains to be seen, but in my short time with the watches I'm confident saying that a Galaxy Watch with access to the apps available on Google's Play Store is cause enough for celebration.
Samsung Galaxy Watch 4 & Watch 4 Classic: The models
We have to start where we always start: the models. It may be hard to remember, but this is actually the first time Samsung has released two Galaxy Watch models simultaneously: the big, beefy Galaxy Watch debuted in late 2018, followed by the sporty Galaxy Watch Active in early 2019; the Watch Active 2 arrived only six months later, in August 2019, and the successor to the Galaxy Watch skipped a digit to become the Galaxy Watch 3 in August 2020.
Now we have the Watch 4 and Watch 4 Classic, though Samsung insists that the removal of the Active moniker is in name only — this is very much a Watch Active 3 — and they contrast in a few interesting ways.
For starters, we have four different sizes to choose from: the Watch 4, made of lightweight aluminum, is offered in 40 and 44mm face sizes; the Classic, with its rotating-bezel edge, comes in at 42 and 46mm. Both have identical display sizes, though, 1.2- and 1.4-inches, respectively, with Super AMOLED resolutions of 396x396 on the smaller variants and 450x450 on the larger ones.
Source: Daniel Bader / Android Central
You don't really need to worry about numbers, though: as with all Samsung wearables, these are among the sharpest, brightest, and most stunning smartwatch displays on the market, and they're covered in Corning's Gorilla Glass DX and DX+ glass, reducing reflectiveness and improving contrast over previous versions. I didn't get to test the watches in the sun to verify the claims of improved brightness, but a review isn't far off.
Of course, the real takeaway here is that, from the outside, these look like iterative updates over their direct predecessors; if you thought a transition to a new software platform would encourage a radical redesign, you don't understand Samsung's goal here. Continuity is essential; Samsung wants users to believe these watches represent the natural evolution of its smartwatch strategy, and you'll see below, the software looks remarkably similar to previous versions.
While both the Watch 4 and Watch 4 Classic are powered by the same underlying hardware, their designs share far more with their predecessors than with one another. For starters, the Watch 4 is light — 26 and 30 grams between the two sizes — thanks to an aluminum body. It also encourages navigation around the Wear OS software through a touch-sensitive edge that imitates a physical bezel without taking up nearly as much space. The Watch 4 Classic, by contrast, is made of stainless steel and weighs 46 and 52 grams respectively, and comes in a full millimeter thicker. It's chunky in either configuration.
Both models have slightly updated side buttons over their predecessors, opting for easy-to-locate rectangular chiclets that, at least on the Watch Classic 4, diverge from the "classic" chronometer design the Watch 3 aimed to achieve. Color options are also plenty — black, silver, rose gold and a new dark green on the Watch 4, while the Watch 4 Classic is limited to just black or silver.
Elsewhere, the watches are largely identical. They both have 1.5GB of RAM and 16GB of internal storage, double that of the previous generation; the are IP68 rated, which makes them virtually waterproof, and rated up to 5ATM of diving pressure. Both have LTE variants for $50 more than their Wi-Fi counterparts, and feature the same loadout of sensors and connectivity capabilities.
Samsung Galaxy Watch 4 & Watch 4 Classic: The power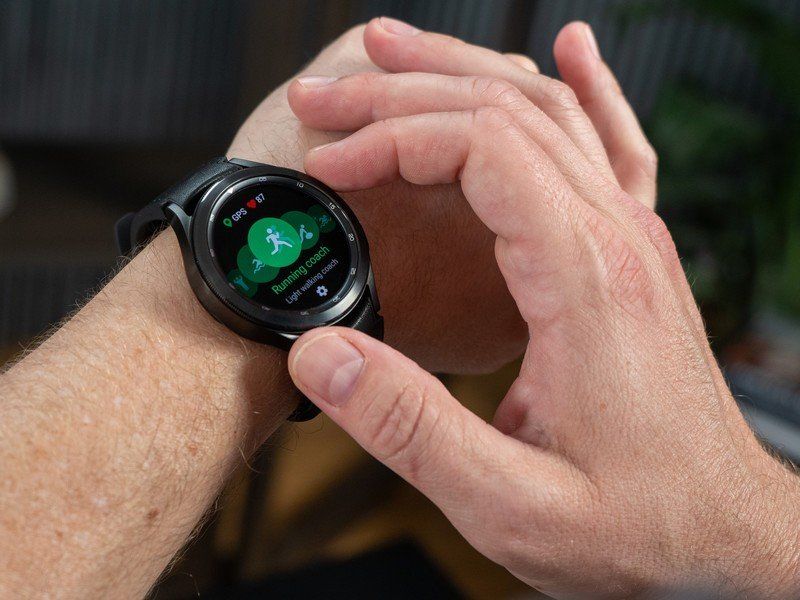 If you've been following along with Wear OS's sad, slow decline over the past few years, much of its disappointment has to be laid at the feet of Qualcomm, a company that makes excellent chips for everything but smartwatches. Even the latest-generation Snapdragon Wear 4100, which is only available in a handful of the best Android smartwatches, is massively underpowered compared to Apple's S-series and Samsung's own low-power Exynos chips found inside its Tizen watches.
The Galaxy Watch 4 is not only the first Wear OS device powered by an Exynos SoC, but Samsung is rightfully making a big deal about the W920 inside it. Quoting a 20% CPU improvement over the previous generation and a massive 10x uptick in GPU capabilities, the real win isn't necessarily how many pixels it can push, but how efficiently it can do it.
Built on a 5nm process — the first in the Android space to do so — the W920 reportedly powers the Watch 4 and 4 Classic for up to 40 hours. Of course, we'll have to do our own testing, but one of my biggest knocks against Wear OS in general is how closely it was tied to Qualcomm's inefficient and underpowered silicon. No more.
Samsung Galaxy Watch 4 & Watch 4 Classic: The sensors
One of the big question marks surrounding Google's partnership with Samsung under the banner of Wear OS 3 is how the two companies will collaborate on health features and, more important, health data integrity. The Galaxy Watch 4 has a combination sensor that tracks heart rate, electrical heart data, and so-called Bioelectrical Impedance Analysis, which is a catch-all for measuring overall body health. This isn't the first time we've seen such an implementation — the Fitbit Sense boasts a BIA sensor — but it's the first offering from Samsung, and for Wear OS.
I tried the new system, and it seems pretty thorough, so I'll have to spend a bit more time to gauge repeated accuracy. All-day heart rate measurement isn't new, nor is ECG or the ability to detect atrial fibrillation. Blood oxygen saturation is novel, and useful for detecting early signs of infections like Covid-19, but won't be widely used. (The Watch 4 can also measure blood pressure, but the FCC has yet to approve the feature for the U.S.)
Samsung Galaxy Watch 4 & Watch 4 Classic: Tizen makes way for Wear OS
In the war of Android smartwatches, it's clear that Samsung has won and Google is simply acquiescing to its dominance. Wear OS 3 has been designed by both Google and Samsung to deliver a unified smartwatch future to the market but there's no denying Samsung's deep influence on the development. Samsung is the first OEM to launch with the new OS and it shows.
Wear OS 3 is quite a bit more than just a way to power Samsung's new smartwatches in the long run but, for now, current Galaxy Watch owners will have a hard time finding big differences between One UI Watch on the Galaxy Watch 4 series and what's present on previous Galaxy Watches. That is until they start digging a bit.
At the heart of this change is the Google Play Store, a fundamentally different way to get a wider variety of apps on your smartwatch. The usual suite of Samsung apps are preloaded on the watch — including a few Google ones like Google Maps, Messages by Google, Google Pay, and YouTube Music — and additional apps can be installed via the Play Store on either the watch itself or your linked smartphone. Google Maps, in particular, is a huge new addition to Galaxy Watches that provides excellent turn-by-turn navigation right on your wrist.
As you might expect from a Wear OS watch, you can choose between several different apps to set as defaults for certain experiences like voice typing or mobile payments, but right now your only choice of voice assistant is Bixby — Google Assistant, despite being built into previous versions of Wear OS, is absent. Thankfully, Samsung says it'll be adding in the ability to choose between Bixby and Google Assistant at a later date.
Navigation is handled much in the same way you might expect to find on existing Samsung or Wear OS-powered watches. Swiping to the right brings up notifications, while swiping left opens up Tiles, which function a lot like a widget on your phone's home screen might. Swiping down on the watch face reveals quick settings, including options like water mode and Wi-Fi or Bluetooth toggles, while swiping up brings up the full list of apps.
That list of apps is one of the most visually distinct differences between existing Wear OS or Tizen watches and the new WearOS 3-powered Galaxy Watch 4. There's a certain visual similarity to Apple's staggered grid of app icon, for sure. Icons can be rearranged either on the watch or via the Wear OS app on your smartphone, which makes it a quick swipe and a tap to get to your most commonly-used apps. It's a bit Apple Watch-y, but that's not a bad thing.
Dozens of watch faces are present out of the box, and these faces can all be customized in several ways. Some faces are more customizable than others — as we've come to expect from Samsung and Google-powered smartwatches — but if those watch faces don't do it for you, existing Wear OS custom watch face apps should work just fine. Yes, your favorite apps, like Facer, will work on Samsung's Wear OS platform.
Overall performance was generally in line with what we've come to expect from Samsung smartwatches, although the Google Maps app was noticeably slow to load the map data in New York City. Whether this was due to non-final software or just the copious amounts of buildings and streets in the city remains to be seen.
Samsung Galaxy Watch 4 & Watch 4 Classic: Making health measurements matter again
Samsung's 3-in-1 BioActive sensor is a first of its kind, utilizing a single chip to take precise measurements instead of needing separate components for each one. This chip also brings the measurement tool closer to the skin, purportedly making measurements more accurate.
The pre-installed Samsung Health app on the watch is a hub to launch all of these measurements, although there are several other ways to start measurements as well, including via dedicated Tiles. Some measurements, like heart rate and blood oxygen level, can be done fairly quickly with the watch sitting on your wrist.
Others, like the new body composition tool, require 10-20 seconds and need you to hold your middle and ring fingers on the two watch buttons to create a sort of complete circuit for the watch to measure. Based on how I feel about my own personal fitness, the skeletal muscle mass, basal metabolic rate, body water and body fat percentage markers all seem to line up with my own expectations and give me an idea of what I can strive to improve. Good goals, if nothing else.
Samsung has also improved sleep detection, adding in more accurate measurements, battery life improvements, and even snore detection when your phone is placed nearby overnight. There certainly wasn't enough time to test this during the hands on, but the opportunity should present itself soon enough.
An interesting caveat is that you'll need the Samsung Health Monitor app on your smartphone in order to take advantage of any of these features. Since that app is only available on the Samsung Galaxy Store — an app store only available on Samsung Galaxy phones — owners of non-Samsung-branded Android phones will be missing out on some of the best features of the watch. As of now, there's no iOS compatibility at all and Samsung wasn't able to comment on future plans for expansion.
All of this ties in with the idea that this is a Samsung watch first and a Wear OS watch second. Many of Samsung's own customizations, including syncing Samsung-specific settings and watch faces between the phone and the watch, will only work on a Samsung-branded phone at this time.
Of course, part of the draw of moving to Wear OS is having access to third-party apps that ignored or neglected Tizen. Wear OS has never been particularly well-known for its app quality, but given its proximity to the Play Store, developers took stabs at building bespoke experiences for it.
As a result, the Galaxy Watch now gets access to more fully-featured versions of health apps like Strava, Adidas Running, and Calm, among others. Google's new Tile system will also give developers a new way to deliver app-like experiences as widgets on the watch's home screen, though none have left the testing phase just yet.
Samsung Galaxy Watch 4 & Watch 4 Classic: More to come
The Galaxy Watch hardware is a known quantity, and what we've seen of Samsung's two new watches so far is reassuring — there's a lot to like. Less assured is the transition from Tizen to Wear OS in the short-term and, long-term, how Samsung and Google will fare co-managing one of the most important platforms in the industry.
Wear OS must thrive; it's imperative to Google's mobile future, and early indications point to Samsung being a perfect partner. But the Galaxy Watch 4 series will be just one of likely dozens of Wear OS watches released over the next year, all running modified versions of a platform that, along with Google, Samsung had a hand in building. Even Google is expected to launch its Pixel Watch later this year.
Whether Samsung's decision to maintain visual and functional continuity between Tizen and the new Wear OS by styling the Watch 4's software on One UI is ultimately the right decision remains to be seen. But the very fact that you can run Google services, the best Wear OS apps, and soon Google Assistant, on a Samsung smartwatch, with all the ecosystem benefits that provide Galaxy phone owners with reasons to stay with Samsung, is a compelling argument for why Samsung paired up with Google on this project.
We just have to hope that it benefits Wear OS as a whole, too.
The Galaxy Watch 4 and Watch 4 Classic go up for pre-order on August 11 with an on-sale date of August 27. The Watch 4 starts at $250 for the standard version and $300 for the LTE model; the Watch 4 Classic starts at $350 and $400, respectively.
Samsung Galaxy Watch 4
Samsung's Galaxy Watch 4 marks the return of the popular sporty aluminum smartwatch after a brief hiatus. Featuring a 40- or 44mm face and all-new hardware, the Watch 4's $250 starting price point is pretty compelling given its new Wear OS 3 pedigree.
Samsung Galaxy Watch 4 Classic
The Samsung Galaxy Watch 4 Classic is made of stainless steel and features an all-new hardware loadout including a faster SoC, higher-resolution display, and all new BioActive sensor.
Get the Android Central Newsletter
Instant access to breaking news, the hottest reviews, great deals and helpful tips.
Daniel Bader was a former Android Central Editor-in-Chief and Executive Editor for iMore and Windows Central.