Samsung Galaxy Tab S3 currently on sale for $499, keyboard cover just $65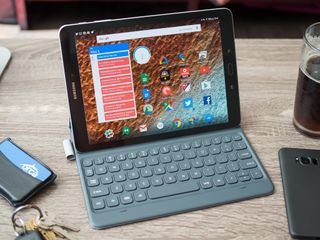 Samsung's new Galaxy Tab S3 hasn't been out for long, but there's a big sale on right now across multiple retailers that has dropped its price to $499 (or a tad less in some cases). Amazon, Best Buy, Samsung and more all have the Galaxy Tab S3 for at least $100 off the original price, with Amazon posting the lowest price at $491.22.
Adding to the fun, Samsung has also cut the price of the keyboard cover (opens in new tab) in half to a far more manageable $65. That means you could pick up the tablet and keyboard for just $556 ... which we have to say is a great deal.
See at Amazon (opens in new tab)
See at Best Buy (opens in new tab)
See at Samsung (opens in new tab)
As one of the only high-end Android tablets that's actually new, many may be taking a look at the Galaxy Tab S3 at this new lower price. At an original price of $729 for the tablet and keyboard it was a tough sell for many, but this may get it down into the range where it's easier to justify picking one up.
More: Samsung Galaxy Tab S3 review
Though the Galaxy Tab S3 isn't perfect, it's a really solid big tablet that offers good hardware, a great screen, some nice tablet software features from Samsung and a respectable keyboard case. We have no idea how long this deal will be around, but considering it's available across so many retailers it seems as though Samsung is trying to make a nice early-summer push with its newest tablet.
Get the Android Central Newsletter
Instant access to breaking news, the hottest reviews, great deals and helpful tips.
Andrew was an Executive Editor, U.S. at Android Central between 2012 and 2020.
These deals are great but I just got an open box S3 from Best Buy's ebay site for $424.99 plus tax so, $460.05 total.

You saved about 80 from a brand new one

I'm tempted, but my Asus Flip fits my needs for now.

Yes, Asus Flip is the shiznit. I just want a second flip to keep by my bed... Spoiled

Man, that keyboard is so tempting... but also so really not needed :)

Just for you, or in general? I don't see many situations in which I'd want to have the Galaxy Tab S3 and not have a keyboard with it.

For me specifically-- the overwhelming majority of the time, if I'm going to type something that would benefit from the keyboard case, I'm probably steps away from a real computer and keyboard. The number of times when I'd benefit from this, but not need to have a full laptop anyway, are small enough that this really would be an impulse purchase. Maybe when it drops into the $40s I'll snag it.

I agree with him, keyboard cases are almost pointless for an Android tablet, I use a tablet as a tablet and hold it, I don't use it like a laptop. Any serious typing I do on a full sized keyboard.

iPad is $329 brand new and actually has a massive app library that's compatible plus has better games with better graphics. So I'm gonna hard pass.

Base iPad definitely has a better app catalogue (it's not even a competition), but it also has an arguably worse display and no connector for a hardwired keyboard like the iPad Pro and Galaxy Tab S3 have.

Tab S3 has a HDR display comes with the S-pen & isn't limited like iOS

Or Supported like IOS...tell it all. By the way what is limited about IOS when it comes to usability?

iPads are limited in features compared to a tablet running Android, but iOS 11 is a big step in the right direction.

Apple's budget iPad is, it's got an older display and the same body as the iPad Air. It also doesn't support Apple's keyboards or the Apple Pencil. Personally if I got an iPad I would get the Pro, which starts at $649.99, and you pay an additional $100 for the Pencil while the Tab S3 includes the S Pen.

I'll still wait for a cheap secondhand local deal. I'll run my Note 10.1 2014 to the ground before I upgrade to this or the tab A with spen.

Too many devices. Better off getting the CB+ or Pro

Never. More device more choice. I have devices from every OS, and enjoy using them all.

Microcenter has it for $449.99 brand new. Best buy price matches if a store is within 50 miles of it. If you already bought it they will price match it for you if it's within the return window.

This is a fake account. :D

When is the cellular version coming out??

Got it for $455.98 total from Micro Center. Should be receiving it next week.