Samsung Galaxy Tab 10.1" shows off Galaxy Tab 8.9" retail mode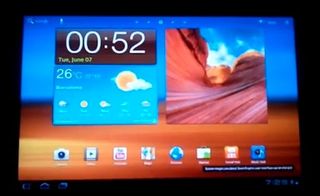 YouTube link for mobile viewing
Looking for something cool but not overly useful to do with your Samsung Galaxy Tab 10.1? Might as well check out the Samsung Galaxy Tab 8.9" retail mode that has been loaded onto it since Samsung saw fit to leave it on there. As you can tell from the video above, it's as you would expect -- just a demo video of what the device is capable of in addition to showing off the new TouchWiz UI. Here is how you can do it:
Update your Galaxy Tab if you haven't
Go to Categories > Utilities
Install the 8.9" retail mode app
Launch the app, press OK and then enter the password 5444
Check the "Service Enable" box -- it will be on a new screen, and then press the lock button.
Demo will start shortly.
That's it. Sit back and enjoy the video and know you'll soon be getting the new TouchWiz UI you see before you.
Thanks, Will!
Any chance the new TouchWiz UI is coming to the original Galaxy Tab? Gingerbread is wonderful on it, but I've always wondered what Honeycomb would be like.

If we're really lucky, Ice Cream Sandwich will make an appearance, but don't hold your breath.

Is this only for the vzw version or for both the vzw and wifi only?

i did it on my wifi, but i don't see why it won't work on a vzw model.

Found it on my WiFi only.. took me a sec to figure out it was in the Samsung apps market.

I am having a hard time with the instuctions. My tab does not need updating and where are the utilities mentioned, in the market? I do not see it in my market anywhere.

I am having the same issue. There are no updates for my 32GB tab 10.1 and I cannot find categories or utilities. Any suggestions?

When I opened up Samsung Apps, it prompted me to update. I did, and it brought a new interface. Then you can look under categories.

Where do you findcatefories?

I found it in the samsung apps, but not i'm prompted to enter a password and I have no idea what kind of password to enter. Any help? For others: Go to Samsung Apps - Categories - Scroll down to utilities and then click the retail mode one, it's free. Install it.

Chris you need to re do if directions. Open Samsung apps store then follow the directions provided in the article.

OK, Samsung Apps>Category>Utility>Install Retail Mode for Galaxy Tab 8.9.

What version of the Kobo Reader is that? I downloaded the latest in the Market and it doesn't have the page-flip animations.

That's actually the google books app. What's nice about the readers hub is that all books from all apps will show up in one place.
Android Central Newsletter
Get the best of Android Central in in your inbox, every day!
Thank you for signing up to Android Central. You will receive a verification email shortly.
There was a problem. Please refresh the page and try again.