Samsung Galaxy S7 and S7 edge hands-on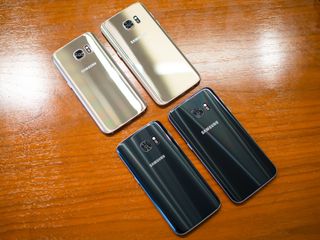 The Galaxy S6 launch was a divisive one for Samsung. It marked a pretty impressive move for the company with the introduction of a new hardware strategy, simpler software, a dramatically improved camera and the innovative new dual curved edge display on the GS6 edge. Rightly or wrongly, the fans seemed to focus instead on the lack of a microSD card, the small non-removable battery and the loss of waterproofing as major downsides of the phones, overshadowing all of the steps forward.
Looking at it from this angle, the Galaxy S7 pretty clearly meets — and addresses — those criticisms from last year, but without any new compromises. A phone that still has that great hardware, improved software and stellar camera, but one that offers a larger battery, keeps removable storage and even holds a waterproofing rating without flaps over the ports. And at the same time, we're getting a choice of a larger Galaxy S7 edge with an even bigger battery and some new software tricks.
Under the threat of being told it isn't innovating enough by sticking with a familiar design, Samsung added what people wanted while keeping the hits introduced last year. The Galaxy S7 isn't an entirely new phone, but that shouldn't be a knock on it — in this case it should be a feature. Learn about everything it brings to the table here, in our full hands-on preview.
The video
Galaxy S7 and S7 edge Hands-on video
We have had the opportunity to work up a couple of videos that break down the high points of the Galaxy S7 and S7 edge. While you'll get a great condensed version from these, we also encourage you to read through the words here as a follow-up to get even more detail and editorial opinion on the phones!
Proven formula, plus a few bonuses
Galaxy S7 and S7 edge Hardware
For as huge of a departure the Galaxy S6 was from the Galaxy S5, the Galaxy S7 is as subtle of a change from the GS6. After releasing the Galaxy S6, S6 edge, S6 edge+ and Note 5 with very similar designs in 2015 it turns out Samsung is still very happy with this hardware, and it should be. The Galaxy S7 is now basically a miniature version of the Galaxy Note 5, with the same glass and metal design now highlighted by curved edges on the back glass that were previously exclusive to the Note.
There are further subtle changes in the design to make note of. A slightly thicker (just one millimeter) build gives room for a larger battery, which is now 3000 mAh on the GS7 and a massive 3600 mAh on the GS7 edge, and the camera bump has been decreased to less than half a millimeter. Though we don't know just how the new processors will affect the battery, we should be looking at full-day battery life in the Galaxy S7 and even more on the S7 edge — a big departure from last year's Galaxy S6.
Image 1 of 5
Matching early rumors, the phones are also IP68 rated for water and dust resistance, all without requiring a single gasket or flap covering a port like so many struggled with on the Galaxy S5. Of course these aren't rugged phones like the Galaxy S "Active" line, but knowing you could use the phone in the rain or spill a drink on it and have it come out no worse for the wear is a huge selling feature.
Unlike last year's launch, the "edge" version of the Galaxy S7 is actually a different size. The Galaxy S7 edge at 5.5-inches is notably larger than the 5.1-inch GS7, and just slightly smaller than the 5.7-inch Galaxy S6 edge+ of last year. Size aside it matches all of the subtle design changes available in the Galaxy S7, including the curved glass on the back, but of course you're greeted by a display that curves tightly on both sides. Having symmetrical curves on the front and back creates an interesting visual effect, but only time will tell if it could hurt usability — turning this thing into a slippery fish — having even less metal on the sides to hold.
The phones come in two new base color options, black and gold, with the GS7 edge also offering a platinum silver choice. The ostentatious gold and silver colors are amazingly reflective and bright, even more so than last year, but are also subtly different in their shades. The inky black color is by far my personal favorite, and is a suitable replacement for the dark blue before. Aside from the base color changes, the accents around the home button and camera have been toned back a bit from last year's flashy polished silver to more closely match the main color; it's particularly notable in the black version of the phones.
Image 1 of 5
Once again you're getting the same fantastic display offering in the Galaxy S7 and S7 edge as in Samsung's 2015 flagships, with bright, vibrant and crisp QHD (that's 2560x1440) Super AMOLED screens on both. Just like the hardware it's pretty clear Samsung knows it's in a good position in terms of display quality, and there was no need to change anything here.
The internal specs are where the Galaxy S7 and S7 edge start to differentiate themselves a bit more from the outgoing leaders. There's a bump to 4GB of RAM in both models, which proved useful in the Note 5, and of course you have a jump to the latest processors too. This year it's a return to Samsung's usual layout of a Snapdragon processor in the U.S. and its own Exynos chips elsewhere around the world — that's interesting considering how well last year's flagships performed, but historically this is how Samsung has operated. We'll see the latest Snapdragon 820, or the Exynos 8 Octa, powering the phones. And if history tells us anything, there won't be a notable difference in performance between the two processor choices (though you won't really have a choice between the two anyway).
And now, let's all welcome back the microSD card to a Samsung flagship phone. Whether the amount of outcry over the lack of expandable storage was overblown or not, Samsung has done a full 180 to bring back the feature here. The SIM slot now contains an extra holder for a microSD card of up to 200GB in size, to compliment what is (at least in the U.S.) your only choice of 32GB of internal storage. Samsung has also chosen not to include Marshmallow's new "adoptable storage" option here, meaning the SD card will act just as it did on your Lollipop-running Samsung phones — it can't be integrated into the system (for better or worse ... that's debatable) as a true expansion of the internal storage.
A little cleaner, and a few new features
Galaxy S7 and S7 edge Software
Samsung has made the jump to Marshmallow on the Galaxy S7 and S7 edge. Unfortunately due to the timing that means that cat is already partially of out of the bag on what we were going to see considering its rollout of the software to existing phones has already begun. Following a considerable change of pace with TouchWiz in the Android 5.0, the changes in store for jumping to Android 6.0 are a bit more subtle — at least visually.
Thumbing through the launcher, settings and apps won't reveal many changes from what you're used to on your current Samsung phone. The big changes you'll notice are a new muted color palette for the notification quick settings and refreshed circle-square icons for the system apps, but beyond that there actually isn't much to write home about here in terms of looks. Samsung's default apps still largely look the same as they do now, which may upset some Material Design purists but shouldn't be surprising — I think Samsung's apps still look fresh and modern, even though most haven't been notably redesigned in a year.
One of the biggest new user-facing software features actually comes to the fore when you turn the screen off. A new always-on display (or AOD, if you like) will now show little bits of information on the screen that would otherwise be sitting black. You can choose to display one of several clock interfaces, a month calendar or a wallpaper-like background image, each one with varying amounts of information density including the time, battery percentage, date and notifications. The always-on display follows in the footsteps of features from Motorola, Google and OnePlus, and gives you a little bit of information on what would otherwise just be wasted space when you're not actively using the phone. And don't worry — Samsung has taken measures to be courteous to both battery life and screen burn-in concerns.
When it comes to the under-the-hood substance, there's a larger group of changes waiting. Marshmallow of course brings better battery life with Doze and app standby, as well as1 new possibilities for using the fingerprint sensor in apps and on-use granular app permissions. We've yet to see all of the little tweaks that Samsung is including beyond what comes standard in Marshmallow, but we know there's a fresh Internet browser, changes to multitasking and plenty more just waiting to be discovered.
Samsung has also included a new "gaming launcher" for the Galaxy S7 and S7 edge, which gives you maximum power to run your full-screen games while also limiting interruptions from notifications. That ties in nicely with support for the Vulkan API, which has the potential for better-performing games in the future as developers ready their apps for the platform. Prefer virtual reality? Both phones are ready to be used with the current Gear VR hardware.
A new 'edge UX' on the Galaxy S7 edge
For those who have used a Galaxy S6 edge or S6 edge+, the most substantial software changes are likely to be in the so-called "edge UX." In a move that actually heads back toward what Samsung first introduced with the Galaxy Note Edge, the edge screen on the Galaxy S7 edge can now do a lot more than the previous generation.
Whereas you were stuck with just the "people edge" and "apps edge" on the previous generation, Samsung is going back to having a set of customizable edges for you to choose from that can offer more interactive experiences. A new "tasks edge" lets you have specific tasks inside apps pinned to the edge screen, the apps edge can now include up to 10 apps and once again additional third-party edges can be downloaded.
The edge screen is still activated with a swipe in on a small handle along the side of your phone (which now offers more adjustment options), but can now expand to take up a larger portion of the display. With the right third-party edges you can once again do things like read news headlines, see sports scores and quickly access "tools" like a compass and ruler, all without opening an app or losing what you're currently looking at on the screen.
It's an odd move considering the immense backpedaling after the failed Galaxy Note Edge that tried to do too much on just the edge screen, but this new edge UX feels a bit more natural and in the end is completely out of the way when it's not in use — a critical difference that could make it useful for those who want it. Still, I question just how useful these edge screen experiences are for people on a day-to-day basis.
Expected to lead the pack
Galaxy S7 and S7 edge Camera
Although the Galaxy S6 already offered a fantastic camera experience, the Galaxy S7 and S7 edge look to bring a considerable jump in terms of photo quality. Right from the start most people will notice the drop to 12MP from the previous 16, but this comes with two big changes that should more than make up for the loss in raw pixel numbers.
The first large (literally) upside is that the individual pixels are now 1.4-microns in size, up from 1.12 before. That lets each pixel bring in even more light, brightening up photos in all lighting conditions and letting the camera reduce noise from high ISOs and blur from slow shutter speeds. Next, it also let Samsung move to what it calls a "dual pixel" sensor, which means every single pixel is used for phase-detection auto focusing, an upgrade from the previous sensor that used fewer pixels. That's going to translate into faster focusing, even without the use of a laser auto focus mechanism.
It'd be understandable for Samsung to think its new larger pixels could bring in plenty of extra light, but the camera lens is also improving to a wider f/1.7 aperture to let even more light into the sensor. We all saw the excellent results of moving to an f/1.9 lens last year, and this should be yet another step of improvement. All of these changes haven't come at the cost of any other features, either, as Samsung has kept optical image stabilization (OIS) in the camera for steadier shots and even better low-light performance.
On the camera software front, Samsung isn't messing with a good thing. You'll find the camera still launches extremely quickly with two presses of the home button, straight into basically the same interface as Samsung's leading 2015 phones. There's still a full manual camera mode, RAW capture support and tons of shooting modes.
We've yet to put the Galaxy S7 and S7 edge through their paces when it comes to camera perform us, but color us impressed so far by what Samsung has been able to achieve here.
So much more to come
Galaxy S7 and S7 edge First impressions
Whenever you release a new phone that looks very similar to the last generation, you walk a tight line that could reduce the chances of your customers upgrading or make new customers simply look elsewhere. But if you spend just a little bit of time to understand all of the changes in the Galaxy S7 and S7 edge, you'll see there's a whole lot here to be excited about that doesn't relate to changing the external hardware.
Samsung has made hardware changes where they count. The big tentpoles of a larger battery, an SD card slot and waterproofing are important features that will all drive sales. A faster processor and more RAM aren't things to hang your hat on, but will improve the experience once people actually have their hands on the phones. And at the same time, the hardware really doesn't come with many compromises — it's still a great piece of work externally. And though the camera may seem the same at a glance, the improvements have it poised to once again be the best shooter available in a phone for the year, and that's very exciting.
The software story is arguably just as subtle as the changes in external hardware, and it's the one place where you may be warranted in not agreeing with Samsung's strategy. Building off of a base of Marshmallow is always good to see, but not much has changed visually and there aren't many big new features — in many respects it's a pile of small tweaks that will improve the experience over time, but won't turn heads to buy the phone in the first place.
We're just getting started
Does Samsung have a pair of hits on its hands? Well, we don't really know that right now.
There's a lot to say about the Galaxy S7 and S7 edge at this point, only some of which has been expressed here in our hands-on post. But you can bet on us having plenty more to come after we all spend more time with the phones. Following this initial coverage from MWC, you can expect feature breakouts, analysis, editorials and a full review of both phones when they become available.
Keep your eyes on Android Central for all of the latest and best Galaxy S7 and s7 edge coverage!
A live podcast special
Since we were fortunate enough to have both myself (Andrew Martonik) and Phil Nickinson use the Galaxy S7 and S7 edge, we decided to sit down for a reflective podcast special where we dumped all of our first thoughts on the phones. These are our initial thoughts on the phones, before we actually knew too many details, actually — and we think that raw take will be interesting to listen to.
Android Central Newsletter
Get instant access to breaking news, the hottest reviews, great deals and helpful tips
Andrew was an Executive Editor, U.S. at Android Central between 2012 and 2020.
Sorry LG, Samsung wins this round!

Ho-hum design iterations are a snoozefest. No innovation here at all. LG is actually designing and trying new concepts. These new Samsung phones are all very Pretty though. Just like last ones. Zzzzzz Posted via the Android Central App

Agreed. LG tries new things but people call them gimmicks while Samsung fixes the gs6 mistakes and it's somehow amazing. Ridiculous consumer thought process. Posted via LG H815

I'm entitled to my opinion. S7 has larger battery, water resistance IP68 rating, wireless charging, AMOLED panel, large pixels in camera for better low light along with F1.7 aperture. That's why I think Samsung won this year, in my opinion. You are very much entitled to disagree with me. I never said you couldn't!

I agree Posted via the Android Central App

All very nice design points. Excellent craftsmanship. No innovation. Safe. Boring.

Great grammar. Excellent spelling. Same concept as previous post. Boring.

Actually, Samsungs aren't boring because you can still do most of what makes Android so open and flexible (and do so with excellence). If the GS7 had iOS loaded on it, THEN I would also say that it is definitely boring.

Hey rinkeedink, maybe share what you were expecting or even better what are you missing here?

Plus, as a Nexus 5X owner, 5.2" is as big as I'm willing to go.

For a 5.2", the nexus 5x is HUGE

Time will tell on the camera. I think there was another phone company who said larger pixels and a lower pixel count will make it the best camera ever, especially in low light.... ah, oh yeah, HTC, and how did that work out? People will complain about the pixel count and Samsung will release 16mp next and be hero's with a great new feature.

My iPhone 6S Plus' 12 megapixel camera takes very nice pictures, so yeah I think the GS7's will be fine.

dude... HTC went down to a 4mp camera... not even CLOSE to the same thing thats going on here. it is a FACT that bigger pixels let in more light. Science, not marketing

12MP is a huge difference over 4mp.

Bingo this will be the first Samsung camera to suck watch Posted via the Android Central App

I already watched it. And it didn't suck. Not once. Check out the camera samples at GSMArena.

There is a difference between going back to 12MP and going back to ridiculously 4MP.

to be fair, HTC paired large pixels with abysmally low total pixel counts and sub par camera software. larger pixels paired with a high MP sensor is a good thing.

@Tadrift
LAME! You're seriously equating HTC's 4MP camera to S7's 12MP?

totally agree... s7 wins hands down. The LG is no slouch, but the extra stuff will likely be expensive, and from what i am seeing so far, not all that useful. Not to mention that ridiculously small battery. I applaud LG for trying, but I dont believe in them as a company enough to be able to build an ecosystem for all their proprietary "friends" crap either. at least not right now. Maybe for the G6 it will be there but not yet. I am really interested to see reviews on them both but right now, my money is going back to samsung this round.

I am not a fan of Samsung, and have owned the G3 and G4, but I agree the S7 is the better phone.... for me at least. Having said that, I also agree that S6 should have had some of the S7 features.... the larger battery, the expandable storage, and water resistance. Samsung made mistakes. At least this time round they are addressing them :)

Well we are talking about phones after all. LG announced something like a "fun center" for grown kids, a challenging for software possible additions of a bloatware. Last year, before Nexus 6p/Note 5 there where no flagship without a big flaw (software or hardware), so fixed S6 is a welcome addition instead of new set o challenges or gateway gadget for many additional purchases. Most of just want a reliable phone ;)

Apple does the same **** year after year and they sell like hot cakes. At least sammy is giving us what the consumer wants. Good with Apple

The S7 is the first phone ever to have an f1.7 aperture camera lens, and also the first to have a camera sensor with 100% pdaf coverage for better focusing. Also, some of the largest batteries in the industry for the screen sizes. I mean the S7 Edge is almost the exact same size as the G5 (actually slightly narrower than the G5), and yet it has a larger screen AND an 800 mAh larger battery. 800 mAh larger!!! Now that's the kind of innovation I want! I don't care about a battery that slides out of the bottom. If the battery is large enough in the first place, you don't need that!

A better camera and bigger battery... What will they think of next?! Wow! That said, it's a beautiful device.

Just cause something is easy to think of, doesn't mean it's easy to do. Motorola and HTC have been trying to will great cameras into their phones for years with little success. I mean honestly, are better battery life and better cameras not what you want? I would rather companies put research and development and innovation into those technologies than gimmicky stuff.

It's a phone, what do you want a coffee maker built-in?

Yes...yes I do. And I don't want to pay extra for it to make me a ham sandwich either. Posted via the Android Central App

f1.7 was in the last year's G5 and V10 and G2 had 3000 mAh battery for 5.2 in screen (w small bezels had the same footprint). VZW Moto X DE/N7

No, the G4, V10, and G5 have f/1.8 cameras. And the S7 has a 5.1 inch screen, not 5.2, and is 1.3 mm narrower than the G2 and 1 mm thinner. It's immpresive and there's no way around it. Just admit it.

Plus super fast charging Sammy wins hands down. They knocked it out of the park

One man's innovation is everyone else's cheap gimmicks. :shrug: Posted via the Android Central App

Possibly true, but that doesn't mean the G5 is better than the S7.

It's called an "opinion".

Looks the same as my s6 edge. If I wanted the same look all the time, I'd switch to an iPhone Posted via the Android Central App

Here's my take. LG's phone was definitely the more radical of the 2, introducing some never-before-implemented concepts like the modular design, but some features might end up being gimmicky if LG doesn't leverage on their possibilities. Samsung played it safe this year and fixed a lot of the issues that plagued the S6. Net result is a very pretty phone but with the hardware to match. Larger battery, expandable storage, great performance, etc. Here's my opinion. LG made the better geek toy for people like me to play around with, but Samsung made the better phone.

My initial thoughts also. I'm going to await the HTC (M10) and evaluate all the flagship reviews. Camera including OIS is important to me. All the boxes seem checked including size and ergonomics. The S7 may be my first Samsung phone.

Woah, kinda odd that you'd be considering a Samsung device since you're mainly an HTC guy, but I hope that HTC comes to their senses and actually releases a great phone in the M10 with an actual smartphone camera. But if you do choose to get the S7, I don't think you'll be disappointed.

Very. Also amazingly reflective.

Might be good fill for back-lit shots — just a thought.

Yep Posted from my Nexus 6/Nexus 7 2013/Surface Pro 3

That's the one I'm getting.

Agreed. My dad has the silver Edge+ from last year, and it's amazingly gorgeous next to my gold Note 5.

My co-worker has the gold Edge+ and it looks amazing.

As an OSU fan its needed. lol Now all I need is some red...

The S7 makes the S6 look like a silly joke. The S6 truly was Samsung's biggest mistake ever. I'm very happy to see Samsung moving forward again. Posted via the Android Central App

My s6 is easily the best android phone I've ever had. Not sure what your problem with it was was. Posted via the Android Central App

Agree with you. I am happy with my Galaxy S6. Even though S7 is a beast and I'm drooling over it already. Posted from my Samsung Galaxy S6

I guess you haven't heard any complaints about battery life? Yeah, I'm sure you'll reply and say you get 3 days of SOT or whatever, but for most, it was horrible :P Plus, lack of SD storage and no waterproofing didn't help either.

Has bad ram, small battery, and bad power management Posted via the Android Central App

Dumb. The Continuum was Samsung biggest mistake ever. Posted via the Android Central App

Kinda glad. I have many a micro USB cable lying around.

At some point you have to move on. This honestly may make me not buy one of these.

I'm sure this'll be great without the type C connector.

Who says we have to move on? Posted via the Android Central App

I'll move on when USB C stops frying phones. Posted via the Android Central App

That's more an issue with companies not properly building their cables and/or wall chargers, not so much with the ports on the phone themselves.

yeah cause USB c has had such an amazing track record that even apple had to recall their OEM cables... I am SUPER happy they kept micro. I have a ton of chargers already, most of them quick chargers, so really not a lot of benefit for me with usb-c

This. I'm grabbing a cord from something else all the time when I need a charge.

Pretty sure you meant :) Posted from my Nexus 6/Nexus 7 2013/Surface Pro 3

I'm glad. I have zero interest on moving to USB-C when it has very very little benefits over normal microUSB.

They will have to change, eventually. If I had to choose between the S7 with micro or USB C, and there were no significant differences in function, then I would choose micro USB. But for now, I have 7 power banks, 2 phones, 2 BT speakers, 2 stereo headphones, one BT audio interface, and a pair of headsets with micro USB. I'll favor USB C once the real advantages appear.

Well, given how LG botched the G5, Samsung wins the fight this time. Despite the inferior camera.
I just wished they had kept the emerald green for the phones.

Let's not jumped to conclusions on the camera just yet Posted from my Nexus 6/Nexus 7 2013/Surface Pro 3

Eh this camera isn't "inferior" by any means. More MP does not automatically make it a better camera.

No, but less MP means less zooming and less information for the software to work with.

Would you rather have the exact same 16MP camera as last year with all the same weaknesses, or trade the tiniest level of detail for significantly faster autofocus, much better low-light performance and a smaller camera hump?

I'd rather have less pixels, but better pixels, thanks!

get a DSLR if you need to zoom that much picaso

Exactly or step one meter closer/ frame photos more thoughtfully the first time. Posted via the Android Central App

That's one of the reasons why I use prime lenses on my DSLR. I have to slow down and think before I shoot. It does make a difference--at least to me.

I don't really think you need that much megapixels. Especially since Samsung improved on other aspects that makes the experience better. Judging from recent camera samples, it's pretty darn good. In fact, it's actually a marvel.

Did the emerald ever actually go on sale anywhere? Or was it a carrier exclusive in some far-flung market?

I think it was like only in Korea. Posted via the Android Central App

Was in India too. I saw one in the wild in NYC up close - the owner was Indian - and it was sexy as hell. Haven't seen a color on a phone like that I liked since Sony rocked the purple on the earlier Xperia Z models. Approved by the Z3 Tablet Compact!

I bought the Emerald Green S6 Edge (Denmark) Sexy beast . but had to get the S6 E+ when that one came out.. Sadly didn't come in green

It went on sale across Europe. I've seen it here in Portugal several times and several times I had to prevent myself from impulse buying it just because the colour was so god damn beautiful ;)

Was everywhere but for only the small S6 Edge. It was the most beautiful colour and finish I had ever seen in a phone. Would be great if it was offered again. Posted via the Android Central App

Its available here in Mexico but I've only seen it in Telcel. It looks awesome in person.

Of course not. Somebody knee-jerking off specs.

LG botched the G5? Lol... You must have a helluva pole vault in your hands to jump to that nonsense-hater conclusion.

The only notable con that I can see with Samsung at this point is their lack of transparency in regards to the software and security patch updates. Other than that, these phones are absolutely marvelous. Nexus 6

Would be fully in the Samsung ecosystem by now if their updates were better. I mean, my 2014 Moto X beat my Note 5 to Marshmallow by two and a half months. AND COUNTING!

Also that they don't sell their phones unlocked in the US, so they're all carrier locked and full of bloatware here.

This. If they sold their phones unlocked in the US I'd probably have tried one by now. The carrier lock down (and weird carrier software modifications) are what has held me back.

Right there with ya buddy. I actually imported an unlocked S6 last year after the good reviews, but it had a pink tint on the bottom half of the screen. Since it was imported and there was no warranty, I had it exchanged from the importing company, but got another one with a less than perfect display, so then I ended up paying like a 15% or 20% restocking fee to just return it. Big waste of money. Probably won't do that again.

I bought my G920F from Amazon, have had 0 problems so far.

Well I'm happy for you, but that doesn't change the fact that it's more risky than buying through official channels since there's no official Samsung warranty and large restocking fees.

Oddly enough, we sell unlocked S6's right here at my local Best Buy.

4G Verizon smart phones are sold unlocked FYI. I recently used my Verizon iPhone 6 in Japan and Cambodia (via SIM cards from providers in each country).

that's exactly where I stand with the S7 ... IF I decide to get it (I'll probably wait for the M10 and maybe even the Note 6 before making a decision) I won't expect quick updates or complain about not getting them. Personally I think they're slightly overrated anyway. If the Note 6 has that 3600 mAh battery and SD slot (don't see any reason why it shouldn't) I'll be all over it.

I don't think there will be a Note as we have come to know it this year and in the future. This year's third quarter release will be a totally new concept — a foldable, a phone - phablet hybrid for media consumption. Samsung has determined the easy to misplace and seldom used stylus no longer drives demand.

God I hope not, I'm on a yearly jump and hope to keep going from note to note indefinitely. I can't use a phone that doesn't have a stylus and as none of the others have a wacom digitizer in them they are mainly 3rd party garbage that simulates a finger.

I am with you there. Kinda pissed that they havent issued the MM update for the note 5 yet.... though much older phones from other oems have already gotten it. lame

So it's just a Galaxy S6s... *sigh*

I know, they try to please everyone and you gotta go out and prove them wrong. Nexus 6

User - We want 4 gb RAM...
Samsung - Alright here you go.
User - We want optimum scree size with Qhd...
Samsung - I hear ya..
User - We want bigger battery..
Samsung - you were saying?
User - Metal body please.
Samsung - Indeed..
User - bring back Micro-sd..
Samsung - right back at ya.. User - It looks like previuos phone
Samsung- SIGH..

lol, people have such unrealistic expectations. the phone looks great aesthetically, why change it after just one year (and the aesthetics are slightly different, plus the ergonomics seem better). and they made significant improvements under the hood, which is really all I care enjoy anyway.

"User - We want 4 gb RAM...
Samsung - Alright here you go.
User - We want optimum scree size with Qhd...
Samsung - I hear ya..
User - We want bigger battery..
Samsung - you were saying?
User - Metal body please.
Samsung - Indeed..
User - bring back Micro-sd..
Samsung - right back at ya.. User - It looks like previuos phone
Samsung- SIGH.." That is so spot on.

It doesn't have a metal body, it has a metal frame with a glass back. Posted via the Android Central App

So you apparently didnt read ANYTHING... better camera, water proof, sd card, WAY bigger battery, more ram, faster more efficient processor, ridiculously improved gaming / graphics.... yeah.. i can see how its totally the same as the s6. Your TOTALLY right!

he must've missed that ... guess he's one of those people that don't look past aesthetics

It might look the same, but look under the hood. It's a very significant upgrade. IMO, it's more so than the S5 to the S6 since that was mainly a design shift. The S6 to S7 was a major hardware upgrade that also improved the core functionality of the phone, namely the bigger battery and the reinstating of expandable storage along with IP68 certification.

That looks great. Glad to see they listened to customers with a larger battery and SD slot along with waterproofing. Sorry LG, samsung wins again.

Agreed. LG got too gimmicky this round and forgot about general use. Posted via the Android Central App from my LG G4

yup, LG got way too cute. I just wanted improvements to their skin and a larger battery. instead they thought a little too far out of the box and added features nobody asked for without improving it's core functionality.

I'm hoping LG will come out with a nice mid-ranger that has the basic look of the G5 without the magic slot thing and reasonably priced. That'd be a nice phone.

All I wanted from the G5 was better software and some features. I didn't ask for a whole lot of stuff that pleases geeks but doesn't actually make the phone's core functionality any better.

Does it have the pressure sensitive 3d touch screen like the iPhone 6s?It was rumored to have it

Andrew. Is multi tasking fixed? Does it still kill processes in the background?

Android Central has never acknowledged the multi-tasking issues on the S6 and Note 5. Posted via the Android Central App

Unfortunately you are correct. It was very odd a year ago. AC seemed to go or of their way to downplay that as much as possible. It seemed to be across the board with all their writers, I never understood why.

i hope that its corrected. Kinda frustrated me when using the device.

That's probably because it has absolutely no impact on usage for the average consumer.

Likely with the marshmallow updates to multitasking and the additional ram i would say it should be. I have a note5 and just the additional ram makes a HUGE difference over what it did in the s6 (horrible multitasking)

And Rene over at imore is already out bashing it... Bet he had that article waiting for right when samsung announced the s7... Wow http://www.imore.com/galaxy-s7-samsung-still-cant-achieve-apple-level-in...

That's okay, he's been called out already. Movin' on Nexus 6

Hes so foolish. Check out his photo, looks like he has an iPhone stuck up the old hinnie ho.

He's really insecure, it's sad really. Posted via the Android Central App

Hilarious. Ports not lined up aesthetically? Yeah, because we all know that having them line up is more important than correct battery percentages, or audio volumes that run out of power at 75%, or screens that scratch, or lock screens that put the controls at the top of the phone and have redundant volume controls, or...

I feel ashamed now that I actually clicked on that article; I read through it and thought it was satire...but it wasn't. I wonder if Rene goes into a twitching fit when he watches this: https://www.youtube.com/watch?v=O99m7lebirE

Holy OCD! Or, rather CDO, with the letters in alphabetic order like the SHOULD be.

I like the silver S7, and the notification quick settings look a lot better.

Yeah, the silver looks great.

I shall stay with my S6 edge plus. As it is a 5'7 screen not 5'5.i have gotten very use to this screen size. Posted via the Android Central App

No adoptable storage... and I weep. S7 might be a great camera and a good upgrade, but why would you bring microSD back but limit it like that?

Sorry consumers don't screw things up I guess Posted from my Nexus 6/Nexus 7 2013/Surface Pro 3

I don't know, I have changed my mind on adoptable storage. Apps shouldn't be on a SD card. You have a A9 correct? Any problems with your apps running? Posted via Nexus 6 running on any data plan I want

I don't have any problems with microSD, and that's using a three-year-old 64GB microSD card.

No point in using DDR4 RAM and then putting apps on a slow-ass SD card. Leave it for music and videos. Posted via the Android Central App from my LG G4

We have UHS-3 microSD cards now, it's not like we're dealing strictly with class 4 cards. And put a warning in about what using adoptable can do with an inferior card can mean for system performance, but don't write it off for users who understand the risks and use a fast enough card!

After initially thinking adoptable storage was a good idea, I've changed my mind. After 2 1/2 years I've only used half of my 32 GB internal and I'm virtually guaranteed no vulnerability to loss of photos, videos, music, and data accessible from the cloud on any device. Cloud storage is smart storage.
Data speeds are now becoming ubiquitously fast and unlimited reasonably priced.
Hardware storage is vulnerable malfunction and to the device being lost or damaged.

Problem is, when u use the adoptable storage, you can never ever take the card out again.
Performance is horrible compared to system RAM. SD cards are much better utilized for swappable media like photos, videos etc.

Sure you can take the card out again, you just have to reformat it. Adoptable storage is encrypted. And again, I have not experienced any noticeable lag using Adoptable Storage on the A9. It's not like adoptable storage is the only option for microSD on Marshmallow, but why would you not even allow people the option? If people dislike it, they can reformat as removable storage and go about their day. Or never turn on adoptable in the first place. But that's not a reason to not allow it on the device in the first place.

That's what I meant. if you take it out, you loose everything on the card... which kinda sucks, right? You can't even take it out, to put in another SD card with media.. because your apps were on the other SD card.. So in all practicality, you're stuck

I don't want to take my sd card out of my phone, I use the cloud and if need be USB to get things on and off the device, and setting is as adoptable also makes it more secure since it encrypts it.

I weep for people who try to use adoptable storage. What a cluster-xxxx that's going to be for the average consumer. Not that the average consumer will even be aware of the possibility.

I have a lot of apps on my 64GB Note 5. If Samsung is limiting the internal memory to 32GB, I wish they had gone with the Adoptable storage implementation. It is a pain in the butt moving Apps to a micro SD card when the internal memory is all used up. Posted via the Android Central App

I gotta ask again.... they announced a White Pearl version as well. is it coming to North America? All i hear is information about the gold, silver and black versions

Wow. Just wow. If I wasn't waiting for the Note 6, I'd preorder now. Yeah, the LG G5 is innovative, and cool. But LG is stuck on this idea or building a camera and then adding some phone to it, and that's just not for me.

Did they make the fingerprint scanner faster? My S6 is way slower than the iPhone 6s with the fingerprint unlock. Posted via the Android Central App

It says the new marshmallow update will significantly increase the fingerprint sensor speed Posted via the Android Central App

My s6 edges phone scanner has no problem? Lol Posted via the Android Central App

Agreed. My s6 fingerprint scanner was relatively useless while my Nexus 6p scanner was unreal. HAS ANYONE TRIED OUT THE S7 FINGERPINT SCANNER?

Not sure if I want the all black or go with the silver this time around. Also there was no mention of prices? Anyone know how much they could be for T-Mobile?

Love it. Can't wait to hold one in person. that note 5 back is going to make it feel awesome.

I am in for the Edge! Seems like it is probably the best smartphone ever made!

So other than the SD card returning I'm not impressed. Expected more in 2016. The Note 6 better not disappoint...

it's an improvement on screen realestate, camera, battery size, fingerprint scanning, and processing power. What else is there to upgrade?

Also waterproofness, better ergonomy.. .this will be the perfect phone

Far from perfect... Let's see how long it takes them for the security updates.... Posted via Apple 6s+ or Note 5...

A phone to make you coffee maybe!

what exactly were you expecting, other then unicorns and leprechauns to pop out on command?

Do they have female leprechauns?

That edge is beautiful. Perfect size, perfect battery capacity. But if you thought finding a screen protector for the s6 edge was a problem, wait until you get your hands on this thing!

Why? Never used a screen protector on my S6Edge Plus, and it doesn't have a scratch.. .

I took the TGSP of my 6p after 48 hours and it looks as good as the day it arrived ... don't like the way they look or feel, and no way I'm dropping $800 just to cover that beautiful display.

Since my original smartphone, I've never had a screen protector and never a scratch. Carry in my left back pocket alone.

I would use a screen protector on my Palm Pilots, but not phones. Of course, it's a different matter on iPhones with the soft glass. I carry my M8 with car keys against the glass and jog with change in the same pocket: zero scratches. My iPhone is babied and never shares the pocket with anything but a plastic comb and paper money, and I can't count all the scratches.

Can you switch the edge apps to the left side? I use the phone in my left hand so the right side edge isn't of much use to me. Posted via the Android Central App from my LG G4

Awesome! Posted via the Android Central App from my LG G4

Is the System UI Tuner feature present??? I hate a messy status bar

I love my S6. It's almost perfect. Almost because of things they have now added to S7. I probably won't need another phone anymore once I put my hands on S7.

Of course you will.. come back and revisit this post in 1-2 years and be ashamed of your 2016 self :)

Any word on decent multitasking? Posted via the Android Central App from my LG G4

49ersfan should be here any minute now to tell us that he once stood next to someone whose cousin touched the S7, and he knows for sure that it can't multitask.

I'm sure he'll be happy to wait until it's actually in people's hands and has proven to have as jacked-up multitasking as the S6 does. Posted via the Android Central App

The only thing that made the Samsung phones look bad in the idiotic youtube videos was watching the game restart. The S7 now lets you minimize games so you can pick up where you left off, so it's going to be mighty difficult to make it look bad unless you ignore that new feature.

Let's see... compared to the other flagships, it has instant focus, low-light goodness, active panorama, wireless charging, fast wireless charging, NFC payments, MST payments on any card reader, IP68 water resistance, latest graphics API that can make use of multiple CPU cores vs. outdated OpenGL, bigger battery, microSD slot... WHAT??? NO IR BLASTER? The whole reason I buy a phone is to change channels on my TV. No deal.

but I heard the world's strongest man was able to bend it in half

As opposed to a 10 year old girl who can bend the Nexus 6P in half.

lol ... this phone really looks great. I'm gonna wait for the Note 6 though since I like larger displays. the edge looks amazing but it just bothers my eyes after awhile. I just need that 3600 mAh battery in the Note and I'll use it as my work phone probably for 3 years.

Yeah, I'm waiting for the Note 6, too.

Andrew, a few 2015 phones took pride in their super strong screens, basically you could drop kick the phone across the room and it wouldn't break, or you could roll over it with a shopping cart. The new galaxies look pretty, but did the Samsung people mention anything about durability? They're great-looking phones, but I imagine I'll have to cover them with a case, right? What's the point with the beauty contest phones if they need to be covered?

The GS6 and "friends" are super durable...

lol ... what a huge disappointment by LG. talk about over thinking

Fortunately I'm not an oaf nor a field worker. Never liked encapsulating beautifully designed ergonomic smartphones in an Otterbox style case. Neither do thousands snapping photos of presidential candidates at rallies, if you've noticed.

Carphonewarehouse here in the UK are now listing the phone as £569.99 sim free (unlocked)

If Samsung directly sells unlocked versions in the US, I'll seriously consider it. Less carrier bloat, although Sprint non essential apps are 'uninstallable' and potential for faster security updates. Plus potential special offers cutting out the retailer like HTC has been doing.

This is Samsung's demise.

Yeah wow people said that last year and here we are. Be a better troll. Posted via the Android Central App

This would mark the continous progress of Samsung in right direction. Nothing less.

Audio performance?? Posted via the Android Central App

Great unanswered question.
Audio performance on the S6 sucked. All other shortcomings except for perhaps Touchwiz have been resolved.

I honestly find the new touchwiz (S6 onwards) to be a major improvement and better than any other OEM skin. Then again I thought the original galaxy S touchwiz was better than anything HTC released...

I absolutely loved my Galaxy S6. Hands down the best phone I have ever owned. My only complaint was the battery life was lacking. But man, they just made the S7 twice as good.

Hopefully the Note 6 has that 3600 mAh battery ... I'll be disappointed with anything less than that.

Complete guess. Note 6 5.8" 3800-4000

I'm hoping for at least 3600mAh battery and a 6" screen, over the last 6 months after jumping from the Note 4 to the Note 5 I've found the screen to be a bit small

no removable battery yet again? i love Samsung phones, but no sale. dont want to spent that much money on a throw away phone. guess i have to stick with my S4 for another year till Samsung wakes up. Or look into the LG G5, at least that will have a removable battery

Yeah, it's not like you can get the battery replaced after three years. You have to throw away the phone. It's the law.

Yeah, have to spend even more money on top of the $600 you paid for the phone, just to have a professional rip apart your phone to replace the battery. you might like doing that, but i don't. I shouldn't have to do that. its idiotic not to have a removable battery. there is a reason the galaxy sales numbers have dropped since the S5. the last Galaxy to have a removable battery..coincidence?? i don't think so.

sales numbers went down because 1) people aren't buying phones as frequently as they used to since annual upgrades aren't as significant as they once were and 2) the influx of mid range devices that compete with the high end flagships for a fraction of the price. has nothing to do with removable battery ... that said, I agree that prefer it, but I wouldn't get the G5 over a lot of phones just for that feature. and Samsung used Apple's strategy with extra storage pricing so it makes a lot of sense for them to continue in that direction.

It's $45 to replace a battery locally. If you can't afford that, you shouldn't be buying a $600 phone to begin with.

don't hold your breath waiting on Samsung to bring back the removable battery ... ain't happening. and I have an S4, also a 6p. the bigger battery/quick charge combo man's I never worry enjoy my battery, and I'm a heavy user. IMO LG took a huge step back with the G5, unless you enjoy all that nonsense attached to it. That's a lot to sacrifice just for a removable battery.

I'm seeing fingerprints everywhere.... No thanks Posted via the Android Central App

Does anyone else feel like by them "fixing" what was missing from last year, they did it on purpose last year to sell more this year?

LOL - I think you overestimate their ability to plan that far ahead, especially since they didn't even know in advance if the edge version would be popular.

damn tomato what'd you take smart pills today? you're on point

Yes it became a balance of new materials and manufacturing costs with stripping features.

In fact along with fingerprints everywhere, it looks like the Midrange LG K7's and K10's.... LoL I am so done with Samsung. Posted via the Android Central App

That battery.... I don't even need to say more than that! Posted via the Android Central App

That battery..... ......is just what the doctor ordered.

I only used the Note 3 pen for screenshot editing and a little other, er stuff.
Some pseudo quick swiping with a finger of a screenshot, or a clip / page to share would have been great.
I am keen on the new edge though. Almost perfect, if I can adapt to my first glass back.

I really wish Samsung could've brought back the removable battery. LG showed you can do it without reverting back back to cheap plastic. I know it isn't as necessary for most people since the batteries are sufficiently big now, but I keep phones for more than two years. I would like to be able to swap out an inevitably dying battery after two years without taking it to a repair shop. Posted via my Perfect-Except-for-Verizon-and-Lenovo Droid Turbo 2

LG showed you can do what? Add more moving parts to a phone most people just want to pick up and use? I was impressed by the G5, but not that stupid module.. Posted via the Android Central App

Does this phone have an ir blaster? I know it was rumored to be left off but does anyone know officially?

No i miss it too. Blame the cheap midrange phones

Blame the $5 universal remotes you can buy so that you don't have to spend $800 on an IR "remote".

Yeah...probably used as much as an s-pen — hardly ever.

everyone I know with a Note uses the s-pen daily

I use my Spen on my Note 10.1 all the time. The ir blaster is a key feature on my current phone (S5). I use it to control my tvs, cable boxes, and surround sound. It also works with my air conditioning system. Just because most.people don't fully utilize their devices capibilities doesnt mean nobody does.

I held onto an M7 just for the IR blaster....while it'd be nice to have on my phone (assuming I can get the S7), I can't be mad at Sammy for the exclusion. How many remotes does one really need lol?

I had the Note 3 and enjoyed the camera, but the software and battery life were an issue. I left and purchased an iPhone 6. I have enjoyed the integration across my Macbook Air, and Apple TV. One thing I very much dislike is the camera. Everyone raved about the iPhone 6 camera. My old Note 3 produced much better photos than my 6. Maybe its an issue with just my 6, but my pics do not come out as clearly, and seemed to be out of focus. After reading this review, I am quite impressed with Samsung and what they have added to this phone line. I look forward to hands on reviews in the near future. I just want a much improved experience with a great camera in my next phone purchase. I enjoy taking family photos of my kids, but with my current phone, not so much.

the iphone camera is WAY over rated. I am using the S6+ and my galaxy S6 took better pictures by far.

What audio chip does it have? There was some rumor of a ESS Sabre in it. Did that happen?

Sorry Samsung - It still has ugly Lagwiz. I'll stick with my Nexus 6P until they start offering a Google Play Edition.

I'm actually really tempted to buy this phone already. It's almost perfect for me, especially the Edge variant. Large battery so I don't need a removable one, expandable storage, great performance, what looks like another spectacular camera, and honestly, even though I still really hate the increased usage of the color white throughout the UI, if the theme engine is still there, then the dark Material theme is going on. The large battery and expandable storage already kinda sealed the deal for me. Getting one of these when the G4 died prematurely unless the Note 6 comes out by then.

The edge looks like a nice smart device. But, if I'm playing back a high-res game, or watching hi-res video, then I want to hear my media in stereo without headphones or earbuds, Why does Sammy insist on not offering stereo speakers on these smart devices? What a shame.

Looks like a great phone...except for the fragile glass back, Touchwiz, and carrier bloat. It's really a shame Samsung continues to waste such great hardware.

They sold millions of glass back phones last year. You hardly ever hear of any breaking

The backs actually did well in the drop tests, with the internal components failing from G force before the back broke. I was impressed.

So you are going to argue that glass is durable? I can find lots of reports of shattered backs. Compared to essentially 0 for the S5. It's not just the fragility either. It's slippery. It's a stupid material to make a phone back out of. The only purposes it serves are looks and feeling better fondling in your pocket. Assuming, of course, you leave it naked, which few people do.

I believe I will be going back to samsung. First samsung phone since my S3. I miss the AMOLED screen and with this improved camera and bigger battery and the SD card coming back im pretty much sold. Now the question is s7 or s7 edge. Im coming from an LG G3. Im gonna wait for test resaults on battery life to decide. I can handle 5.5 inches but I wouldnt mind 5.1. Anyone can say LG did better than Samsung vice versa but in the end its what meets your needs that decides who did better.

I really like what I see here. I have the Galaxy Note Edge, so I'm checking out what Marshmallow will potentially look like on my phone when it ready. As far as the Galaxy S 7, Samsung is moving in the right direction. They took a step back with the S6 IMHO. They seem to have rectified the missing SD card slot debacle (probably ate into its own SD card business) and the battery is still sealed (don't like that), but it's making what the fans ask for...mostly. I am wondering how the phone will be compared to the eventual Note 6. LG looks like they have a winner, but aesthetically the G5 isn't the best looking phone they have made in my eyes (the V10 is gorgeous). Let's see how they shape up after its release and what the price will be. Posted From my Verizon Galaxy Note Edge via the Android Central App... And Don't Eat The Yellow Snow!

get the more technologically advance LG G5 better, it features a snap out removable battery and other snap on James Bond gadgets. The Galaxy S7 has no removable feature, lowered camera resolution "DOWN GRADED" version of Galaxsy S5. The S7 is not an upgrade, it is a DPWNGRADE!

So you're gonna call the S7's camera a downgrade solely because they lowered the MP count? Guys! Let's believe him and say the S7's camera is a downgrade because its megapixel count is lower and not care about pixel size, aperture, software processing, autofocus tech, OIS, lens quality and the rest because megapixels are CLEARLY the ONLY way to judge a camera! /s

Is it worth preordering this? (Mainly for the bonus VR headset) or waiting a bit until its been tested around? Posted via the Android Central App

What the cost of this smartphone will be when it comes in Indonesia? Probably as expensive as the macbook, I think.

So I managed to watch most of the unpacked event last night before my bundled data ran out... I really do love the S7... it appears that Samsung actually listened to people and brought back what made their previous phones awesome... Absolutely thrilled about the return of the SD card... Fixed storage I could sort-of live with... but MTP... no freaking way... I'm not plussed about the edge phone having a larger screen, but that'll probably change when I have one in my hands...

Cant believe all the talk on here about bloody cameras! Personaĺy i couldn't careless about cameras. I want web browsing, i want gaming, i want a phone to do what a phone does and that is......wait for it......make and receive calls!!!!! Hell maybe even a text every now and then. So 2010 i know but hey maybe i am not that vain to insist that my phone can take great pictures of my testicles and i can have the added convenience of posting hi res pics of said features to people who couldn't really give a rats backside because they are too busy making duck face in selfies on super cool hi res front facing cameras and posting them to other people who are too .... you get the picture (pun intended).
Honestly people on these forums are so knowledgeable about what multi billion dollar companies should put in their phones yet not one actually works in the industry. None of you have any clue about the economics of the industry. And none of you would ever get a job in the industry because none of you can agree with your selves as to what you actually want in a phone!
Honestly reading some of the garbage in here i am convinced the next world war will not be fought over religion or politics, it will be fought over whether Samsung, LG or Apple has the better phone! I only hope it is captured in 4k using 23mp and OIS!

How you did browse or play today - you won't care in 1, 5 or 10 years. But if you see something amazing - WHATEVER that is - the camera on your smartphone will determine how you capture that moment for the rest of your life!

Camera quality is very important in a phone. Thanks to people demanding better and the manufacturers delivering, my phone takes better pictures of my family than my old point-and-shoots ever did, and I have little need for a DSLR anymore. And it's always with me. That's a big deal. There is still room for improvement with low light and motion, and you can be assured they will continue to improve them despite the "economics of the industry."

the main thing is the battery is bigger and the sd card are back . it does look very sexy though

So this is probably an Andrew question. I have a note 5 I got because I could not tolerate the battery on the S6. Is the S7 Edge noticeably easier on hand feel compared to note 5, or is it something that if I have trouble with the Note 5 size that I should probably get the Vanilla S7?

This is definitely a refinement on the s6 (larger battery, software, SD card comeback, design refinement, etc)
I have a nexus 6p, and my only setback is with the camera launching a little slower. A very, very good phone indeed.
Samsung is following a similar pattern to Apple, where refinements to recent models follow, then major overhauls with the next model. Smart moves here! Great refinement Samsung! Posted via the Android Central App

But does it have double tap to wake? I really miss this feature from my other phones.

I concur..Samsung gets my money

I really hope that the emerald green comes for it because I have the s6 edge with it and it feels as if its a green mirror!

Not my cup of tea. Don't care for the look, appears to be a very slippery phone packaged in heat-retaining glass. Then there is TouchWiz, which still appears to be terrible.

Seems there's something wrong with this paragraph:
We've yet to put the Galaxy S7 and S7 edge through their paces when it comes to camera perform us, but color us impressed so far by what Samsung has been able to achieve here.
Android Central Newsletter
Get instant access to breaking news, the hottest reviews, great deals and helpful tips
Thank you for signing up to Android Central. You will receive a verification email shortly.
There was a problem. Please refresh the page and try again.