Samsung Galaxy S7 and S7 edge hands-on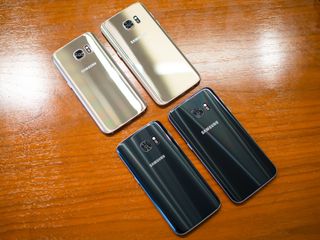 The Galaxy S6 launch was a divisive one for Samsung. It marked a pretty impressive move for the company with the introduction of a new hardware strategy, simpler software, a dramatically improved camera and the innovative new dual curved edge display on the GS6 edge. Rightly or wrongly, the fans seemed to focus instead on the lack of a microSD card, the small non-removable battery and the loss of waterproofing as major downsides of the phones, overshadowing all of the steps forward.
Looking at it from this angle, the Galaxy S7 pretty clearly meets — and addresses — those criticisms from last year, but without any new compromises. A phone that still has that great hardware, improved software and stellar camera, but one that offers a larger battery, keeps removable storage and even holds a waterproofing rating without flaps over the ports. And at the same time, we're getting a choice of a larger Galaxy S7 edge with an even bigger battery and some new software tricks.
Under the threat of being told it isn't innovating enough by sticking with a familiar design, Samsung added what people wanted while keeping the hits introduced last year. The Galaxy S7 isn't an entirely new phone, but that shouldn't be a knock on it — in this case it should be a feature. Learn about everything it brings to the table here, in our full hands-on preview.
The video
Galaxy S7 and S7 edge Hands-on video
We have had the opportunity to work up a couple of videos that break down the high points of the Galaxy S7 and S7 edge. While you'll get a great condensed version from these, we also encourage you to read through the words here as a follow-up to get even more detail and editorial opinion on the phones!
Proven formula, plus a few bonuses
Galaxy S7 and S7 edge Hardware
For as huge of a departure the Galaxy S6 was from the Galaxy S5, the Galaxy S7 is as subtle of a change from the GS6. After releasing the Galaxy S6, S6 edge, S6 edge+ and Note 5 with very similar designs in 2015 it turns out Samsung is still very happy with this hardware, and it should be. The Galaxy S7 is now basically a miniature version of the Galaxy Note 5, with the same glass and metal design now highlighted by curved edges on the back glass that were previously exclusive to the Note.
There are further subtle changes in the design to make note of. A slightly thicker (just one millimeter) build gives room for a larger battery, which is now 3000 mAh on the GS7 and a massive 3600 mAh on the GS7 edge, and the camera bump has been decreased to less than half a millimeter. Though we don't know just how the new processors will affect the battery, we should be looking at full-day battery life in the Galaxy S7 and even more on the S7 edge — a big departure from last year's Galaxy S6.
Image 1 of 5
Matching early rumors, the phones are also IP68 rated for water and dust resistance, all without requiring a single gasket or flap covering a port like so many struggled with on the Galaxy S5. Of course these aren't rugged phones like the Galaxy S "Active" line, but knowing you could use the phone in the rain or spill a drink on it and have it come out no worse for the wear is a huge selling feature.
Unlike last year's launch, the "edge" version of the Galaxy S7 is actually a different size. The Galaxy S7 edge at 5.5-inches is notably larger than the 5.1-inch GS7, and just slightly smaller than the 5.7-inch Galaxy S6 edge+ of last year. Size aside it matches all of the subtle design changes available in the Galaxy S7, including the curved glass on the back, but of course you're greeted by a display that curves tightly on both sides. Having symmetrical curves on the front and back creates an interesting visual effect, but only time will tell if it could hurt usability — turning this thing into a slippery fish — having even less metal on the sides to hold.
The phones come in two new base color options, black and gold, with the GS7 edge also offering a platinum silver choice. The ostentatious gold and silver colors are amazingly reflective and bright, even more so than last year, but are also subtly different in their shades. The inky black color is by far my personal favorite, and is a suitable replacement for the dark blue before. Aside from the base color changes, the accents around the home button and camera have been toned back a bit from last year's flashy polished silver to more closely match the main color; it's particularly notable in the black version of the phones.
Image 1 of 5
Once again you're getting the same fantastic display offering in the Galaxy S7 and S7 edge as in Samsung's 2015 flagships, with bright, vibrant and crisp QHD (that's 2560x1440) Super AMOLED screens on both. Just like the hardware it's pretty clear Samsung knows it's in a good position in terms of display quality, and there was no need to change anything here.
The internal specs are where the Galaxy S7 and S7 edge start to differentiate themselves a bit more from the outgoing leaders. There's a bump to 4GB of RAM in both models, which proved useful in the Note 5, and of course you have a jump to the latest processors too. This year it's a return to Samsung's usual layout of a Snapdragon processor in the U.S. and its own Exynos chips elsewhere around the world — that's interesting considering how well last year's flagships performed, but historically this is how Samsung has operated. We'll see the latest Snapdragon 820, or the Exynos 8 Octa, powering the phones. And if history tells us anything, there won't be a notable difference in performance between the two processor choices (though you won't really have a choice between the two anyway).
And now, let's all welcome back the microSD card to a Samsung flagship phone. Whether the amount of outcry over the lack of expandable storage was overblown or not, Samsung has done a full 180 to bring back the feature here. The SIM slot now contains an extra holder for a microSD card of up to 200GB in size, to compliment what is (at least in the U.S.) your only choice of 32GB of internal storage. Samsung has also chosen not to include Marshmallow's new "adoptable storage" option here, meaning the SD card will act just as it did on your Lollipop-running Samsung phones — it can't be integrated into the system (for better or worse ... that's debatable) as a true expansion of the internal storage.
A little cleaner, and a few new features
Galaxy S7 and S7 edge Software
Samsung has made the jump to Marshmallow on the Galaxy S7 and S7 edge. Unfortunately due to the timing that means that cat is already partially of out of the bag on what we were going to see considering its rollout of the software to existing phones has already begun. Following a considerable change of pace with TouchWiz in the Android 5.0, the changes in store for jumping to Android 6.0 are a bit more subtle — at least visually.
Thumbing through the launcher, settings and apps won't reveal many changes from what you're used to on your current Samsung phone. The big changes you'll notice are a new muted color palette for the notification quick settings and refreshed circle-square icons for the system apps, but beyond that there actually isn't much to write home about here in terms of looks. Samsung's default apps still largely look the same as they do now, which may upset some Material Design purists but shouldn't be surprising — I think Samsung's apps still look fresh and modern, even though most haven't been notably redesigned in a year.
One of the biggest new user-facing software features actually comes to the fore when you turn the screen off. A new always-on display (or AOD, if you like) will now show little bits of information on the screen that would otherwise be sitting black. You can choose to display one of several clock interfaces, a month calendar or a wallpaper-like background image, each one with varying amounts of information density including the time, battery percentage, date and notifications. The always-on display follows in the footsteps of features from Motorola, Google and OnePlus, and gives you a little bit of information on what would otherwise just be wasted space when you're not actively using the phone. And don't worry — Samsung has taken measures to be courteous to both battery life and screen burn-in concerns.
When it comes to the under-the-hood substance, there's a larger group of changes waiting. Marshmallow of course brings better battery life with Doze and app standby, as well as1 new possibilities for using the fingerprint sensor in apps and on-use granular app permissions. We've yet to see all of the little tweaks that Samsung is including beyond what comes standard in Marshmallow, but we know there's a fresh Internet browser, changes to multitasking and plenty more just waiting to be discovered.
Samsung has also included a new "gaming launcher" for the Galaxy S7 and S7 edge, which gives you maximum power to run your full-screen games while also limiting interruptions from notifications. That ties in nicely with support for the Vulkan API, which has the potential for better-performing games in the future as developers ready their apps for the platform. Prefer virtual reality? Both phones are ready to be used with the current Gear VR hardware.
A new 'edge UX' on the Galaxy S7 edge
For those who have used a Galaxy S6 edge or S6 edge+, the most substantial software changes are likely to be in the so-called "edge UX." In a move that actually heads back toward what Samsung first introduced with the Galaxy Note Edge, the edge screen on the Galaxy S7 edge can now do a lot more than the previous generation.
Whereas you were stuck with just the "people edge" and "apps edge" on the previous generation, Samsung is going back to having a set of customizable edges for you to choose from that can offer more interactive experiences. A new "tasks edge" lets you have specific tasks inside apps pinned to the edge screen, the apps edge can now include up to 10 apps and once again additional third-party edges can be downloaded.
The edge screen is still activated with a swipe in on a small handle along the side of your phone (which now offers more adjustment options), but can now expand to take up a larger portion of the display. With the right third-party edges you can once again do things like read news headlines, see sports scores and quickly access "tools" like a compass and ruler, all without opening an app or losing what you're currently looking at on the screen.
It's an odd move considering the immense backpedaling after the failed Galaxy Note Edge that tried to do too much on just the edge screen, but this new edge UX feels a bit more natural and in the end is completely out of the way when it's not in use — a critical difference that could make it useful for those who want it. Still, I question just how useful these edge screen experiences are for people on a day-to-day basis.
Expected to lead the pack
Galaxy S7 and S7 edge Camera
Although the Galaxy S6 already offered a fantastic camera experience, the Galaxy S7 and S7 edge look to bring a considerable jump in terms of photo quality. Right from the start most people will notice the drop to 12MP from the previous 16, but this comes with two big changes that should more than make up for the loss in raw pixel numbers.
The first large (literally) upside is that the individual pixels are now 1.4-microns in size, up from 1.12 before. That lets each pixel bring in even more light, brightening up photos in all lighting conditions and letting the camera reduce noise from high ISOs and blur from slow shutter speeds. Next, it also let Samsung move to what it calls a "dual pixel" sensor, which means every single pixel is used for phase-detection auto focusing, an upgrade from the previous sensor that used fewer pixels. That's going to translate into faster focusing, even without the use of a laser auto focus mechanism.
It'd be understandable for Samsung to think its new larger pixels could bring in plenty of extra light, but the camera lens is also improving to a wider f/1.7 aperture to let even more light into the sensor. We all saw the excellent results of moving to an f/1.9 lens last year, and this should be yet another step of improvement. All of these changes haven't come at the cost of any other features, either, as Samsung has kept optical image stabilization (OIS) in the camera for steadier shots and even better low-light performance.
On the camera software front, Samsung isn't messing with a good thing. You'll find the camera still launches extremely quickly with two presses of the home button, straight into basically the same interface as Samsung's leading 2015 phones. There's still a full manual camera mode, RAW capture support and tons of shooting modes.
We've yet to put the Galaxy S7 and S7 edge through their paces when it comes to camera perform us, but color us impressed so far by what Samsung has been able to achieve here.
So much more to come
Galaxy S7 and S7 edge First impressions
Whenever you release a new phone that looks very similar to the last generation, you walk a tight line that could reduce the chances of your customers upgrading or make new customers simply look elsewhere. But if you spend just a little bit of time to understand all of the changes in the Galaxy S7 and S7 edge, you'll see there's a whole lot here to be excited about that doesn't relate to changing the external hardware.
Samsung has made hardware changes where they count. The big tentpoles of a larger battery, an SD card slot and waterproofing are important features that will all drive sales. A faster processor and more RAM aren't things to hang your hat on, but will improve the experience once people actually have their hands on the phones. And at the same time, the hardware really doesn't come with many compromises — it's still a great piece of work externally. And though the camera may seem the same at a glance, the improvements have it poised to once again be the best shooter available in a phone for the year, and that's very exciting.
The software story is arguably just as subtle as the changes in external hardware, and it's the one place where you may be warranted in not agreeing with Samsung's strategy. Building off of a base of Marshmallow is always good to see, but not much has changed visually and there aren't many big new features — in many respects it's a pile of small tweaks that will improve the experience over time, but won't turn heads to buy the phone in the first place.
We're just getting started
Does Samsung have a pair of hits on its hands? Well, we don't really know that right now.
There's a lot to say about the Galaxy S7 and S7 edge at this point, only some of which has been expressed here in our hands-on post. But you can bet on us having plenty more to come after we all spend more time with the phones. Following this initial coverage from MWC, you can expect feature breakouts, analysis, editorials and a full review of both phones when they become available.
Keep your eyes on Android Central for all of the latest and best Galaxy S7 and s7 edge coverage!
A live podcast special
Since we were fortunate enough to have both myself (Andrew Martonik) and Phil Nickinson use the Galaxy S7 and S7 edge, we decided to sit down for a reflective podcast special where we dumped all of our first thoughts on the phones. These are our initial thoughts on the phones, before we actually knew too many details, actually — and we think that raw take will be interesting to listen to.
Sign up for Black Friday email alerts!
Get the hottest deals available in your inbox plus news, reviews, opinion, analysis and more from the Android Central team.
Andrew was an Executive Editor, U.S. at Android Central between 2012 and 2020.