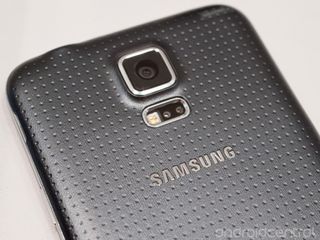 Full hardware specifications for Samsung's latest
The Samsung Galaxy S5 is official, and we've just posted our hands-on impressions of the device. But if you want to dig down into the nitty-gritty details and examine the GS5's hardware specs, we've also got you covered. Head on past the break for the complete Samsung Galaxy S5 spec listing.
And don't miss our complete Galaxy S5 review!
Samsung Galaxy S5 Specifications
Category
Features
Network
LTE Cat.4 (150/50Mbps)
Display
5.1" FHD Super AMOLED (1920 x 1080)
Processor
2.5GHz quad-core application processor
OS
Android 4.4.2 (KitKat)
Camera
16MP (rear), 2.0MP (front)
Video
UHD@30fps, HDR, video stabilizationVideo Codec : H.263, H.264(AVC), MPEG4, VC-1, Sorenson Spark, MP43, WMV7, WMV8, VP8
Video Format: MP4, M4V, 3GP, 3G2, WMV, ASF, AVI, FLV, MKV, WEBM
Audio
Audio Codec : MP3, AMR-NB/WB, AAC/ AAC+/ eAAC+, WMA, Vorbis, FLAC
Audio Format: MP3, M4A, 3GA, AAC, OGG, OGA, WAV, WMA, AMR, AWB, FLAC, MID, MIDI, XMF, MXMF, IMY, RTTTL, RTX, OTA
Camera Features
HDR (Rich tone), Selective Focus, Virtual Tour Shot, Shot & More
Additional Features
IP67 Dust- and water-resistant
Ultra Power Saving Mode
Download Booster
S Health 3.0
Quick Connect
Private Mode
Kids Mode
Google Mobile Services
Chrome, Drive, Photos, Gmail, Google, Google+, Google Settings, Hangouts, Maps, Play Books, Play Games, Play Newsstand, Play Movie & TV, Play Music, Play Store, Voice Search, YouTube
Connectivity
WiFi: 802.11a/b/g/n/ac HT80, MIMO(2x2),
Bluetooth: 4.0 BLE / ANT+
USB 3.0
NFC
IR Remote
Sensors
Accelerometer, gyro, proximity, compass, barometer, Hall, RGB ambient light, Gesture(IR), Finger Scanner, Heart rate sensor
Memory
RAM: 2GB
Internal Memory: 16/32GB
microSD slot up to 128GB
Dimensions
142.0 x 72.5 x 8.1mm, 145g
Battery
2800mAh
Standby time: 390 hrs / Talk time: 21 hrs
Alex is global Executive Editor for Android Central, and is usually found in the UK. He has been blogging since before it was called that, and currently most of his time is spent leading video for AC, which involves pointing a camera at phones and speaking words at a microphone. He would just love to hear your thoughts at alex@androidcentral.com, or on the social things at @alexdobie.
Wtf D: Posted from my new Nexus 5

This USB 3.0.. is this normal?

Going from USB2 to USB3 is a beautiful thing for data transfer and charging speed.

This. Posted from my "Gift from God" Note 3, my "God-Given" iPad Mini 2, or my "Risen" Samsung Chromebook.

And it is backward compatible with micro USB 2.0
beautiful

USB 3.0 is a beautiful thing ~My $0.02~

Upcoming Xperia Z3 will be better than Z1 & Z2. You all can check new concept of Z3 here at - http://note4galaxy.com http://samsung4note.com

So taller and wider and heavier than the LG G2 with a smaller screen, hmm color me unimpressed. Granted the rest of the specs seem solid I hope they are announcing more...

The only area they bested the G2 in is camera megapixels. Even more happy I chose the G2. Posted via Android Central App

And more megapixels doesn't necessarily mean better.

Htc proved that ~My $0.02~

How on Earth is that so when the S4 bested the G2 in most key areas....And there is always more behind the lines than what on paper things are shown or discussed.
Like display for instance. All you see is oh...It's just a 0.1inch bigger S4 screen. You could not be any more wrong. Display mate is excessively impressed with it and dub it best ever even over the Note 3. Even S4 as a packaged deal well beat the G2. It had a much better display, better camera, much better video/audio recording, removable battery and much slimmer device. While G2 had somewhat better battery life. It's only huge battery advantage is during call time. S4 had better speaker and headphone output as well. And more useful functional buttons.
And of course the UI was much more functional feature packed. Blah blah gimmicks excuse. At the end of the day anything can be called a gimmick. At least Samsung offers things others do not. And many ways of viewing things and doing things on a device without touching it is useful.
Plus LG UI is practically a Touchwiz Replica. G2 borrowed Galaxy look, but altered it. G Pro took a lot from Galaxy look. G Pro 2 looks like G2 and was made to copy and catch up to the Note 3. Even copying it and taking 6 months to bring it still failed and only matched in or almost matched in most areas. S4 even had a GPE edition and advanced LTE version with S800. So G2 barely has any advantage except preference.
The S5 brings some significant improvements to the S4 and Note 3. Yes some are not as exciting or as in your face obvious. And anyone who denied that keeping it to 2gb or ram or only increasing 200mah battery was skimping would be in denial. Especially since Note 3 had 3GB ram, most phones offering 3gb ram use Samsung chips, and there is an extremely high probability of Note 4 having a 4gb chip Samsung about has ready. And while battery life will remain great and they had to save space...They probably could have squeezed at least another 100 or 200mah at least in.
The screen, water proofing, camera, software, efficiency, are all pretty significant increases. The rest are still marginally great ones even though a bit smaller.
We should also expect the latest and greatest wolfsan dac with some pretty awesome audio output. Just hope they do not hold down audio levels for once.
And some accurate guess of the Note 4 would be an even better improved display, water proofing, much stronger chip, 4gb ram, and possible move back to dual speaker.

The G2 was not water proofed either.

Pretty much Posted via my Galaxy S4 Google Edition

+1 3G RAM like the Note 3 would be great.
Wireless charging would be super. Very lame, 16GB internal storage.
.

I was expecting more than 2gb of RAM especially since the Note 3 has 3 like you said. This is really like Galaxy S4.1..... Posted via Android Central App

More than 2GB RAM really isnt necessary for any mobile phone these days, especially one with so much processing power. Assuming system apps take up lets say 350mb of that, the phone shouldn't have any problem running a demanding game along with a few background processes. Plus whenever there is less than a certain amount of allocated RAM that is free, background apps or other processes will be ended to maintain smooth performance. So unless you have something like a tablet running windows or whatever, 2GB RAM is more than enough.

I remote into Android phones for tech support at work, and every 2GB Samsung device is always running with about 10% available RAM left, every Note 3 I have remoted was using well over 2GB with barely more than 10% left, keep in mind these are your average folks who download whatever and don't know how to manage junk and close apps. The only phone that isn't always bogged down is the Moto X. These OEM skinned devices with extra features on top could really use 3GB+ of RAM.

The S4 has wireless charging. I'm sure the S5 will too. (Just not listed in specs).

Not out of the box. Posted via Android Central App

Wireless charging is still way, way to expensive to even consider. I don't use, or acknowledge the word ""troll"".

Huh? I got a Nokia wireless charger for my Nexus 5 for about $12 and it works incredible, I'll never go back. I personally would be disappointed if the S5 doesn't support wireless charging, but I probably won't be purchasing one, so not that big of a deal.

Haha Jay talking out his ass, yet again. Posted via Android Central App

16GB internal with 8GB taken up by the OS. Posted via Android Central App

More accurately would be S 4.5.
4.1 was the Qualcomm Snapdragon 800 variant, that didn't make it everywhere.

From the galaxy S4 advanced black edition with kitkat out of the box is actually a bigger jump than the S4A Black to the S5

Don't you mean Galaxy S3.2?

From the front I think it looks just like a bigger Skyrocket with a physical home button. What I really could not believe is that they could not even crack 8mm thin

Will you say the same for Z2, HTC M8, G Pro 2, probably G3, and up coming Iphone...All of which are equally small or all around smaller in update and off more behind technology as a whole?

What processor is it? I thought I would be jealous of the specs on the inevitable GPe model vs my N5 but they almost seem identical depending on which processor is used.

probably the new snapdragon 801

Application processor. teehee...

GSMArena says is Qualcomm Snapdragon 805

Pretty sure that one isn't even in production yet... I thought the earliest devices with that processor would come along in the fall. Posted via Android Central App

you may be right.. GSMArena bumped it down now to 800. I promise i copy/paste it at time of comment.

It's the 801.
2.3 = 800
2.5 = 801 Sent from my Galaxy S4 running SlimKat 4.4.2

No. They had guessed that. But it's officially the 801. Although the better one that LG, Sony, and originally HTC had for some reason unknown to the rest of us have skipped.

Probably exynos. Good luck with carrier updates.

gotta be a snapdragon 800

801 Posted via Android Central App

No mention of Optical Image Stabilization.

Yep. That surely would have been a bullet point if it was available.

Spec sheet spelling out "Google Mobile Services" hmm

I've had those mobile services on my phone for YEARS!

I can understand why they spelled them out. With all the talk of Samsung pushing their own services, people would be asking if GMS was still given proper treatment on the phone, or if it was back-seated (or removed) in favor of Samsung's offerings. (After all, consider what Nokia did.)

Not too far from S4.
The bezel way too big.

Good specs but expected better. Posted via Android Central App

Even rabid fanboi louts underwhelmed here.

Lol, what did you want? There is absolutely no point in going higher. You wouldn't be able to see the difference but performance would suffer terribly.

If they really wanted to bring the wow factor, then they would've gone 2K. For a 5.1" screen on a brand-new 2014 phone, I have an issue with the resolution. I'd imagine that there is a visual difference between HD and 2K. But hey, that's just my opinion.

"In television, the top-end 1080p high-definition television format qualifies as 2K resolution, having a horizontal resolution of 1920 pixels, with a vertical resolution of 1080 pixels." http://en.wikipedia.org/wiki/2K_resolution

So you want shitty battery life? Sent from my Nexus 7 2013 or iPhone 5

Like 720p is 1080p.....?? Posted via Android Central App

2K is not a specific resolution like 720p and 1080p. Anything with horizontal pixels in the 2000s is considered 2K. Since 1080p is so close, it also qualifies as 2K. You should do your research before trying to make someone else look like a fool.

I did my research, and yes, 1920x1080 is considered 2K--in the case of an HDTV. Smart phones are not full-size HDTVs.

Wrong. 1920x1080 is the same resolution on a 5" or 50"
2k. Try again.

When it comes to consuming the content it does not matter if it's a phone, tablet, TV, or projector because it's all the same content, the bigger the screen the further away you can plant yourself. 1080p is definitely 2K, since it is exactly and precisely half the vertical and horizontal resolution of 4K. Everyone meant to say Quad HD, 2560*1440 or QHD which is 720p times 4, would have been complete overkill. In my logic anything 4.5" and below should be 720p, and nothing below 7" should ever go above 1080p.

2K is 2048X1152. Those extra 300 thousand pixels would have meant the world to some people, I suppose. As if anyone would really notice them on a screen that size. Oh, wait, some people have "I'd rather lie and say I can see the pixels than admit my eyes are normal" vision.

Read my comment above. Last sentence not meant for you, though. 2K isn't a set resolution. But you're right, there's practically no advantage in having higher than a 1080p resolution in a 5" phone except for the spec whores to brag about something else.

It's all about the crispness. And advancing the technology.

the real issue here is the battery. Im glad they keep the same resolution since battery would be better.

At 5", there are already more pixels per inch than the human eye can distinguish. Going up to a 4k screen would have served no purpose and would have degraded performance and battery life. (As someone else mentioned, the current resolution is "2k". I'm assuming you meant 4k, like many of the new, high-end TV's.)

Nope, I meant 2K. Since smart phones are not HDTVs, 1920x1080 is not considered 2K.

I am fine with the resolution, who truly needs anything more in a phone? My grip is the size, the bezels are quite large and honestly there are better phones out there already. The waterproof feature is great but aside from that I am unimpressed overall. Seems like this should have been a S4 mid year update not the S5

I don't think there is any need to go any higher than 1080p right now on a 5" screen. I'd rather see them continually improve on color and image reproduction, viewing angles, and daylight visibility with the current 1080p resolution. Also improve on battery life... which increasing the resolution is not going to help battery life. But that's just my opinion.

You can NOT be expecting higher.

Some people buy phones purely on hardware specifications, not base on software and user experience.

Wireless charging would have been awesome given the flap on the USB port.

Yeah, but that would have made it even thicker. lol Not overly impressed. I think they're resting on their laurels rather than trying to innovate.

Which, in turn, stagnates the research and development in the smartphone industry and market. Boo.

I don't know. My back cover on the Nexus 5 is still super thin plastic and that's where the wireless portion is. I don't think wireless charging adds barely a fraction of a millimeter. I wouldn't be surprised if a Qi kit will be available for this phone really soon after release and that just adds a thin piece behind the battery cover.

The S4 has wireless charging. I wouldn't be surprised if the S5 does too, even if not listed.

Their past few phones they have offered wireless charging as an "add-on". Beyond allowing them to grab a bit more money from consumers (I'll keep my opinion on that to myself) I believe this also prevents some of the ridiculous "carrier wars" that go on in the US. Take the Note 2, for instance. Verizon demanded an exclusive on wireless charging for the Note 2, so the antenna was stripped out of all other carrier's devices (even though the hardware was still there and you could modify the phone to do wireless charging). I'm guess that *that* is part of the reason why they don't ship these phones with wireless charging out of the box, now.

Gack! Battery sealed or removable? Please put this in the specs (for any device)! :)

Removable. See photos in other thread.

Thanks. But I shouldn't have to go searching for that, needs to be clearly stated in the specs!

Heaven forbid we have to start doing our own leg work.

Then what's the point of this spec page???? We could all go out and do our leg work to find the specs! Right? Right?

To get as much info out as soon as possible, maybe?

That's a sorry excuse. It wouldn't take them more than an extra minute (or less) to verify and include that spec!

You could probably view that info on another site. I mean you're the only one with an issue with having to do your own minimal research. Everything doesn't need to be spoon fed kid...

Very few people care. Bu I agree, it should be stated.

Thank you! How hard could it be to possibly include that? Seriously?

How hard could it possibly have been for you to view all the information Android Central has already posted? Seriously? All the information re: the device already right here; it's actually worth your time to complain about something is minor as that? Yikes.

Then WTF is the point of this spec page? Whether the battery is sealed or removable is part of the specs is it not? It's a legitimate point whether you agree with it or not!

WTF is the point of removable battery if you make a phone that doesn't have bloatwares that doesn't eat up all the battery in the first place?

@someguy01234 Seriously? Regardless of any of that B.S... So you can swap out for a fresh battery on the fly to get back to a full charge and NOT be stuck tethered to some charger, EVER! Nevermind...... I'm done with this foolishness!

+! I don't use, or acknowledge the word ""troll"".

Wowwww,I waited a lonnnng time for this. I honestly would prefure my s4 over this. No REAL improvements,I mean yeah sure faster processor,but as fast as these phones are these days who's gonna notice? The screen isn't 2k,the battery isn't 3000mah,I'm even disappointed in the 16 megapixels. Samsung's turning into the Call of duty of the phone world. Same old thing,but the brand will ensure sales. That's coming from a big time samsung fanboy. Its okay though,cause they helped me make my decision between the s5 and note 3.

Why would you want a 2k screen? Posted via Android Central App

So you can say you have a 2k screen.

Lmao Posted from my "Gift from God" Note 3, my "God-Given" iPad Mini 2, or my "Risen" Samsung Chromebook.

Exactly. Lol don't get me wrong I'm not freaking out about it but just the fact that there's no new specs or any features to hold over other phones is irritating. The s4 was kinda disappointing but I love the screen so that was my main selling point. This phone,I dont even like the new look. Its overly flashy in my opinion,to the point of being sort've kiddie looking. Other than the note 3 I'm gonna pay attention to the G pro 2.

1920x1080 is a "2k" screen. Did you mean a 4k screen? There's no reason to build a 4k screen into a smart phone. At 5", the number of pixels per inch is already higher than the human eye can discern at ~440ppi.

Well yeah then,a 4k display. I only said 2k because I heard all these rumors bragging about "2k display". I realize it wouldn't be much of a noticeable upgrade but just the fact that there's nothing that even sounds exciting to me is sad. I wouldn't mind the lack of exciting specs if there was a new design on the front,but without that its like why bother? The only real reason I see for an upgrade would be just to be sure you'll be in line with firmware updates for the next couple years.

ARE YOU FUCKING IDIOTIC? THERE'S A FINGER PRINT SENSOR, HEART BEAT SENSOR, 16MP CAMERA, AND IT'S WATER PROOF AND DUST PROOF. HOW ARE THOSE NOT IMPROVEMENTS?

Why the secrecy about the processor ? Posted via Android Central App

This is probably the generic spec sheet. They probably have different versions of the phone with different procs, and didn't list them all.

GSMArena says is Qualcomm Snapdragon 805.. I'm guessing they'll go the same route as last year and come up with one for Korea, one for USA, and a different one for the rest of the world.

AnandTech says 801: http://www.anandtech.com/show/7768/galaxy-s5-initial-thoughts

you may be right.. GSMArena bumped it down now to 800. I promise i copy/paste it at time of comment. I'm leaning more to what AnandTech says for now.

And it lands with a thud. Same screen resolution as S4, same amount of memory (really surprised by that), same look. The main thing separating the S5 and the S4 is the water/dust proofing (which is pretty cool) and the CPU. I'm not sure if that will be enough Samsung.

I was pretty dissapointed too =(. I waited for this for a year. The event was terrible, doesn't anyone in Smasung speak English fluently. At least the S4 announcement presented funny examples for the technology. What am I supposed to use the heart rate sensor for? And why would I want it if I had a Gear 2?

1920x1080 is plenty resolution for me. In fact i'd rather stick with this then go higher for improved battery life. However the bezel is too thick and don't care for the back. Only worthy improvement is the camera. First Galaxy S phone I didn't even care about getting...

Yea .. I'm gonna stick with my Note 3 Posted via Android Central App

The GS5 doesn´t seem to be better than the Note 3 in anyway. Plus you have all the S pen functionality of the Note. You might wanna keep an eye on the Note 4 later on this year.

You and everyone else lol anyone that got the note 3 on contract, like myself, still have to wait until late 2015 anyway since we bought it late 2013. Regardless, even if my contract was up I wouldn't even think of buying the S5 since the note 3 is better in almost every aspect. That's kinda sad considering it was released SIX months ago! WTF were you thinking Samsung?

fail... speaker still on back.. and needed 3GBS of ram... I will wait to see what the HTC ONE2 has

why did it need 3gb of ram? care to explain why?

To install craps on their phone and play games on it.

To run a lot of apps concurrently. Simple. I have a Note 3 which has 3GB of RAM and even this phone lags slightly when I have a lot of apps open. Why not just close them? That's also simple - because I want the phone to "remember" where I left off when I switch between apps. You can never have too much RAM imho, unless you're taking about a silly amount like 16GB...

I like the blue one a lot!!! I don't use, or acknowledge the word ""troll"".

I actually like the gold one! Posted from my "Gift from God" Note 3, my "God-Given" iPad Mini 2, or my "Risen" Samsung Chromebook.

Regardless of the color, I am still likely to get a case, I want one with a kickstand. I don't like having cracked screens, and having to come up with an insurance deductible. I don't use, or acknowledge the word ""troll"".

Really...? I mean like what you want, but that is so flipping ugly. Not a huge fan of the perforated look of the back, but thats not a deal breaker. The black looks the sleekest IMO.

I'd take the black one, too. Now that I think about it, I think I like the blue one the most. Posted from my "Gift from God" Note 3, my "God-Given" iPad Mini 2, or my "Risen" Samsung Chromebook.

I like the blue one too. I never use cases but if I did I would use a bumper style so that it would still protect the phone but not cover the back.

Yeah that's the only thing I like...the color.

Wow was expecting a bit more, not much different then the S4, the bezels seems bigger too. Not much difference for me to upgrade from my S4. They should have called this the S4s. Posted via Android Central App

The Korean version of the S4 runs the Snapdragon 800.. so basically once that device gets 4.4.2, it'll be an S5!

Samsung gets points for releasing with the latest version of Android. Posted from my "Gift from God" Note 3, my "God-Given" iPad Mini 2, or my "Risen" Samsung Chromebook.

How many? and is Sony gonna get any too for the Xperia Z2?

Wow, HTC fail and now Sammy fail. Looks like Apple will mop up this year, with all the weak sauce from competition. There is nothing out that even makes me want to ditch my N4. Sad. And from what I see the design is hideous! Yuck! Posted via Android Central App on OG N7

What? Are you trying to get a rise out of people? Nexogen

Sorry to ruffle your feathers, but from what I've seen of the S5 and next HTC, it is my opinion they are both rubbish. I expected better from at least one, but not a fail from both. If you like em fine, but from what I've seen so far, color me highly unimpressed. And, even though I loathe Apple, I do feel with such poor flagship designs from android, that Apple may reap the benefit. In all honesty, Sam and HTC have both left the dance floor wide open for Apple this go around. Posted via Android Central App on my white Nexus 4 with StraightTalk

You got a rise out of me... That is incredibly ridiculous! The iPhone is weak sauce bro! Ooooh they added a fingerprint scanner and made it impossible to jailbreak Nexogen

I hate to say it, but I think you are right. If Apple offers a larger iphone this year, I may jump ship.

Looking forward to a refreshed Moto X this summer and the next Nexus. After my experience with my current GS3, I'm unlikely to go with anything Samsung or HTC anytime soon. Too commercialized, too bloated, etc. I'd consider a Note 4 Google Play Edition or with CyanogenMod, but I think I'll stick with Google Nexus, Moto, or I may even consider Sony or LG when my contract ends in November.

My phone is now obsolete /s Sent from my Galaxy S4 running SlimKat 4.4.2

Lol Posted from my "Gift from God" Note 3, my "God-Given" iPad Mini 2, or my "Risen" Samsung Chromebook.

I see what you did there. Sent from my Nexus 5 :-D

That was a rather incremental update. I know many hit on Apple for incrementally updating each year, but it seems as though other OEMs are really following suit. I am not a Samsung customer, but I like their flash, and I was looking forward to seeing what they have up their sleeves this year. I see many commenters trying to be politically correct, but I am going to go ahead and say this was rather underwhelming. In some ways, I think the GS4 is a nicer phone, it´s specs ran Android perfectly from what I have seen, so the increase in specs in this device is a non issue. It has an apparently smaller bezel, slightly higher DPI and it looks nicer (subjective of course) from the front. The back on the GS5 looks weird, but I guess it is something I have to hold in my hand to properly judge. It will sell well, I predict less than the GS4 and GS3 though. Now on to HTC, let´s what the the One Deux has to offer.

Still don't understand why people are calling this "S4.1." What were you lot expecting? This is just meant to be a slight upgrade from the S4 and nothing more.

And the S4 was a slight upgrade to the S3. They should have skipped the S4.

The jump from the S3 to S4 is greater than this.

The jump from the S2 to the S3 was the biggest jump, though. Posted from my "Gift from God" Note 3, my "God-Given" iPad Mini 2, or my "Risen" Samsung Chromebook.

Most people thought Samsung would have learned from the incremental jump from S3 to S4. Those people thought wrong.

You answered your own question.

Bigger battery, 3 GB of RAM at least, and a screen with a resolution greater than 1080p. Sent from my Nexus 5 :-D

I'm not going to lie: I'm guilty of expecting those specs, as well. Posted from my "Gift from God" Note 3, my "God-Given" iPad Mini 2, or my "Risen" Samsung Chromebook.

I was expecting 2560x1440, but apparently my opinion can't be respected on this site.

The back looks like the same material used from Ballistic cases. I actually like that. Good Samsung

Samsung should have waited another 6 months before coming out with the S5.

I have a very strong feeling that the new HTC One will blow this thing out or the water. Surprised that Samsung went with user experience and small features over specs, which is what they're known for. Posted via Android Central App

i bet you they are identical spec wise

Htc will have a better looking phone and probably more durable but its brand to the average consumer is tarnished and Samsung has become the Apple of android for this regarless of if they rereleased the S4 and called it a day will sell more than all others because the average consumer is really ignorant in seeing which device is better and would much rather use the im having what ever is popular approach

Amen. It's too bad, honestly. Specs aside, the Next One will simply be a better device IMO. Though I am a big time fan of AMOLED displays... Gah! So torn. I suppose I'll just have to end up picking up both ;-) Posted via Android Central App

waiting for the Note 4...

Agreed. But I hope the back of it won't look like this. I don't care for the "dimples'.

i care for them, just not on phones.

No offense to Samsung & Co but the prototype design admin posted here with sleek design was what i was looking fwd to. Maybe Note 4!

Well, Well it seems that Samsung finds themselves at the same place Apple does. All these high expectations and end up with just an incremental upgrade. Apple has been fighting this fury for years and Samsung had managed to not find itself in that trap, but here they are. I bet you'll see the same with Note 4 as well. Once these things reach a certain set of specs its hard to keep pushing the envelope and still be able to make a profit on them. Not that I was even considering one of these as I have a Note 3. But if I were in the market for a new phone right now I'd certainly be looking LG's way.

Well Said.
And I agree 110%... LG's G2 and G Pro 2 are the better choice. I own a G-Pad 8.3 and could not be happier with it's craftsmanship.. I bet HTC is also laughing their butts off at this "S4.1" release.. "SamsungSheep" will lap it up though.. and that's sad..

Dam that thing is uglier than the s4 Posted via Android Central App

What about optical image stabilization??? I don't use, or acknowledge the word ""troll"".

EXACTLY! Posted via Android Central App

I was expecting OIS, but is this helpful in real life? The phase detection autofocus and real time HDR seem compelling if they work as described - would these features not be compatible with OIS? It would seem that if Samsung is specifically marketing camera improvements, it would be strange to leave out a technology that is present in other phones that improves image quality.

OIS is a god send in real life, especially when shooting video.

I will keep that under consideration - thanks!

Ask anyone with a G2 or Nokia Lumia.

This phone will be discounted asap ! I'm great with my N5! Posted via Android Central App

Where are the radio band specs? I am especially interested in the LTE bands as I wait for a really global LTE Android phone.

I want to know if the T-Mobile S5 will support 700 Band 12 LTE??? I don't use, or acknowledge the word ""troll"".

No, but I heard the Galaxy S6 one will have iOS. :D

Optical Image Stabilization lol not iOS :-)

Pretty soon people are going to have to stop expecting more. Phone HW is topping out so soon all the new development (for better or worse) is going to be going into peripheral devices (like wearables). The phone will simply be the little box in your pocket that everything else communicates through.

Agreed. I think the market is maturing, and we're finally seeing some level of plateau to the hardware specs. They may be why all of these companies have suddenly rushed into the wearables space.

That looks like the same back as the first Gen Nexus 7 Posted via Android Central App

I still use the OG Nexus 7 and love it...and the dimpled back. Feels great in the hand. Sent from my Nexus 5 :-D

It's not good because the memory is with 16GB/32GB most of the carriers will give you 16GB and that's the problem with touch wiz is to big for that amount of memory the 32GB model will be the best choice but you got to break an arm and a leg to get one since its rare for carriers to offer that 32GB ONE. Posted via Android Central App

AMEN! No more 16GB for me. EVER! Hope I can find a 32GB S5... Posted via Android Central App

Sadly true. I don't use, or acknowledge the word ""troll"".

True, but the cheapest method to combat this would be to buy a microSD card. I quite enjoy running a 48GB (16+32) phone for a much lower price than buying a 32GB phone.

Nothing to see here. Move along.

Not sure what you guys really expect. How much of an update can you get from going to S5 from the S4. If anything you guys just sound like spoiled children. Posted via Android Central App

Roflmao Samsung pulled another apple what a let down Posted via Android Central App

Does it have a 64bit processor?

I'm a Samsung hater but I can't help notice the new sensors that other top smartphones don't have. I wouldn't call this S 4.1 simply because of those. It's a HUGE step forward for smart devices.

Its just OK. The back of it looks exactly like the nexus 7 1st gen. The specs are good, and the resolution is perfect for a 5.1 inch handset. I need to research a little more as I'm looking for whether Samsung listened to Google or is this s5 going to be another Samsung Adware OS. If the s5 brings Samsung handsets back to planet Android I will be owning one. Nexogen

I'm not sure what people expected? It'll get good reviews, it'll sell like crazy, and we'll start the cycle over again next year. Posted via Android Central App

Man, the spec-bashing is crazy right now. All this talk about wishing it had a 2k screen is nonsense, because it DOES have a 2k screen. For those who weren't quite paying attention to the numbers, the introduction of the "4K" and "2K" nomenclature changed from a vertical measurement to a horizontal measurement. A 4k display is a one which has around 4,000 horizontal pixels, with standard Ultra-HD television being at 3840 X 2160. A 2K display is one with around 2,000 horizontal pixels, the most common being 1920x1080. There you go, your phone just got a free upgrade, at least from a marketing perspective; because if you thought a 2k display was better than a 1080p display, then it was because of just that: marketing. If you wanted a higher resolution display in the S5, then you were probably looking for a 2560 x 1440 display. Sorry to burst your bubble, but a 5" AMOLED display at 2560 x 1440 doesn't even exist yet, at least not for mass market production. Samsung confirmed they are working on one, of course, and when it does come around you can bet it'll be from Samsung, but clearly not ready for big time. Also, for the talk about not being able to see a difference in the resolutions, Marques Brownlee on youtube made a video about phone resolutions recently, and made a very interesting point: just because you can't see individual pixels doesn't mean you can't see a difference overall. If you put someone 10 feet away from a 1080p tv and a 4k tv, they will undoubtedly say the 4k looks better, but they certainly can't see any pixels on either at that distance. You certainly don't NEED a UHD display on your phone, but I think it'll definitely look better, and it's up to the individual person. They'll be on everything within 2-4 years, that's for sure. Thank you for reading. :)

TL;DR. Screen needs to be more than 1080p. Sent from my Nexus 5 :-D

+9000 Very well thought out comment, brother. Posted from my "Gift from God" Note 3, my "God-Given" iPad Mini 2, or my "Risen" Samsung Chromebook.

+2 (more than +1?) Better resolution (2560x1440 vs. 1920x1080) DOES matter.

How many people are going to use the heart rate sensor on the back anyways? I feel like they could have substituted that feature for better processor or something more useful.

Various heart rate monitor apps have been available in the Play Store for years.

I just keep looking at it haha,I'm so unimpressed. I absolutely do not care about a fingerprint scanner. Screen ppi is actually lower than the s4 and it's just not visually appealing to me. I really enjoyed the fake leather look of the note 3,I didn't expect samsung to go in such a silly direction with the back of the phone.

Well IMO I think that Z2 is better than S5 Posted via Android Central App

It's funny how some people become happy about a Nexus without making noise about internal storage but makes noise about the internal storage of a phone that can be expanded.

Welcome to AndroidCentral.com

Looks like a smaller Note 3....and I agree, should have had 3gigs of RAM.

This is shockingly poor in design software, and hardware. The competition will be looking at this and laughing as most have and will have the S5 trumped. I may eat my words here but sales will be very poor on this one. Posted via Android Central App

How will the competition laugh when they can't outsell Samsung?I'm confused Posted via Android Central App

$650.00 for the 16Gb & $700.00 for the 32Gb Plus Tax and a case.. what? $800.00 ?? for what is basically an S4..
$249.00 down.. $149.00 down.. even $99.00 down.. still equals $700.00 to $800.00 ( or forever locked into upgrade leases switching from phone to phone to phone twice a year ) makes the Mid-Range Nexus-5 & Moto-X look like the smart choice.. And if you MUST spend $650.00 to $700.00 Plus Tax & Case at least LG & HTC give you visually stunning devices with Kick-Ass features (Rear Buttons & Front Firing Speakers respectively).. This is a Hustle-Shuffle with the S4.1 (A.K.A. S5) Not even respecting "SamsungSheep" enough to give them 3 Gigs of RAM or a more future proof 32/64Gb internal storage option for 2014/2015 tech and expect you to pay incredible prices (for a damn telephone) is like a slap in the face.. they are making their followers their bitches with this one.

Introducing...the Samesong Galaxy S4s
*yawn*

So HTC and Sony phones can look exactly the same with one or 2 new features and spec bump but galaxy can't lol I swear when u on top everyone hate u... Posted via Android Central App

Its not cool for any of them,but seeing samsungs same design over and over everywhere is getting irritating. Obviously the biggest disappointment comes from expectations from rumors,but I really thought samsung was gonna switch it up this time around. I can't stand LG but they're the only ones that've started impressing me lately. I just hate the lg interface.

"5.1" FHD Super AMOLED (1920 x 1080)" - Huge disappointment. I'll still be buying it though, and then whatever comes along after it.

Kind of a letdown doesn't seem much different from the S4. Seems like Samesung is going the Apple route and coasting along. They have no major competition so why push to innovate. This IMO is a poor release of a new "flagship" device. More like an S4 refresh. This is what happens when you get big, have deep pockets, and know nobody else can compete on a major scale. Posted via Android Central App

Underwhelming specs for a new generation phone. Is Samsung following Apple's business model?

Looks to me that the S5 is a minor upgrade! Same looking case as the S4/S3! Fingerprint security is new as well as a heart rate monitor. I guess I going pass on the S5 and look to see what HTC One has and then wait till the iPhone 6 and Nokia 930 comes out! Very disappointed in Samsung new S5!

Don´t call it "Full hardware specifications" if you can´t name the CPU´s

For once, Sony got their spec right for their flagship.
Z2: 3,200 mAh battery, 3 GB ram, snapdragon 801 is an excellent combo. Better design too. Posted via Android Central App - Xperia Z Ultra

The software better be mind blowing because I've got almost identical specs in my G2 and Note 3....

Samsung is the new Apple. Selling you the same crap, year after year Haha Posted via Android Central App

Will it have Gorilla Glass 3 like the gs4 or something like it? Posted via Android Central App

UnderRammed.. UnderRommed.. Overbloated.. Overused & Outdated Design that has been around for 3 Years.
If 2 gigs of Ram STILL caused the S4 to lag if you engaged all of it's features at once, what makes you think that SAME 2 gigs of Ram will do any better in this S4.1 with MORE features? It's not like the S4 was Underpowered by any means.. It was just weighed down.. and could not move.. like a s*x partner that is overweight on top of you..
A Public Announcement Needs To Be Made: Warning The Masses about this Abomination S4.1

Couldn't agree more. I have a Note 3 and even with 3GB of RAM and with only some features turned on it still lags a bit when there are a handful of apps open. This is just unacceptable. I know the architecture is different from a desktop, but my desktop PC has 4GB RAM and also a quad core cpu and NEVER lags regardless if I have 15+ things running at once. I think android is partly to blame here...a mobile device with specs like this shouldn't really be lagging. On the other side of the coin, I think it would still be a good idea to keep upping the RAM on these devices yearly considering the rapidly decreasing costs of such components. Instead they've really stagnated and kept it at 2GB and under for too long.

Samsung's market share is so big they've stopped innovating and are just maximising profit margins. They really are the apple of the Android world. Posted via Android Central App

This 16GB thing should not be here in 2014 for a flagship device. When for god sake will we see Internal memory: 32/64GB.

After all of the hype for this I'm underwhelmed with the S5 but not totally devastated.

2.5 GHz???
Wtf!
Stock android or not?
Bought my n5 in November!

I still wonder why 2GB of RAM, think it should be 3GB

I like the fact of how they uped the processor and lower the RAM especially being that kit kat only needs 512MB ~My $0.02~

I have to definitely agree with the general consensus here...very underwhelmed. Even if my contract was up I'd have absolutely no desire to get this to replace my note 3, which is better in many ways...and I bought this phone 6 months ago! That's eons these days in terms of the advancement of tech. Hell, my wife has an S3 (an ancient device in tech terms) and she's not excited at all. I'm guessing the note 4 this fall will also be an incremental update, despite all the rumors of the youm wrap around display. This works out perfectly for me though, because my contract will be up late 2015 just in time to jump on the note 5, and that will likely be the monster to stomp all monsters.

Samsung out of the door for me this year, hope htc and Lg get something extraordinary Posted via Android Central App

haha i love to see all the comments complaining about the s5 just having 2gigs of ram instead of 3. i mean yeah 3gigs would have been a improvement, but who needs it? my lg g2 has true 1.9gigs of ram, and theres always 900-1000mb free (with original lg android, no rom). if samsung just isnt able to make a software that doesnt consume every system resource already then i think they should start there, and AFTER that start to improve the hardware...

I hoping they just forgot to mention thermometer and hygrometer in the tech specs sensor category...

can someone draw the line between waterproof and water resistant? and will Samsung acknowledge the warranty if the unit's water-damaged?

П Posted via Android Central App

Do not let the upgrade to Android 5 take place! My phone, after it upgraded to Android 5.0 became VERY VERY VERY (yes many times) slow! Even opening an email became a slow task. Any operation you perform after the update is now slow! WIFI goes on-and-off. I am now stack resetting the device and spending lots of time setting everything up again!! I wish that Samsung tested the beast with the S5 before sending it out to everyone.... Oh, and my S5 is not alone, family and friends experienced the very SAME problem! I hope that the next release of Android 5 will fix this problem. Slow-Slow-Slow!!!

What's the maximum charging amperage I can use? I have a charging batter that connects at 1 amp and 2.1 amps...can I use the higher amperage?

I have 2 white chargers. 1 for my tab other my S5, can anyone tell me which is which?ETA-U90JWE and EP-TA10JWE 5V @2amps 5.3V@2amps respectively
Android Central Newsletter
Get the best of Android Central in in your inbox, every day!
Thank you for signing up to Android Central. You will receive a verification email shortly.
There was a problem. Please refresh the page and try again.