Samsung Galaxy S5 now available in copper gold and electric blue from Rogers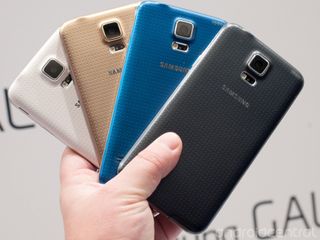 The Samsung Galaxy S5 is now available from Rogers in "copper gold" and "electric blue" colors. The S5 was previously available from the Canadian carrier only in it's black and white variants. The phone will still set you back $249.99 on a new two-year plan. Customers looking for a smartwatch can still get the Samsung Gear 2 Neo for just $49.99 when they purchase an S5 with a two-year contract with Rogers
The Galaxy S5 originally launched globally last month with a 5.1-inch 1080p display, a Snapdragon 801 processor at 2.5GHz, and 2GB of RAM. It debuted at Mobile World Congress in four colors, though it launched in just "charcoal black" and "shimmer white" in many countries, including Canada. Our review of the Galaxy S5 found it to be a great all-rounder, a high-end smartphone that's filled with new software tricks both useful and extraneous.
Will you be picking up a Galaxy S5 in gold or blue on Rogers? Tell us below in the comments.
Get the Android Central Newsletter
Instant access to breaking news, the hottest reviews, great deals and helpful tips.
Are they the first carrier to get color options besides b & w Posted from my Nexus 7 2013 or Samsung galaxy S5

I want an Electric Blue Wireless Charging Cover!

+1! Posted via Android Central App

I bought a black S5, then purchased an electric blue back from Samsung and there's no difference in them at all, but yeah I can't find the electric blue wireless charging cover ANYWHERE! Im gonna call Samsung and tell them I bought an electric blue gsm unlocked s5 and see if they Wil have the wireless covers in blue.. criss fingers.

Is the S5 durable enough not to put in a case? Posted via Android Central App

As long as u put a glass screen protector on the screen then yeah it should be fine.. only thing I don't like about galaxy phones is that the chrome on the sides by the volume and power buttons are really soft and Crack easy if dropped. I know bc I hate cases and dropped my s3 and s4 b4.

That'd be cool except I personally can't bring myself to use a 600-800+ dollar device, drop it even once in the wrong circumstances, and presto! Cracked, scuffed, dented, busted etc. All in the name of letting others see my colored back, or because I have a personal hangup about cases, no matter how thin. Heck, why not go barefoot everywhere so you can feel the terrain under your feet? Having a case also means selling your device later and getting top dollar. I couldn't imagine not having my Speck grip case on this Note 3. I've a friend who refuses to case up their iPhone and have had to repair and or replace the entire phone 3 times since January. They don't want to cover up the gold color. It's crazy.
Posted via Ash William's Boomstick