Samsung Galaxy Note review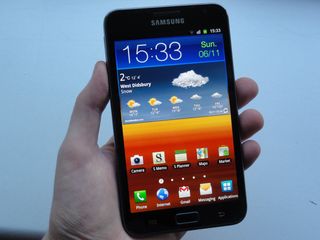 (Image credit: Android Central)
As 2011 draws to a close, we've started to see a convergence of Android phones and tablets. Honeycomb-powered tablets are available in more form factors than ever before, and smartphones are growing larger still, with 4.3- to 4.7-inch devices quickly becoming the norm. Combine that with the phone and tablet software lines being reunited in Ice Cream Sandwich, and you start to see a landscape in which there's very little separating a large Android smartphone from a small Android tablet.
The Galaxy Note is a device which Samsung is positioning between the traditional smartphone and tablet spaces. You can make calls on it, but you've also got a beastly dual-core Exynos chip inside, along with Sammy's bleeding-edge HD SuperAMOLED display tech. The manufacturer's also included a capacitive, pressure-sensitive stylus, dubbed the "S Pen", with optimizations for pen input throughout the software. But despite the wealth of high-end tech, is there room in the market (and your pocket) for a 5.3-inch smartphone? Read on to find out what we thought of the Samsung Galaxy Note.
Swipe to scroll horizontally

Extremely fast smartphone with a beautiful screen, and a thin, light chassis considering the screen size. Pen input works well.

A 5.3-inch device will be too big for most. Note-taking focus could limit it to a niche market.

Row 1 - Cell 0



If you can get over (or even embrace) the Note's size, you'll find it's a powerful device with some unique functionality that you won't find on any other smartphone.
Swipe to scroll horizontally
YouTube link for mobile viewing | Read our intial hands-on feature
Hardware
The Galaxy Note is, for all intents and purposes, a super-sized Galaxy S II, and its design is strikingly similar to that of Samsung's leading mainstream device for 2011. The phone is thin and relatively light for its size, with a large HD SuperAMOLED display dominating its front, and a textured "hyperskin" back cover. There's also the same half capacitive, half physical button setup that's found on the international Galaxy S II, with a physical home button in the middle, and capacitive menu and back buttons at either side. Same 8 megapixel camera around the back, and 2 MP sensor on the front for video calls.
In basing the Galaxy Note on the Galaxy S II, Samsung has itself a solid foundation upon which to build. The most significant change is the larger screen offered by the Note. The Galaxy S II is fitted with displays between 4.3 and 4.5 inches diagonally, while the Galaxy Note ships with a humongous 5.3-incher. The only smartphone we've seen come close to this was the Dell Streak, which during its brief shelf life was something of a niche product. The Galaxy Note is a far more svelte and pocketable device than the Streak, however. At 9.65mm thick, it's still just about pocketable, and at 178 grams, it matches the weight of the HTC Thunderbolt, a 4.3-inch phone. As this weight is spread over a larger area, though, the Galaxy Note doesn't feel excessively heavy in the hand.
With the jump in screen size, Samsung has brought an equally substantial increase in screen resolution. The Galaxy Note is the first device to ship with an HD SuperAMOLED display, at a resolution of 1280x800. The result of SuperAMOLED at this kind of resolution on a hand-held device is a screen that's bright and ludicrously sharp, with vivid colors and blacks so dark they blend into the surrounding bezel. Sure, it's PenTile rather than RGB, but we've been over that argument before. The higher pixel density means you won't notice the trademark jagged edges associated with PenTile, unless you're holding the device right up to your face.
Outdoor usage has traditionally been an area of weakness for AMOLED displays compared to LCD-based competitors, but we didn't have any problem using the Galaxy Note screen outside during the day. Admittedly, bright sunshine is something of a rarity in England in mid-November, but regardless, we didn't find ourselves having to shield the screen from the sun at any point.
The main trade-off with a device of this size comes in ease of use. Put simply, unless you have gigantic E.T. hands, you're going to have a hard time with one-handed use of the Galaxy Note. Pulling the status bar down to view notifications is particular problematic, and reaching the capacitive button furthest from your thumb requires a bit more effort than we're used to. For some people, particularly those with small hands, this will be a deal-breaker. We recommend trying out an in-store demo unit to see you're able to use the Note comfortably. If not, the Galaxy S II offers a similar user experience in a more compact (and cheaper) package.
The other trick up the Galaxy Note's sleeve is pen input, thanks to the bundled S Pen. We'll cover this in more detail in the software section, but on the whole the pen works as advertised, and fits neatly into the bottom of the device when it's not needed. We've seen HTC attempt stylus input before on the HTC Flyer, and during our completely unscientific testing, we through the Galaxy Note's S Pen was a touch more responsive, with only a minimal amount of input lag. Our only complaint with the S Pen's hardware has to do with its action button, which is used for tasks like taking screenshots and using gestures. Unfortunately it's small, fiddly and doesn't give much feedback when pressed. Samsung offers a larger adapter for the S Pen, which is designed to make it easier to hold, however one wasn't included with our review unit.
Hardware-wise, you might expect Samsung to have some fairly beefy internals powering a device like the Galaxy Note, and you'd be right. Inside there's Sammy's latest 1.4 GHz dual-core Exynos chip, along with 1GB of RAM, 16GB of USB storage and 2GB of app storage. On top of that, you can add up to 32GB more by installing a microSD card, so you should find that there's plenty of space on the Note for all your stuff.
We know we always go on about how benchmarks are easily manipulated, and not necessarily reflective of real world performance, but regardless, we decided to put our Galaxy Note through a quick Quadrant test to get a general idea of how much horsepower's on offer. The result was a score of 4117, smoking just about every high-end Android device out there. Again, benchmarks aren't everything, but as you'll see in the software section, the Galaxy Note backs up this score with an equally slick user experience. The bottom line is that the Galaxy Note is probably the fastest smartphone you can buy right now, and it's unlikely to be dethroned until we start to see the first Tegra 3 phones next Spring.
The Galaxy Note we reviewed was the HSPA+ version, though Samsung plans to offer an LTE model in some markets (no word on which markets yet, unfortunately). HSPA+ worked as advertised, though, delivering data speeds of up to 10 Mbps down and 1.6 Mbps up on Three's HSPA+ network, which is comparable to what we've achieved on other HSPA+ equipped devices. Voice calls worked without a hitch, too, with the rear mic helping to cancel out background noise.
The specs
Software
The Galaxy Note runs Android 2.3.5 Gingerbread, along with version 4.0 of Samsung's TouchWiz UI. TouchWiz on the Note is just as bright and colorful as it's ever been, and Samsung has included some helpful new enhancements that optimize its software for the high-resolution screen and optional pen input. If you've used a Galaxy S II, you'll be right at home on the Galaxy Note. TouchWiz 4.0 on an Exynos chip remains a slick and lag-free experience.
This starts on the phone's home screens, where many (thought not all) of Samsung's TouchWiz widgets have been redesigned to take advantage of the the additional screen real estate. At the home screen, or in any other app for that matter, there are a number of shortcuts that can be activated using the S Pen. For example, holding down the pen button and touching the screen will immediately take a screenshot, which you can then annotate using the pen. Equally, if you find yourself needing to make a quick note, holding down the button and double-tapping the screen will open up a quick memo window on top of the current app. As the S Pen doesn't work on the Note's capacitive buttons, Samsung's also built in a few gesture controls to replace these keys -- hold the pen button and swipe up for "menu" or left for "back". A nice touch, but we found it was easier to just prod the button with a finger.
While much of the Note's software is designed to work with S Pen, we have to admit that during most of our time with the Galaxy Note, the pen remained in its holster, and we were happy to paw at the screen just like we would with any other smartphone. When we did bust out the S Pen to make a quick note or drawing, though, we found it intuitive and easy to use, particularly in the excellent bundled memo and photo editing apps.
S Memo is the main note-taking app that you'll be dealing with on the Galaxy Note, and it's pretty fully-featured, allowing you to jot down notes using the pen, the on-screen keyboard, as well as including pictures from the camera and voice recordings from the built-in mic. If you wanted to, you could create rich, multi-page notes consisting of photos, recordings, clip art, drawings and text, which in the right working environment could be really useful. Of course, this is functionality we've seen before on the HTC Flyer tablet, and just like we said in our review of that device, the usefulness of this kind of note-taking app depends solely on who you are and how you work. For our part, we found it impressive, though not indispensable.
The Galaxy Note comes with two virtual keyboards -- the Samsung keypad, which has been adapted for pen input, and Swype. While Swype was a joy to use with the S Pen (or with a finger) on the large screen, we had less luck with the Samsung keypad's pen integration. The text entry area, activated by tapping an icon on the keyboard, provides a space for you to write, with the phone's handwriting recognition software then turning your scrawlings into proper text. While this is a great idea, it unfortuantely doesn't have the speed or accuracy to replace a button-based keyboard. We'd love to see this idea developed further, though.
The Galaxy Note's browser has also undergone a minor overhaul in order to take advantage of the larger screen. As you've got a few more pixels to play with, you're given a full compliment of browser controls around the address box, including back, forward and a tab-switching button. Most of the time the browser is fast and responsive, just like on the Galaxy S II, although we did notice a software glitch that occasionally slowed browser performance to a crawl. The bug would strike seemingly at random, when the browser had been open in the background for a while, and resulted in extremely laggy graphics performance on image-heavy pages. Kill the browser in the task manager and re-load, and everything would be back to normal, fast as ever. Hopefully this is something that'll be ironed out in an upcoming software update.
Photo and video editing apps are included on the Note too, and both have been optimized to work with the S Pen. While we can question the efficiency of editing photos or videos on a phone, the editing apps bundled with the Note provide a wealth of features if you decide to give it a try. You'll find the usual options for altering contrast, saturation and brightness, along with more advanced effects like radial blurs and speed line effects. If you're looking to get really creative, the cropping tools allow you to copy and paste selections between images and videos. You might struggle to get any serious editing done on a handheld device, but the tools offered by the Galaxy Note are surprisingly powerful when you use the S Pen and a few of the more advanced features.
Samsung's also bundled a selection of its own custom TouchWiz applications, along with a handful of third-party offerings, many of which will be familiar to Galaxy S II owners --
Social Hub - Social networking aggregation for Twitter, Facebook and LinkedIn.
Music Hub - Integrated music store powered by 7Digital.
Readers Hub - E-reader portal featuring newspaper, magazine and book stores.
AllShare - DLNA-powered media sharing app.
Kies Air - Administer your phone and change settings, view text messages and download/upload media over a wireless network.
Voice Talk - Voice command hub allowing you to perform tasks like sending text messages and updating social media status using your voice.
Samsung Hub - The manufacturer's own area for showcasing a selection of apps from the Android Market.
S Choice - An exclusive app store for Samsung devices.
Polaris Office - MS Office document and PDF viewer.
Crayon Physics - A drawing-based puzzle game.
Battery Life
The Galaxy Note comes equipped with a huge 2500 mAh battery to power its demanding high resolution screen and speedy CPU. Battery life is always a concern on phones with AMOLED screens, as the display tech has a reputation for burning through batteries very quickly, especially at high brightness settings. During our testing, we used the automatic brightness setting, and found that with normal usage patterns consisting of browsing over Wifi and HSPA+, as well as music and video playback, we could manage well over a day on a single charge.
It's a testament to the efficiency of the Note's internals that it uses next to no juice while sleeping, even while syncing our Gmail, Twitter, Facebook and Google+ accounts over Wifi. Unsurprisingly, we found that the only major battery drain was video recording -- if you're planning on shooting a lot of HD video, you may want to consider a mid-day charge, otherwise, you'll be fine for 24 hours or more.
Camera
Like the Galaxy S II, the Galaxy Note has an 8 megapixel main camera around the back, with a 2 megapixel front-facing camera for video calls. While the camera on the Galaxy S II impressed us across the board, we found that camera performance on the Note was a bit of mixed bag. When it was able to focus properly, the Note's rear camera was capable of capturing good-looking images, particularly in macro mode. But therein lies the problem -- we found that the camera consistently had trouble focusing, even in ideal lighting conditions. The problem is particularly evident in our test videos, where it's often either slow to focus, or completely fails, resulting in blurry, unfocused footage.
We hope this is a software bug rather than a hardware problem. If so, it's likely it'll be addressed in a future firmware update. Regardless, the current wonkiness of the Note's camera is something you should be aware of if you're considering picking one up.
Focusing issues aside, video recorded by the Note is actually of pretty good quality, and we were particularly impressed by its low-light performance. The device records video at up to 1080p using the main camera, and VGA (640x480) using the front-facing shooter. Bare in mind that you'll be limited to 25 frames per second at 1080p, as opposed to the smooth 30 fps that you get at 720p. The difference in frame rate is subtle, but noticeable in our sample footage below.
YouTube link for mobile viewing
Hackability
As a relatively new device, there's not much amateur development activity around the Galaxy Note just yet. It has been rooted, however, and there's a version of ClockworkMod available, along with unofficial ports of CyanogenMod. Given the Note's similarity to the Galaxy S II, we'd expect to see more custom ROMs available in the months ahead, for those interested in taking a break from TouchWiz. Bear in mind that you'll sacrifice your warranty if you choose to do this, and it'll probably be a while before community developers fully get to grips with S Pen support.
Wrap-up
When you consider its niche appeal and premium price tag, it's clear that the Galaxy Note isn't going to be the device for everyone. In fact, it probably isn't the device for most people -- after all, this is no mainstream smartphone. Personally, I couldn't use the Note as my primary device, simply because it's too big. I want a phone I can hold and use comfortably in one hand, and the Galaxy Note is not that device.
Some people will be perfectly happy with a two-handed smartphone, though. If you're one of them, then by all means take a look at the Galaxy Note. Right now it's the fastest Android phone you can buy. It has the best display on any phone, and yes, that includes the iPhone's retina display. The S Pen integration is thoughtful and useful. For the right person, this is one hell of a device.
In many ways, though, the Note feels like more of a technical showcase than product with mass appeal. Samsung has produced an extremely impressive piece of technology, but in doing so it's limited itself to very specific audience. The best way to work out if that audience includes you is to spend a few minutes sizing up a demo unit. If you can get over (or even embrace) the Note's size, you'll find it's a powerful device with some unique functionality that you won't find on any other smartphone.
Availability
The Samsung Galaxy Note is being launched across Europe this month (November), with SIM-free prices starting at around £500 (~$800). For details of launch dates and carriers for each territory, check out our complete list. Samsung has yet to announce any plans to launch the device in North America.
Be an expert in 5 minutes
Get the latest news from Android Central, your trusted companion in the world of Android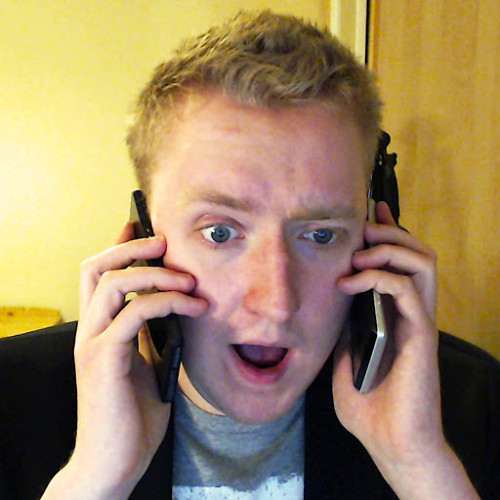 Alex was with Android Central for over a decade, producing written and video content for the site, and served as global Executive Editor from 2016 to 2022.