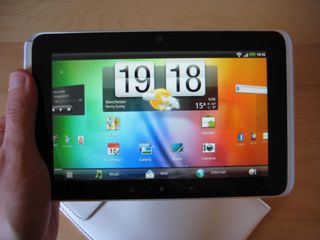 As a veteran Android manufacturer that rapidly rose to the top of the smartphone food chain, the news that HTC was working on an Android tablet didn't come as much of a surprise. But when the HTC Flyer was first unveiled at Mobile World Congress back in February, we saw a device a quite different from what most were expecting. This was no 10-inch, Honeycomb-toting slate like other manufacturers were offering, but a smaller 7-inch tablet with pen input, running on Android 2.3 Gingerbread.
HTC seemed to be positioning the Flyer as a different sort of tablet -- something smaller and lighter than the portly Motorola Xoom, but more multimedia and web-friendly than the average smartphone. As the original Samsung Galaxy Tab proved, the 7-inch tablet form factor has a lot to offer, but with prices set around the level of larger, dual-core tablets, is the HTC Flyer worth your cash? Read on to find out.
Hardware
The Flyer shares HTC's proven smartphone build quality -- there's an aluminum unibody enclosure, with a white trim at the top and bottom of the device. The bottom trim, which houses the tablet's USB port, is slightly raised, making it a little easier to hold in landscape orientation, assuming you're right-handed. The headphone jack, volume rocker and power buttons are centered around the top right corner, while the other edges of the device are completely free of clutter.
Mid-way along the right bezel you'll find the front-facing 1.3-megapixel camera and ambient light sensor. This may seem strange, but it's actually a really clever design decision, as you'll never end up accidentally covering either with your thumb, regardless of how you hold the device.
The front of the Flyer is dominated by its 7-inch, 1024x600 Super-LCD panel. This is a great-looking display which boasts the same vibrant colors and wide viewing angles as HTC's "S" series smartphones. Visibility in sunlight is pretty good too, so you should have no trouble taking your Flyer into the great outdoors.
Beneath the screen sit four capacitive buttons -- home, menu, back and the pen button, which can be activated using the Flyer's accompanying digital stylus (which might or might not actually come with your Flyer, depending on where you bought it). So there's no search button, but we can understand the decision to exclude it on a tablet. One great feature you'll notice the first time you switch orientations is that your buttons will come with you. The Flyer actually has two sets of capacitive keys, which it switches between depending on whether you're using it in portrait or landscape mode.
The back of the Flyer is relatively clear, aside from two strategically-placed holes for its stereo speakers. Above the large, indented HTC logo there's a 5-megapixel camera, which also shoots video at up to 720p. There's no LED flash, but again, that's not a big deal on a tablet. The Flyer's micro-SD card and SIM card slots can be accessed by skillfully pressing in the center of the top plastic section while sliding it upwards. This isn't quite as laborious as on some other HTC devices (hey there, HTC Inspire battery door), but it's still more difficult than it needs to be, and it sometimes feels like you're about to snap the device in two before the plastic cover eventually submits and grants you access. As you might have guessed, the Flyer's battery isn't removable, but once again, we're not too bothered about that sort of thing on a tablet.
Unsurprisingly, the Flyer is a good deal heavier than any smartphone, weighing in at 420 grams (11.82 ounces). Tablets' larger screens and batteries make this unavoidable, but we still found that the Flyer was light enough to hold comfortably in one hand.
If you buy a Flyer in Europe, you'll get the digital pen included as standard. In the U.S., it's sold separately and will set you back a further $80. Physically, the pen's design matches the aluminum shell of the Flyer. It's relatively lightweight and easy to hold, and its top screws open to reveal the AAAA (that's right, four As) battery slot. Along its side are two buttons, which are used for erasing drawings and highlighting text.
We'll discuss the digital pen's use in some more detail in the "software" section, but one fairly big gripe we had on the hardware side was the fact that there's nowhere to easily store the pen when you're not using it. We would've loved to see some way of clipping it inside the device, like on the Nintendo DS, but perhaps the pen's size would make this difficult in the case of the Flyer. Thankfully, though, the protective case included with the tablet does have a slot for the pen.
The Flyer is powered by a 1.5GHz single-core Qualcomm Snapdragon processor, alongside 1GB of RAM. So, no dual-core antics here, but the Flyer's CPU does a good job of keeping things running along smoothly, and the full gigabyte of RAM is a welcome addition too. And while it never quite dazzled us with its speed, we found that using the Flyer was, on the whole, a slick and lag-free experience.
Regardless of which version of the Flyer you pick up, you should find yourself with oodles of storage space. Our review unit was the 32GB 3G and Wifi version, which has its internal memory split between 8GB of app storage and 20GB of "tablet storage," which works like the SD card on an Android smartphone. On the 16GB Wifi-only model you get 4GB for apps and 9GB of tablet storage. Both models set a few gigs aside for the OS. Of course, if you need more space, you can easily add up to 32GB by installing a micro-SD card.
Software
The Flyer runs a tablet-optimized version of HTC Sense on top of Android 2.3.3 Gingerbread. Technically, the software is Sense 2.1, but it includes most of the new Sense 3.0 found on phones like the Sensation and EVO 3D.
We were pleased to see that the excellent Sense 3.0 lock screen has made it across to the Flyer. This is a new lock screen based around a metallic ring, which you can pull upwards to unlock the device. Alternatively, there are four app shortcut icons which can be dragged into the ring to launch straight into that app. The customization menu allows you to change the four shortcuts on the lock screen, and enable lock screen weather animations. If you haven't seen the new Sense weather animations, be sure to check out the hands-on video above, because they're absolutely stunning, whether on a lock screen, a widget or the weather app itself.
The launcher, too, is similar to what's offered in the newer version of Sense, just with a few changes to make the most of the larger display. There are eight home screens to play with, customizable with the usual shortcut icons and HTC Sense widgets, many of which have been tweaked to show more information in portrait mode. For example, the full-screen calendar widget can display not only a full month, but also your agenda. Likewise, the mail widget will show more messages in portrait mode.
As on Sense 3.0 smartphones, the Flyer's launcher is fully 3D on screen -- the home screens form a connected loop, and there's a neat parallax effect when flipping between screens containing multi-layered widgets. And last but not least, the cool-but-useless carousel-spinning mode has made it across too.
Other noteworthy changes in the Flyer's launcher include the three customizable buttons in the "launch bar" at the bottom of the screen -- any app can be dragged onto this bar for easy access. Like all areas of the UI, the launcher can quickly and easily switch between portrait and landscape orientations, and when you do this you'll be treated to a slick iPad Honeycomb-style rotation effect. In most of the bundled HTC apps, you'll find that the layout changes intelligently when switching between orientations. In the Mail app, you can view the usual selection of messages in portrait mode, or flip to landscape and divide the screen between a list of messages and a full view of the selected message. Similarly, a list of albums or playlist entries pops into view on the left side of the screen when using the music app in landscape mode. It's clear that HTC has gone to a lot of trouble to tailor Sense, and its various apps, to the Flyer's unique hardware, and that's something you'll appreciate every time you use the device.
The browser is major part of the tablet experience, and HTC has done an excellent job with this all-important app on the Flyer. There's a traditional desktop-style address bar along the top, with the familiar collection of buttons for going back and forwards, searching, viewing bookmarks and the like. Tabs can be controlled by pressing the tab button, which opens out a panel along the top of the page for switching between windows. We found that the browser performed really well, even on sites loaded with images and multimedia goodies, like Android Central.
Digital pen support is present throughout the Flyer's software. At any point, touching the screen with the pen will capture a screenshot, allowing you to scribble and annotate over the top of any app, website, photo or video. HTC has built in a compact but highly functional pen menu, which is activated by touching the capacitive pen button with the pen. From the radial menu, you can then choose between types of pen and control brush tickness, color, and other options. The top button on the pen can be used to erase areas of your drawing, while the bottom button activates highlighter mode, allowing sections of text to be selected. Unfortunately, this doesn't work everywhere in the UI -- for example, text on web pages can't be selected using the pen.
The main companion app for the digital pen is the new Notes app, which is tightly-integrated with Evernote. Notes can combine drawings, audio recordings, photos, as well as good old-fashioned text. We suspect most Flyer users won't even touch the note-taking app, however to some, particularly college students, it could be indispensable. HTC has provided a a complete tool set for capturing every last detail of lectures and meetings, and if you're big on note-taking, then this would definitely be a major reason to consider the Flyer over its Honeycomb-based competition.
Moving from business to pleasure, the Flyer includes tablet versions of the standard HTC Music and Gallery apps, which, function just as well as we expected, given HTC's track record in this area. Needless to say, photos and videos look great on the Flyer's 7-inch Super-LCD, and the HTC Gallery app managed to play just about any video we could find, whether in 3gp, mp4, avi or wmv format. The built-in speakers are slightly tinny, but the SRS enhancements offered by the music and video players go some way towards remedying this.
Also pre-installed is HTC Watch, the manufacturer's new movie and TV show renting service. There still isn't a huge amount of content available via Watch, though new stuff is being added all the time, and we found the streaming process to be quick and painless.
Another HTC app which comes into its own on the Flyer's larger screen is Reader. We've seen this before on phones like the Sensation, but the whole e-reading experience feels so much more natural on a device like the Flyer. The usual classics like Alice and Wonderland and The Art of War come pre-loaded, and more can be purchased from the integrated Kobo store.
In addition to all this, you get all the usual HTC apps and features you'd expect from a Sense device:
Friend Stream - Social network aggregation for Facebook, Twitter, LinkedIn and Flickr.
HTC Hub - Online hub to download additional content for your phone, including new wallpapers, widgets, apps, ringtones and more.
Connected Media - Stream music, photos or video to any DLNA-compliant receiver.
HTC Likes - A selection of HTC-approved apps from the Android Market.

HTCSense.com (3G version only) - Back up your messages to the cloud, and remotely track, lock or wipe your phone if it's lost or stolen.
Locations - An alternative navigation and maps package which works offline, eliminating the need to maintain a data connection while you're travelling.
Notification area - Contains a list of recent apps for fast task-switching, as well as a quick settings tab for controlling things like Wifi, Bluetooth and GPS.
Battery Life
As with any portable device, battery life will depend on your own individual usage patterns. At a basic level, though, we found that the Flyer consumed next to no juice at all when in standby mode, in part thanks to power-saving features like the option to disable data connections at night if the screen is off.
When using the Flyer as our main email, browsing and multimedia streaming device through the day, we found that the battery held up really well, and it seemed difficult to deplete it in under a 24 hours without going to extremes. With less intense use, when we weren't pawing at it all day long, we were able to get multiple days out of the Flyer on a single charge.
So, while it certainly is possible to rapidly run down the Flyer's battery, you probably won't manage to do so in under a day if you're using it normally.
Camera
The Flyer's 5-megapixel camera is of similar quality to what's provided on mid-range HTC phones like the Desire S. Still shots look good, though colors aren't quite as vibrant as they could be, and image quality degrades rapidly in low light, which could be problematic considering the Flyer's lack of LED flash capability.
As far as video is concerned, the Flyer can shoot at up to 720p with 30 frames per second, though indoors or in darker conditions this quickly drops down to a measly 20 fps, an unfortunate characteristic of just about every HTC camera we've tested. As we always point out in tablet reviews, though, a smartphone or point-and-click camera is always going to be easier to carry and use. Like any tablet, using the Flyer as a video or photo camera is something that looks and feels more than a little ridiculous.
Speaking of looking like an idiot, there's also a front-facing 1.3-megapixel camera, which can be used with the included Snapbooth software to apply various nifty photographic effects. There's no video calling software pre-installed, unfortunately, but when the Flyer eventually gets Android 2.3.4, this is something which will be handled by the Google Talk app.
Hackability
The Flyer began shipping before HTC decided to change its stance on locked bootloaders, meaning retail units will be fully locked down with S-ON, encrypted recoveries and other such unpleasantness. We've recently heard reports of the HTC Sensation possibly being unlocked via an OTA update, though, and we're hopeful that the Flyer will be given the same treatment in due course.
But that's far from guaranteed, so if you pick up a Flyer, do so knowing you'll be running Sense and Gingerbread for the foreseeable future.
Wrap-up
If you've made it this far, you'll realize that on the whole we really like the Flyer's hardware and software. Sure, the camera isn't the best you'll ever use, but it's still superior than what's offered on many other tablets. The digital pen is going to seem gimmicky to some, but to others it'll be an indispensable tool that's highly enjoyable and easy to use.
We may bemoan the lack of Honeycomb on the Flyer, but the tablet version of HTC Sense, backed up by Gingerbread, works admirably on the 7-inch screen. HTC has done a stellar job getting the Gingerbread browser up to scratch for tablet use, and of course the Flyer enjoys all the software benefits that make Sense so great on smartphones, too.
Our biggest problem with the Flyer is probably the one that's the easiest to remedy -- the price. At £480 ($499 in the US) for the Wifi-only 16GB model, and £600 for the 32GB 3G and Wifi version, it ain't cheap. In the US, $499 could get you a Galaxy Tab 10.1, the Android tablet that all the cool kids are buying. That, essentially, is why it's difficult to recommend either flavor of Flyer at their current price point -- for the same money, the competition offers a larger screen, a faster CPU and the full tablet version of Android. As lovely and unique as the Flyer is, this is currently the main barrier to its success. At £100 or so less, it'd be a much more attractive proposition.
Get the Android Central Newsletter
Instant access to breaking news, the hottest reviews, great deals and helpful tips.
Alex was with Android Central for over a decade, producing written and video content for the site, and served as global Executive Editor from 2016 to 2022.