Samsung Galaxy Note 3 specs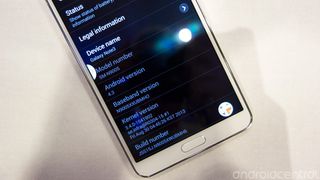 Samsung has formally introduced the latest in the Galaxy Note line of supersized, pen oriented smartphones at the Unpacked event in Berlin. You want to know what's inside it, right? We've got you covered. Keep on clicking for the full spec sheet.
Android 4.3 with latest version of Touchwiz
5.7-inch Super Amoled display, 1920x1080 resolution
3GB of RAM
2.3GHz Snapdragon 800 CPU in LTE variant
1.9GHz Exynos Octa Core CPU in 3G variant
13MP rear camera with LED Flash
2MP front facing camera with BSI sensor and smart stabilization
Full HD 1080p 60fps video recording (4K recording available in some models)
NFC
Bluetooth LE
32GB/64GB on-board storage, expandable via microSD card (upto 64GB card supported)
3200mAh removable battery
microSIM card
S Pen with optimized features - Air Command: Action Memo, Scrapbook, Screen Write, S Finder, Pen Window, S Note, Multi Window, new Easy Clip, Direct Pen Input
And looks like no OIS for the camera too...

G'day,
Endgadget reports OIS for HD video recording on board.

i saw a IR blaster when they showed the phone just like the s4

Definitely has an IR blaster (it's quite small though) but there....

Actually, yes.
It doesn't seem to show up anywhere on the spec list, but it's there.
The Note 3 also comes with the WatchOn app, part of which allows you to control your TV (and other devices) as a universal remote control. I've got it doing just that with my TV and BluRay player.
I was working my way through the built in apps and just discovered this.

32/64 on board storage? Looks like they've learned from the S4 mistake.

And no wireless charging. Why is this not taking off? It was AWESOME back when Palm did it.

how could they sell you the >$100 wireless charging kit if they just include it from the get go?

In the video on The Verge, they take off the back and there are pins for the NFC and on the left of the battery are pins for wireless charging http://www.theverge.com/2013/9/4/4693206/samsung-galaxy-note-3-specs-fea...

"up to 64GB" microSD should say "up to 2TB", since that's the maximum supported capacity of microSDXC, and there's no reason why it wouldn't. Sandisk is supposed to be releasing 128GB cards any day now.

"4K recording available in some models" Is there any more info on that? Which models will have the 4K recording?

I'm gonna say Snapdragon 800 versions are a definite because that's what Qualcomm demo'd Snapdragon 800 devices doing earlier this year at CES.

From what I understand the 4k model will be the international model (4G) with the 800 Processor. If your USA, Negri electronics would be your best bet.

Any word on release specs and dates in the Canadian market?

From what I have been told, Canada and USA will be the last "cabs of the rank" for releasing, you are looking at mid to late October.

Do we think the Snapdragon 800 will allow for simultaneous voice and data on Verizon's 3G network? My biggest disappointment going from the S3 to the Note 2 was that the Note 2 does not support this.

i'm 100% sure my note 2 does data and voice simultaneously. all 4G devices do this on Verizon Wireless. you just need a 4G connection... you cannot do voice and 3G data at the same time, however, on any of the Verizon Wireless devices.

Strange that no one mentions the integration of Ant+ in the Note 3: http://www.thisisant.com/news/ant-has-been-integrated-in-samsung-galaxy-... This is a big deal in the sports/fitness/health world with tons of existing sensors (heart rate, power, cadence, etc..) using the technology today.

@Richard Devine Thanks for the post. Samsung Galaxy Note 3 should be a great surprise to this present world, but Samsung unable to do so much surprise. Of course, Samsung Galaxy S4 was a great surprise for us. now it will be really a surprise if Samsung asap release a another 64bit version Note 3 with 4 gb RAM + more high screen resolution + 128 GB sd slot + 20 MP rear camera + may be more little high battery >>>>> Thanks in Advance

If we all noticed the pattern on new devices being released... The jump from S1 to S2 was minimal, the Jump from S1 to S3 was substantial. Same with the Note. So the improvements made from the S3 to S4 was somewhat minimal in my opinion considering that it has few new air motion added along with upgrade in hardware, but you'll definitely see a substantial improvement all across the board with the S5 if it's ever released and the improvements will also be as substantial from the Note2 to a Note4. In most cases, I think, the S4 and the Note3 are basically tester versions for Samsung. I always skip a generation before purchasing an upgrade.

what are these 4 small pins & these small twezzers for in the packaging of my new samsung note 3 ? anybody know?
Android Central Newsletter
Thank you for signing up to Android Central. You will receive a verification email shortly.
There was a problem. Please refresh the page and try again.