Samsung Galaxy Note 2 gets priced on Vodafone Germany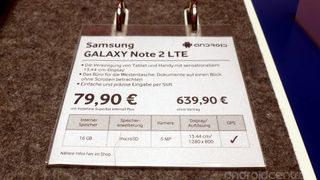 Poking around the Vodafone booth at IFA 2012 in Berlin, some new information appeared regarding the newly announced Samsung Galaxy Note 2. A price. What we see here is the pricing for the 16GB LTE version, but the non-LTE Note 2 seems to be carrying the same price.
It's the off contract price that's of particular interest here. That €639.90 price tag translates to £508 or $804 in UK and U.S. pricing respectively. While not necessarily an accurate representation of what the cost may be when the Note 2 makes it to the U.S. it isn't too far off the price we would expect for such a device in the UK.
Android Central Newsletter
Get instant access to breaking news, the hottest reviews, great deals and helpful tips
Get ready when those poor Americans wake up they're going to cry. How can Samsung charge so much for that phone. Man no way I'd py that much. Maybe $500 but no $800. We Americans are so cheap.

Americans are not cheap, just not showing you the real price since no one sells unlocked phones there. Thats normal price for new high-end unlocked phone, you pay exact same that price monthly via contract in US, so there no diffrence.

Let me clarify how it can work here in Europe. We could buy that phone for £510 and put in a SIM-only deal for £8 per month and not be locked into a contract - we could change carrier ANY time ANY day, no lock in other than the monthly cost. The first year would be £600. i.e. pay US$750 up front and then only US$12 a month for service - voice, data, text! Total for first year is $910, two years for $1,050, three for $1182 In the USA you'd pay maybe $200 up front and then $50 or more every month, so first year $800, second year $1400, third $2000. And you'd be locked into one carrier, whereas in the UK you'd have a choice of FOUR! At least, that's how it seems to me from my perspective in the UK.

The Germany and England prices are going to seem inflated to us because they have VAT taxes in the range of 20% on those items. Remove that 20% VAT and we're talking about $650 in the USA, which is about what we would expect.

that's got to be fake. either that or just a lot of typos. 5mp camera and the screen resolution of the original note.

lol. Fake at a trade show, hunh? That'd be a first. It's typos. And not uncommon for trade shows.

and it's not as if they confused the front and rear camera specs either.

I am not an Apple fan at all but I do prefer when they announce a new device it is available within a week or so. Why do we have to wait months for devices to be release?

Just Lovin my $188.00 Galaxy Note *1* running 4.1.1 JellyBean as we speak :-) And the best part is, Rooted GN1 owners running the current QuincyAT&T Roms will get ALL of the new apps the GN2 will come with in a matter of weeks after its U.S. release.. Just like we got all of the S3's :-)
Android Central Newsletter
Get instant access to breaking news, the hottest reviews, great deals and helpful tips
Thank you for signing up to Android Central. You will receive a verification email shortly.
There was a problem. Please refresh the page and try again.