Samsung's first Bixby smart speaker is the Galaxy Home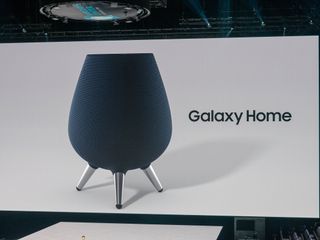 Samsung's August 9 Unpacked event in New York City was filled with announcements. In addition to the Galaxy Note 9 and Galaxy Watch, this is also where we got our very first look at the Bixby Home — Samsung's first ever Bixby smart speaker.
Details are still pretty scant on the Galaxy Home, but this is what we know so far:
There's voice control using Bixby ("Hi, Bixby" is the hotword)
You'll be able to control smart home devices with SmartThings integration
A total of 8 microphones allow for far-field voice detection
The speakers have AKG tuning
And...that's about it.
More details about the Galaxy Home will be shared at the Samsung Developer Conference this November, and that's likely where we'll learn about pricing, availability, music/smart home partners, etc.
What do you think about the Galaxy Home? Is it something you'd consider picking up? Let us know in the comments below!
Joe Maring was a Senior Editor for Android Central between 2017 and 2021. You can reach him on Twitter at @JoeMaring1.
Very original on the name, Samsung.... Picard facepalm.

Wait, you haven't gotten it right on the phone yet.

I like the design but it is too big and bixby is not there yet. The price will determine how successful it is. I hope they bundle it with the. Note 9.

Bixby just rolls off the tongue... Did we really need another assistant option?

no one like bixby on phones, really who will spend money to buy a speaker with bixby??

When I had my s8 I disabled bixbi completely. And was left with a useless button . I hope that that is a hack to install Google assistant or even Alexa

I have remapped my Bixby button to Alexa.... there's an app for that.....(bxActions)

Nope. Never. Nope. Too many things already passed it by.

It is cool for 2 days, after that who really use it ??

It looks like the back of some 60s/70s style chair. i'm just waiting for it to turn around.

It is the back of one of Dr Evil's chairs :P

Looks promising but even as a Samsung fan, I'm too invested in Google homes all over the house at this point.

Looks like a weird, mutant wine glass.

This will need some serious integrations quickly to become worth getting. I can't see myself getting anything but a Google smart home device at this point.

Samsung R&D - Go to the Apple Store, buy whatever they release, tear it down and build a facsimile that looks like it from 25 feet away for 98% of the retail price of Apple's product. If there's software involved, 60% of what Apple does is close enough. This plan worked when your competition was Kenmore & GE ... not so much in tech but when you have 400 relatives to employ, they have to be VP of something.

Haha......you need to let it out man! Keeping things bottled up isn't good. Tell us how you really feel about Samsung lineage...

Looks like a cow's udder!

Belly flop, definitely, Lol. 😂

Bixby will never be as good as Google Assistant. Fact!

And google assistant will never be as good as bixby at controlling your phone.
Android Central Newsletter
Thank you for signing up to Android Central. You will receive a verification email shortly.
There was a problem. Please refresh the page and try again.