Samsung Chromebook 2 delayed until late May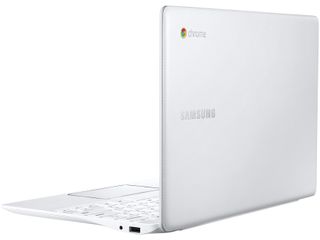 Did you pre-order a Samsung Chromebook 2? The device went up for pre-order earlier this month and was expected to ship in three days on the 28th. However, Samsung is now saying that the device won't ship until the end of May.
The Samsung Chromebook 2 is an upcoming laptop that comes in two models: one with a 11.6-inch display and another with a 13.3-inch display. Both are powered by Samsung's Exynos 5 Octa ARM processor, have 4GB of RAM, 16GB of storage and over eight hours of battery life.
The 11.6 inch model retails for $319.99 and the 13.3 inch version can be yours for $399.99.
Samsung didn't clarify as to what caused the delay, but we bet a few of you out there might be a little bummed by this news. Did you pre-order?
Source: BetaNews Via: TechnoBuffalo
Not surprised i pre-ordered mine on Amazon a week ago and they said it would be delayed until May 15th the minute I received the receipt email.

It must be a delayed caused by the faux-leather lid.

I don't keep up on Chrome, and I seriously though you were joking about it having a faux leather lid. Oh man...

Yeah... The original looked so much better. I bet the fake leather is dirt cheap for them to produce vs metal.

I actually like it. I would certainly prefer metal, but I that the fake leather backing looks a lot better on the Chromebook than it does on the Note.

Unless I'm mistaken, the original Samsung Chromebook is plastic made to look like metal. I say this because I have one. The delay is due to "Global Cooling" and our exceptionally cold winter. The Fauxs decided to hang onto their leather a little longer. ;-)

Knox wasn't ready for their Chromebooks Sent from my Galaxy S4 running SlimKat 4.4.2

Really want to order one but I really want to make sure it'll be worth it. Have a 17" Asus that can launch a rocket into space but want something a bit more portable, longer lasting battery, yet super usable/reliable. Opinions on this coming version?

After having a couple of Chromebooks - I would recommend going with one that has a processor that's not based on ARM. The Intel chip is amazing and is compatible with everything. The previous Sammy chip wasn't bad, but I found it had a hard time talking to my Chromecast and running a few apps.

Dang... Was hoping to not have to wait until the next one. Might still give this one a try but will wait to hear what people say after they recieve theirs.

Definitely agree. When it comes to computers, go with the least proprietary processor available.

Well - the original Samsung Series 3 Chromebook sold more units than all other chromebooks combined. So - basically ARM IS the Chromebook standard. Also: I think there are now more ARM processors in the world than X86. Posted via Android Central App

You're totally right - and the Exynos wasn't a bad processor in the Series 3 or anything, I just found that there were things that didn't quite work when I used that laptop. It's been a little while, but I know it had limitations. And yeah, if I had to guess, I would guess there are more ARM processors in in-use devices, but I would bet that will swing back starting pretty soon since Apple has gone x86 with its new mobile chip. We're hearing more that mobile chip companies are going x64. I think that will be the trend unless something drastic happens with ARM chips.

It could have been caused
by the fire at one of their plants. Posted via Android Central App

The fire was at one of their server data centers. Posted via Android Central App

Pre-ordered the 13.3 the day they went live (7th I think). Third delay email I've received, and while I'm disappointed, I can definitely wait.

I love my OG Acer c7 I imagine this won't disappoint. Chrome books are worth a look if you're a sceptic. Posted via my hTc one with a cracked screen!

Best device i have ever bought, i hardly ever turn my Asus notebook on now.
This chromebook is silent and has long battery life, i do everything through the browser anyway these days.

My 13" is delayed from Mai 15th to june 2nd! Problem is: i have already sold my old Chromebook! Another month. ANOTHER MONTH!!!!

I was really interested in this model and wanted to see reviews before deciding on one. I've been debating between the 13 inch Samsung and the 11 inch Dell. I got tired of waiting yesterday and ordered the Dell. I freaked out a bit when Dell showed a ship date of May 22, but it landed up shipping last night. Should be here Monday.

Same here. Delayed from May 15th. Posted via Android Central App

Ordered the 13.3 from Samsung.com on april 7th. Received the slim case about a week after ordering. I haven't received any emails about delays. I did notice that Samsung's website stopped offering the 11 inch white, and the 13 inch about a week ago. Both now say coming soon. The black 11 inch still says will ship in 10-14 days.
Android Central Newsletter
Get the best of Android Central in in your inbox, every day!
Thank you for signing up to Android Central. You will receive a verification email shortly.
There was a problem. Please refresh the page and try again.