Samsung announces the 7-inch Galaxy Tab 7.0 Plus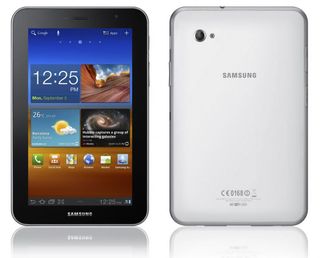 Tipped for T-Mobile a few days ago, Samsung has now officially announced the Galaxy Tab 7.0 Plus, an updated version of the venerable 7-inch tablet. Samsung was first to market with a quality Android tablet, but it did (and still does) so with Froyo, not the newer Honeycomb tablet-optimized OS.
That changes with the Galaxy Tab 7.0 Plus. In addition to having Android 3.2 Honeycomb, it's got a 1.2GHz dual-core processor, 1GB of RAM, a 3MP rear camera and 2MP front camera and Samsung's TouchWiz UI on the 7-inch, 1024x600 display. It'll come in either 16GB or 32GB flavors, with a 4,000 mAh battery, and weigh 345 grams.
The version announced today sports tri-band HSPA+ (900/1900/2100) and quad-band EDGE (850/900/1800/1900), but, again, there's that T-Mobile leak, so we'd expect some AWS love at some point, too.
Full presser's after the break.
Samsung reloaded more possibilities on the go with GALAXY Tab 7.0 Plus
Advanced 7-inch tablet experience on the go within a premium design
SEOUL, Korea – September 30, 2011 – Samsung Electronics Co., Ltd, a leading mobile device provider, today announced the launch of the GALAXY Tab 7.0 Plus. Offering a portable, rich multimedia experience on a 7-inch display, the GALAXY Tab 7.0 Plus packs power and productivity into a chic lightweight design. The GALAXY Tab 7.0 Plus runs Google AndroidTM Honeycomb, enabling an easy and intuitive user experience.
"Samsung pioneered the seven-inch tablet market with the launch of the GALAXY Tab, marking an innovation milestone in the mobile industry. Building on the success of the GALAXY Tab, we're now delighted to introduce the GALAXY Tab 7.0 Plus reloaded with enhanced portability, productivity and a richer multimedia experience" said JK Shin, President and Head of Samsung's Mobile Communications Business. He added "GALAXY Tab 7.0 Plus is for those who want to stay productive and in touch with work, friends and content anytime, anywhere."
Enhanced Portability
With 7-inch display, GALAXY Tab 7.0 Plus provides enhanced portability, weighing just 345g and measuring at just 9.96mm thin. Enhanced portability ensures that it fits easily into an inside-jacket pocket or a handbag, making it an ideal device for those who need to stay productive and entertained while on-the-move.
Advanced Productivity
GALAXY Tab 7.0 Plus delivers a smooth and intuitive user experience with powerful performance powered by 1.2GHz dual core processor. Mini Apps allows seamless multitasking by consolidating 7 applications easily accessed from a bottom-side tray on main screen. Users can launch favorite features such as music player or calendar as pop-ups over full screen applications. Not only that, users can design an individualized up-to-the-minute interface through Live Panel.
Web browsing is also enhanced by Adobe Flash and super-fast HSPA+ connectivity, providing download speeds up to three times faster than a conventional HSPA connection. On top of that Wi-Fi Channel Bonding bonds two channels into one for improved network connection and data transfer at up to twice the speed.
Furthermore, the GALAXY Tab 7.0 Plus offers voice and video call support, with no need for a headset.
Users can see friends and family from anywhere in the world in high quality thanks to the device's larger screen.
Rich Multimedia on-the-move
Full HD videos can be enjoyed on the 7-inch WSVGA PLS display, with DivX & multi codec support ensuring the device is capable of supporting a variety of different formats. An improved virtual clipboard, which stores text and images enabling easy copy and paste, further adds to these capabilities.
Additionally, the GALAXY Tab 7.0 Plus features Social Hub, Readers Hub and Music Hub services. Social Hub aggregates the user's contacts, calendar and email along with instant messaging and social networking connections all within one easy-to-use interface. Readers Hub provides e-reading content such as e-books, newspapers and magazines. Music Hub enables access to over 13 million songs even when out and about.
GALAXY Tab 7.0 Plus will be available starting in Indonesia and Austria from end-October and gradually rolled to globally including Southeast and Southwest Asia, US, Europe, CIS, Latin America, Middle East, Africa, Japan and China.
Android Central Newsletter
Get instant access to breaking news, the hottest reviews, great deals and helpful tips
It appears to be running some version of Honeycomb or is that just a theme?

It says it's running 3.2; so it's full on honeycomb.

if u spent the time u took to post the comment on reading the first few sentences of the post, u wouldn't have needed to ask

Hrmm... any word on price?

In my opinion, Samsung should have released this model before all the others. Many of faithful Samsung users (me included) who purchased the first generation of the 7.0 inch Tab were chomping at the bit for an updated model and OS, and would have snatched these up like hotcakes. I can't verify the numbers, but by some reports, Samsung sold nearly 3 million of their first generation Tab, and already had a customer base for their tablet. By introducing this model so late in the game, especially since Kindle has entered the game, and now Blackberry has slashed the price of the Playbook down to $200, I believe Samsung has missed a golden opportunity. The 7.0 Tab will generate some sales, but not nearly as many as they would have had if it was introduced back in early Spring or early Summer.

I dunno. Nobody really cares about the Playbook at any price. They price this at $200 and its easily the better deal for productivity and features. The Fire would still edge it out for those that aren't tech savvy at all. But for those in the know you basically get all of the benefits of Amazon on any Android device anyway. Now if they price it any higher its dead in the water.

Why???? If this is not coming in at 200/250 they should not even bother. What about the 7.7? I don't understand how it is efficient to manufacture all these different sizes with very minor differences.Why don't these companies get it? I understand releasing 30 phone iterations for the carriers but there is no excuse/logical reason for all these tablets. They haven't even really discounted the original froyo galaxy tab and it's still like 350!....Madness!!!

In the US the Kindle Fire will stomp the 7.0 Plus. Samsung copies Apple, but strangely doesn't when it comes to maximizing profit through economies of scale.

Are the specs of the Fire even up to those of any of the Galaxy Tab or iPad? I thought it was a midway e-reader/tablet. I haven't found specs on the Fire yet either.

yeah the specs are really in the same ballpark. same size screen with the same resolution and its got a duel-core processor. i believe it is slightly lighter as well. however, it doesn't have a camera. the Fire really is going to be quite the contender... man the market is sure getting flooded with these things. never thought i would have gotten a tab, but then i got a HP TP for dirt cheap :D

Amazon hasn't officially announced what OS the Kindle Fire will run other than "Android," but I read a blog that stated insiders say it is running Gingerbread right now with some Amazon UI on it. Plus, the Kindle Fire doesn't have the Gmail app nor the Market or any Google apps, because it is an affront to all things Google as far as money-generation. Amazon took the "free" OS and plugged their Appstore and all of their own web/cloud services into it instead of the Google versions. Maybe after the modding community gets to the Kindle Fire, it will run Honeycomb with Google services? It may not matter to some, but I would really prefer to have the Market, Google Calendar synch, Gmail, etc. on any tablet I buy. I just hope the Kindle Fire will force crazy prices on other tablets to come down.

Fire is using the open source Android 2.3 (honeycomb is not open source). This is public information. Kindle Fire has an email app to read Gmail. This Samsung tablet will not sell well with the Fire's low price.

I hope in some way this could help the android community create a nice Honeycomb rom for the original Tab 7.0...

I hope in some way this could help the android community create a nice Honeycomb rom for the original Tab 7.0...

I agree with the price point. Max $250 for this. I like the fact that is has a very nice battery size.

If this thing is priced no more than 250$ this thing will be mine wifi version tho I'm gona use my staples discount

Poor Samsung, this product will fade into ir(kindle fire)relevance.

A penny over $250 & this is a flop. The Kindle Fire has changed the rules of this game & it's not even on the market yet. Why would Samsung not have released this before? Or at the very least updated the original Galaxy Tab? Very disappointing news.

to all of those sane people who are scratching their heads at samsung's bizarre marketing strategy, i say "THIS IS SAMSUNG!"

I don't know why most of you are even stating $250. At this point if its not $199 they may be in some trouble. But priced equally I think it will sell. Question is would they be taking the same $50 loss per tablet as Amazon. They don't have the services to make it up like Amazon does. That gets me to thinking. If Google got off its but and got the media services together for Android would some sort of revenue sharing be able to boost tablet sales. The OEMs get a cut of the revenue from media consumed on their devices to make up for lowered prices. I keep forgetting though that Google probably didn't even want to get into this. They wanted to push Chrome and be in the position that Microsoft is in now.

The Galaxy Tab 7.7 with Super AMOLED display is still coming, right? It should fall in the $400-$450 range. This 7.0 Plus, if it is offered in a Wi-Fi version, should be $250 tops. The last bach of the first generation have been sold off at $300 each in a lot of retail outlets, like J&R and Amazon.

by all accounts (press releases by samsung) if the 8.9" is only $30 cheaper than the 10.1" version, putting it in the $469 price range, this will not likely EVER see a price point of < $350 = DOA.

Agreed. If there is a 7.7 coming for $399-$459, then the 7.0 Plus is going to be beaten by Samsung's own product line. Not saying the 7.0 is a bad device. I strongly considered the first generation. It was the first 'finished' Android tablet in terms of both hardware and software. But I figured if I wanted an Android tablet, it better have Honeycomb. And if Super AMOLED is available, then that's a no brainer, too.

I am pretty sure that I'd be interested in replacing my G-Slate with one of these. It looks like Samsung has done a really great job. This or the 7.7 would be my top choices.

I don't know what the debate is even about - this thing won't be less than 350.

This would be interesting ONLY if they had added a full size USB port, Full size SD card slot and HDMI. Then, I'd be running to get one.

I dig what Amazon did with the Kindle Fire. But this is a different class device. The Fire has no expandable memory, no microphone (an underrated, but important feature.), to camera's (for video Skype, and what not) and no Google integration. Sure, the Kindle might get hacked, but hardware features can't be hacked onto it. I have a feeling the Kindle will be they gateway into people getting into tablets. Once they get a taste, they'll want to get a more feature packed device. Pricing will be important, but if Samsung can get this out at $299-379 it should do OK. I'm just bummed I pulled the trigger on the Acer A100. While I dig it, Samsung device looks like exactly what I was looking for. Then again, if you spend your time waiting, you never get to enjoy what's out there.

I love what Samsung is doing, but at the same time I can't help to think about another company that came to power and started screwing people out of possible great products. Here's a hint: Starts with an "A". Could Samsung be headed in the same direction?

This is what happens when you have a bunch of left over first-gen parts.
Slap in a few up to date chips to run a new OS and screw the early adopters out of an update. Example : Tmobile Vibrant / Tmobile Galaxy S 4G. Bad Sammy....!

You know I am really disappointed by the tech press on this one. The major difference between the GTab 7+ and Gtab 7.7 is that the 7+ is a phone. The press release says it and the photos show the phone app but no one mentions that this is the first Honeycomb device that can place calls. It will also not be anywhere near $199 in price. The market for this hyper-smartphone is very small but I am in it, so I am happy. This doesn't have to sell as many units as the Fire to be successful. As long as they make money on each unit and ultimately cover the costs of marketing and development for some measure of profit, it was worth doing. It's almost like everyone thinks that if the device isn't meant to compete with the iPad in sales, it is worthless. Apple was a very successful company with only 5% PC market share before mobile took them into the stratosphere.
Android Central Newsletter
Get instant access to breaking news, the hottest reviews, great deals and helpful tips
Thank you for signing up to Android Central. You will receive a verification email shortly.
There was a problem. Please refresh the page and try again.