Samsung allegedly launching an Android Wear smartwatch at Google I/O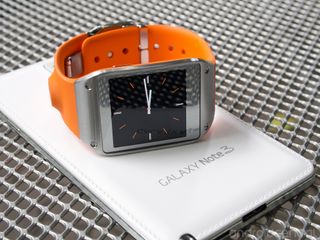 Samsung is apparently set to launch an Android Wear smartwatch this upcoming week at Google I/O. CNET is reporting that the upcoming wearable is one of several new devices to run Android Wear. LG and Motorola are expected to show off new watches as well.
Samsung is taking its experience with Galaxy Gear to make an Android Wear smartwatch. It just a few weeks ago that we learned Samsung had switched Galaxy Gear from Android to Tizen.
Not much is known at the moment on what Samsung will actually bring to the table. We do know taht Samsung is alleged to be working on two models: one using Samsung's own chips and the other using Qualcomm technology. As far as the design, pure speculation at this point. Will this be an existing smartwatch retrofitted with Android Wear? Or a new design? We'll find out this next week.
In the meantime, let us know if you'd rather have an Android smartwatch from LG, Motorola or Samsung.
Source: CNET
Get the Android Central Newsletter
Instant access to breaking news, the hottest reviews, great deals and helpful tips.
I think that without seeing all three you really cannot make a decision Posted via Android Central App

Unless you base it on being a hater of being a brand I should say Posted via Android Central App

Or you just pick one based on design since they're all pretty much the same on the inside....

I was referring to the question at the end of the article. You are right though, design, for a watch, will play a big part for me Posted via Android Central App

Brand hating and loyalty probably drives way more decisions than it should around here... There's sort of an inverse relationship there between enthusiasts and the mainstream too, where their brand loyalty is driven by marketing rather than the inane logic of some enthusiasts. Neither is very pretty... It's not like it's a new phenomenon tho, cars, cameras, carrier choice, guns, shoes... Tons of industries plagued by the same blind brand loyalty, often to the detriment of the whole market in the long run.

...where brand loyalty is being driven by marketing... [not] pretty...
That is you claiming to know why 'the masses' like their Samsung phones and is basically a thinly veiled rehash of exactly what Samsung haters are constantly saying.
I agree with you on the enthusiast side but disagree on the marketing side. Marketing inspires initial buys, but if people keep buying Samsung phones it is because they were more than happy with their last one.
Posted via Android Central App

I have to disagree. Many enthusiasts do not use logic but rather use emotions. Some enthusiasts nearly worship these oems. At least with the general consumers they are presented a product and buy it based on the features sold vs the enthusiasts who are mostly emotional.
Posted via Android Central App

yes exactly. Posted via Android Central App

Well.. We've seen what Samsung can do with smartwatches so far.. and we've seen what LG/Motorola are up to.. So. Humor me and just pick one ;)

I think he forgot to switch accounts when he replied to himself

No I wanted to finish my thought and didn't want to edit Posted via Android Central App

Yes the "I should say" part really leads me to think that. /s
Cynical much? Posted via Android Central App

Just on what what we think we know about all this I would most like to see the Moto 360. Android wear though takes away a lot of what we think we know about Samsung. LG is kinda in the middle right now Posted via Android Central App

Sigh...will the OG Galaxy Gear have an Android Wear upgrade option?

So, I have a Note 3 and a Note 10.1 (oh and a Nexus 7). The logical choice for me should be Samsung, but I have not liked the looks of the Gear watches to date. I am drooling over the looks of the Moto 360, it's the current front runner for me. But I need to touch and see them to make a choice. Once they are out, anyone want to buy my Pebble - cheap?

+1 you can keep the Pebble though... Lol Posted via Android Central App

A customer was wearing a Pebble on this week's pawn star show. First time I've seen one on TV

Out of the three I vote for Moto, but I'll probably wait to see what Fossil brings once they jump into the game Posted from the Avengers: Age of Droid Ultra

Seriously asking, is there a rumor as to when they are throwing it out there? Posted via Android Central App

Re: Fossil Little birds have said September, with a huge push for the 2014 holidays.

Thx Jerry. I might have to get myself a little Christmas present Posted from the Avengers: Age of Droid Ultra

Thank the birds for me... Sounds about my time frame in buying one of these Posted via Android Central App

That's interesting. I'm very familiar with their products and I'd expect a high level of quality from them. However, I can't see myself waiting. Maybe I'll buy into the first batches from someone else and checkout their Wear.

It'll be interesting to see how a company like Fossil handles updates and that kinda thing... I've no doubt that timepiece manufacturers can stomp all over smartphone OEMs when it comes to QC and/or build quality, but software?

I used to like Fossil back in the 90's

I haven't seen anything yet but when Android Wear was announced they were listed as a partner.
Most of the watches i own are Fossil so I'm excited about what they might bring Posted from the Avengers: Age of Droid Ultra

Only watches I've owned since high school were both Swiss Army or Victorinox... One got pretty trashed but the most recent is pretty nice and light, I still wear it when I'm out and about because I'm vain and I've gotten some compliments on it from the ladies... I don't wear it on a daily basis to avoid scratching it and whatnot tho. I'm ready to let my geek flag fly with something like the Moto 360, though I'm kinda concerned it's weight might feel super weird. My current watch is made of titanium and weights next to nothing and I'm still very conscious of it when I have it on.

So did you see samsung's android wear device? If not how did you make that decision? Posted via NEXUS 5

I made the decision based on the dozens of Motorola branded devices that I've owned and the fact that I've enjoyed all of them so if i have to choose between three devices that i haven't had a chance to use my first choice will be the brand I trust the most Posted from the Avengers: Age of Droid Ultra

Oh okay.. then maybe you missed some stuff in your comment lol Posted via NEXUS 5

Actually the Kairos smartwatch is my first choice, but not paying that price. By far the best looking one I have seen.

I actually use the camera on my Gear 2 all the time so I am saying Samsung. In reality I'll prob be jumping ship back to Apple when the iwatch and iPhone 6 come out. Just can't get used to Android Posted via Android Central App

Right there with ya. Posted via Android Central App

it is funny isnt it. I am the same way with iOS. They are basically the same in almost every way but one or two little things I am so used to on Android make me struggle to like iOS. Posted via Android Central App

Wouldn't be surprised if they look like the gears. My guess is the gears will be specifically for Samsung devices where as the galaxy which will run Android wear will be for all Android devices. Posted via Android Central App on nexus 7 (2nd gen)

Seems like the R&D for it is already done with Gear - just make a few spec/component tweaks and throw Android Wear OS on it.

You'd have to be crazy to jump on a Samsung watch again after they pulled the rug out on Android and replaced it with Tizen or whatever it's called.

Good point. The more I think about it that was really kind of a dick move.

/s? I hope? From what I read on the transition 4.2.2 was improperly optimized for wearable tech. Granted with 4.4 being out I do have a glimpse of your point. If I remember correctly Tizen increased standby time on the original gear over what android offered. While keeping the ui mostly the same and again this is according to my memory adding new features.

Samsung moving to tizen, makes sense for them. Android was never really designed for implementation in a watch. Even Google can see that, hence android wear. It isn't android, probably a world apart, it just carries the brand. But it does tie in with android, and partners it well, while being so cut down that things like battery life become less of an issue. For Samsung it is ditto with tizen. Moving to android wear would bring Samsung all the benefits they seek to gain with the tizen switch, while also opening up the market to customers who don't own a Samsung phone. Posted via Android Central App

What's dick move about not wanting to use regular Android on a watch. Tizen proved it could last three times longer, which then makes it a no-brainer to switch.

I like the look of the OG Samsung Gear the best of all I've seen. The screw accents on the front make the look. But I need open and nonproprietary with no bloat so if Samsung bastardizes Android Wear with Touchwiz or locks it down - it's DOA for me - and the choice would be LG G. Moto Watch is trying too hard to be something it's not - I don't like that. Not sure I need or will use one of these smartwatches but part of me wants one anyway.

its Galaxy Wear
http://www.sammobile.com/2014/05/30/samsung-trademarks-galaxy-wear-is-th... Sent from my GT-I9500 via Android Central App

Will we have Google play edition smart watches now Posted from my Nexus 7 2013 or Samsung galaxy S5

There is really no reason why Google shouldn't be able to handle all software updates automatically on watches. On smartphones, they can point at network operators not allowing software updates without their approval.

Yeah I believe you're right Posted via Android Central App

LG. Motorola. HTC. Samsung. This is shaping up to be a great OS! I think Android Wear will be successful! This will be one to truly compete with the rumored iWatch. Only time will tell... There's 1 issue... Which watch will be on my wrist. Cost will mostly be the deciding factor. Posted via Android Central App

Really Samsung? Samsung confuses me sometimes. First the galaxy gear for Samsung phone early. Then galaxy neo and tizen Samsung made it clear they want to only develop for their platforms. And now an android wear watch? Make up your mind Sammy. It's kind of a slap in the face to some. I'll wait to judge to see what they unveil. So does this men that if android eyewear is unveiled that Samsung will come out with galaxy glass and galaxy eyewear? Would be cool if Google got other manufacturers to do glass too Posted via Android Central App

Once you become big enough in a sector you can hedge your bets and try something different. Tizen is a try, Android will be there. They are not giving Android up Posted via Android Central App

Apparently. It's a mixed thing though. Lots of people like the look of galaxy gear or neo and couldn't use it unless they had a Samsung phone. I'm sure some bought a Samsung phone just for it. But your right Samsung is a big company and it's good that they haven't given up android even though tizen is just starting. Posted via Android Central App

This Posted via Android Central App

Lol that CNET article mentioned that the LG and Moto watches might be shown. Nice job reading it correctly.

Samsung is a truly confusing company sometimes.

Obviously haven't seen or heard anything from the Samsung side , I would definitely say Motorola. Come on Moto 360!

Even with AWOS, Samsung be like: Only compatible with Samsung devices....

Assuming they all are running android wear I think it comes down to two main points, price and design. We really need to see them all before making a decision but as of right now nothing comes close to the Moto 360 design. Right now that is still #1 by far for me....just something about that round watch face.

For me it's the Moto360 unless Samsung can hit it out of the ballpark. Based on the 10 Moto360 finalist renditions, it's gonna be tough for Samsung. It would be nice if original Gear watch could be retrofitted to android wear. Ian B

I would really like to see this option for us OG Gear owners.... Posted via Android Central App

Just based on what is known at this time, Moto 360 will be my watch of choice. Of course this is subject to change without notice. Posted via Android Central App

Form what I've heard about Android smart watches so far, I think that they'll be solid products on release. Posted via Android Central App

Why do people give Samsung shit for the gear only working with Samsung devices but you know damn well apples iwatch will only work with iOS devices, but people won't say anything about that. Posted via Android Central App

Apple only had one product and lives within its own ecosystem. Android is a collective of MFR. Sony never restricted their smartwatch or camera attachment to just the Xperia. Samsung is trying to force their product by restriction. It takes away from the Android essence IMO. That's the problem. Samsung cats to much to wanna act like Apple
Posted via Android Central App

Because the people giving Samsung shit for that probably couldn't care less about iOS devices. One of the biggest draws of the Android ecosystem has always been the variety of choices available, both from a practical and aesthetic point of view. The fact that Apple's stuff mostly only works with Apple's stuff is a given, you know and accept it going in. Apple does get a pass on some egregiously obvious stuff over years tho. #CanYouSayBigAssBezzels?

I think Moto. Have to see them all but if it follows design language of phones then definitely Moto 360 Posted via Android Central App

very excited to see what Sami does here. the Moto 360 looks awesome but i like Gear's camera.

Moto 360 all the way. Posted via Android Central App

Gotta go with Samsung only because of what they've proven so far... Posted via Android Central App

And yet I still don't see the need for a smartwatch. Posted via Android Central App

Smart watches have latest technology that included with weather, world timing and it may be charges directly sun and own body energy.

So do smartphones. The watch is superfluous, unless you're going for fashion. Or fall for hype and marketing. Obvoiuly excluding the charging comment, because who cares...
Posted via Android Central App

I thought the same as you.. That it was a gimmick. Then I started testing out a Gear 2 Neo with my HTC One M8 just for the fun of it. Now I wear it everywhere and really see the use.
I'm not a normal watch wearer.. So of course now being able to just glance at my wrist for time instead of pulling out my phone is awesome. Not to mention seeing my texts and calls and Facebook and instagram notifications, etc. Not only does it save my phone tons of battery, it's SUPER CONVENIENT. Posted via Android Central App

I had the same watch and found no practical use for it. I had it for three days and returned it because my phone could do everything the watch could do. It was a redundant thing to have.

Is Android Wear going to be the biggest move at io, or is there more? Since Apple will soon be competing for this territory, Wear needs to be really good. Awesome AC.

Even if Apple comes up with something "better" I wouldn't mind. They ve been kind of lackluster on the competition end lately and competition drives tech advancement. Posted via Android Central App

I still wear a watch, so a Android related device would interest me, provided it was really useful.
Battery life remains a serious limitation. Charging a device every day or two would probably put me off even trying it, this is where Pebble got things right IMHO. Awesome AC.

Maybe it's just me but I would rather not have an Android wear watch or any smart watch for that matter.... The panda has spoken

What I want to know is if the manufacturers will allow these watches to work on any android phone or are they tied in their brand counterparts? Meaning, will an Samsung watch work with the HTC One M8 or will they prevent the app from even being downloaded to a non Samsung phone.

The whole thing about Android wear is that they should work on them all (at least newer devices with kitkat and above probably) Posted via Android Central App

I suspect that ridden will continue to be a full featured OS and wear will be more notification centric Posted via Android Central App

my guess is it'll be made of glossy plastic, lol

These all look great and all.. But I'll stick with my Pebble. Posted via Android Central App

"We do know taht Samsung"
*that Posted via Android Central App

I'd take a look. If it's Samsung-only again, bring in da haxxx. Posted via Android Central App

Okay. This smartwatch fad needs to end. I owned the Galaxy Gear 2 for like three days and returned it because I found no practical use for it and I found it was too gimicky. The fitness aspect of the watch wasn't accurate at all. You cannot really reply to texts or emails from the watch. If I can't do that on the watch, why own the watch at all when I can just use my phone?

Start working at home with Google! It's by-far the best job I've had. Last Wednesday I got a brand new BMW since getting a check for $6474 this - 4 weeks past. I began this 8-months ago and immediately was bringing home at least $77 per hour. I work through this link, go to tech tab for work detail ✒✒✒✒✒✒✒✒✒✒✒✒✒ www.Jobs7000.com

They can take my money now. I'd rather just stick with Samsung products and this crazy delay since the mention of watches from Motorola and LG is ridiculous. I'd rather go with a company that's already on iteration number 3...not 1.

I don't really care about brand as long as it is a solid product. I do suspect Samsung, if they bring a watch ⌚ with AW, it will be tough to beat the quality. I look forward to seeing all the offerings. Posted via Android Central App

Well you know what they say, if you don't like Samsung products just wait a month or two.