Top 5 reasons why Rootless Pixel Launcher is better than Nova and Action Launcher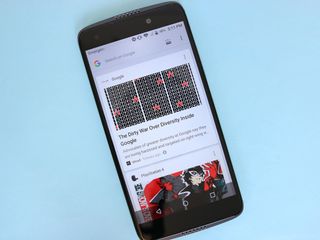 In the Android launcher space, Nova and Action Launcher reign supreme as two of the best options available. This is a point that I have no problem agreeing with, but even so, it's important to admit when a formidable (and potentially better) alternative comes around.
There are a few different launchers that try to mimic the look and feel of the Pixel 2's interface, and while a lot of these come really close to being the real deal, few are as well-polished and feature-rich as Rootless Pixel Launcher. Rootless Pixel Launcher was recently updated to version 3.0, and if you've been wanting to spruce up the look and feel of your non-Pixel phone, it definitely deserves a place on your shortlist. Here's why.
Google Feed is enabled by default
The Google Feed hasn't aged gracefully since the introduction of Google Assistant, but even so, it's something I find myself checking multiple times each day on my Pixel 2. Apps like Nova and Action Launcher allow you to use the Google Feed on your left-most home screen after installing a separate APK file, but with Rootless Pixel Launcher, this is enabled by default.
As soon as you download and install the launcher, you can immediately access the Google Feed and everything it has to offer, including news stories you're interested in, customizations for the feed, and a tab for viewing more contextual cards. The Feed works just like it does on the Pixel 2, and the fact that it does so without the need for an additional app is pretty awesome.
The At a Glance widget is here
Although it's hated by some, I absolutely love the At a Glance widget that Google introduced last fall. Having a consistent showcase for the time and date really is quite helpful, and when upcoming calendar appointments pop up, I fall even more in love with the thing.
My personal feelings aside, At a Glance works wonderfully on Rootless Pixel Launcher. As long as your Google app is up to date, it should work without a hitch. Tapping on the weather icon will open Google Weather, tapping on the date will take you to Google Calendar, and just like on the Pixel 2, you can adjust your preferences to choose whether or not you want it to display traffic and flight information.
Notification dots are free
Both Nova and Action Launcher have been updated to support adaptive notification dots, and while this is great, you're required to pay for their respective premium versions in order to use them. On the other hand, this is something that Rootless Pixel Launcher gives you for free.
You don't have any customization over the appearance of the dots like you do with Nova and Action, but the fact that they work without having to hand over any cash is a big plus.
When you get a notification, the app that it came from will show a small dot next to it so you can quickly see which apps have notifications that need tending to. It's an admittedly small feature, but if you want to have the full Pixel 2 experience, they're an essential component.
Support for icon packs
As much as I love the Pixel Launcher on my Pixel 2, one of the things I desperately wish it had was support for icon packs. I highly doubt this is something Google will ever add to the official version, but that really doesn't matter since Rootless Pixel Launcher already allows you to do this.
Once you install the icon pack you'd like, hold down on your home screen and go to Home Settings -> Icon Pack. Choose the one that fits your mood/style for the day, and you'll have a Pixel 2-style launcher that's even more personal than what you'll find on the real deal. Yes, yes, I know this is something you can do on Action and Nova launcher, too, but hear me out for one last pont.
This is the Pixel 2 launcher
For all intents and purposes, Rootless Pixel Launcher is the Pixel Launcher that's on the Pixel 2. Developer Amir Zaidi based the launcher on the official one that ships with the Pixel 2, and as such, you get all of the little touches here and there you'd expect from the real deal.
The app drawer has a little bounce when swiping all the way to the top or bottom, the Google search bar at the bottom follows the app drawer as you swipe up, and Google logo in the search widget and app drawer background will change colors based on the wallpaper you have set. Like I said, this is the Pixel 2 launcher.
What do you think?
Now that I've stepped off my soapbox, what do you think? Is the Rootless Pixel Launcher something you'd consider using over Nova or Action Launcher? Let me know in the comments below!
Rootless Pixel Launcher 3.0 is basically the Pixel 2 launcher on steroids
Get the Android Central Newsletter
Instant access to breaking news, the hottest reviews, great deals and helpful tips.
Joe Maring was a Senior Editor for Android Central between 2017 and 2021. You can reach him on Twitter at @JoeMaring1.