On the Road: What's in Mark's gear bag in 2016?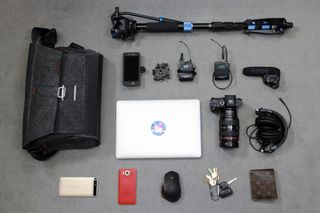 I'm going to be on the road for the next few weeks, and the first stop is Mobile World Congress, which kicks off next week. Event coverage means moving fast, whether it's sprinting from one press conference to another to get a good seat, or editing and uploading hands-on videos quickly before the other sites. Having the tools that help me get things done quickly is important to my job. Read on to see what's in my gear bag.
The Camera: Sony A7S II
I recently upgraded to the Sony A7S II, which is a mirrorless camera with a full-frame sensor. It's smaller than a traditional DSLR and gives you that creamy bokeh-licous backgrounds in photos and videos. I also don't have to worry about product launch events held in the dark (why do companies like to do this?) because this camera performs exceptionally well in low light.
Attached to the Sony A7S II is the Canon 24-70mm F/2.8 lens (opens in new tab) with an adapter. I've had this lens for a while, and it's my go-to zoom lens on full-frame cameras. Autofocus isn't reliable when used with the Sony camera, but I mostly use manual focus when shooting videos. It's a pain to shoot photos with, however, so I might sell this lens to get a native Sony lens with the same zoom range.
See at Amazon (opens in new tab)
Camera accessories
Events are usually very noisy, so it's important to get the microphone as close to the speaker as possible in videos. I rely on my Sennheiser EW100 G3 wireless microphone (opens in new tab) when there's one speaker in front of the camera. The lapel mic is clipped to their shirt to ensure our viewers hear the voice more than the background noise. For multiple speakers, I use the Rode VideoMic Pro shotgun microphone (opens in new tab). Both solutions sound tremendously better than using any camera's built-in microphone.
To make sure subjects are in focus and properly exposed in videos, I use the SmallHD 501 monitor (opens in new tab). It doesn't add a lot of weight to the camera, and it's a lot more reliable than using the camera's built-in display.
For better stability, I use the Sirui P-204S monopod (opens in new tab) with Benro S4 video head (opens in new tab). The monopod has three sturdy fold-down support feet so that it can stand by itself. I can also disassemble it to fit in my carry-on bag during flights. The video head is essential for smooth panning and tilting camera movements.
The Laptop: Macbook Pro
I edit videos in Final Cut Pro X, and I use my 2013 Macbook Pro with Retina Display to keep up with my demanding workflow. Exporting videos just take a few minutes, which is very important when we need a quick turnaround.
It's showing some struggle when dealing with 4K videos, but it's not the best time to upgrade the Macbook Pro yet. I'm waiting for Apple to release the next-generation MacBook Pros that will likely incorporate Intel's Skylake processor.
I'm okay with using the Macbook Pro's trackpad, but I'm more comfortable when using the Logitech MX Master (opens in new tab) wireless mouse. This will go into the bag if I know I'll be editing a lot of videos that day. One of my favorite features for the MX Master is the ability to charge with a micro-USB cable.
See at Apple (opens in new tab)
The Headphones: Audio-Technica ATH-M50x
Audio is just as important when it comes to videos. I use the Audio-Technica ATH-M50X monitor headphones when recording to make sure there aren't any interference or unusual noise that might be unfixable in post-production. They're comfortable, reliable, and fold down, so it doesn't take up a lot of room in the bag.
See at Amazon (opens in new tab)
The Phones: Nexus 6P & Lumia 950
I prefer Nexus devices when it comes to Android. I skipped the Nexus 6 because of its size, but I'm now enjoying the Nexus 6P (opens in new tab). I'm a fan of the gold color, too! I'll be using this to communicate with the rest of the Mobile Nations team via Slack and Google Hangouts, and make sure I don't miss anything on my Trello list. Since the Nexus 6P is already unlocked, I just need to get a local SIM card in Barcelona when I land.
The Lumia 950 (opens in new tab) is the second phone I'm bringing. I love its camera and will be using it to upload photos to Instagram and Twitter. I also plan to use it for some some b-roll footage.
The Bag: Peak Design Everyday Messenger
I was looking for a new bag and both AC Editor-In-Chief Phil and Mobile Nations Managing Editor Derek recommended the Everyday Messenger Bag from Peak Design. Mobile World Congress will be the first event I'll be using with this bag to carry all my gear, so I can follow up with more thoughts later on.
The Everyday Messenger has won awards from National Geographic, Popular Photography, and Men's Journal. It's targeted for photographers, travelers, commuters and everyone in-between with interesting features like origami-inspired dividers, unique magnetic closure, and more. It can be slimmed down when you're not carrying a lot of things and is expandable when filled with gear.
See at Amazon (opens in new tab)
And that's about it. These are the tools I need on the road to get my job done. It's always evolving to help me stay efficient, so let me know if you have any gear recommendations that might help even more.
That bag is ridiculously expensive. But, man is it nice!

Especially for something with "everyday" in its name. Posted via the Android Central App

You'd have to use it every day to get your money's worth out of it. Posted via the Android Central App

Worth every penny. I won't be needing another bag for the foreseeable future. Posted via the Android Central App

Really impressed with the build quality. This bag will be with me for a while.

Me too. Peak Design didn't miss a beat. Posted via the Android Central App

This Mark guy isn't relevant, he's not Russell, Jerry or Alex. Lam I Am

He's way more relevant than Russell. Posted via the Android Central App

Mark is going to MWC. Russell is not. That work for now?! Posted via the Android Central App

/thread Posted via the Android Central App

please tell me that's not a Louis Vuitton wallet! and I get chills when somebody adds "with Retina display" to their MacBook. I get the average Joe falls for that marketing stunt, but give me a break. and who is this Mark character anyway? other than some dude that carries a Louis Vuitton wallet!

He's their media support for shows like CES and MWC

Mark Guim!! Wow..this brings back memories. I used to be a huge fan of your site 'The nokia blog'. Just searched for it, guess it's no longer there anymore. But I see your youtube channel is still there - /user/thenokiablog. My last Nokia was the N82. After Nokia kept failing when trying to make a decent touch phone, I finally moved to Android. I missed reading your reviews and posts though. I'm glad to see you joined the mobile nations group. Looking forward to reading more of your writing here.

Hi! I joined Windows Central after Nokia went to Microsoft, but I also help all the Mobile Nations sites with videos.

Good for you! I don't usually read Windows Central that often, which is probably why I didn't see your name there till now.

I'm surprised that WC hasn't made an article on WMC, are they gonna be there? Posted via the Android Central App

I'm thinking Richard Devine might be doing double duty, along with Mark (when he can).

Correct. But it's mostly about AC. That's where it's all getting busy the next 7 days! Posted via the Android Central App

I assume Daniel is going at the very least. There will obviously be more Android devices at MWC but we should see at least a few Windows 10 Mobile devices and Mr. Rubino will cover them.

We will see, but I usually remember Richard being there generally.

As I wrote above, I will be covering WC duty with Mark. Mr Rubino is going to the Xbox event in San Francisco.

"I edit videos in Final Cut Pro X…" Smart, smart man. "It's showing some struggle when dealing with 4K videos…" That's what optimizing and/or proxies are for!! No new machine needed!

Lumia 950?? Really?
Well that's a nice surprise. Posted via the Android Central App on my Galaxy S3 Neo Dual Sim which thankfully doesn't have S-pen and does not have a horrible metal body.

Lol, really? He's a writer at Windows Central.

It's Mobile Nations actually, so almost all the writers are interlinked except Phil and Ara, they both are Android specific only. What I was trying to say is that high valued website's author is still carrying a Windows 10 Mobile device among his daily drivers, that's something impressive

Need to get rid of the Lumia

Hell yeah. They are DEAD for a reason you know.
Android Central Newsletter
Get the best of Android Central in in your inbox, every day!
Thank you for signing up to Android Central. You will receive a verification email shortly.
There was a problem. Please refresh the page and try again.