Remembering the Google Pixel 1, five years on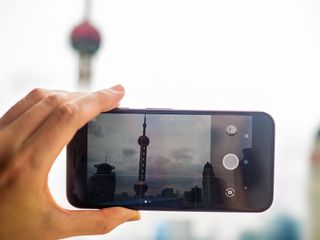 (Image credit: Alex Dobie / Android Central)
This month marks the fifth anniversary of the Google Pixel series — half a decade of ups and downs as Google has attempted to navigate the notoriously competitive global smartphone market. In just a few weeks, the company will take the wraps off its most ambitious handsets yet, with the launch of the Google Pixel 6 series. But until then, there's time to reflect on five years of Pixels — devices which are often trailblazing and confounding in equal measure.
Before the Pixel, the closest thing to a Google phone was Nexus, and with that product line, things worked a bit differently. Google would solicit designs from manufacturer partners each year and then choose a winner to work with, bringing a new Nexus-branded phone to market with a fresh version of Android each winter. The resulting devices were often unique but rarely among the best Android phones money could buy.
The dawn of 2016 saw rumors that HTC — by then a shadow of its former self, but still very much making smartphones — would be making next-gen "Nexus" phones in two sizes. HTC had made the original Nexus One, which did reasonably well, and the ill-fated Nexus 9 tablet, which had been a disaster for the Taiwanese firm, with quality issues and poor sales that only compounded its financial woes.
HTC wasn't Google's first choice to make the 2016 Pixels, though. Huawei was reportedly the originally planned manufacturer. But it was reported that CEO Richard Yu took a dim view of Google's desire to have an entirely self-branded phone, in contrast to the co-branded Nexus 6P the two had worked on in 2015. That meant no Huawei logos on the phone or co-branding on the box — a red line for the Chinese firm that, at the time, was trying hard to push into the US market.
Huawei's design for the small Pixel — basically a miniature Nexus 6P — would eventually crop up in late 2016 after being repurposed as the Huawei Nova.
With Huawei out of the picture, HTC was keen to keep its partnership with Google going, and so what followed was a sprint to the finish line through the rest of 2016 as the teams in Mountain View and New Taipei City worked to complete the Google Pixel and Pixel XL. No more Nexus — this was the start of a new age of smartphones "made by Google." These were effectively the same phone in two different sizes, with the only spec differences of note being the display resolution and battery capacity.
By all accounts, the critical reception to the first Pixels was rather positive. The design was a bit boring, the base 32GB of storage was a bit cramped, and it was missing water resistance, which at the time was starting to become table-stakes for high-end phones. In these areas, the Pixel was a step behind the competition.
But, this was the first proper Google phone. Even though HTC was heavily involved, Google was in the driving seat, and this was much more of a Google-led project than the Nexus line had been. It was the phone that pundits, including the venerable Walt Mossberg, had been encouraging Google to build.
And so reviewers, yours truly included, looked past these gripes and instead found themselves enamored with the Pixel's phenomenal camera, speedy performance, and intelligent new Assistant.
The Pixel camera was the biggest showcase to date for a technology known as GCam. This was Google's internal name for HDR+, which had been an optional setting on every Nexus phone since the Nexus 5. The Pixel, however, saw it fine-tuned, supercharged on faster hardware, and, most importantly, enabled in every photo the phone took. Google had brought computational photography — photography enhanced by the power of speedy phone processors — to the mass market.
GCam, or HDR+, is a major reason for the success the Pixel line has enjoyed thus far, but it actually started with another Google product which ultimately flopped: Google Glass. The technology that helped Pixel phones take excellent pictures in 2016 started out helping Google Glass's tiny low-quality camera take barely acceptable pictures in 2012.
In 2016, nobody could touch the Pixel in computational photography. With stunning colors, excellent dynamic range, and excellent night-time capabilities — even before Night Sight mode was a thing — the Pixel camera felt at least a couple of generations ahead of everything else. As such, the Pixel quickly became known not just as the Google phone, but that phone with the really great camera.
My lasting impressions of the Pixel XL I used through much of late 2016 and early 2017 are of the photos that it helped me capture. A day after collecting my review unit, I took the phone to Asia for two weeks, first starting in China. (Perhaps not the best place to test Google-specific features given the country's heavy internet censorship and total blackout of Google services. Nevertheless, data roaming and VPNs helped my Pixel stay connected.)
Image 1 of 15
It quickly became clear to me that, although the Pixel's camera hardware was nothing special, Google's unique HDR+ processing enabled it to take better photos than any other smartphone.
The phone was also the first to launch with Google Assistant out of the box, the feature having first debuted on Nexus phones as part of the Android 7.0 Nougat update. Many of the Assistant's more elaborate features hadn't been introduced yet, but I do recall being impressed with the speed and accuracy of voice responses — even to my vague queries like "what's the building in Shanghai that looks like a bottle opener?" (The answer: the Shanghai World Financial Center.)
The first Pixel was a transitional product for Google. The switch from Huawei to HTC as manufacturer undoubtedly threw a wrench in the works regarding launch timing. HTC engineers were still doing a lot of heavy lifting in the Pixel's code, and we were still only in the very early days of Google's push towards AI as a central focus, which would feature much more prominently in later Pixels.
Nevertheless, the first-generation Pixel set the stage for subsequent models, establishing photography and innovative, Google-exclusive capabilities as differentiators for the series. Five years on, the original Pixel XL stands out as one of the series' more competitive entries.
Android Central Newsletter
Get instant access to breaking news, the hottest reviews, great deals and helpful tips
Alex was with Android Central for over a decade, producing written and video content for the site, and served as global Executive Editor from 2016 to 2022.
Loved it. First and only smartphone I've ever used for a full 3 yrs.

Agreed. I would have gone more than 2 years of it wasn't for me running out of storage going with the 32 GB version.

I went from Nexus 6P to Pixel 5. Nothing in between.

This was a great stroll down memory lane. I absolutely loved my pixel XL. This was the first Android phone that made me not feel any FOMO with Apple or other Android phones. I was just so happy with the Google integration, Google Assistant intelligence, camera, and performance. I happily skipped the pixel 2 and only upgraded to the pixel 3 at the time because I was running out of storage and was tired of constantly managing the amount of the device.

I used my Pixel XL for 4+ years, best phone I've ever had. Sadly, every Google Pixel phone since the original has been trash. Pixel 2 series had no headphone jack, Pixel 3 XL had a hideous notch, Pixel 4 had a plastic frame and no fingerprint sensor, Pixel 5 is plastic garbage. The Pixel 6 Pro is looking pretty nice but it still has no headphone jack which upsets me. I've never used a pair of wireless headphones that I liked and they're terrible for the environment.

I disagree, wireless headphones are outstanding and I'm confident you can't tell the difference on audio quality between wired and wireless. Google the NPR audio test and confirm for yourself that quality wireless headphones are outstanding. It may be a long while before I upgrade from my Bose QC 35s.

How are earbuds terrible for the environment in particular? There's a big variety: 1. Samsung Galaxy Buds OG: Glad I got these free, twice they had to go in for repair because the right earbud lost 75% of its volume. The gesture based controls so *** annoying. 2. Jabra Elite 75t: These I loved but they had the same fundamental flaw most wireless earbuds have, they bloody fall out. You see it everywhere, it's a blatant design flaw. Mine fell in a train toilet and then one got run over. Luckily the toilet was clean but still eurgh. 3. Beats PowerBeats Pro: The Lightening connector is annoying, use an adapter, and the case is silly big. But they have a clip, which you can't feel, so are rock solid in your ears. The best part, both sides have identical controls and it's all physical buttons. When I'm cycling, I don't need to think which side does what and can very quickly feel for the volume/skip track etc... Now I've got a pair I can finally use an enjoy I wouldn't go back. Stop it Samsung and Apple with your awful touch gestures. They're annoying when you're full awake, but when you're a little sleepy, tipsy they're just the pits.

Honestly Pixel 3a aside they're all forgettable. I get the software is good but Google's phone hardware has always been lacklustre. Looks like finally they may make a phone that competes with Apple and Samsung. I've always ignored them because the hardware just hasn't been good enough, by some way.

My OG Pixel is still going strong! Replaced the battery a couple years ago, but it's been a workhorse.

Still got my pixel and xl. Free full size upload of vids and pics
Android Central Newsletter
Get instant access to breaking news, the hottest reviews, great deals and helpful tips
Thank you for signing up to Android Central. You will receive a verification email shortly.
There was a problem. Please refresh the page and try again.