The Wild West called, and it wants you to pre-order the Red Dead Redemption 2 PS4 Bundle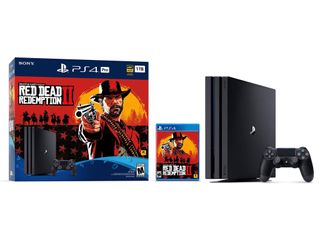 Update: This pre-order is back in stock!
The Red Dead Redemption 2 PlayStation 4 Bundle (opens in new tab) is available for pre-order at both Amazon (opens in new tab) and Best Buy (opens in new tab). It is set to ship at the end of October and it'll run you $399.99, which essentially means you're getting the game for free.
The bundle includes a jet black PS4 Pro 1TB console, a Dualshock 4 wireless controller, and a copy of Red Dead Redemption 2 (opens in new tab). The game is set in America in 1899. An excerpt from Amazon's description reads: After a robbery goes badly wrong in the western town of Blackwater, Arthur Morgan and the Van der Linde gang are forced to flee. With federal agents and the best bounty hunters in the nation massing on their heels, the gang must rob, steal and fight their way across the rugged heartland of America in order to survive. As deepening internal divisions threaten to tear the gang apart, Arthur must make a choice between his own ideals and loyalty to the gang who raised him.
Of course, if you already have a console and don't plan on upgrading, it'd be a better use of your time and money to just pre-order the game (opens in new tab). However, if you had plans to purchase or upgrade your console anyway, this bundle saves you $60 compared to buying the two separately.
Get the Android Central Newsletter
Instant access to breaking news, the hottest reviews, great deals and helpful tips.
Louryn saves money on everything she buys (which is a lot.) In between waiting for Amazon deliveries, she pines for the next Elder Scrolls installment and checks Reddit for gaming rumors. She also loves Hearthstone, makeup, and beer. Find her on Twitter: @lourynstrampe
Kinda lame compared to teh spoodermen bundle .

Wish the console was painted RDR2 theme :(

Totally agree, a missed opportunity for a special edition.

No PC version? I'll pass.

This is the kind of game that's worth investing in a console for, and there's enough good exclusives to make a PS4 a damn good investment if you're a gamer.

The future called and it wants you to get Red Dead on the Xbox One X for superior graphics and performance.

Yup. Agreed. It's too bad they don't do any Xbox stories on this site. But why do they even cover video games anyway. This site is for phones I thought.

The present called and it wants you to not buy an Xbox One if you don't already have one because the PS4 has better first party exclusives. However, they really need to cut this crap out. The only reason they post PS4 stuff is to get people to click their Amazon affiliate links. In fact, this whole site is just becoming a means to click on Amazon links. It's sad.

tf? thats why we got PC. If I a buy a console, itll only be PS4 or Switch for the exclusives.

Xbox all day 😎😎😎😎💯💯💯💯💯 Xbox

prices are too high this late in the generation.

This is AMAZON CENTRAL you know....

Xbox one s, still got it waiting for the next Xbox maybe 2020 with a 4K TV 55in! 😎😎😎😎😎😎😎😎😎😎

why are you trying to be a playstation blog?