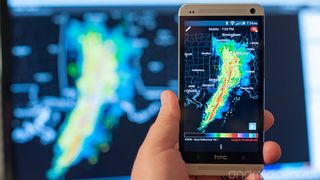 Radarscope probably is too much app for you. Let's be perfectly clear about that. (I usually use the screws in my left leg to tell me when the rain's a-comin'; this is way too much app for me, too.) Radar apps are a dime a dozen on Android, and there are some really good ones, available free, or for just a buck or two. Radarscope, on the other hand, is meant for weather professionals -- meteorologists -- or the serious weather nerd.
It costs $10. But it's also really good.
I've been using the desktop Radarscope application for a while now. (It's not cheap either.) I don't know the difference between base reflectivity tilt and chase reflectivity and echo tops or enhanced echo tops. (Relative velocity and total rainfall are pretty self-explantatory, so at least there's that.) But I do know that Radarscope is a serious application if you need to know exactly where a cell is headed, and that's something many of us in the U.S. have to worry about, especially in the late spring, headed into the summer months.
Radarscope makes it easy to hop between radars. Scroll through the map, tap, and you've got it. (You also can have it locate you through GPS, if you're feeling lazy or have been kidnapped and need to know if it's going to rain.) The app has a screenshot button that doesn't save to the device, but instead lets you upload to Dropbox or Twitter or wherever, using the usual Android sharing intents. You can annotate on the screen, too. Severe weather alerts are easy to scroll through and show up on the map as well.
But the real power of Radarscope is in those things us weather ignoramuses don't understand. The different radar views -- 46 in all -- available at the touch of a button. The ability to hook into the Spotter Network to broadcast your location and see where fellow spotters are. Or to hook into the AllisonHouse severe weather data network. Again, all stuff most of us will never need.
Indeed, the app description should serve as a bit of a warning.
So don't purchase Radarscope unless you're serious about radar and know all that technical radar stuff -- or unless you just don't mind dropping $10 on a really, really full-featured radar application
Image 1 of 12
Get the Android Central Newsletter
Instant access to breaking news, the hottest reviews, great deals and helpful tips.