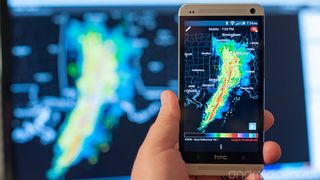 Radarscope probably is too much app for you. Let's be perfectly clear about that. (I usually use the screws in my left leg to tell me when the rain's a-comin'; this is way too much app for me, too.) Radar apps are a dime a dozen on Android, and there are some really good ones, available free, or for just a buck or two. Radarscope, on the other hand, is meant for weather professionals -- meteorologists -- or the serious weather nerd.
It costs $10. But it's also really good.
I've been using the desktop Radarscope application for a while now. (It's not cheap either.) I don't know the difference between base reflectivity tilt and chase reflectivity and echo tops or enhanced echo tops. (Relative velocity and total rainfall are pretty self-explantatory, so at least there's that.) But I do know that Radarscope is a serious application if you need to know exactly where a cell is headed, and that's something many of us in the U.S. have to worry about, especially in the late spring, headed into the summer months.
Radarscope makes it easy to hop between radars. Scroll through the map, tap, and you've got it. (You also can have it locate you through GPS, if you're feeling lazy or have been kidnapped and need to know if it's going to rain.) The app has a screenshot button that doesn't save to the device, but instead lets you upload to Dropbox or Twitter or wherever, using the usual Android sharing intents. You can annotate on the screen, too. Severe weather alerts are easy to scroll through and show up on the map as well.
But the real power of Radarscope is in those things us weather ignoramuses don't understand. The different radar views -- 46 in all -- available at the touch of a button. The ability to hook into the Spotter Network to broadcast your location and see where fellow spotters are. Or to hook into the AllisonHouse severe weather data network. Again, all stuff most of us will never need.
Indeed, the app description should serve as a bit of a warning.
So don't purchase Radarscope unless you're serious about radar and know all that technical radar stuff -- or unless you just don't mind dropping $10 on a really, really full-featured radar application
Image 1 of 12
Get the Android Central Newsletter
Instant access to breaking news, the hottest reviews, great deals and helpful tips.
First! I prefer Rain Alarm though.
Edit: https://www.androidcentral.com/e?link=https2F2F...

"First!" I thought that died out....

I'm afraid, I just couldn't resist.

You thought that died out...Facebook disagrees.

I've been using the pro version of Rain Alarm for years. Awesome app.

Or Radar Livepaper. Being able to see the current radar every time I unlock my phone is amazingly useful. https://www.androidcentral.com/e?link=https2F2F...

All I can I can see is that hideous black bar at the bottom. Too much wasted screen space. HTC should have used software keys instead.

It's one of the reasons I ditched the DNA. I don't see how anyone can tolerate that big black bar at the bottom of their apps.

What a stupid-ass comment. Google released the SDK and told everyone "this is how it's going to be. Get with the program." HTC does exactly that and people complain about it. How about this: for a $10 app I would think the developers could update the program to fall in line with those new Android requirements. And be "new" I mean shit that was put out in Jan. 2012. 16 months? That's not enough time to update your app? There are 10,000 free apps out there that adhere to the new design standards so it can't be that big of a deal. It isn't like the only benefit is the removal of the menu button either. If they aren't keeping the app up to date then there are other aspects that aren't correct. And FWIW, having software keys as opposed to hardware keys makes no difference: they still wouldn't have put the menu button there. But then again software keys would be a nearly-persistent part of the screen so your argument isn't valid to begin with.

If they are going to charge 10 bucks for an app they should at least make the Holo theme UI instead of this HORRIBLE and poor Gingerbread one.

Yes, this is the best Radar app that I know of. I've used it for years on my iPhones. I also installed it on my Galaxy Nexus and it's great there too, just not as good as on the iPhone for some reason. On Android, it doesn't give you "SuperRes Reflectivity" like on iPhone. Hey Phil, try it on your iPhone and see what you think. I love this app and I use it all of the time. Highly recommended on either OS.

Change to radar data provider to iMap. It's in the settings.

Ah!, Thank you, that did the trick. Cool.

Because the iOS version is always ahead of the Android version. When it comes to decent radar apps, PYKL3 is much better than RadarScope on Android. A lot more features, and a developer who is open to suggestions.

As someone who flew out of Bates Field for years (USCG Aviation Training Ctr), seeing all those KMOB screenshots brought back memories. Thunderstorms coming out of nowhere...!

This app is the first app I go to when bad weather hits. Well worth the $10 in my opinion.

As a person with a degree in meteorology, I can tell you that this is hands down the best radar app on Android. It has all the radar data and tilts that you need (even dual pole) and the integration with Allison House is so awesome. It's the go to app for storm chasers and weather nerds, both on iOS and Android. Hopefully the upcoming update improves the UI. And to the guy who said it doesn't have Super Res reflectivity, change the radar data provider to iMap.

Also a met. Have you tried PYKL3? I prefer it hands down to RS.

I was going to say this exact thing. PYKL3 is an a much better radar app for the money, in my opinion. I was surprised that Android Central reviewed Radarscope... If only they would give PYKL3 some attention as well.

I'll second that. I'm surprised AC isn't giving PYKL3 a review, especially since it does everything and more than what RS does. Plus, the dev is very responsive.

I'll third it. PYKL3 is dedicated to one OS only - Android. The developer has ZERO plans on making it available for iOS. It is always ahead of RadarScope on Android in terms of features and the like. The RadarScope version for iOS is always ahead of Android, so it's nice to have another app that is ahead of RadarScope on Android. It's also nice to have a developer who is open to suggestions and ideas and has users Beta test the application, so they can find bugs and issues, so the newest version is well tested before hitting the play store.

I have it. Used it for a while before Radarscope came to Android. I prefer Radarscope though.

If I lived in hurricane country I would buy this in a heartbeat. Where I live, I keep a desktop link to Weather Underground on the desktop. Its all I need.

For a simple, free, radar, I really like Raindar. https://www.androidcentral.com/e?link=https2F2F... But I will take a look at both Radarscope and PYKL3, as having warning area overlay looks like a good idea.

The app is very advanced. If you are just looking for warnings, other apps may be more useful. These apps will actually allow you to customize the radar display, including different radar tilts, that most users do not know about or understand since what they see on TV or the web, is usually just the reflectivity mode of the radar.

In the UK I use website raintoday.co.uk but if I was a serious weather watcher an app like this would be great.

PYKL3 is much better as far as features. If you want something not so complicated with the proper Holo UI, check out Tempest.

Does this app give you an extended history of the radar that goes in motion instead of a couple snapshots over a couple hours that most apps give you?

'This app is incompatible with your 3 LGE Nexus 4.' - Eh?