Qualcomm announces new Snapdragon chips that are fast as hell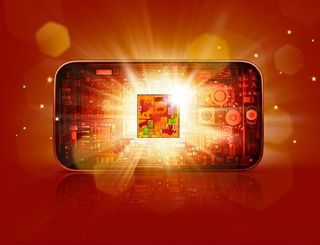 As expected, mobile hardware and component companies are pouring out the new gear announcements at CES. And not to be missed is the new chips in the pipe from Qualcomm. Dubbed the Snapdragon 600 and Snapdragon 800, on paper it looks like they will knock our socks off.
First out of the gate will be the 600 series, expected in commercial devices in the middle of this year. Take the S4 Pro that's in the Nexus 4 or DNA, and make everything better and you are on the right track. The 600 will feature:
Quad Core Krait 300 CPU at speeds up to 1.9 GHz per core
Adreno 320 GPU
LPDDR3 RAM support
Up to 40-percent better performance than the Snapdragon S4 Pro processor
Now remember, we will see this one in devices this summer, not sometime next year. And being 40-percent faster than the Nexus 4 in my pocket means the device is going to be a monster. Once you process this one (pardon the pun) you have the 800 to think about. Take the 600 you're drooling over, and take everything up to 11. It features:
Quad Core Krait 400 CPU at speeds up to 2.3 GHz, per core
Adreno 330 GPU
2x32bit LPDDR3 RAM at 800MHz
4G LTE Cat 4 and 802.11ac support
UltraHD resolution support (4096 × 2304)
Support for DTS-HD, Dolby Digital Plus and 7.1 surround sound
Dual Image Signal Processors (ISPs) up to 55MP
Up to 75% better performance than the Snapdragon S4 Pro
It's hard to imagine how all this is going to translate into real world use. Numbers on paper excite some folks, and these are sure to get some impressive numbers. But this much more raw power will be noticeable in everyday usage as well. It's also said to be available in commercial devices in mid 2013.
And we can't wait to see it. Hit the break to read the press release.
Qualcomm Announces Next Generation Snapdragon Premium Mobile Processors
New Snapdragon 800 and 600 Processors Represent a Significant Performance Leap For High-End Mobile Computing Devices
LAS VEGAS, Jan. 7, 2013/PRNewswire-FirstCall/ -- Qualcomm Incorporated (NASDAQ: QCOM) today announced that its wholly owned subsidiary, Qualcomm Technologies, Inc., is sampling the first products in its latest generation of processors. With the introduction of its newest Qualcomm Snapdragon™ 800 and 600 processors, Qualcomm continues to lead the industry by once again raising the bar on performance per watt and delivering unparalleled user experiences.
The new Qualcomm Snapdragon 800 processors target premium mobile and computing devices. They are designed to deliver outstanding overall user experience, expand the possibilities of seamless connected computing and enable brand new mobile experiences while maintaining industry-leading battery performance:
Visually stunning mobile experiences : Qualcomm Snapdragon 800 processors include the new quad core Krait 400 CPU, Adreno™ 330 GPU, Hexagon v5 DSP and our latest 4G LTE Cat 4 modem and deliver increased system performance and platform upgrades that further enhance user experience.
The Qualcomm Snapdragon 800 processors will deliver up to 75 percent better performance than the Qualcomm Snapdragon S4 Pro processor and the move to 28nm High Performance for mobile (HPm) technology node ensures exceptionally low power
New Krait 400 CPU in quad configuration, with speeds of up to 2.3 GHz per core offers best-in-class performance per watt, so processor performance can hold up to the more demanding processing and communication requirements of premium mobile devices
Additionally, asynchronous SMP architecture provides dynamic power sensing and control for peak performance per core, while extending battery life without the use of specialized cores
New Adreno 330 GPU delivers more than 2x performance for compute applications over the current Adreno 320 GPU
2x32bit LP-DDR3 at 800MHz with industry-leading memory bandwidth of 12.8GBps
New Hexagon DSP V5 delivers floating point support, dynamic multithreading and expanded multimedia instructions for enhanced low power performance
New IZat ™ location technology combines multiple tracking systems into a single high performance, highly accurate navigation platform for auto and pedestrian applications
Seamless communications anytime, anywhere : Qualcomm Snapdragon 800 processors offer fully integrated connectivity and a wide variety of communication options.
Third generation 4G LTE modem with data rates up to 150 Mbps (Category 4), fully integrated in the new Qualcomm Snapdragon 800 processors
4G LTE Advanced Carrier Aggregation feature to maximize radio frequency bandwidth
World multimode and multi-band support using wafer level package (WTR1605)
Integrated newest generation mobile Wi-Fi connectivity, 802.11ac
Broad connectivity support with integrated USB 3.0, Bluetooth and FM
Breakthrough multimedia experiences : The Qualcomm Snapdragon 800 processors also introduce the very latest mobile experiences.
Capture, playback and display in UltraHD video (with four times 1080p pixel density)
Dual Image Signal Processors (ISP) for Qualcomm Snapdragon Camera with support for computational camera
HD multichannel audio with DTS-HD and Dolby Digital Plus for enhanced audio
Higher display resolutions (up to 2560x2048) and Miracast 1080p HD support
The Qualcomm Snapdragon 800 processors are currently sampling and expected to be available in commercial devices by mid-year 2013.
The Qualcomm Snapdragon 600 processor targets high-end mobile devices. The Qualcomm Snapdragon 600 processor is designed to deliver great performance, rich graphics and enhanced user experience and will deliver up to 40 percent better performance than the Qualcomm Snapdragon S4 Pro processor at lower power. The new processor offers system-wide architectural improvements, key component upgrades and expanded connectivity options. The Qualcomm Snapdragon 600 processor features a new Krait 300 quad-core CPU with speeds up to 1.9GHz, a new speed enhanced Adreno 320 GPU and support for LPDDR3 memory. The Qualcomm Snapdragon 600 processor is sampling now and is expected to be available in commercial devices by second quarter 2013.
"With the overwhelming success of our previous Qualcomm Snapdragon platforms, our mobile processors have emerged as the platform of choice for high-end mobile devices," said Steve Mollenkopf, president and chief operating officer of Qualcomm. "With more than 50 design wins already secured with the first products of the Qualcomm Snapdragon 600 and 800 processors, we are advancing our vision and setting the standard for excellence in mobile computing."
For more information and to see a demonstration of the Qualcomm Snapdragon 800 processors, as well as the newest devices powered by Qualcomm Snapdragon processors, please visit Qualcomm during CES 2013 (South Hall 3, Upper Level, Booth #30313), Jan. 8-11 in Las Vegas or visit www.qualcomm.com/snapdragon .
About Qualcomm Incorporated
Qualcomm Incorporated (NASDAQ: QCOM) is the world leader in 3G, 4G and next-generation wireless technologies. Qualcomm Incorporated includes Qualcomm's licensing business, QTL, and the vast majority of its patent portfolio. Qualcomm Technologies, Inc., a wholly-owned subsidiary of Qualcomm Incorporated, operates, along with its subsidiaries, substantially all of Qualcomm's engineering, research and development functions, and substantially all of its products and services businesses, including its semiconductor business, QCT. For more than 25 years, Qualcomm ideas and inventions have driven the evolution of digital communications, linking people everywhere more closely to information, entertainment and each other. For more information, visit Qualcomm's website , OnQ blog , Twitter and Facebook pages.
Except for the historical information contained herein, this news release contains forward-looking statements that are subject to risks and uncertainties, including the Company's ability to successfully design and have manufactured significant quantities of Qualcomm Snapdragon 600 and Snapdragon 800 processors on a timely and profitable basis, the extent and speed to which the Snapdragon platform is adopted, change in economic conditions of the various markets the Company serves, as well as the other risks detailed from time to time in the Company's SEC reports, including the report on Form 10-K for the year ended September 30, 2012, and most recent Form 10-Q.
Qualcomm, Adreno and Snapdragon are trademarks of Qualcomm Incorporated, registered in the United States and other countries. All Qualcomm Incorporated trademarks are used with permission. Other products or brand names may be trademarks or registered trademarks of their respective owners.
Get the Android Central Newsletter
Instant access to breaking news, the hottest reviews, great deals and helpful tips.
Senior Editor — Google Ecosystem
Jerry is an amateur woodworker and struggling shade tree mechanic. There's nothing he can't take apart, but many things he can't reassemble. You'll find him writing and speaking his loud opinion on Android Central and occasionally on Twitter.
these 2 vs the tegra 4???

Without knowing much about either, we already know the performance of the adreno 330 graphics and it really is not all that impressive. So my guess is that history will repeat itself and nvidia will be better for games and qcom will be a data cruncher.

lmao, tegra's "fastest mobile processor" lasted all but 12 hours...

But what about GPU? Nvidia got a lot bigger expirence in this space

What trickedoutdavid said. ..so much 4 fastest mobile processor lol

You make me laugh. Saying we (you) don't know much about either SOC, then you analyze it like you know it very well LOLZ !!

Mind sharing your sources?

I wish they would go in to specs and geek out about there processors. This is the most god awful press conference I have seen today. I wish Nvidia or Sony had been the one to give the keynote.

and I thought the Nexus 4 would actually last more than 6 months to be replaced by something better. Not going to buy another mobile device any time soon but i'm happy with how fast Nexus 4 is anyways

Don't feel bad. You're thinking of only ONE aspect of the phone. The Galaxy S IV will be out in the summer as well. One thing about Samsung phones... The 1st three months really do feel like betas. While you do get this feeling a bit with Nexus, they do it with a newer version of Android OS. Besides, when the say in the middle of the year, normally that means September... Q2 & Q3 both count as the middle =D

cant believe that this year my phone will probably be more powerful than my desktop

haha nooo give it a few more years

we don't know how powerful his desktop is.

lol wtf desktop do you have?

Qualcomm is amazing. That snapdragon 800 is gonna kick some serious butt.

Shit, and I thought the Qualcomm S4 Pro was what Qualcomm will stick to this year, at least for 6 months, but nope. You can never catch up with technologies, esp. mobile tech, these days...

It is what they'll stick with for the next ~6 months -- devices are due mid 2013.

The 600 series is due Q2 2013, that's before 6 months. The 800 series is due mid 2013.

Wonder what happened to the Snapdragon s4 prime???

I think those are for things like smart TV's

http://lmgtfy.com/?q=snapdragon+s4+prime There. Was that so hard?

Don't even try, don't even worry about specs until your ready to buy a new phone or their is some game you want to play that your current phone can't support. Most likely you'll never hit the game limit, as games on android are coded to support older phones as well. I have the Nexus 4 with an S4 Pro, and it's amazing I won't even consider upgrading till the nexus 5 comes out. This press release doesn't make your S4 pro any slower, it still plows through games and multitasking with amazing speed. and it's not anything new, you can't even catch up with any tech since the early to mid 90's
I remember trying to keep up with tech on my first pc, it's just a waste of money.

Faster is good, I guess. What about power consumption? Does this mean we will need bigger batteries? Let's hope we'll see some new battery tech being announced soon.

as far as i have seen newer generations of mobile processors never take more power to operate than the previous generation. along with more speed, they are also getting more power efficient. i believe phone manufacturers have a limit on how much power that they will except each component to use. they know good battery life is important to sell a smart phone.

Well at least we now know hell is slower than 1.9 GHz. ;-)

Oh, maybe they should do what NVidia did and run non-benchmarks on two different operating systems with different browsers doing something non-threading and claim it is twice as fast as the competition. Nvidia should be chastised horribly for such a marketing over reality FAILURE.

Nvidia got a lot of praise from the nerds I follow (I'm a nerd too just stating the truth) but I thought their presentation was extremely clumsy. And I'd really like the know the full specs of the Shield. Stuff like RAM and internal storage.

yeah, we all wanna know hardware specs as well as pricing and availability but the truth is that they just aren't finished with creating the device... what they displayed wasn't a final version

Is nice and all but my SG3 is plenty fast. I want 2 to 4 days battery life, not more performance.

I always thought the S3 lagged. Even with hardware acceleration on and transitions and animations off. I think we are barely getting into what mobile phones can really do. But it's just my opinion.

It's not the hardware, it's the Samsung bloat. Most ROMs remove the lag. It's the way Samsung does home button that causes a bit of going to home lag. 16 cores wouldn't improve it. Most lag type issues at this point are more about software/multitasking optimization, not something throwing more hardware would fix. I'm a systems architect and we often find 90% of intermittent performance problems with systems can be fixed with soft optimization, not throwing more hardware at the problem.

Nividia Tegra 4, Qualcomm did their thing. Now it's time see what Samsung has up it's sleeve. How about some dual quad (8)cores A-15 Exynos 5 5450/5440. Time to show itself.

I've always found the snap Dragon series to perform very well in real world use even if the clock speeds were lower than other devices of the time.

Clock speeds mean nothing most of the time. At one point AMD on the desktops was kicking Intel's ass with Athlon 64's against Pentium 4's. Intel turned the tables and AMD is chasing the clock speeds while Intel is still beating them.

Qualcomm is on their way to being one of the top tech companies with Microsoft, apple, google, Intel, and IBM

I wouldn't bet on it. Companies like Microsoft, Apple, Google, Intel and IBM make products that is unique and not easily copied. Qualcomm makes ARM cpu's. Any company can license ARM's technology and make their arm cpu and compete with qualcomm.

I just want to be able to use miracast without problems..

well, that totslly DOESN'T make my less than a month old nexus feel powerless and outdsted...

Can someone enlighten me about how 802.11ac is better than 802.11n?

IEEE 802.11ac is a wireless computer networking standard of 802.11, currently under development (Draft 4.0[1]), providing high-throughput wireless local area networks on the 5 GHz band.[1] Standard finalization is in late 2012, with final 802.11 Working Group approval in late 2013.[1] According to a study, devices with the 802.11ac specification are expected to be common by 2015 with an estimated one billion spread around the world.[2] Theoretically, this specification will enable multi-station WLAN throughput of at least 1 gigabit per second and a maximum single link throughput of at least 500 megabits per second (500 Mbit/s). This is accomplished by extending the air interface concepts embraced by 802.11n: wider RF bandwidth (up to 160 MHz), more MIMO spatial streams (up to 8), multi-user MIMO, and high-density modulation (up to 256 QAM) Courtesy of Wiki

I own a Galaxy S3 for ATT running cm10.1 at 2.1 GHz (gets me about 13-18 hrs one one charge) and a Nexus 7 running aosp rom with at 1.7Ghz (gets about 1 day moderate use 2 days little usage)and both have their distinct advantages.The Galaxy is amazing at all around smoothness and processing displays videos well and camera is great but the Nexus with tegra 3 beats it in gaming.the frame rate may drop a bit but the effects are beautiful and since tegra games are optimized they play and look very nice even the non tegra ones.Battery life as well is awesome compared to tegra 2 which I had on my old Atrix 4G Of course there's always room for debate but both are great Qualcom though is making fast ass chips cant wait fr a smartphone with one,but tegra 4 will be something great to see as well we cant hate on neither they both are geared at different crowds and different pourposes.

Sadly I'd rather have a tegra phone during this day and age because of how it's games are optimized. I seriously think this is the best route for major android phones to go because it's the closest we'll get to matching iOS in game quality and releases. But that's just me and as refer as I can tell games optimized for tegra aren't bad on non tegra devices of the same caliber.

But will android be up to par, doubtful. The OS will waste all that power

BINGO.. GIVE THAT MAN A CIGAR... Optimizaition.. That's the ticket..specs don't mean shitt without it.. I took back a Nexus-10 for that very reason and got an iPad Mini..( And loving it :-) ) Because Apple controls the Software AND the Hardware, It takes a Dual-Core chip and 512 Megs of Ram and makes it run so damn ButterSmooth it still shocks me after a month.. All that power in a Nexus-10 and it still studders & lags.. The Killer.. iOS runs Google Chrome SMOOTHER than Google's own 4.2 Operating System.. That's Sad Folks.. I still have a OG Note.. But Apple has taught me with my iPad that Optimization is EVERYTHING.. Not Horsepower & Specs..

Android does have a lot of short comings, and this is definitely one of them. I was always impressed how iOS could do the same as Android, but with half the RAM.
Some things did drive me crazy about apple though... Ever tried receiving a location link from someone who sent it within Google Maps? On your phone it opens with Apple maps... As an expat living outside the US, you can't compromise on maps... Travelling a lot around the world.... Apple Apps only downloads things allowed from your home country. Google Play automatically updates your location according to your wifi/data connection. (Gotta love VPNs)

Ios is a good example. Apple doesn't even advertise specs. Its irrelevant. These chips are being upgraded so fast, the software isn't adapting. But IOS is over 5 years old, it could run into the same problems more and more every update. Blackberry 10 looks promising, newest and freshest OS. Interesting stuff to follow, go mobile nations.

Main reason why it use less RAM and its faster it's not optimalization... it's because iOS is using mostly native apps (there some that use JS), where Android it's pracicly forced to use Java as they run on a lot of hardware and accros few architectures... it a plus ofcorse but it costs

I agree when it comes to the implementation of software to achieve overall performance, Apple really can't be beat. Their target market are those who could care less about processor speeds and RAM. They just want their device to work and be solid. To achieve that kind of fluid ecosystem, Apple must control the whole enchilada. From front to back, they have to have their hands on and then they must "lock down" the whole system.
However, the Android system is about being open and configuration options. When that is the end game, you're going to attract more techies, nerds, and geeks who like to tinker. I like to refer to Android as a democratic society.
Citizenship isn't as easy because everyone has a say or can input into the system and criticize. Apple is the dictatorship that rules with an iron fist. It's their way or the highway.
Bottom line is that you give up some of that overall optimization to get the "open concept" and freedom of choice. Android is first class citizenship, baby. Enjoy your time behind the Iron Curtain.

So, how many minutes will the battery last with this new chips?

i still can't believe that people think newer gen SoCs will use more power than older ones because they are faster... i really thought we were past that on this site.

I can already hear the sound of a few thousand new nexus 4 and droid DNA owners weeping as their new mobile processor is about to become irrelevant.

Meh, that's the way it goes. Fun story, after six(ish) months those processors will be old news too, irrelevant is not an accurate description though.

Nah, were you crying because your processor "became irrelevant" when the N4 and DNA came out? Actually, you probably forgot because your Desire Z's 800MHz has been obsolete for years. I don't cry over these things.

Don't hate cuz you're on welfare and didn't have enough scratch to buy one when it dropped. I'm sure mommy and daddy will get you a new fisher price walkie like you wanted last year if you're a good boy this year then you can pretend to have a nice phone like the big kids. :P

This article made me so hard my penis broke.

Sounds great and all, I'm sure you'll love using it for 2 hrs on your phone. Battery Tech isn't moving as quickly so it's kinda useless in the real world. Don't even say battery doesn't matter, I've seen you freaks spamming the forums complaining about battery life.