Q&A with Perfectly Clear's Athentech - making mobile photos better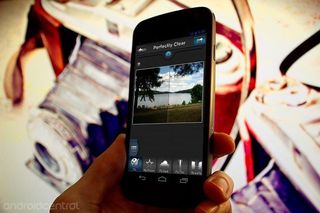 Perfectly Clear launched on Android recently, offering a whole bunch of different photo correction functions. You can find a full walk-through of the features in our review over here. We talked to the developer, Athentech, a bit about mobile photography, processing power, and the technology needed to do make their app.
Thanks for your time! Perfectly Clear looks like it's been in the desktop software world for a while. Can you tell us about the product's transition to mobile?
Brad: Simon, it is my pleasure. Thanks for your interest. We've actually been around in the "back-end" for quite some time. We celebrated our 10th birthday last November! We've been licensing our technology to companies around the world. So we're an "intel inside", powering the automatic image correction for over 20 million printed images every day around the world and we're installed in more than 105,000 photo kiosks. So if you've ever printed a photo at any major retail chain, it's likely your photo has been auto corrected by Perfectly Clear.
We licensed Perfectly Clear into Bibble labs – very fast raw workflow software (now AfterShotPro – part of the Corel family). The photographer response was overwhelming! They loved how they could trust our automatic corrections to make their photos look beautiful, thus saving them a lot of time. We decided to expand to the advanced amateur and professional market with our plug-ins for Photoshop and Lightroom.
Shortly after Apple launched their first iPhone, they approached us to develop an app for their device. So we thought this would be an interesting challenge, and we built an iOS app that won several awards and was showcased in Apple stores around the US. This was August 2009.
More recently, iPhone users have experienced us in another powerful and cool app. Perfectly Clear is the "Awesomize" in Smugmug's CameraAwesome app.
During 2011, I was introduced to NVIDIA's Tegra3 concept – 4 cores on a mobile phone, but only for Android. I was really intrigued on this, and was curious if we could optimize our technology for this powerful platform. It took about 6 months, but our team made it happen. Now, it was time to put GUI around this and build a powerful Android app.
How much of a bottleneck is the processing power in mobile devices for applying correction effects, as opposed to that of desktop systems?
Brad: It's an excellent question. If you're applying simple sharpening, brightness, or creative effects, then it's not an issue. But for us, the bottle is very real and formidable. Perfectly Clear is very powerful technology, with our depth correction coming from the medical world where we optimize x-rays. The result being it's very processing and memory intensive. Part of this is evident by your review – one of your cons is the lack of zoom, and we agree. It's easy to zoom into an original photo. But zooming into Perfectly Clear on a mobile device is a different issue. This requires processing the entire photo with Perfectly Clear and having this available to you as fast as possible – a formidable task, especially with the larger size images on phones these days.
The good news is that devices, especially Android devices, are getting very powerful. The NVIDIA Tegra3 processor that I referenced above is the equivalent power of an i5 desktop. Think about that for a moment – the most powerful computers a few short years ago now fit in the palm of your hand! We've been able to achieve a scaling factor of 3.36 times. This means that our core process is 3.36 times faster on a NVIDIA quad core unit compared to a single processor. But unfortunately it's not that simple as there are many other processes happening – like opening your photo, loading into bitmap buffers, saving, etc…Optimizing these is not easy.
The result is that the overall speed increase that you experience as a user varies and is less than the amount referenced above. But our Android app is still 1.6 times faster compared to our iPad(3) app (benchmark based on ASUS Transformer Prime T300). So the bottom line is that it takes a lot of work to develop a robust and fast app for mobile…and different technologies are used since new constraints exist in mobile.
Athentech has patents on their processes, but we've seen more than a couple app developers hit with infringement lawsuits after entering the mobile sphere. Are there any additional IP precautions you've had to make when getting into Android and iOS?
Brad: We've spent a lot of money on patents. Millions of dollars, in fact, which is a lot for a small company like us. We've also spent a lot of time making sure our patents are broad and properly done, which gives us protection for our core technology regardless of the country or form in which it's used.
Mobile cameras are getting progressively better, but there are still plenty of serious photographers out there with "real" cameras. How much overlap do you see in terms of the quality of photographs and the amount of post-processing care taken by either camp?
Brad: There is no doubt that camera phones are getting better. But the glass/optics etc are constrained to a really tight package. Thus camera phones start off with a disadvantage compared to "real cameras". However, regardless of the camera, they all have quality limitations. Take the single aperture for example. You can't capture a wide dynamic range with this. Our unique approach corrects every pixel as if it was taken by its own aperture. This allows us to get excellent exposure while maintaining what we call real color. Then you have the issue of noise (which there is more of the more pixels that are packed on a sensor, and of course shots taken without flash). But if you use flash you risk abnormal tints and red-eye. But with Perfectly Clear we can fix all of this. So of course my answer is that the quality of photos are much better if they are properly corrected!
What can we expect next from Perfectly Clear in the mobile sphere? More adjustments through in-app purchases?
Brad: I don't think I'm at liberty to fully disclose…but you can definitely expect to see more powerful automatic corrections and leading edge science to help make it simple, easy, and fun to share your life with great photos!
Perfectly Clear is available in Google Play now for $0.99. Adjustments for brightness, exposure, depth, vibrance, sharpness, tint, and many other factors are available, along with a few additional corrections through in-app purchases.
Android Central Newsletter
Get instant access to breaking news, the hottest reviews, great deals and helpful tips
Simon has been covering mobile since before the first iPhone came out. After producing news articles, podcasts, review videos, and everything in between, he's now helping industry partners get the word about their latest products. Get in touch with him at simon@futurenet.com.
Might be cool. I'll probably give this a go once I get my Note 10.1

no worky on gnex!!?!? well shows as "not compatible" for me anyways in the market.. sprint gnex on aokp ICS

It works on my Nexus using stock JB.

Whats the point of editing on a tablet unless you are one of the few who take pictures with a tablet? If you have to transfer a photo off your phone, you might as well transfer it to pc/mac where you can use much more powerful editing programs.

Depends on the tablet. USB host, full-sized SD card slot, or EyeFi card all make a tablet viable for light field editing of shots taken with a big-boy camera.

Thanks to this article and review, im sold!

Is it true what I read in some of the reviews on the Play store that the edited images can only be saved in much lower resolution than the original (a crippling problem I've run into with a few other imaging editing apps when adding some of their filters)?
That could very well make the app all but useless.

No, you can save a photo in its native resolution.

A lot of those apps are usually demo/lite versions with higher resolution saves reserved for their paid app.

This app rocks.. it was a staple on my iPad, so I freaked when I saw it for my phone. Everything that is captured by my Evo 4G LTE goes through this app before it ever sees the light of day.

This looks very interesting. The one item I keep looking for in a mobile image editor is noise reduction. Just wondering if this app has it. That would be a huge plus and make it stand out compared to the rest.

Tegra 3 equivalent to i5? LOL. GTFO. I run an I5 in my htpc. It can trans code 10bit 1080p h.264 for streaming with less than 50% cpu load.It can decode purely for playback at around 15% load. Tegra3 on my nexus 7 falls on its face if it cannot hardware accelerate video. And of course 10bit is just not supported in hardware. So, in a nutshell Tegra3, while an awesome SOC solution, is not remotely as capable as an i5. Not even close. This is even more apparent when hardware accelerated processing of media is not supported.

@Xopher.. not yet, it doesn't currently have noise reduction. However, the version I have for my iPad does, so I sent a request to their support staff that they perhaps consider adding noise reduction to a future update to the Android version.
Android Central Newsletter
Get instant access to breaking news, the hottest reviews, great deals and helpful tips
Thank you for signing up to Android Central. You will receive a verification email shortly.
There was a problem. Please refresh the page and try again.