Pricing for Samsung Galaxy A series supposedly leaks out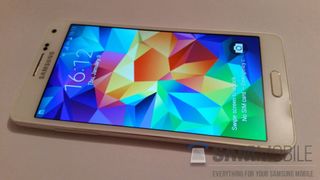 A new report says that Samsung will price the upcoming three Galaxy A smartphones between $350 and $500 and that the Galaxy A7 will only be released in a limited number of countries.
The report comes from SamMobile, which uses its unnamed but usually reliable sources. Their story says that the low end Galaxy A3 phone will cost somewhere between $350 and $400. The higher end Galaxy A5 is reported to be priced between $400 to $450, while the Galaxy A7 could be priced between $450 and $500.
In addition, the story claims all three phones will have LTE connectivity and that while the Galaxy A3 and A5 will be widely available, the high end A7 may only be released in a limited number of markets. The phones are rumored to be revealed in the third quarter of 2014, which has less than seven days to go. What do you think of the prices for these Galaxy A phones?
Source: SamMobile
Get the Android Central Newsletter
Instant access to breaking news, the hottest reviews, great deals and helpful tips.
Again, Piss or get off the pot

You mean in terms of selling budget devices that are actually priced like budget devices?

Yeah I agree with that. Samsung though the last few years is known for just throwing 50 different phones out into the world instead of focusing on 1 or 2 good mid-range, low end phones like Motorola has done with the E and G.

Not hating, but take some business courses and you'll understand the approach a lot better. Companies do this all the time to get as much market share as they can. Each phone hits a certain target market better than any other. Tons of companies do this and it may seem dumb, but learn the marketing strategy behind it and it'll make a lot more sense. Posted via the Android Central App

I agree that it's a good business strategy for a company the size of Samsung, but I disagree that their devices hits their target better than any other. Their high end phones are certainly great, and their mid-range phones are getting better (although they're definitely not priced on par with similar products from competitors), but they have yet to release a budget-level phone that performs well or is priced competitively compared to the likes of the Moto G/E. Their low-end phones (the Galaxy Ace series is a great example) are all cheap-feeling, slow, and immediately disregarded for software updates.

Sorry I went to school for a bit but I'm too poor to go take business courses right now. Mind spotting me some cash just so I can go learn some stuff to better understand Samsung's strategy?

Samsung's philosophy: quantity over quality. Posted via Android Central App

I wouldnt disagree Posted via Nexus 7 2013 or Galaxy S5

I think they might just regard the entire world as a focus group.

Haha. Not sure how its gonna do...but based on last year...Not betting to well.

Good idea I guess but let's see some specs.

I think people are getting turned off with the over priced low end crap they release week in week out. They think there stuff is of great quality. Is this yet another "flagship" I lost track a while back. Posted via Android Central App

This is really confusing. What is the A line supposed to be? I can barely keep track of all Samsung's offerings. They need to streamline their model offerings to their flagship, a mini flagship, a note, a midrange, and a budget phone.

True, combine the S and Alpha series, leave the Note series alone, and the A(or whatever) series of cheaper phones.

Why come out with these phones?...just go back to the Flip phones for the Old Folks, but upgraded. .. they will buy those instead! Posted via Android Central App