Poweramp for Android, the 2014 review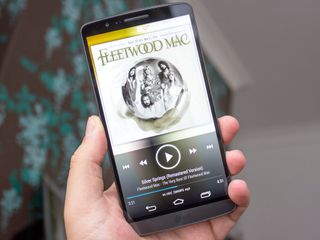 It isn't new, but Poweramp remains one of the very best music players around
Not too long back we compiled a list of what we thought to be the best 5 music player apps available on Android. Of the 5, one selected was Poweramp, a long time favorite of many a music fan. In fact, we first looked at Poweramp back in 2010. As time has passed Poweramp has been refined, seen new features arrive, but at its core what it is hasn't changed.
It's been a while since we looked at Poweramp in any great detail, so we've loaded it back up and given it a 2014 look over. Let's see if it's still one to beat.
The basics
So, Poweramp is a music player app, and a damn fine one at that. Enough? Of course not. It's a music player that offers so much more than most of the manufacturers own, stock music apps that ship with phones. Top of the list is that you get an equalizer and support for just about every audio format you could want, including FLAC.
Poweramp also has a pretty nifty customization thing going on with themes support. There's a whole host of third-party themes available to download through the Google Play Store to make it look as hot as you want it to. The current version offers you a choice of lock screen controls, too, including the standard Android ones or replacing them with its own lock screen.
Ease of use
Besides the features, the customizations, one thing Poweramp has in its favor is how easy it is to get to grips with. The music player has big album artwork, clear, easy to use controls and quick access to settings, albums, playlists and the equalizer.
Finding all the music you have on your device is a straight forward process since Poweramp will scan it for you and at any point you can just hit the "Rescan" option to import new music or browse folders manually. You've got options to create playlists and create a queue to cue up what you want to listen to next.
The equalizer
With a good pair of headphones the equalizer can make a world of difference to the sound you're hearing. Split into two parts, you have the actual equalizer with presets, sliders, bass and treble controls and on a separate tab controls for tone and volume. If you're happy enough tweaking around yourself you'll be able to get it to your liking. Personally, opening up presets and turning it to "rock" every time does the business.
It's especially noticeable – or so I think – when you're playing FLAC files. The enhancement was worth turning it on for. But sound quality is highly subjective. The important thing is that Poweramp gives you every opportunity to get it just how you like it.
Themes, themes, themes
Theming Poweramp is as easy as going to the Google Play Store and finding one you like. Some are free, some are not. But there's plenty out there to choose from. That's not to say the stock player isn't nice enough looking, because it's not bad. But when you open it up to other creative souls to go nuts with you end up with some pretty special looking creations. What themes don't do – thankfully – is alter the basic operation of the app. So controls will remain where they should be, they just might look a little different.
Applying themes is easy, too. Under settings you go into "Look and feel" and hit theme. The developers have built a couple of different basic themes into the app, and they're OK. But the third-party themers out there have done a fantastic job creating some visual masterpieces for your music player. To get the best, you're definitely going to want to hit the Play Store.
Other cool features
The thing with Poweramp is that it's got so many individual little features that we could be here all day talking about them. So here's a quick list of some of the other awesome stuff it has to offer:
If you like to chill out with some tunes before you hit the hay, Poweramps built in sleep timer will let you do that without having to worry about dozing off and leaving the music playing. Tell it how many minutes you want it to play for and settle in.
If you like to sing along with your music Poweramp can interpret either lyrics tags in your music collection or search for them using the musiXmatch plugin.
Edit the tags on your tracks from inside Poweramp
Tell Poweramp to cut out the silence at the beginning and the end of tracks to give you better gapless playback
Advanced tweaks are on hand to help with some issues you might be having, particularly with custom ROMs. For example if the audio stops when your screen goes off you can tell Poweramp to use Wakelock to keep it going.
If you're into Last.fm scrobbling, you'll be fine.
The bottom line
The Android music player space has become much more crowded since Poweramp first made a splash back in 2010. We're blessed to have such a fantastic choice on offer, but Poweramp is still one of the absolute best around. It's got something for everyone. Whether you just want an easy to use, customizable music player or you want to tweak your sound and listen to lossless music.
If you rely on the cloud to keep your music stored, you might not be so suited to Poweramp. But if you take your collection with you, it still has to be one to try. And with a full featured trial period available, there really is no reason not to.
Does anyone know how to use power amp to push tunes through to a chromecast?

Go to the chromecast app, then mirror screen.

Yeah, My note 2 hasn't been integrated into chromecast's screen mirroring yet... Any other recommendations?

If you are ready to root your phone or possibly already rooted then you can enable chromecast screen mirroring in note 2 http://forum.xda-developers.com/hardware-hacking/chromecast/experimental....

And if you don't want to root your phone other quite cheap option (not involving chromecast) to wirelessly transfer sound from phone is to buy one of those bluetooth audio receivers that you can connect to your audio system / tv such as this http://www.amazon.co.uk/Logitech-980-000913-Bluetooth-Audio-Adapter/dp/B...

Hey thanks! I currently just use a miracast receiver to stream music to my tv/sound system with my note 2, which disconnects every now and again. :( I would just like the chromecast button in the poweramp app to just be able to stream my local music to my tv/stereo. Streaming via chromecast vs full screen mirroring is a lot easier on the battery too. Just wondering if someone has found out some way to be able to put a plugin to poweramp and have it be a simple, not more complicated solution. (I have rooted and am familiar with XDA, but even screen mirroring via chromecast really isn't ideal... I'm already doing it I guess is what I'm trying to say, but using miracast, not chromecast)

Settings, display, castscreen, Chromecast.

Been rocking this for awhile and really enjoy it. Posted via Android Central App

Same here! Have had it for so long, love every aspect of it. Posted via Android Central App

if i could use my google play music library on it, I'd already be using it Posted via the Android Central App

Seriously. I can't imagine it being hard to allow the app access to music I've downloaded from the play app. But then again what do I know.

Its possible but would really piss google off Posted via Android Central App

All that music is encrypted with DRM when it's downloaded via the Play Music app. It's not accessible by anything else.

there are a couple unofficial work arounds that allow this...basically, it mounts the cloud music as a drive on the device, and then allows you to stream you Gplay music through Power amp...i cannot for the life of me remember what it is though

GMusicFS. I've tried it with a couple devices and it's been hit or miss and a bit buggy. It works pretty good on my LG GPad rooted with a stock rom but doesn't work too well on my rooted Galaxy S4 running CM.

Yeah, I don't see how anybody really cares much about these music players when it can't play your amazon or Google music collection stored in the cloud. Why would I carry all that music on my device? It's a shame really, but until they can I think these music players and the time spent reviewing them are being used on a handful of folks (yes I realize in the cell phone game a handful is a lot).

I don't see how anybody would want to stream music. Its takes longer to start a song. Most people have limited data. And most who have unlimited have poor services. Its harder to edit things when music is stored in the cloud.

I have zero music in the cloud. I go a lot of places, and don't count on either having wifi or a completely reliable signal all the time. Plus a simple thing like flying. I keep a lot of music on my 64gb sd card. So Power Amp and such players work well for someone like me... And I'm sure more than you know.

If only it was compatible with Google Play Music

I've been rocking Poweramp since 2012. I got a free pro key from the great guys at Droid-Life. Love love love it!! Posted via Android Central App

I've been going back and forth between buying this and not. Think I might take the plunge on my new device Posted via my OnePlus One

if you have even been considering it then you should do it.cant use google play music (which is complete bullshit cuz that player and eq is a joke), but power amp is superb. looks great even without themes. eq is great and you can set each song to its own eq setting ( manuel or pre installed) just great over all.

Great app and well said article... Posted via Android Central App

This has been my music app of choice for Android since I first got an Android device many years ago and I haven't ever removed it since. Back then, it was the only app that had gapless playback and since I listen to a lot of techno/trance, which have mixed tracks, gapless is a must. And for a long time, only PowerAmp had the best true gapless playback. Others came and went, and to this day, I still feel PowerAmp is the king of players for Android.

The name reminds me of winamp Posted via Android Central App

Exactly what I thought too.

roxy music for the win...

Been using it for years
It's the one to rule them all
.. Except it lacks chromecast support, which is a big disappointment (for me at least)
For all the other features, found not a single player that can compete with PowerAmp

A solid competitor is Neutron player that I bought too but the UI is not as pleasant as PowerAmp's

I tried Neutron when I was looking for a player with more audiophile-orientated features (even though all my music is in 320k Mp3. I know nothing.) and I ended up running right back to Poweramp. When it comes to playing music on my phone I find it's the best combination of quality and convenience. Only problem I've ever had with the software is that when I'm using Power Saving mode to throttle the CPU I get the occasional ~10ms dropout in sound. Doesn't happen in any other music app (save for Neutron, which did it every 30 seconds). I still recommend PA to friends who are getting an Android phone for the first time and nobody's complained about the price.

I doubt most self described audiophiles can tell the difference between a properly ripped 320k MP3 (or even VBR) and a FLAC file or even DSD (despite the hype around that right now), not in a blind test anyway. You force them to compare them while knowing which is which and subjective bias takes over tho... The biggest issue with music these days is the often terrible mastering job, not the compression applied afterwards, regardless of what the hype train around high res formats says... Well, that and the fact that most people listen on crap gear anyway... Listening to a badly mastered track on bundled earbuds or a tiny portable speaker (which have their place if you're actually on the go) is gonna impact the sound far more than MP3 or BT compression.

320 kbps MP3 and 16/44 FLAC have less difference than a DSD64 with FLAC 16. I use Chord Hugo with my Note 5. If anyone claims that he is an audiophile and he cannot pick out which is which through Hugo, he has no business calling himself an audiophile.

Neutron's UI is horrible and the SQ is not that much better than Poweramp. Poweramp FTW!

When it says you can browse folders manually, does that mean you can play/sort tracks on a per-folder level instead of by id3 tags?

It'll show you a list of folders on your device that contain music once it's done its scanning. Just as it gives you an album to select tracks from

yes. you can play music based on file system/folder organization.

I have my music organized into a folder structure. Poweramp is the only good music app that I've found that I can utilize that structure (you can queue/play/navigate any section of that folder structure down to an individual file if wanted). I've had Poweramp for 5+ years and have loved it.

is this better than Rocket Player? https://www.androidcentral.com/e?link=https2F2F...

IMO, yep Posted via Android Central App

I had Rocket Player first and liked it very much. Poweramp was so highly rated and I'd read so much about it I gave it a try and essentially did a track by track comparision with Rocket Player. I thought Poweramp's sound quality was slightly better and I've been using it since without any regrets. If I had to give up Poweramp for some reason, I wouldn't hesitate for a second going back to Rocket Player, though.

my vote is for Rocket Player... seemless integration with iSyncr and iTunes that I do not miss my iPod Touch at all...

Was my best music App, but now with google music player it has become redundant , if only I could run my music stream through it . Posed via Nokia 3310 smartphone

I have power amp and it's pretty good , but since I bought Neutron music app I haven't been on power amp. Neutron is louder and clearer but IU is def better on Power Amp. Posted via Android Central App

I am going back and forth between PowerAmp and Neutron + ViPER4Android.

No thanks. I'll just stick with Google Play Music. It plays my music just fine.
Don't need another app taking unnecessary space. Posted via Android Central App

Poweramp was the 1st music player to easily allow me to select which folders it would search to play. That's the reason I bought it, and still use it to this day. Everything else was playing game MP3s as tracks, and it was driving me nuts!

Google Play Music has come so far in such a short time that I don't see the point in having anything else loaded. Not even Pandora or Slacker are on my phone anymore.

One of the first Android app i have bought somewhere in 2010, if i remember it was to play flac files, the player on my HTC device was not able to play the files.

Great music player,and getting better. Also will plug another one, n7 works great too. Posted via Android Central App on my HTC M8

I can't use anything except Viper for my audio enchancements. Everything else sucks in comparison. Power amp is an awesome app though. Posted via Android Central App

Well I guess any music player that goes along well with Viper will always be champion. Although we still have to remember, we need good /great source file, good/great player, good/great ear/head phones/speakers to make great sound. For me? I go with flac and play music + Viper and my iem to get the most out of my collections. Just my 2 cents.
Cheers

I'd be very interested in a poll of who loads music on the device vs streams it. I haven't copied an mp3 in years, it's hard to imagine going back to that lifestyle... Posted via Android Central App

What theme do you have in all your screenshots? I want mine to look like that.

That's the kit kat theme. Downloaded it and have on my note 3. Posted via Android Central App

i've just checked for it and can't find it, can you send a link or something please?

This is what I downloaded. https://www.androidcentral.com/e?link=https2F2F...

You good sir, are a legend. Thanks for taking the time to send the link

My choice for music players. Only little gripe is it doesn't always get the album art right

Although it isn't my favorite interface, I can't get away from poweramp because it is the only player I have been able to find that lets me play a song through the album or artist list without erasing my current playlist. I've tried at least 20 other players and none of them have this option. Considering I usually just have all my songs in one big list and sometimes arbitrarily decide to play one, then let the playlist continue on from there, this is a critical feature.

It it just me that feels that poweramp uses waaay more power than Google Play Music app? It is not a battery-hog but I can listen to (non-streamed) music for way longer when using Google Play Music compared to when I use poweramp.

This is a good music player. And it is worthwhile mentioning that it is currently on sale for $1.99 (50% discount)! Posted via Android Central App

ePicness... ... ( 0ppo F5) ...
Android Central Newsletter
Get the best of Android Central in in your inbox, every day!
Thank you for signing up to Android Central. You will receive a verification email shortly.
There was a problem. Please refresh the page and try again.