The Essential Galaxy Note 8 podcast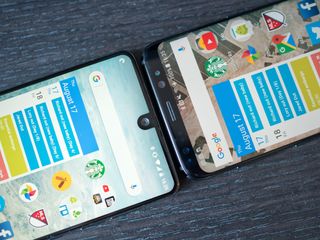 Daniel Bader, Andrew Martonik, and Michael Fisher sequester in a New York City hotel to talk about the newly released Essential Phone—and after months of rumors, leaks, and speculation, the Samsung Galaxy Note 8 is here!
Sit back and relax for this one — it's a little long, a little rough, and a little drunk. And a lot good.
Show Notes and Links:
Samsung Galaxy Note 8 hands-on preview is official
Daniel Bader was a former Android Central Editor-in-Chief and Executive Editor for iMore and Windows Central.
I had the absolute WORSE experience with Essential Customer Service trying to cancel the phone. Essentially someone called back but took several days for emails calling a number that states someone is available from 7-9 PST only to get a recording that states no customer service reps are available to take your call and had to leave a voice mail that some one essentially called me back 1 1/2 days later. I will deal with Samsung Bloat any day over this crappy customer service. Whenever I need warranty done with Samsung, I never had issues.

that's exactly what I assumed and said, when it was announced here. my biggest concern was and is customer service and support. if anything goes wrong with your phone, God help. Short on money and staff , problems in releasing the phone are pretty good indicator of how this company will operate in the first year.
If I'm not buying iPhone (in US) which has unmatched Customer Support, I gotta make sure I'm buying it from my carrier - VZW. All issues I had were resolved in 1 day. Dealing with factory unlocked devices was nothing but nightmare for me.

Alright now. Someone is sure proud of that title. lol

But with all the bells and whistles how is the cell radio ? Does it have better signal boost in a rural area?

It's essential! Boogie woogie woogie woogie.

So which is it? A camera app should be easier to develop than the hw or a camera app is super complex because there are many variables? Kinda contradict yourselves there don't ya? Even in the custom ROM community, the camera is usually one of the harder things to get working without having the proper software support and even then it's still tricky. Also, I do believe it will get better with software, I was speaking to Yazhu Ling, head imaging quality engineer at the NYC event and I asked her what she had to say about the reviews on the camera so far and she said they were "expected" and that they would be constantly improving the camera and that the issues are software issues and that the hw is capable of producing very nice photos. I dunno.. I think I would take her word as a PhD in imaging over a blogger that calls it a "polished ****". I mean I would think in a court of law her opinion would matter more as expert testimony than a blogger's Also to say it's shipping "as we speak" is false. I have not seen a single person anywhere post on social media or in forums saying it has shipped yet. Is it really fair to compare the first phone by a brand new company to the likes of HTC and Samsung? You guys still probably have pre-production software and I'm sure customers won't get sw that is bug-free right away. But isn't that the price we pay to be early adopters? Even the big boys with a long history of making and releasing phones make a boo-boo here and there with things being half baked. An :cough: exploding battery :cough: would be worse than have that a half baked camera. No? Or like bixby not being ready when the s8 was released in the US.. etc.. I'm not saying what you guys are saying has no merit as I did see stability issues with the camera especially with the 360 camera attached but it's still pre-production software. I think you guys are being a little harsh on them especially since it hasn't really shipped to anyone yet.

Great unbiased honest opinions always done with a sense of humor. My favorite tech podcast.

The podcast was full of refreshing banter and honest conversation about these two phones. I wish more of this made it into AC's actual written reviews on the site and their video reviews on YouTube.

Daniel Bader: "You've got 30 seconds for closing thoughts on a nearly two hour podcast about the Essential Phone and the Galaxy Note 8" Daniel's turn: "so I've been using a Motorola phone...." Mr Fischer was telling you something - DRINK!

Yeah at that point I wasn't sure I was still speaking coherently. RIP my liver.

Gentlemen, my compliments on the Airplane quote.

Lipstick on a ****... Nice Daniel, Nice !! Lol
Android Central Newsletter
Get the best of Android Central in in your inbox, every day!
Thank you for signing up to Android Central. You will receive a verification email shortly.
There was a problem. Please refresh the page and try again.