The best launcher for Android, the podcast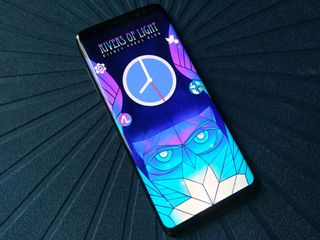 Action Launcher is one of the most popular launchers on the Play Store, and it just received its biggest update in years (opens in new tab). So what better time to bring on its owner and chief developer, Chris Lacy, for a chat about its past, its present, and its future?
Right now, by the way. The time is right now.
Hosted by Daniel Bader, Florence Ion, and Andrew Martonik.
Show notes
Flo and Daniel talk OnePlus 5
Action Launcher drops the 3, adds a new logo and frees up previously paid features
Why Action Launcher is the only launcher I use
Daniel Bader was a former Android Central Editor-in-Chief and Executive Editor for iMore and Windows Central.
= NOVA. I think many experienced Android enthusiasts would agree. It's a notch above the rest IMO

Nova is still the best IMO and after the Google now integration it just cemented it's place at the top for me.

Nova, the end. - That would be my podcast :)

People are very loyal to Nova. I often wonder if they even try other launchers. I'm curious why and how Nova is better than, in this case, Action.

I'm not gonna say that I'm a Nova loyalist but its the one I found effective for my needs. I tried Action, Smart, Lightning, Buzz, Evie, OF, Aviate, Arrow, Line, Hola, Atom, EverythingMe, Holo, Apex, Square Launcher, ADW, Launcher 8, Z Launcher, Kiss and many many more but the two Launcher that I always comes back to are Nova and Arrow. You just can't deny quality.

I use both. To be honest, they're very similar IMO. Nova's Pixel setup is better while Action Launcher's old school Nexus setup is top notch. Also, Action Launcher I feel is a bit easier to take on for the uninitiated.

Nova has never been an app where people just blindly stay. Its not Facebook. Its constantly tested. Personally I try all kinds of launchers because honestly Nova is boring. But in spite of other launchers great ideas I always end up back with Nova.

Every few months I try a new launcher for a week or two, I'm always looking for a replacement... But I always come back to Nova. It seems to be the perfect launcher, at least for a lot of people, it strikes a perfect balance between customizability and features. And the developers not only listen to the users, but also seem to be excellent at filtering signal from noise. I don't really consider myself "loyal" to any brand or product... I just use what's best for me, but a launcher, graphics card or washing powder isn't a kid, I'll abandon them in a second if something can do the job better.

I have both Nova and Acton, as Chris said in the podcast they are both totally worth paying. But I prefer Nova over action in general.

You do get comfortable, but those of us who theme are tweakers by nature, we like to change things up, and that includes the launcher. But then once we go to other launchers we miss things that Nova does, and eventually we come crawling back.

Nova without a doubt.. Just keeps on giving..

Good podcast. I liked Chris's integrity where he didn't want to release something that was half baked - or only works in some situations or cases... The major draw to me to the Android mobile phone segment - is to use a launcher that I can configure the phone to work the way I like it. Let me make the interface that I am comfortable and efficient with - now we are talking. Enter Action and Nova launcher. Both are really good - different in flow or design - both reliable. I have both. I don't think Action or Nova (developers) should contract out to OEM's to perfect - their - launcher as a consultant. I do think they both should be an option to the OEM's as a built in launcher as an alternative - yes.

Was Ara too busy to join? Seems odd to have a podcast about launchers without our resident launcher/customisation guru!

I'd love to hear Ara on the show myself.

They tape them when I'm at my other job, so it takes a lot of finagling to get me on one.

Finagle harder! we want you on. Got to give the people what they want!

Agree no offense to Flo but Ara/Alex would have been nice for this episode instead of Flo.

I like to think we all could've together. It's not like there's a hard limit on how many we can use in one.

Yes! No need to get rid of someone who can provide good points! Although I do think it's good that Alex was left out, but only because one set of international level Skype lag is plenty.

Nova is clearly the best Android launcher.

Huge fan of action launcher. I've been using it for years. Nova is great also, but I just prefer AL.

Arrow launcher is the best I have used. Intrgrated wunderlist, a notes page, and a customizable utility page. Sometimes I switch to BlackBerry launcher because I love the pop up widgets but i quickly come back to Arrow.

Nova launcher is the king! No questions about this.

I used Nova Launcher for four years before moving to Action Launcher last year. I don't know why but Nova Launcher just seems clunkier and less polished these days. I seem to be the only one who thinks this way judging by how most people love and swear by Nova Launcher. Every time Nova Launcher receives a considerable update, I try to use it for a few days but I just can't force myself to stick with it, I go crawling right back to Action Launcher. Maybe I've grown too comfortable with Action Launcher.

Comfort is always a factor, but no, Nova has gotten a bit bloated in their settings. Definitely need a reorganization.

I've never used Action Launcher but bought it during the PodCast right after I found out Chris is a United supporter.

I will keep using Google Now Launcher until it's unavailable. Love it to death.

So you'll be able to use it until you get a new phone.

Nova Launcher, that is all.

Can't stay with any launcher but Smart Launcher 3 for more than a short period. (I used Nova before I found Smart Launcher, nearly four years ago--and even though SL had some issues at the time, I found the user experience so superior--for me and the way I use my phone--that I kept using it. And it's only gotten better since then.)

Very good podcast!!! I am a Nova Prime user but I want to give Action launcher a try. I'm using it on my tablet already.

I own both Action Launcher and Nova and every time I've tried Nova, I just can't get it set up the way I like and it seems clunky and bloated. Action Launcher is the perfect blend of simplicity and customization. It's the only third party launcher I've ever been able to use for more than a few days without getting frustrated. I know people adore Nova, but it just doesn't work for me.

There is no best launcher, just whatever works for you. I own Nova (of course, I am a geek) but I rarely use it as it just isn't right for me. I love the extra complication you get with Action Launcher and I usually set it up so that when I hand my phone to someone they have no idea how to do anything. Saying that I have a simple setup at the moment with Evie, a truly elegant launcher that is "nicer" to look at than Nova or AL. However install AL to look at the update.
Android Central Newsletter
Thank you for signing up to Android Central. You will receive a verification email shortly.
There was a problem. Please refresh the page and try again.