The beginning of augmented reality [#acpodcast]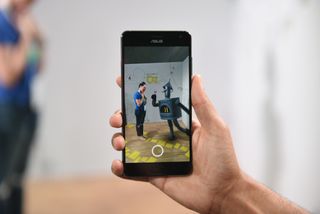 This week, Daniel Bader and Jerry Hildenbrand are joined by VR expert Russell Holly to talk about Moto Z2 Force reviews and several other newly announced Moto phones. Thanks to some recent leaks, we know even more about the Galaxy Note 8 and upcoming LG V30.
A major topic this week is the ASUS ZenFone AR. Russell guides us through the device and where Asus along with Tango fit into the Augmented Reality world. Also discussed is Apple's ARKit, and how hot does your phone get in a heavy duty case?
Show Notes and Links:
Moto Z2 Force review
The Moto E4 Plus is a cheap phone with a 5000mAh battery
Where do the Moto G5S and G5S Plus fit into Motorola's phone lineup?
This is the Galaxy Note 8
Samsung Galaxy Note 8 specs
This is the LG V30
ASUS ZenFone AR comes to Verizon for $650
Where do Asus and Tango fit into the world of augmented reality?
Android Central Newsletter
Get instant access to breaking news, the hottest reviews, great deals and helpful tips
Daniel Bader was a former Android Central Editor-in-Chief and Executive Editor for iMore and Windows Central.
"if you're a Samsung fan, you're not allowed to say the words 'walled garden' or complain about iTunes or any of that crap anymore." Exactly why I don't buy their stuff. They want to be Apple. And while I don't blame them for that, I don't like Apple.

You can treat a Samsung device like any other Android device. The S8 is my first Samsung phone. I've had a number of LG phones. The S8 been no more/less difficult.

That isn't the point, listen to the podcast.

I don't think there is anything wrong with a walled garden approach for a phone or tablet. Most people want to do the same handful of things with a mobile device, have it do those things well, and have a friendly and pleasing aesthetic with the overall package. The iPhone does this, so does a Galaxy S8. If you want something different or to do more, the S8 can do that, too, at the expense (possibly) of things not working as well or not looking as good/consistent. OTOH, if you wanna say screw it and go off the reservation, there are plenty of other phones that will let you unlock the software or bootloader and go wild at your own risk. But my statement there was about the accessory market. Samsung sells products that only work with specific Samsung products. Exactly like Apple. I think that's crazy because someone might want a OnePlus phone and still want a 360 camera so Samsung lost that sale. I also admit that I probably would not be a very good business person (I have a couple of failed ventures that prove it — anyone wanna buy aquarium lighting that replicates sunrise/sunset and weather patterns from the Amazon? :P ) so I'm just playing armchair Product Manager here.

I am not an Apple fan but the next iPhone does look pretty amazing.

Augmented reality has been in play for awhile - just talk to a hard left Liberal.

Why don't you tell us? You're clearly in possession of "all the best words".

Don't be that guy. Nothing here is about that noise.

I had Augmented Reality on my Lumia 640XL years ago.

Honor do not, afaik, "own the middle ground" in Europe and to create that Impression would be wrong. The middle ground is still owned by the volume producers like Samsung, LG & the likes. Honor is making great progress but they're not anywhere near a major player yet in that segment.

So you guys were talking about moto getting rid of the fingerprint sensor to change the front facing aesthetic of their phone line. What it that's not what they got rid of? What if they instead got rid of the rear facing camera and moved the fingerprint sensor to the back? What hurdles would they have to jump though to do this. Could you do a camera moto mod and just make a really good front facing camera? Food for thought.
Android Central Newsletter
Get instant access to breaking news, the hottest reviews, great deals and helpful tips
Thank you for signing up to Android Central. You will receive a verification email shortly.
There was a problem. Please refresh the page and try again.