Android Central 204: How much is too much?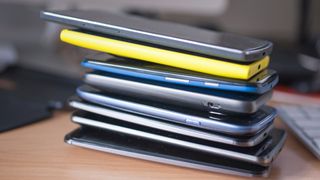 We're a little all over the place this week with some more giant Nexus news, our reviews of the Samsung Galaxy Alpha, Moto G and Moto X, plus we answer a bunch of your questions live. And there might well have been some singing.
Thing 1: Nexus 6/Nexus X/Shamu
Nexus 6 will reportedly look like oversized Moto X
Leaked photo shows Motorola Shamu breaching for the camera as next Nexus
Poll: Is a 6-inch Nexus just too damn big?
Thing 2: Rounding up the reviews
Thing 3: Other things
There's a reason you're seeing more Google on new Android phones — Google wrote the contracts that way
Pocket Casts' web-based podcast player in beta now!
It's hard to go wrong recommending the new Moto G
Moto 360 update keeps a better connection with your phone
125 AT&T stores to offer preview of Samsung Gear S starting Friday, Sept. 26
Verizon's Droid Turbo struts its stuff in new leaked photos
Android Central's Question & Answer feature is here! (in beta)
Thanks to this week's sponsors
GoToAssist: User offer code GoToAssist3030 to get 30 percent off!
ShopAndroid.com: User offer code AC10 to get 10 percent off your entire order!
Get the Android Central Newsletter
Instant access to breaking news, the hottest reviews, great deals and helpful tips.
6 inches with "dual speakers" is too much. 6 inches done with that edgeless design Sharp did on their latest Aquos would be nice if it had a much narrower bottom bezel.

If I had a phone that big that would be my only device I wouldn't have a tablet Posted via Nexus 7 2013 or Galaxy S5

Ignore that... Wrong thread Posted via the Android Central App

Theory about why the Nexus is 6 inches? They'll use the increased UI responsiveness with ART to make a native visual multitasking alternative to what Samsung are doing?

His white balance on his camera always sucks it has for years now lol Posted via Nexus 7 2013 or Galaxy S5

I just played with the Note 4 and the Galaxy Alpha and it feels great. Love the metal design. Posted via Android Central App

HOW MUCH IS TOO MUCH IS TRUE... There is a Gluten of phones out there now.... (especially this year) New Phones should not be 600 to 800 dollars. Hopefully New Phones with all the new bells & whistles will be lots cheaper in the coming next year.... Posted via Android Central App

Agree The new Moto X and the new Sprint HTC One E8 are top notch high quality build fully spec'd smartphones with a retail price around $500.

Was Jerry fishing? Bring back the neckbeard king!
Remember those HUGE ghetto blasters from the 70s that could hardly fit in a pickup. Do people really want the NEXUS version of that? Just asking. Awesome AC.

Wtf Posted via the Android Central App

Hi this is cool, need help have a Samsung galaxy 4 have bbm and kik and hangouts on the phone for message but when I receive a message it does not show on the icon, like it does on the messaging app which came with the phone.

Consumer Reports did an iPhone 6 Plus bend test. I bet Russell feels awesome calling that guy from Unbox Therapy a jerk face! Posted via Android Central App- Via HTC One

I really think that that test doesn't adequately measure "bendability" you can't really justify saying a machine with have the same comparison as doing it by hand. Also keep in mind that batteries are in different places in diferrent phones so the test could have been slightly swayed in the iPhone's favor. Posted via the Android Central App

The thing is, everyone is saying don't put your phone in the back pocket, some have went as far as calling those who do stupid. I have always kept my phone, M7, Droid Bionic, Storm 2, in the back pocket, with no problems whatsoever. I have sat on them on hard benches, concrete landscape barriers, the ground, hard and soft, my phone is just fine. In fact, the front pockets are more dangerous for the phone than the back pockets. Every time I crouch down to tie my 3 year old son's shoe that phone digs into my pelvic bone pretty hard. For a larger softer phone, that could be a problem. While the back pocket provides a large zone of soft, shock absorbent material for the phone. Posted via Android Central App- Via HTC One

Oneplus one is on the top of picture! Yes! Posted via Android Central App on 1+1

Unlike the writer into podcast, I happen to really like the end bumper music. It really captures the mood of the ending of the podcast perfectly. What is it and where is it from?