Pocket Casts snags huge update with time-based filters, Marshmallow support, and more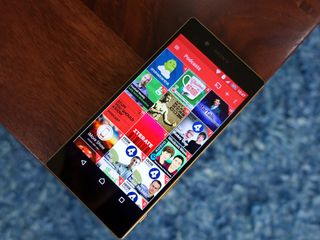 Popular podcasts app Pocket Casts has picked up an update to version 5.3 that introduces several new features, including the ability to filter podcasts by date. Also new is Marshmallow support, which lets you save the app's settings across devices with auto backup.
Here's the laundry list of changes included in version 5.3:
You can now filter episodes by time. In the filter settings page there is a new option called "Released in the last" which you can set to 24 hours, 3 days, 1 week etc. We have changed the episode filters new users will have and this update will also add them to your list of filters.
Marshmallow Auto Backup feature added so if you have app backups turned on (System Settings app -> Backup & reset) it will backup your Pocket Casts settings and database so after restoring a phone your app should look a lot more like it did.
Switched to Marshmallow permissions. We now only have one permission that requires user approval, the storage permission. The app will only ask for permission for this if you change your storage location to a custom folder.
Stats page data is now included in your sync account so if you reinstall they aren't lost. The stats page is now a summary of stats across all your devices.
Improved switching to a custom location so it picks up any existing episode files in the new location.
Improved the search for podcast interface.
"Listen to PODCAST NAME in Pocket Casts"
Emojis are now supporting in the show notes and episode titles.
If you're not already familiar with Pocket Casts, now would be a good time to check the app out. It costs $3.99, which is a bargain given its extensive feature-set.
Source: Shifty Jelly
Harish Jonnalagadda is a Senior Editor overseeing Asia at Android Central. He leads the site's coverage of Chinese phone brands, contributing to reviews, features, and buying guides. He also writes about storage servers, audio products, and the semiconductor industry. Contact him on Twitter at @chunkynerd.
I can't wait to download the update. I thought it had already been updated for Marshmallow, but I was apparently mistaken. Posted via the Android Central App

'OK, Google' support is huge! I listen to all my podcasts in the car so I'll definitely be taking advantage of that.

For the few years that I've been using this app, it's never been free, it always cost $3.99, there is NO free trial for the Android or iOS Pocket Casts apps but the web version has a free trial for 10-14 days then you pay a one time fee of $9. Posted via the Android Central App on my Nexus 6

My bad on that. Got it confused with the web player. Fixed now.

Some of us were first introduced to Pocket Cast when the Amazon App store featured it as a free app. Many are running just that free app. I was impressed with the app and decided to pay for it in the Play Store. Posted via the Android Central App

Me too except I paid for it after I read their blog post explaining how they got shafted by Amazon. Luckily, my purchase was more than symbolic as I use this app more than any other on my phone. I also paid the $9 for the Web app. I can listen to part of a podcast on the way into work then throw on my headphones and continue right where I left off when I get to my desk.

Hey I recognize that name .... your the guy that always asks questions on the TechnoBuffalo show podcast, aren't you?

The article first broke here, tipped Android Central but I see no credit link...oops http://www.andnandroid.com/2016/01/18/pocket-casts-for-android-gets-a-hu...

I received the update on my phone, and checked Shifty Jelly's site for the changelog.

That's laughable. So now noticing that an app has an update is considered a scoop and subject to credit? Ridiculous.

I wish that Shifty Jelly would bring Pocket Weather to the US. This post has +5 to topic derailment

This article seems like an ad for Pocket Casts. Posted via the Android Central app on my Nexus 5X with Project Fi

It's an article outlining some major changes to what users of this very website voted best podcast app last year. There are numerous articles of this nature on the website. I'm curious though. What made you click on the article in the first place?

I use pocket Casts all the time. That's why I clicked on it. Posted via the Android Central app on my Nexus 5X with Project Fi

Can I just....LOL. Sorry, I couldn't stop it.

The only thing better than a Pocket Casts update are their release notes! Love them.

LOVE this app and the web client. So glad that they're up to Marshmallow support now.

Nice ... Best cross platform podcast app hands down.

Is it worth $3.99, when there are so many free apps? I have been using Podcast Addict, and with the transition to a new phone and new bluetooth, I have been having some minor audio issues that I haven't figured out how to resolve. It's always been a great app, and was thinking of springing for the ad free version, until these audio levels started.

Yeah, it's worth the price. BeyondPod is my personal choice, but both that and Pocket Casts are definitely better than any of the free alternatives that I've tried, to the point that they're worth a few bucks.

I had beyondpod before. Changed accounts and will not pony up 7.00 for an app that imo has a very clunky interface. Addict is serving me well but probably will switch to PC. Posted via the Android Central App

Yeah, Pocket Casts has a nicer interface for sure. I went with BeyondPod because (at least at the time), it was much more customizable, which is important to me.

Good point. I got beyondpod back when it was 10 cents. But I closed that email account so now back to square one. Posted via the Android Central App

Twice as much concidering how much and how often I use it. Posted via the Android Central App

I've bought this on Android, Windows Mobile and the web. I guess you could say I'm a fan. -- RCA Voyager II
Android Central Newsletter
Thank you for signing up to Android Central. You will receive a verification email shortly.
There was a problem. Please refresh the page and try again.