The Voltcube 400W power inverter and car adapter is down to $18.79 when you combine the $2 off on-page coupon with the code 9V4I4F2N on Amazon. The two discounts stack together to bring this power inverter down to one of the best prices we've ever seen. It was selling as high as $30 in April and has been selling for around $26 more recently. You can also get this price on the red version since it also has its own on-page coupon to stack with the code.
More Power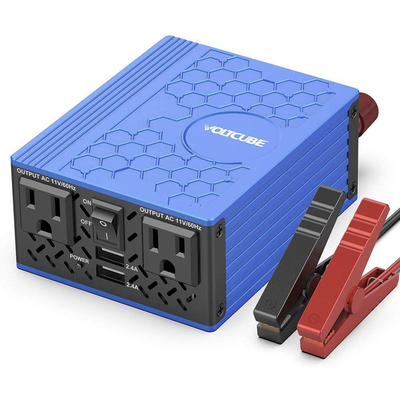 Voltcube 400W power inverter 12V DC to 110V AC car adapter
Stack the code and on-page coupon for max savings. The inverter has two AC outlets and two USB ports. Charge your laptop, your phone, or even something like an air mattress while camping. Has alligator clips and a cigarette light connector.
$18.79 $26.00 $7 off
The Voltcube has two AC outlets and two USB ports. It can provide up to 400 watts of continuous DC to AC current, which means you can plug in two things and power them both. The new design even places the plugs a bit apart so you can use larger power adapters together. Charge a laptop, an emergency medical machine, or a blender for on-the-road smoothies if you want. It could also be used while you're camping or out in the wild to charge things like air mattresses. Use the USB ports to keep your favorite mobile devices powered up, too.
The inverter has two built-in replaceable 30 amps fuses designed to protect your devices. It has a cooling fan to keep things from overheating, which helps keep the inverter running smoothly. Even the actual design of the inverter with the aluminum honeycomb sides helps dissipate heat. The inverter only needs 3 watts of power for itself thanks to an energy-efficient smart chip.
You'll get both alligator clips and a cigarette lighter connector, which gives you options in how you want to power the inverter. Connect directly to the battery or just plug it in. It also comes with two free replacement fuses. Users give it 4.3 stars out of 5 based on 78 reviews.
We may earn a commission for purchases using our links. Learn more.