PlayStation Gold Wireless Headset 2018: Should you upgrade?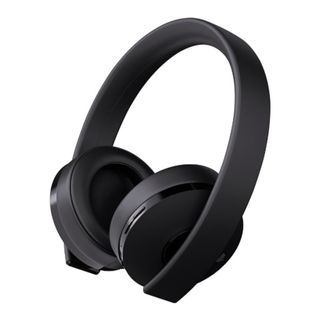 The original PlayStation Gold wireless headset is the perfect headset for gaming. In fact, it's one of the better headsets you can use for just about anything. While it is a great headset, Sony has released a new updated version of the Gold headset. It looks very similar on the outside, but Sony promises a better all-around experience from this new model.
Is this new headset really that much different from the old headset, and is it worth the money? Here's my thoughts on whether you should upgrade your headset.
Original Gold Headset
The original Gold headset is rather big, which makes it less comfortable for every head size, but it's great for gaming with friends online. The microphone is clear and your friends can here you very well. These are not noise-cancelling, but the over-the-ear design does surround you with sound rather well. Sometimes it shares that sound with the person next to you, though, so be careful!
There's a lot of detail in the sound on these headsets, with loud booms and soft whispers coming through as clearly as if you were in the game. The positive side of the large headset is that you will have no problem using it for extended periods of time, making it easier for you to be immersed into each world. The size makes it a little awkward for VR, which makes sense since it was made long before the PlayStation VR, but it's still a great option when you want to play wired.
You can currently purchase this headset for $88 if you're looking to save some money on a great headset.
New Gold Wireless Headset
This new headset has improved on quite a bit of the complaints many people have had of the old headset. With the 7.1 virtual Surround sound to improve the sound as well as improved ear cushions for refined comfort, this headset will definitely improve your game play. The mic cancels out the sound around you so all your friends hear is your voice, and the controls for the volume of the the mic, the game, and the mute button are all easier to access.
Another great thing about this headset is that you will have access to special audio modes in certain games. Created by developers exclusively, these modes use the special additions of this headset to enhance game play. You can download these custom modes onto your PlayStation through the Headset Companion app on your PlayStation 4, and it's a special audio experience that will only exist for Sony fans.
Sony improved the design with PlayStation VR in mind, helping with the immersion into which ever world you enter into. With a thinner band and improved comfort, it makes it easier to wear with your VR headset without any discomfort you usually feel with over the ear headphones. With the sound improvement of the 7.1 virtual Surround sound and all the added design features, you're sure to enjoy your experience in each VR world you enter.
Right now, this headset is only available for pre-order until February 22nd, but you should grab it before it's no longer available.
Ready to upgrade?
Whether you're going to keep your Gold headset or upgrade to the new one, you'll have a great headset no matter what. If you're someone who enjoys gaming, then either headset is a great choice. The new design makes it a bit more comfortable, especially if you're a smaller person like I am. If the sound quality is something that you're looking to improve as well, then I would definitely go for the newer headset. The individual audio profiles alone will make it worthwhile to you.
If you're looking for a new headset to fully immerse yourself into the world of VR, then this new headset is exactly what you need. It's design has been tailor-made for the VR experience, and the added sound quality will make your immersion even better.
Here's where you can pick up the new PlayStation Gold Wireless headset!
Depending on what kind of gaming you're looking to get out of the headset, you could use either headset for your gaming experience. However, the newer headset will give you the noise-cancelling that you might be looking for, and has improved on a lot of the qualities the old headset lacks.
Let us know what you think!
Get the Android Central Newsletter
Instant access to breaking news, the hottest reviews, great deals and helpful tips.