Play Store unsurprisingly renames Chromecast category to Google Cast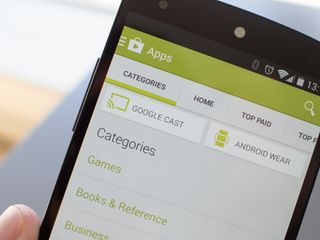 The Chromecast app category in the Play Store is unsurprisingly being renamed to the "Google Cast" section, getting ready for new devices that support the protocol. If you'll recall back to the announcement of Android TV, more and more devices are going to be supporting the Google Cast protocol going forward to let you sling content from your mobile devices to other entertainment boxes.
The branding helps clear up confusion, and starts drawing a line between Chromecast, the streaming TV-connected device, and Google Cast, which is the way different devices talk to each other and hand off content.
Nothing monumental changing here other than the name of a button, and it's a change we expected to happen as the commercial release of Android TV nears. If anything, this indicates that we could be seeing more devices that support the Google Cast system released sooner rather than later.
Andrew was an Executive Editor, U.S. at Android Central between 2012 and 2020.
Obviously because casting will be soon available to Android TV.

About a week ago I restored a Nexus 7 2012 back to stock 4.4.4 as I was about to pass it on to a family member. I was surprised to see a "Cast Screen" button appear in the quick settings as I hadn't read about it being one of the compatible devices at that point. Pushed it and it worked. Oddly enough, the option didn't show up in the display settings or in the Chromecast app. The button in the quick settings disappeared later that night and hasn't shown up since.

I hated when Samsung changed their Samsung Link to S-Share to AllShare to whatever they call it now and I hate that Google had to do it now... it's confusing :(

So what about Chromeast apps?

Nothing changes. The SDK was always called Google Cast SDK and it was always the Google Cast protocol. The Chromecast was just the first and only for quite some time, but now we get more devices and maybe some new TVs will support this protocol as well.

Has Google announced Google TV is discontinued Posted via Nexus 7 2013 or Galaxy S5

I just love all the news sites and podcasts (AC not among them) who have been bitching about the "confusion" since I/O. I guess it was really hard to figure out that Chromecast was the name of the existing hardware and Google Cast was what they were calling the protocol. Posted via Android Central App

I wish more was able to cast. I picked up the Chromecast with the original Netflix deal and it has been both awesome and a curse. Awesome is having guests over and casting things from their phones. Curse is when my daughter decides to cast Dora the Explorer from her tablet at the most inopportune time lol

I feel ya. My two year old knows how to work all the tablets and will put on what she wants whenever she wants. Now I have pattern locks on them and I have to make sure she isn't looking when I enter them or she will know it from them on. Posted via the Android Central App

Yeah my daughter has her own tablets, but there is no way to block her from Chromecast that I know of, without having her on a different network.

At least it's not the other way round, with you accidentally interrupting a cast with something rather (cough, cough) awkward... I know this person (cough, again) who happened to do this by accident once.

I only have Sony select and Android Wear Posted via the Android Central App

Well I feel like a bonehead for my statement the other week. I definitely over looked these categories for Chromecast and Android Wear.
Android Central Newsletter
Get the best of Android Central in in your inbox, every day!
Thank you for signing up to Android Central. You will receive a verification email shortly.
There was a problem. Please refresh the page and try again.