Walking through Android TV with Google's ADT-1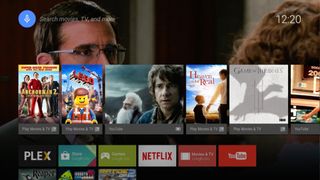 (Image credit: Android Central)
Potential success may hinge on pricing, but Android TV is doing a lot of things correctly from the start
Google is giving set top boxes another try with what can only be described as what happens when a Chromecast and Amazon's Fire TV have a baby. The new experience is highly visual, incredibly fast, and already offers some key features that some of the competition is still working on. Google's ADT-1 offers up a great look at what we can expect from the Android TV user experience, and as long as the developers who are getting these kits in the mail this week are working hard to get apps ready for the platform it looks like this is going to be another hit.
Two things happened at Google I/O when Android TV was announced, aside from the applause that filled the room. Chromecast owners wondered why they needed this new box if they already have their adorable little HDMI stick, and Google TV owners wondered if there was any hope for their existing equipment. Unfortunately for Google TV owners, it looks like Android TV is a whole new paradigm of set top boxes that will exist as though its predecessor never existed. Even if an OEM wanted to push an update to a Google TV box to make it run Android TV, the older hardware in that box is unlikely to keep up with what Google has in store for this new equipment. Sorry, Google TV users, we all feel your pain.
Chromecast users, on the other hand, are now faced with deciding whether or not Android TV is worth the upgrade. Every Android TV box is going to have Google Cast support, which means it will behave similarly to a $35 Chromecast, but will have all of the added bells and whistles of a set top box, with the higher price point to go along with it. But you'll have the ability to pick up a controller and navigate the UI to do whatever you want, and you also have the ability to just pull out your phone or tablet or laptop and initiate a cast. The extra content on Android TV for the moment is mostly controller friendly games from the Google Play Store. If, however, you are not really a fan of the Chromecast method of streaming content, everything can be done through the controller.
Everything about the Android TV UI is big colors with big text and the beginnings of Material Design. This interface was clearly designed to be able to kick back and enjoy, with the giant background images when you land on content in the main menu and the simple way everything is laid out. Your content sits in rows, starting with the main feed and moving down to installed apps and settings. The main feed gives you access to content based on your previous interactions with Google's services. It's a combination of content you own through Google Play Movies and recommended content across the rest of Google's services. This feed seems to update every couple of hours, but for right now it is all Google all the time.
The Google Play Store on Android TV is arranged in s similar fashion. You have rows of apps and games to choose from, and when you click on anything you get a single card taking up most of the screen that beaks down the item you are about to either purchase or install. Since this is nowhere near a commercial release, the shelves here are understandably barren. There's just enough here to show off what apps should look like, as well as show off the difference between games that require a gamepad and games that can be played with just a phone a simple D-Pad style remote control. As far as the options go, this presentation is remarkably similar to Amazon's offerings on the Fire TV.
Like any other Android device, the ADT-1 shows up on the Google Play Store website as an install destination for apps. Currently there aren't any that can be installed outside of what you see in the Android TV version of the Play Store, but it's reasonable to assume that you will be able to install apps on Android TV just like you would anything else if you are a fan of using the web version of the Google Play Store. The only real difference here is the UI, which is just an extension of the rest of this platform as far as usability goes. It's nice and consistent, just how we like it.
It wouldn't be a Google product without search, right? Android TV's search functionality works with either the on-screen keyboard or through voice search. Since the controller packaged with the ADT-1 doesn't have a microphone built in, voice search is handled through the Android TV App, which is still very much a beta product. You tap the voice button on the app and the voice search wakes up on the television. Speak your query, and the results appear on the screen. Right now the search results only really work for content within Google Play and YouTube, but since that's a lot of content it's not so bad for a first effort. The on-screen keyboard for manual entry is exactly as bad as every other manual television entry system, where you have to peck around for the right letter and slowly spell out whatever it is you want.
With any luck, the Android TV search service will integrate with the other streaming services on the platform by the time commercial hardware ships. Additionally, allowing users to take advantage of the perfectly good keyboard they have on the smartphone currently being used to voice search would be a heck of a lot better than that long alphabet string on the screen. It's a small thing to complain about, until you find yourself needing to search for something obscure that you can't just speak into the microphone.
The Settings panel for Android TV isn't all that different from the rest of the UI. This screen lets you troubleshoot some of the basic problems that you are likely to run in to, such as network issues or basic setup preferences. You can choose whether or not you want voice search and Google Cast to function, or you can dip into the debug menu and turn on ADB in order to sideload apps. Since this is a developer kit, there's no way to know exactly how easy things like sideloading will be in the commercial releases, but here it requires a direct USB connection to do much of anything. Curiously, ADB Connect does not currently work for wireless communication with this device.
It's worth pointing out that you sign in with your Google Account in order to gain access to all of the goodies Android TV provides, and currently this platform is single sign-in. You can use the Settings menu to sign out so someone else can sign in, and being signed in does not affect other users if they decide to cast content to the televisions through Android TV, but it also means that only your content appears in the main screen and content is only being suggested for what Google thinks you want to see. Android TV is far from the only system to behave like this, but it seems like all of the efforts made in multi-account support for Android proper should have bled over a bit.
Ultimately, there's a lot to like with Android TV. We still have no idea what these devices are going to cost, but as long as at least one or two of the products Google's partners are working on can be priced to compete with Amazon and Apple there's not a whole lot of reason to say no to one of these boxes. There's already a functional app for the platform, and the interface itself is already smooth and generally enjoyable to use. Android TV is a welcomed departure from Google's previous efforts in this space, and hopefully with developer support it becomes a platform that serves as a worthy upgrade to the Chromecast.
Those apps shown in the Android TV pictures such as Netflix, plex, and iHeartRadio... Do they already exist on the platform or are they like placeholders to use as examples? Posted via Android Central App

I'm liking a lot of what's been shown off for Android TV, but I don't think I'll get it. My XBOX already does everything I would do on Android TV. It would be neat, however, if they updated the Nexus Q to run Android TV Posted via Android Central App

I am sure XDA will try and do that.

You can adb connect to the device by connecting to port 4321. Or you can connect the USB cable, and then adb tcp 5555 to enable connecting to the device on port 5555 for usb debugging. I've connected an Aerb multifunction remote control to the ADT-1, and you get a remote control with built in qwerty keyboard which makes text entry so much better. It has a few quirks to it, but it works pretty well. Existing Google TV developers should have relatively little work to do to get existing apps running on ADT-1. They already did the hard work by handing Focus and D-Pad. Their screens are already optimized for the TV and 10ft viewing experience. I ported Serenity for Android, my alternative Plex client, to ADT-1 in roughly an hour. It is now available to be installed, through the Google Play Web store to ADT-1 devices.

Can't wait to see a price point Posted via Android Central App

Price point is gonna be key, as well as what other third party streaming services are supported.

Does it support HDMI passthrough like Google TV did? I really want this to be my single input device.

As do I. I'm hoping one of the manufacturing partners makes this happen. I also want to see a webcam available for Hangouts. That would make Android TV the communication and entertainment center of the home. I would definitely recommend it to all my friends and family too if that is the way it works.

This definitely needs to go further than just a hardware manufacturer making it happen.... it needs to be a feature of Android TV or else I see it being laggy and full of issues like the current Google TV boxes have. From what I understand, the PrimeTime app is the only part of Google TV that is an optional feature and obviously only usable with those Google TV boxes with HDMI pass-through, so it would be understandable that the OS/software of Google TV itself most likely wasn't given much thought for cable passthrough. I'm pretty sure the PrimeTime app was even an after thought and released after a lot of the boxes. Google REALLY needs to make this a feature and ALL boxes have to have the PassThrough.

Agreed. If these boxes don't have HDMI pass through and some type of menu overlay than I am not buying.

+1
It needs this ...because having to switch your HDMI inputs would be annoying and a waste

This box only has HDMI in... as for whether or not future boxes will have pass-through (which would need HDMI out on the other side), I'm not sure.

+1 on the Ethernet connector.

and if that won't happen, for the love of all that isn't a completely noisy, congested and now nearly useless WIFI frequency range... +1 on 5ghz WIFI

How is it for streaming content through a local network, using something like Plex? That's a vast majority of what I do on my TV right now, but integrating it into another device would be nice.

This is exactly what I was going to ask about. Plex works great on my Roku 3 at the moment. I love being able to play all my movies from my local server without having to tie up precious internet bandwidth. Hope Android TV has a way to play local content similar to my Roku 3/Plex combo.

Browser support will make-or-break this device for my personal purchasing decision. If it's fast, snappy, and built to take advantage of the input mechanisms of the platform, I will buy one. The day I can go to comedycentral.com and watch The Daily Show or Key and Peele without a ton of frustrating plug-in requirements or inability to control advertisements, etc, is the day I purchase this.

If Android TV STBs don't have HDMI pass-though Google made a BIG mistake and certainly lost me as a Android TV customer...

+1 Posted via Android Central App

Finally boxed up my Revue, and Gen1 and Gen2 Sony GTVs. Too laggy, and abandoned by Logitech/Sony/Google, although they have some nifty features (and a pretty darn good Amazon (Prime) streaming app). There's no way I'd be interested in Android TV without HDMI pass through. Full stop.

Chrome cast is all I need Posted via Android Central App

Ya same though I'll see how Android TV plays out over the coming months Posted via Android Central App

Maybe I am one of the few, but I really like my Vizio Costar Google TV. It definitely has some shortfalls, which I am hoping Android TV corrects. As others have mentioned, HDMI pass through would be awesome. Posted via Android Central App

These are the specs I found for this device: Tegra 4 chipset
2GB of RAM
16GB of internal storage
2×2 MIMO dual-channel WiFi
Bluetooth 4.0
Ethernet Port
HDMI port
Android L Developer Preview

Pretty beefy specs for what it is...

I have 2 chromecasts but will be putting those in my bedrooms and this will be great for the living room! Posted via Android Central App

One of the biggest assets to GoogleTV was also part of its failure: Cable box integration (with the aforementioned passthrough). Too many people thought of OG product as a cord cutter's dream, when really it was meant to augment and wrangle all that was available through the internet and cable. I love that I can just start typing on the remote's keyboard and all relevant sources appear in the Primetime app. Makes getting to content a breeze.

I love my chromecast. Assuming this is reasonably priced(100$ or less) I will buy one this winter with no hesitation. Now of it costs more than that, I will have to weigh options and consider the potential risks of early adoption. Content is king, and if Google puts it money bags behind this platform, I see no trouble getting content flowing. There is potentially more money to be made here than with competitors such as the apple TV and the roku. As soon as providers realize that, the content with pile up and so will the adoption. Posted via Android Central App

So this actual device will go one sale for the public to buy? I really like the look of it even though there is not much to it.

I do not recall if they mentioned it or not at i/o, but I would love to see Android TV on a Blu-Ray player. Mine died recently, I would love to replace it with something much more capable than the dregs that are out there now.

Can't see that happening, unfortunately. According to a report from BGR in January 2014, digital HD movie sales were up 50% year-over-year, and that was 7 months ago. Streaming music sales/subscriptions are putting the final nail in the coffin of CDs. The world as we knew it is fading away, and everything is digital now. Google, Apple and Amazon are all battling one another for customers, and the thing that is going to lock people in to one system over the other is ecosystem. Buy a piece of music or movie from one of their online stores, play it on your phone, tablet, in your car and on a set top box. Like many formats before it, blu-ray is going to be presented as a clunky, antiquated and non-portable form of media, and will be shown the door post haste. Companies would be foolish to waste time and money on installing blu-ray capabilities into their Android TV boxes.

I agree with you to some extent, but when you flip it around and think of it in terms of Blue-ray player manufacturers adding Android TV capabilities to their players it makes a lot more sense. People do still buy players, so as a value add to differentiate between other players in the market it's a lot more feasible.

Also, the transition to streaming is gonna be hampered by service providers. Or at least contingent upon their pricing structures and bandwidth allowances. The US still needs to update a lot of infrastructure before this dream market can materialize... Posted via Android Central App

I've watched too many streaming music companies go under to risk purchasing a digital movie. I'm happy to use streaming to rent it, but until they remove the copy protection and allow me to archive it on my own, anything that I really want to "own" I'll get on plastic.

Blu-Rays will always be around until content providers start including Spanish and other language subtitles in all their streams. The non English speaking population are a ever growing segment in this country. And they too consume tons of media.

If the price is comparable with the Chromecast or other Streaming Media devices in the UK I'll definitely get one and replace my Chromecast in the living room with it and then put the Chromecast on the bedroom TV. Roland

My quad core MINIX neo x7 does the job for me, all you need is XBMC and a brain and everything is right there for you.. Posted via Android Central App

I'll second that, I love my x7 coupled with a controller and a few emulators and it makes a great retro games console dedicated XBMC build a 1tb HD netflix and my dumb TV has had a brain & a media server for nearly a year.

I'll be getting one of these, it's basically a prettier more capable Chromecast which will double as a cheap console. The kids will love it. Chromecast can go into my bedroom. Posted via Android Central App

I hope Sony updates their box to this. I don't think it needs a hardware bump to do it either. Posted via Android Central App

The availability of an Amazon Prime Instant Streaming will be a big factor in my decision. It's a major player that isn't currently available. If I was Google I would simply say, "If you want access to YouTube, produce an APIS app"!

I asked to get one. Either Google is taking it's sweet time to send it to me, or they found out I'm not a developer per say.

i was sent one and iam not a developer i google it how did they know where to send it and can i keep it and can i sell it

It better support Dolby (at least) audio. From sources like Netflix etc.

This looks nice! Two things... Can I install XBMC onto this? Would it even be powerful enough to run XBMC smoothly? If the answer is yes to both of these questions, it's a definite purchase from me! And of course it needs hdmi passthrough... That's key! Posted via Android Central App

just need to know pricing and I'm going for it! Though I may need to update my receiver because it doesn't support audio through HDMI (it's old) and if this doesn't have some kind of optical audio out I may be SOL until I upgrade..

Hopefully this doesn't mean the end of Chromecast. Personally, I prefer to just cast directly from my phone, tablet or Chromebook - I don't need another box. Chromcast ain't broke so why not build off of it's sucess and find ways to improve the Chromecast experience?

I bought 3 of those silly Google TV boxes and recommended some to my friends - at the time it sounded like a good idea and the start was good.... but then those boxes ware ever updated nor ware any of the idiotic apps, also no new apps. And I cannot install anything that inst made specifically for those stupid boxes. On top of that some apps stopped working... Google can shove it back to their behind. I only wish I would have bought apple TV instead. Google can shove their Android TV back to their behind as well... I wont be buying it. How many boxes it do I need in my leaving room.... ridicules....

It would be nice if you could hook up your TV service to this device too enable recording shows it would make it very appealing to me Posted via Android Central App

I love that people other than me still call for Nexus Q support. I truly wish that someone that still works at Google would remember that they built and gave away something truly amazing that would rekindle development and mend a bridge or two that were left by that jerk Hugo Barra.

I have my ADT-1 now. It just arrived today. It's very promising. I just hope it gets updated to the final release of Android TV. Posted via Android Central App on the Moto X

i was sent one and iam not a developer i google it how did they know where to send it and can i keep it and can i sell it

Control issues aside, can you side load an APK to the dev unit. eg could I side load the android version of XBMC/ KOBI

I was able to side load Gotham but not Kobi and it runs amazingly smooth. Just no icon in the lean back launcher with out decompiling the apk and adding it manually.

anyone have a dev cable for sale johnsandlin09@gmail.com
Android Central Newsletter
Get the best of Android Central in in your inbox, every day!
Thank you for signing up to Android Central. You will receive a verification email shortly.
There was a problem. Please refresh the page and try again.