Walking through Android TV with Google's ADT-1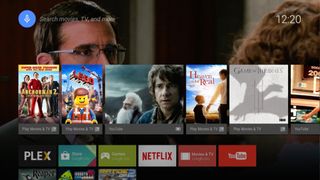 (Image credit: Android Central)
Potential success may hinge on pricing, but Android TV is doing a lot of things correctly from the start
Google is giving set top boxes another try with what can only be described as what happens when a Chromecast and Amazon's Fire TV have a baby. The new experience is highly visual, incredibly fast, and already offers some key features that some of the competition is still working on. Google's ADT-1 offers up a great look at what we can expect from the Android TV user experience, and as long as the developers who are getting these kits in the mail this week are working hard to get apps ready for the platform it looks like this is going to be another hit.
Two things happened at Google I/O when Android TV was announced, aside from the applause that filled the room. Chromecast owners wondered why they needed this new box if they already have their adorable little HDMI stick, and Google TV owners wondered if there was any hope for their existing equipment. Unfortunately for Google TV owners, it looks like Android TV is a whole new paradigm of set top boxes that will exist as though its predecessor never existed. Even if an OEM wanted to push an update to a Google TV box to make it run Android TV, the older hardware in that box is unlikely to keep up with what Google has in store for this new equipment. Sorry, Google TV users, we all feel your pain.
Chromecast users, on the other hand, are now faced with deciding whether or not Android TV is worth the upgrade. Every Android TV box is going to have Google Cast support, which means it will behave similarly to a $35 Chromecast, but will have all of the added bells and whistles of a set top box, with the higher price point to go along with it. But you'll have the ability to pick up a controller and navigate the UI to do whatever you want, and you also have the ability to just pull out your phone or tablet or laptop and initiate a cast. The extra content on Android TV for the moment is mostly controller friendly games from the Google Play Store. If, however, you are not really a fan of the Chromecast method of streaming content, everything can be done through the controller.
Everything about the Android TV UI is big colors with big text and the beginnings of Material Design. This interface was clearly designed to be able to kick back and enjoy, with the giant background images when you land on content in the main menu and the simple way everything is laid out. Your content sits in rows, starting with the main feed and moving down to installed apps and settings. The main feed gives you access to content based on your previous interactions with Google's services. It's a combination of content you own through Google Play Movies and recommended content across the rest of Google's services. This feed seems to update every couple of hours, but for right now it is all Google all the time.
The Google Play Store on Android TV is arranged in s similar fashion. You have rows of apps and games to choose from, and when you click on anything you get a single card taking up most of the screen that beaks down the item you are about to either purchase or install. Since this is nowhere near a commercial release, the shelves here are understandably barren. There's just enough here to show off what apps should look like, as well as show off the difference between games that require a gamepad and games that can be played with just a phone a simple D-Pad style remote control. As far as the options go, this presentation is remarkably similar to Amazon's offerings on the Fire TV.
Like any other Android device, the ADT-1 shows up on the Google Play Store website as an install destination for apps. Currently there aren't any that can be installed outside of what you see in the Android TV version of the Play Store, but it's reasonable to assume that you will be able to install apps on Android TV just like you would anything else if you are a fan of using the web version of the Google Play Store. The only real difference here is the UI, which is just an extension of the rest of this platform as far as usability goes. It's nice and consistent, just how we like it.
It wouldn't be a Google product without search, right? Android TV's search functionality works with either the on-screen keyboard or through voice search. Since the controller packaged with the ADT-1 doesn't have a microphone built in, voice search is handled through the Android TV App, which is still very much a beta product. You tap the voice button on the app and the voice search wakes up on the television. Speak your query, and the results appear on the screen. Right now the search results only really work for content within Google Play and YouTube, but since that's a lot of content it's not so bad for a first effort. The on-screen keyboard for manual entry is exactly as bad as every other manual television entry system, where you have to peck around for the right letter and slowly spell out whatever it is you want.
With any luck, the Android TV search service will integrate with the other streaming services on the platform by the time commercial hardware ships. Additionally, allowing users to take advantage of the perfectly good keyboard they have on the smartphone currently being used to voice search would be a heck of a lot better than that long alphabet string on the screen. It's a small thing to complain about, until you find yourself needing to search for something obscure that you can't just speak into the microphone.
The Settings panel for Android TV isn't all that different from the rest of the UI. This screen lets you troubleshoot some of the basic problems that you are likely to run in to, such as network issues or basic setup preferences. You can choose whether or not you want voice search and Google Cast to function, or you can dip into the debug menu and turn on ADB in order to sideload apps. Since this is a developer kit, there's no way to know exactly how easy things like sideloading will be in the commercial releases, but here it requires a direct USB connection to do much of anything. Curiously, ADB Connect does not currently work for wireless communication with this device.
It's worth pointing out that you sign in with your Google Account in order to gain access to all of the goodies Android TV provides, and currently this platform is single sign-in. You can use the Settings menu to sign out so someone else can sign in, and being signed in does not affect other users if they decide to cast content to the televisions through Android TV, but it also means that only your content appears in the main screen and content is only being suggested for what Google thinks you want to see. Android TV is far from the only system to behave like this, but it seems like all of the efforts made in multi-account support for Android proper should have bled over a bit.
Ultimately, there's a lot to like with Android TV. We still have no idea what these devices are going to cost, but as long as at least one or two of the products Google's partners are working on can be priced to compete with Amazon and Apple there's not a whole lot of reason to say no to one of these boxes. There's already a functional app for the platform, and the interface itself is already smooth and generally enjoyable to use. Android TV is a welcomed departure from Google's previous efforts in this space, and hopefully with developer support it becomes a platform that serves as a worthy upgrade to the Chromecast.
Get the Android Central Newsletter
Instant access to breaking news, the hottest reviews, great deals and helpful tips.