Google Play Music on Android Wear: How to use it and what it still needs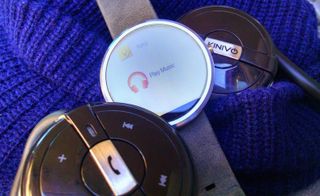 There's room to improve with Play Music on Wear, but at least it's finally here
One of the primary reasons for me to get a smartwatch was for music. Not to listen from it, per se, but to control music from it. Being able to leave the phone inside while I walk my laps is still a somewhat tantalizing idea, and sometimes necessary, as workout clothes (or any other kind of clothes for that matter) for ladies like me often don't have the luxury of sizable pockets. So, with the recent updates to Play Music and Android Wear bringing this welcome change, let's see about getting these jams from our phones to our wrists — and why it doesn't work as well as we would've hoped.
When you update Play Music, a new app shows up on your Android Wear device. However, opening it up proves to be a bit of a bummer, as the app tells you it's empty, and that it needs to be loaded from your connected phone first. There's even a convenient button that will take us into the settings in the Play Music app on our phones so we can start loading it up.
This is where hearts start to sink: "Store my downloaded music on Wear for offline playback."
This is the one and only dedicated setting in Play Music for sending music to your Android Wear device. To users who pin a lot of music for offline playback, this setting makes us uneasy. It's not abundantly clear which music will be sent to your watch, and I myself did not crack the code for a while. That said, I think I've got it cracked now. And if I'm as right as I think I am... those of us who pin a lot of music are put in a tough situation.
This is how it's decided: your most recently pinned items will show up on your smartwatch. Unfortunately, this means if there's a particular playlist you want on your wrist and you frequently pin music, you're going to have to un-pin and re-pin that music in order to keep it in the unseen list for syncing to your Wear device. I'm currently doing this in order to get the 2GB playlist you see off the watch and free it up for more (better) playlists.
I'm hoping this gets fixed soon. I really, really do. But until then, let's work with what we've got. Once you have your pinned list prioritized, click 'Download to Android Wear' and let's get into the long, battery-intensive process of syncing.
I've said before that those who pin a lot of music are worst off while selecting music, and we're also in for pain while syncing. Syncing has never been an especially fast process for Play Music, and pinning via Bluetooth to your Wear device is certainly not going to be any quicker. Word of advice, keep the phone and watch on their chargers as much as possible — but this is going to be a day-long process for most of you the first time through. This is going to eat your batteries alive, and I wish there was a pause button for this like there is for syncing to the device. Maybe with the Job Scheduler in Lollipop...
Once you finally get things synced, however long that may take, the Wear app, like most Wear apps, is simple to navigate. You swipe up and down between playlists. Swipe left once, you can quickly start playing the playlist on shuffle. Swipe left again and you'll get the track listing, which you can scroll through to start at a specific track.
So, we select the song we want, but we can't play without a speaker, since the current array of Android Wear offerings lack them. Play Music knows when a Bluetooth headset isn't connected, and it will prompt you to go to settings and connect some headphones before you jam out. Pairing on Android Wear works much as it does on your phone, however connecting to devices is somewhat spotty. I had no problem with my Kinivo Bluetooth headphones, however it would not connect to the head unit in my car, and several other writers here at Android Central have been unable to get anything to connect properly to their smartwatches.
Once you find the song you want, playback controls will be familiar; they look exactly like the controls when you're controls playback on the phone. The default card serves as a play/pause toggle, and swiping left brings you four controls: next/previous track and volume up/down. Swipe left again and you're greeted with a "more music" link, which will send you back to the main Play Music wear app.
The only difference I've detected so far is that when you change the volume on Wear, a line of a graph representing volume appears to show you what level it's at. Thankfully, the 'listening at high volumes back my detrimental to your hearing' warning you get every time you reboot your phone and try to crank up the volume is absent here.
Playback has been virtually seamless, with no hiccups in the Bluetooth. It responds to the media controls on my Bluetooth headphones flawlessly. It's better than my current 2013 Moto X at the moment, honestly. If I had more room and more battery, I'd stream from my wrist all day.
That said, playing music off your wrist is a battery suck. You are most definitely not going to be using it to listen all day, in fact if you're listening for more than two hours you'll likely need a recharge before dinner time. Thankfully, you can still listen while it's in the dock, but since it shifts over to the charging desk-clock mode, you'll be unable to control the music without either removing it temporarily from the dock or using the controls on your trusty bluetooth headphones.
Play Music is a nice addition to Android Wear, albeit one in its infancy and with some glaring flaws. The rest of Android Wear has improved swiftly since its launch this summer, and I'm hopeful this too will be expanded and fixed in short order. And in the meanwhile, I can live with the classic rock and Disney Parks music on my wrist.
Ara Wagoner was a staff writer at Android Central. She themes phones and pokes YouTube Music with a stick. When she's not writing about cases, Chromebooks, or customization, she's wandering around Walt Disney World. If you see her without headphones, RUN. You can follow her on Twitter at @arawagco.
Despite the limitations you mentioned, this still should be excellent for listening while at the gym, as long as you don't spend more than 2-3 hours at the gym!

not at my gym, where they play some loud music which doesn't let me hear my own Bluetooth headset =(

So close to pulling the trigger on a 360. Can anybody comment on screen durability? Posted via the Android Central App

I'm always hitting mine against things by accident and my screen still has no scratches or scuffs Posted via the Android Central App

dropped mine accidently, perfectly fine.

Scraped mine against a worn wood desk the first week I had it, at the worst possible angle, right into the glass' edge chamfer... Actually scraped a bit of paint off the old cheap desk but the watch didn't seem any worse for wear after I wiped it. I'm sure it's possible to scratch it tho, like anything.

It's Gorilla glass.
In the jungle of today, between you and the watch... the watch will destroy you.
Bring a banana.

I want to call trough my Watch, not play music, please Moto 360 (2015) and Google :) Posted via the Android Central App

U can call from the watch... It has the voice command to call but u still have to pick the phone up to talk Posted via the Android Central App

Why would you want to do that? Think about if it's actually going to be useful. It definitely wouldn't be for me.

I actually placed several calls through the watch by "Ok google, call mom" or something similar. This routes through my phone which is paired to the cars bluetooth. Bam, both hands were on the wheel.

+1... i've done the same... its awesome Posted via the Android Central App

You can do that now. I do it all the time. I make the call thru the watch and it's routed to my Moto Hint. Whenever I don't have my BT headset it'll route to my phone. Posted via the Android Central App

I don't hate your prof pic

I would find it more useful to control the music playing on/from the phone. Posted via the Android Central App

U can Posted via the Android Central App

Not if you are trying to run or workout and don't want the phone in your pocket or an armband.

You mean like you've been able to do since day one?

I want an Android Wear device with a clip and a headphone jack to listen to while running. Posted via Android Central App on my Droid Maxx

Bluetooth is fine as long as I have the option to connect wired headphones. But the big thing for me is that it clips onto something instead of having a watch form factor. I run with a GPS watch already on my wrist so my music has to come from somewhere else - and carrying my phone isn't a solution I'll settle for. Posted via Android Central App on my Droid Maxx

I haven't tried pairing my bluetooth headphones directly to it, but I don't see why this couldn't be a thing.

https://www.kickstarter.com/projects/hellobragi/the-dash-wireless-smart-...

I think this feature would be pretty sweet if my watch had an SD card slot. Does any of the watches right now have a SD card slot? Posted via Android Central App

No, but most of them have 4gb built in memory.

More like 512MB of memory. But they do typically have 4GB of storage.

I have the LG G Watch R and use the Jaybird Bluebird X Bluetooth headphones. Last weekend I listened to music for 2 hours while doing yard work and my battery only dropped by 13%. I wonder if certain devices or headphones affect battery drain.... I love this feature. Just wish I could choose certain playlists to sync..... Walkamo

You were streaming from your phone. Not from your watch.

And how on earth would you know that?

Great piece Ara. Thank you. Posted via ACA on Nexus 5 / soon to be 6

Hoping Audible or PocketCasts picks up on this.

Seems most useful for workouts (and largely useless outside of that) but, and here's the real clincher, can any of the Wear watches accurately track a run or workout WITHOUT being connected to a phone? Genuine question here, I imagine this is highly app dependant and most of the watches don't have GPS (which isn't strictly necessary), I haven't looked into it myself because I can't imagine working out with the 360 on... I could however see myself buying a cheaper Wear device down the line strictly for workouts, it has to provide some tangible benefit over my Fitbit Zip + Sansa Clip (beyond just being one device instead of two, those two have battery life that spans days/months). BTW Ara, are you actually working out with the 360 on a leather band? If I did that it would end up all kinds of gross within a couple days... Shoot it might end up like that within a couple months anyway.

The Sony Smartwatch 3 comes with GPS and the upcoming Wear update should allow any app to make use of it.

It already works. MyTracks works today and Runkeeper's Wear GPS support is currently in beta. Posted via Android Central App

I noticed that in the picture too. First thing I did when I got my watch was swap on a metal band. $20 from amazon.

What's the purpose of this really? Pair the Bluetooth headphones to your phone. Use the watch to control the music. Why do I need the watch to store the music?

For the times you don't want to carry your phone. (Which for you and me is never)

I hear you. I'm never without my phone but I can respect that some people do leave their phone.

Running. Posted via Android Central App

Download to Android Wear option is missing after googl play music update

Nice review. Battery life could be an issue. How long were you able to playback while on one charge?

Why can't I sync my own music that I got from iTunes or Xbox music or any other service other than Google play music ? It's not even available where I live Posted via the Android Central App

You can upload any of that DRM-free music that you own (well, up to 20,000 tracks) to Google Play Music and you're all set. Otherwise, convince Apple and Microsoft to make Android apps and give them Wear integration

I get the use case for working out when you might be running or in a gym without your phone but why would you want to use it this way all day? If you are pairing via bluetooth why not use your phone? More storage, bigger battery, same controls on your watch, and so on.

My shuffle button doesn't work. It just keeps playing the same track I selected over and over. The skip forward or back doesn't work either, it just keeps playing the same track over and over. I have the latest firmware on my phone and watch and I have a bunch of music downloaded to it. Am I the only one having this problem?

You should do a similar article on what Navigation using Google Maps / Google Now is or SHOULD BE!!!
It was ok before the last update, now nothing on 360... everything is only visible on the phone except for a "at glace" of the map.
I wish Android Wear had something similar to NAV ME on Pebble which work perfectly with large arrows for GPS directions.

Excellent write up. Wonderfully vivid shots. GoogIe Wear/Goggle Android has a long way to go to let the user rather than the software take control.

Purchased the Sony Smartwatch 3 today and am very disappointed that Play Music does not seem to be available paired with the Samsung Galaxy S5. I don't have the same option within Play Music to push downloaded music to my watch. Running without a phone was my goal.

Agreed. Any options for this as of yet??

I have this option on my Note 3 running Lollipop. Like you, I bought the Sony specifically for running (with music) without a phone.

This just doesn't soy right with the use case in my opinion. I have both my watch and my headphones synced to my phone which just acts as a server for notifications, music, internet access, etc. If I'm doing something where I don't want my phone that can sit somewhere else (in the cup holder of the running machine, in a backpack, etc). I just don't really see a situation where I couldn't have my phone within 30 feet and desperately want to listen to music.

I tried playing music from my LG G Watch (has even larger battery than Moto 360), and it eats up about 15% battery per 30 minutes. That translates to 3 hours and you are looking at a dead battery. Normally my watch lasts 1.5 days (36 hours). It has the latest Lollipop update on it. I think the watch is not really meant to be used this way, at least not yet.

Was really disappointed with this interface -- I really expected I could select pinned music and send it to my watch. So I unpinned all my music, created a playlist for running and pinned it all. Finally got the playlist on my phone, but it certainly took a while. I got the Sony SW3 with standalone GPS. Unlike most wear users, I will never use my watch with my phone. The purpose was to take Google Music (music I don't own, but subscribe to at $10/month) on a run without having to carry my phone. Came with 5.0.2, but 5.1 should be rolling out soon. I'm hopeful for an improvement in this interface.
Android Central Newsletter
Get the best of Android Central in in your inbox, every day!
Thank you for signing up to Android Central. You will receive a verification email shortly.
There was a problem. Please refresh the page and try again.