Google Play Music on Android Wear: How to use it and what it still needs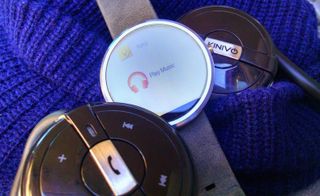 There's room to improve with Play Music on Wear, but at least it's finally here
One of the primary reasons for me to get a smartwatch was for music. Not to listen from it, per se, but to control music from it. Being able to leave the phone inside while I walk my laps is still a somewhat tantalizing idea, and sometimes necessary, as workout clothes (or any other kind of clothes for that matter) for ladies like me often don't have the luxury of sizable pockets. So, with the recent updates to Play Music and Android Wear bringing this welcome change, let's see about getting these jams from our phones to our wrists — and why it doesn't work as well as we would've hoped.
When you update Play Music, a new app shows up on your Android Wear device. However, opening it up proves to be a bit of a bummer, as the app tells you it's empty, and that it needs to be loaded from your connected phone first. There's even a convenient button that will take us into the settings in the Play Music app on our phones so we can start loading it up.
This is where hearts start to sink: "Store my downloaded music on Wear for offline playback."
This is the one and only dedicated setting in Play Music for sending music to your Android Wear device. To users who pin a lot of music for offline playback, this setting makes us uneasy. It's not abundantly clear which music will be sent to your watch, and I myself did not crack the code for a while. That said, I think I've got it cracked now. And if I'm as right as I think I am... those of us who pin a lot of music are put in a tough situation.
This is how it's decided: your most recently pinned items will show up on your smartwatch. Unfortunately, this means if there's a particular playlist you want on your wrist and you frequently pin music, you're going to have to un-pin and re-pin that music in order to keep it in the unseen list for syncing to your Wear device. I'm currently doing this in order to get the 2GB playlist you see off the watch and free it up for more (better) playlists.
I'm hoping this gets fixed soon. I really, really do. But until then, let's work with what we've got. Once you have your pinned list prioritized, click 'Download to Android Wear' and let's get into the long, battery-intensive process of syncing.
I've said before that those who pin a lot of music are worst off while selecting music, and we're also in for pain while syncing. Syncing has never been an especially fast process for Play Music, and pinning via Bluetooth to your Wear device is certainly not going to be any quicker. Word of advice, keep the phone and watch on their chargers as much as possible — but this is going to be a day-long process for most of you the first time through. This is going to eat your batteries alive, and I wish there was a pause button for this like there is for syncing to the device. Maybe with the Job Scheduler in Lollipop...
Once you finally get things synced, however long that may take, the Wear app, like most Wear apps, is simple to navigate. You swipe up and down between playlists. Swipe left once, you can quickly start playing the playlist on shuffle. Swipe left again and you'll get the track listing, which you can scroll through to start at a specific track.
So, we select the song we want, but we can't play without a speaker, since the current array of Android Wear offerings lack them. Play Music knows when a Bluetooth headset isn't connected, and it will prompt you to go to settings and connect some headphones before you jam out. Pairing on Android Wear works much as it does on your phone, however connecting to devices is somewhat spotty. I had no problem with my Kinivo Bluetooth headphones, however it would not connect to the head unit in my car, and several other writers here at Android Central have been unable to get anything to connect properly to their smartwatches.
Once you find the song you want, playback controls will be familiar; they look exactly like the controls when you're controls playback on the phone. The default card serves as a play/pause toggle, and swiping left brings you four controls: next/previous track and volume up/down. Swipe left again and you're greeted with a "more music" link, which will send you back to the main Play Music wear app.
The only difference I've detected so far is that when you change the volume on Wear, a line of a graph representing volume appears to show you what level it's at. Thankfully, the 'listening at high volumes back my detrimental to your hearing' warning you get every time you reboot your phone and try to crank up the volume is absent here.
Playback has been virtually seamless, with no hiccups in the Bluetooth. It responds to the media controls on my Bluetooth headphones flawlessly. It's better than my current 2013 Moto X at the moment, honestly. If I had more room and more battery, I'd stream from my wrist all day.
That said, playing music off your wrist is a battery suck. You are most definitely not going to be using it to listen all day, in fact if you're listening for more than two hours you'll likely need a recharge before dinner time. Thankfully, you can still listen while it's in the dock, but since it shifts over to the charging desk-clock mode, you'll be unable to control the music without either removing it temporarily from the dock or using the controls on your trusty bluetooth headphones.
Play Music is a nice addition to Android Wear, albeit one in its infancy and with some glaring flaws. The rest of Android Wear has improved swiftly since its launch this summer, and I'm hopeful this too will be expanded and fixed in short order. And in the meanwhile, I can live with the classic rock and Disney Parks music on my wrist.
Get the Android Central Newsletter
Instant access to breaking news, the hottest reviews, great deals and helpful tips.
Ara Wagoner was a staff writer at Android Central. She themes phones and pokes YouTube Music with a stick. When she's not writing about cases, Chromebooks, or customization, she's wandering around Walt Disney World. If you see her without headphones, RUN. You can follow her on Twitter at @arawagco.