Pixel 6 launch confirms Google doesn't care about most global markets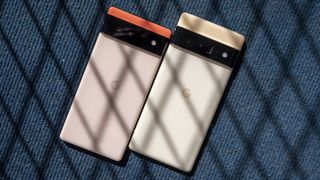 (Image credit: Nick Sutrich / Android Central)
When Google said it was getting serious about its hardware ambitions with the Pixel 6 series, I was excited. Google has been very conservative when it comes to the global availability of its devices, and I was looking forward to that changing with the Pixel 6. However, that isn't the case; the Pixel 6 and Pixel 6 Pro are limited to a dozen countries around the world, meaning a majority of customers looking to get their hands on Google's hardware are left out.
That's a real letdown, because from a hardware point of view, the Pixel 6 and 6 Pro are among the best devices that Google has introduced to date. They feature gorgeous designs, custom silicon made in collaboration with Samsung, and cameras that can take on the best Android phones. Best of all, the Pixel 6 at $599 and Pixel 6 Pro at $899 significantly undercut their immediate rivals. If Google were really serious about hardware, this would have been the ideal time to make a global push and launch the Pixel 6 series in most international markets.
Of course, this isn't new. I wrote a similar post last year when Google shared details on Pixel 5 availability, with that phone sold in just nine countries. The Pixel 6 series is also debuting in the same nine markets: U.S., UK, Canada, Japan, Australia, Taiwan, Germany, France, and Ireland. It will make its way to Spain, Italy, and Singapore in early 2022.
The Pixel 2 series was also limited globally, launching in just nine countries. The Pixel 3 fared slightly better by debuting in 13 countries, but the Pixel 4 was also limited to nine markets. The Pixel 4a launched in 13 countries, and the Pixel 5 was sold in nine markets. By contrast, Samsung sells its phones in 130 countries around the world.
While Google has been making phones for five years now, it just doesn't have the scale to go up against the likes of Samsung, notes Navkendar Singh, Research Director at IDC India. "Google is yet to reach the scale (production/volumes, reach and marketing) of its competition, namely Apple and Samsung in the smartphone hardware space. So, while the other two are able to generate massive volumes with every new launch in dozens of markets simultaneously, Google finds it tough to manage supplies (more so now) and generate volumes while competing with such strong incumbents."
Singh said that Google limits its devices to select markets because it has figured out what countries work best when it comes to driving initial momentum. "With the Pixel 4 and 5 launches, Google has figured out which markets are working well for its Pixel lineup and generate acceptability in those markets, e.g., Japan, UK, Germany, France in addition to the regular U.S. and Canada. This helps in generating an initial wave of interest from these markets."
Even after launching devices in small waves in the past, Google hasn't managed to see any real uptick for its flagship Pixel series. Singh says that there's a real possibility of that changing with the Pixel 6 series — provided Google can sort out carrier availability and marketing. "Considering the strengths of Apple and Samsung it will be challenging to find shelf space and consumer mindshare, but with Pixel 6 lineup it is possible to generate volumes this time around, more than any time in the past for Google."
On a personal level, I'm annoyed that Google doesn't launch its flagship phones in India. It did so until the Pixel 3 series, but with 90% of sales in India focused on the sub-$300 category, it is clear that Google doesn't plan to bring its best devices to the country. "Google has always found it difficult to find reasonable volumes to justify the presence in this intensely competitive market where China based vendors are so aggressive with high decibel marketing and depth / width of distribution," notes Singh.
Furthermore, the fact that India doesn't have a carrier-based sales ecosystem is a factor in Google's decision to not launch the Pixel 6 series in the country, says Singh. All of the countries where Google is selling its latest phones are reliant on carrier subsidies.
Based on that reasoning, it makes sense for Google to limit its devices to a few markets until it builds the scale to target a global launch. I figured that would be the case this year with the Pixel 6 and 6 Pro, but that isn't to be; we'll just have to wait a while longer. If you're not in one of the nine countries where the phones are going on sale, you'll have to look elsewhere. Thankfully, there's no dearth of choice in the flagship category.
Ultimately, Google is positioning its latest phones as viable alternatives to the Galaxy S21 series, and while this is the search giant's best shot at making inroads into Samsung's market share, it remains to be seen whether it can actually manage to do so.
Android Central Newsletter
Get instant access to breaking news, the hottest reviews, great deals and helpful tips
Harish Jonnalagadda is a Senior Editor overseeing Asia at Android Central. He leads the site's coverage of Chinese phone brands, contributing to reviews, features, and buying guides. He also writes about storage servers, audio products, and the semiconductor industry. Contact him on Twitter at @chunkynerd.
At this stage, it seems that everyone should just presume Google's market share in the smart phone market will be nothing more than a rounding error in perpetuity. No amount of flash and sizzle can change the underlying foundation: Google is an ad company. It is not Apple nor Samsung. It is not interested in competing against either of those two, head-to-head. (MHO)

You have to learn to walk before you can run. The pixel 6 *might* see Google standing up for the first time.

I don't think they're interested in banging heads against Apple and Samsung. If they, little by little, position their units in people's hands, a bit more each year, they will eat a bit of market share each time. Perfection and maturity take time.

I wish they were sold directly in my country (Netherlands). Some webshops sell them through grey imports, but that will add an extra 200 to 300 bucks to the phone.

For that premium you're probably better taking a nice trip to France or Germany and buying one in a shop.

Stop giving this company a pass. They've been doing hardware now for almost 10 years there's really no excuse that they can't reach more countries by now. It's actually freaking sad.

Yeah, all the hype in the world can't wash away the fact it's a full Google device with all the bads the product (consumer) gives up to the real clients. We use Google because we have to, not because we want to.

Very well written Harish!! Portrays my pain very well 😭😭😭. What I would give to buy a Pro in India

Don't be upset pixel is not king the real king is yet to come there Sony's next flagship and samsung,s iconic note series and also vivo's is there best photography smartphone.
It's a big loss for them to not release in India.

This article makes a lot of presumptions about Google's intent & plans. I mean how dare they not ramp up to try and sell on a global scale! /sarcasm Google has a long history of experimentation with different products and markets. While I don't claim to know Google's focus, it's clear they aren't trying to be Apple or Samsung. They aren't trying to maximize profits thru hardware. We learned just this week Stadia is shifting to become more of a streaming infrastructure for others vs direct competition with Sony, MS, or Nintendo. (Think about what that means for analytics.) Projecting a lack of focus on our wishlist as "failures" just seems like an exercise in futility IMO.

Low production volumes in only the wealthiest nations that truly drive added value like app buying, ad's, and mobile subscriptions. It doesn't make sense selling a relatively expensive mobile phones in Nations where so few can afford them.... Don't kid yourself, neither Samsung nor Apple sell their most premium phones well in poorer countries. If Google had a much lower entry level phone around $120,then rolling out an entire lineup most everywhere might make sense. Google is happy selling what they have produced at a higher average price in the G7 & friends. $899 USD phones in India..? Don't be rediculous. Even the $1179 asking price for the 6pro,+ taxes is a bit rich in Canada.

Lol. You make a lot of assumptions. Spoken like one who truly has no clue what buying patterns are in other countries. Go ask Samsung and Apple about their sales in these countries.

You could say the same with the iPhone and the top end Samsungs but they sell them so why not Google.

Perhaps the India pixel sales team was dropped after the p4 soli radar ban. USA misses out on a lot of phones so empathy if that helps.

They are trying to build market share here first and expand. I think they see this as a reboot.

They've been rebooting for 10 years now. Tried with Nexus and then with Pixel. Tried middle range and also flagship. Really sounds like the strategy is throwing spaghetti on a wall and see if it sticks... And so far, plenty of the spaghettis are on the floor.

That cracked me up so much 🤣🤣🤣

They're putting the phone in markets where they think they can make an impact. I'm sure they've done research on it.

It's almost that they don't want to sell any phones then a lot of markets here in Europe don't get pixel phones.

There's a lot of peed of people here in New Zealand because Google is quite happy to take our money in advertising, cloud services and movie rentals but not hardware like the Pixel. Heard a story yesterday of a person here who ordered one from Google US and used a reshipper address which Google canceled the order 5 minutes later because of the address. Seems like they just don't want to make money by selling things to us. I guess Samsung and Apple rulze here.

Same happened to me.. it's ridicoulous. But i understand, they are an ad company . And im from south america . Ad revenue is much stronger on us,Canada,japan etc. Than in latin america. However new zealand is a first world country,they should accept purcharases from there… but i think they are selling phones with loses, so it's logic to aim only for top market, but it's a shame.

In a time where silicon is scarce. I don't think Google can push the numbers even if they wanted to, at least not at that price point.
That chip is made by Samsung. And Samsung is gonna allocate wafers to themselves first and foremost and higher paying regular customers like Nvidia have their allocation booked way in advance. In the end there are probably many reasons why Google decided to do what they did. Many of which we probably have no idea about.
Android Central Newsletter
Get instant access to breaking news, the hottest reviews, great deals and helpful tips
Thank you for signing up to Android Central. You will receive a verification email shortly.
There was a problem. Please refresh the page and try again.