Pixel 2 At a Glance widget now available with Action Launcher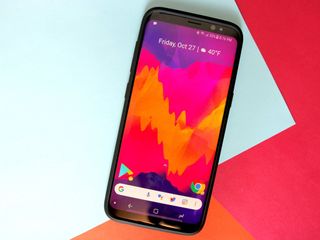 Chris Lacy's Action Launcher is one of the most popular launchers on the Google Play Store, and with the app's latest v30 update, it's gaining even more Pixel 2-esque features to help make your home screen look as great as possible.
As you can tell by the title, the biggest addition here is the new At a Glance widget that Google introduced with the Pixel 2. The At a Glance widget shows the current date, weather conditions, and any upcoming calendar appointments in a sleek and attractive package. It looks exactly how it does on the Pixel 2, and it's a great way to quickly make your phone look a lot like Google's latest.
However, the At a Glance widget isn't the only goodie included with this latest update. The last v29 update gave users the ability to move Action Launcher's Quickbar below the dock, and v30 introduces some wild customization controls for it. There's a new icon editor that allows you to change the appearance of individual icons on the Quickbar, and the number of options present here is insane.
The dock search bar has also been tweaked to more accurately match its size on the Pixel Launcher, Action Launcher's compatibility with the Galaxy S8, S8+, and Note 8 has been "improved markedly", and there are also 250 new icons for Chris Lacy's AdaptivePack icon pack.
Action Launcher's v30 update is available in the Google Play store now, and you can download it here (opens in new tab).
Action Launcher gains Pixel 2-style search bar with latest update
Joe Maring was a Senior Editor for Android Central between 2017 and 2021. You can reach him on Twitter at @JoeMaring1.
Action is always so fast with adding stuff!

As a years long Nova user I tried action launcher recently and didn't like it. Seemed to drain my battery on my S8 also. Anyhow, I've got this widget through "another widget" anyway

I'd just like to say I love Action Launcher. It's so smooth and customizable yet not cluttered feeling. That said if you use the Google News feed plugin it will get glitchy, the plugin is a hacky work around. Google intended the swipe to news feed option only to be available to OEMs. If you can install Action Launcher as a system app (which not everyone can) you get the Google feed integration except buttery smooth with no lag

another widget wouldnt update the weather for me so i stopped using it. glad its built into action launcher. nova isnt bad, used to be my main but now with the widget shutters and stuff on action its just so much nicer.

I agree. While action launcher is pretty nice, it makes my s8 run choppy compared to Nova. Nova continues to be the top for me. They're not as quick to add features that action gets first, but it runs way more smoothly in my opinion

I am at a loss to understand why anyone would want to Google bar. OK option if it was optional on the Pixel - to me it looks awful.

Choice is always good to have imo.

Why it's such a big deal about moving the Google bar to the bottom? And At A Glance widget, there're zillion widgets doing the same for hundred years. This slavish fascination with Google Experience usually comes from people who call "shiple" anyone with something Apple. Wasn't whole Android's raison d'etre all about easy customization?

The Google bar at the bottom is just easier to grab one handed if you're in a situation where you can't talk to your phone, it's also nice and clean looking when you drag up for the app drawer as it maintains the search and pulls it to the top of the drawer. As for the widget, I don't use it. But why do you care how people want their phone to look and operate? Of course the big deal with Android is customization... Which is why we're having this diccuson in the first place.

Srsly what's so great about Google widget or Google search bar??
Why r ppl suddenly crazy about skins? Some time ago vanilla experience was everything for ppl!!

Action Launcher works great. Never had any problems. I am part of the beta and haven't had to many glitches. They do great work. Nova is ok .
Android Central Newsletter
Thank you for signing up to Android Central. You will receive a verification email shortly.
There was a problem. Please refresh the page and try again.