Peel for the Pixel 2 is a case for people who hate cases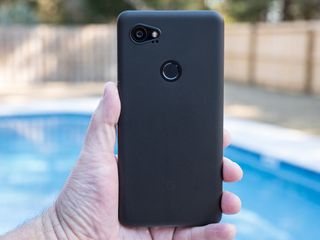 Admission: I'm not a case guy. That partially comes with having used too many phones over the years. But it also has to do with the fact that phones are so damn big these days, and most cases just make them bigger.
Most cases. That's not Peel, though.
No. This is the sort of case you put on a phone if you want to protect the finish but not worry so much about breakage. It's a plastic case, just 0.35mm thick. While it'll vary a little by phone (they have cases for the Galaxy S7 and Galaxy S8, along with the Pixel 2 and original Pixel line), I've found that extra little bit of thickness actually can make the phone feel a little bit better in the hand. Sort of like how some phones feel too thin naked by fit just right with clothes. (Stick with me here.) That was true of my original Pixel, and it's true of my Pixel 2 XL.
The matte finish also means things aren't quite as slippery as they might otherwise be. And the case is semi-transparent, so you can still see the G of the Google Logo poking through. (Pro tip: Don't bother trying to go all "panda" here. It just doesn't work. If you've got a black Pixel, get a black case. White on white.)
The cutouts are all in the right places, of course. And even just this little bit of extra thickness means the phone doesn't rock anymore (the Pixel 2 XL doesn't do this nearly as bad as, say, the iPhone X, but it's still a thing) when it's laying flat on a table.
And it doesn't really change the overall look and feel of the phone. The Pixel 2 XL is still the Pixel 2 XL, just as the designers intended. It doesn't take away from what few curves this phone has.
Image 1 of 4
That's the good stuff. The bad? You're definitely going to get dust and crumbs and stuff up under the edges. While the case isn't going anywhere, it's also not exactly hermetically sealed. You'll want to remove the phone every now and then and hose things off.
That's a small price to pay, though. Really, it's just simple. Simple design, simple protection.
Get the Android Central Newsletter
Instant access to breaking news, the hottest reviews, great deals and helpful tips.