Peel for the Pixel 2 is a case for people who hate cases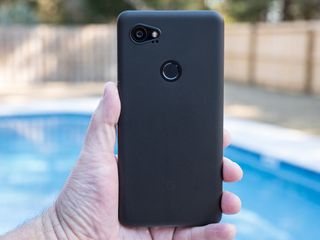 Admission: I'm not a case guy. That partially comes with having used too many phones over the years. But it also has to do with the fact that phones are so damn big these days, and most cases just make them bigger.
Most cases. That's not Peel, though.
No. This is the sort of case you put on a phone if you want to protect the finish but not worry so much about breakage. It's a plastic case, just 0.35mm thick. While it'll vary a little by phone (they have cases for the Galaxy S7 and Galaxy S8, along with the Pixel 2 and original Pixel line), I've found that extra little bit of thickness actually can make the phone feel a little bit better in the hand. Sort of like how some phones feel too thin naked by fit just right with clothes. (Stick with me here.) That was true of my original Pixel, and it's true of my Pixel 2 XL.
The matte finish also means things aren't quite as slippery as they might otherwise be. And the case is semi-transparent, so you can still see the G of the Google Logo poking through. (Pro tip: Don't bother trying to go all "panda" here. It just doesn't work. If you've got a black Pixel, get a black case. White on white.)
The cutouts are all in the right places, of course. And even just this little bit of extra thickness means the phone doesn't rock anymore (the Pixel 2 XL doesn't do this nearly as bad as, say, the iPhone X, but it's still a thing) when it's laying flat on a table.
And it doesn't really change the overall look and feel of the phone. The Pixel 2 XL is still the Pixel 2 XL, just as the designers intended. It doesn't take away from what few curves this phone has.
Image 1 of 4
That's the good stuff. The bad? You're definitely going to get dust and crumbs and stuff up under the edges. While the case isn't going anywhere, it's also not exactly hermetically sealed. You'll want to remove the phone every now and then and hose things off.
That's a small price to pay, though. Really, it's just simple. Simple design, simple protection.
See at Peel (opens in new tab)
Android Central Newsletter
Get instant access to breaking news, the hottest reviews, great deals and helpful tips
Calling this a case of disingenuous. It's a skin, no more, no less.

Yeah, except it goes on and off like a case. ... Agree that it's a close distinction though.

Have you tried / seen the original Google fabric cases? They look very distinctive, at least.

I couldn't agree more. I ordered one waited a month to get it had it out of the box and write back in in less than 5 minutes. Offered no texture for grip and no protection if dropped. It is absolutely absurd that they charge $25 for this thing plus shipping.

Talking about being non slippery, matte finish doesn't even come close. If you are looking for a non grippy case with a minimal profile then sandstone finish it is. BearMotion makes some great cases, so does IMAK. Slim Case for Google Pixel 2 Case - Bear Motion Premium Back Cover for Google Pixel 2 - (Black) https://www.amazon.com/dp/B076NNQ5S5/ref=cm_sw_r_cp_apa_xekDAb0WER6X0?ta...

Nice try, Bear Motion executive.

There are various reason why I do like cases. This case takes care of some of the issues, but not all of them. So I'll pass. Basically, I don't like the bulk of cases. This case gives some, but not a lot, which is pretty good, but I might still get annoyed by this. When doing things like swiping from the left of the screen a case always gets in the way. I understand it's for protection when the phone is dropped and it hits the front glass, however this case doesn't seem to have much protection there, so why do I want a case like that? Lastly, cases get dirty and sometimes scratch the heck out of phones. No thank you.

Although available in the UK, they are shipped from the US at an extra $8.99. Shame. Was just looking at a new case.

I feel I should mention that I had problems with autofocus while using this case on my XL. Peel was nice enough to send me a replacement and when that also had issues they gave me a full refund.

I had this case for my Pixel 1 XL, and the matte finish was ANYTHING but slippery. Adding matte finish doesn't make a surface less slippery (compare to non-matte TPU cases), and certainly doesn't in this case. I went back to my TPU case since I'm less likely to actually drop the phone (and have to need the case)

The matte finish was ANYTHING but slippery...meaning it's really "grippy". But then you go on to say how it's not grippy and you went back to the TPU case...?

This case is as slippery as the phone itself. Waste of $25. Which is what you should have titled this review.

I have one on my white Pixel 2 XL, and I love it! Before that, I was rocking the Moment case for the 2 XL, and while there is a reason why it is so bulky, I didn't mind switching to the Peel case! Don't get me wrong, the Moment case is awesome, but makes the phone look and feel much heavier.

Managed to get one of these during the holidays BOGO from a past recommendation of yours. This plus the skin I have on it turns it to the panda 2xl I wanted but couldn't wait any longer

Check out the MNML case. Same basic case but less expensive. They generally have coupon codes to take a little more off the top as well.

I have six cases but haven't switched since getting a Pitaka two months ago. https://www.ipitaka.com/collections/magcase-for-pixel-2 . Super slim case but very solid and love the built in magnet with their $10 car mount. Expensive but I really like it.

Android Pay work with that magnet in there?

If you want minimal that does not take away the design of the phone I went with this on eBay. Cheap and fits great! Been my daily driver for my 2XL. http://www.androidcentral.com/e?link=http2F2Frover...

Try searching for MOFI on aliexpress and ebay. I love my MOFI case.

I respect the author of this article. And I love Android Central. However, a few things I didn't see mentioned(unless I missed it, if so I apologize: 1. The case by a company MNML is the same exact case. Identical. I believe they are even produced in the same factory. Just a different box it comes in. MNML case is cheaper and offers more color options.
2. These cases (Peel or MNML) offer scratch protection NOT drop protection. Fair warning.
3. I have a Just Black Pixel 2. I use a red MNML case as well as a black MNML case. The Google "G" logo on the Pixel does show through a little bit, if you're looking for it. I ordered a colored logo "G" from Dbrand to stick on the back of the cases. It looks really nice.

I got one for my Pixel 2XL and one for my Note 8, absolutely love them both. I'm not a phone dropper so I'm not worried about drops but scratch protection and retaining ergonomics is big for me.

I bought this case for my pixel 2 XL because I really do like the idea of a very thin case. It looks and feels great, just as advertised. However, a very strange thing happened when I started to use it. It somehow increased the sensitivity of the touch screen so that it became largely unusable. I don't entirely understand how this could happen, when I switch back to another case that was thicker it stopped happening.
Android Central Newsletter
Get instant access to breaking news, the hottest reviews, great deals and helpful tips
Thank you for signing up to Android Central. You will receive a verification email shortly.
There was a problem. Please refresh the page and try again.