Pebble's Android beta app brings the future to you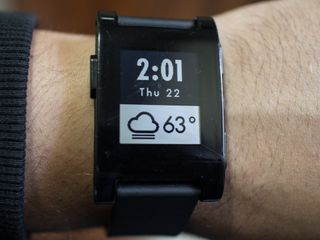 Pebble is now creating a beta app and community for its smartwatch so you can test drive the latest from its labs. Rather than wait for features to be available in an official release, beta customers who can put up with some glitches will get to experience what Pebble is working on right away.
To partake in the beta experience, you'll have to join Pebble's Google+ group, opt in to receive the beta version of the app on the Google Play store, and then download the beta version.
The latest beta today is version 2.0.16-RC3, which brings these features:
Adds a new user interface for managing the connection to your Pebble
Adds support for automatically changing the color of the Pebble graphics based on the color of the connected
The user interface for side-loading Pebble apps is now consistent with the Pebble apps installed from the App Store
Fixes a bug where the time on Pebble would not update when the phone's time zone changed
Fixes several issues encountered by some users when pairing or connecting a Pebble
Many other bug fixes
Be sure to bit up the source link below if you're interested in becoming a beta app tester for Pebble.
Source: Pebble
Get the Android Central Newsletter
Instant access to breaking news, the hottest reviews, great deals and helpful tips.
Do you guys think Pebble is still worth investing in? Or with all the new technology coming, is it nearing the end of its life? Posted via Android Central App

I think it's still worth investing in, but I also think you may as well wait a bit. There will probably be a pretty decent price drop in at least the plastic model soon, given the number of big player models being released soon. Posted via Android Central App

I think Pebble still has plenty of life in their product. In fact it wouldnt surprise me if they introduced a new model this year.
Two things that Pebble do better than anyone else so far:
1. Battery Life
2. Durability.
As for functionality - other than looking pretty - Google Wear does not appear at this stage to offer anything more than what Pebble provides right now.

I don't think we can talk to our pebble...

Absolutely! I love my Pebble. If it were to crap out on me today, I would absolutely run out and buy a new one right away. Posted via Android Central App

i think the smart thing to do is wait until after Google I/O and/or July 1 and see what Android Wear and partners bring to the table in full detail.

With this logic, you'll never buy anything, you get into the wait to see what's coming, then you wait for what is coming, and then when it's about to drop you might wait for another moment to see if you want before buying, then wait for it to come out... In the end, if you are in the market for something, buy what is already out, or only wait a week at most for something to be releases that you know is coming out in that week, other wise, don't get into that holding pattern.

false. apples and oranges. it's only 2 weeks from now. 2 weeks! it's IDIOTIC not to wait and see what's coming in full detail so soon around the corner before you make a buying decision.

You're not investing in Pebble. You're talking about buying one. If you truly mean buying stock and stuff like that, then you're on your own. But, if you mean buying one? I think yes, it is. I wear my pebble every day, I have 2. With all the smart watches doing all the smart things, some of them just are too "smart" for their own good. Pebble, can be programmed to do whatever you want it to do, but you have to pick. The watch is a watch, and a receiver of alerts. You don't really need much more than that, but if you want it, you may have it. The Battery life and the always on screen are my two favorite parts of my pebble. Doing too much may mean if I forget a charger I am out a watch for a couple days if I'm gone for like 6 days. If I forget my watch charger, I might be out my watch for the last day or last few hours at the worst. In short, yes, buy it if you like the look, you'll enjoy it and get a lot of use out of it. The company still has yet to unleash all of its power.

I picked one up the other day on sale for 119. It is very useful in my opinion. I'm interested in the Motorola 360, but with no concrete release date why not try the Pebble. Also, even when the 360 releases, they will likely have to work out some bugs. Posted via Android Central App

That and it's rumored to be rather expensive compared to the Pebble. And I work at best buy so I could get it pretty cheap. Thanks for the advice Posted via Android Central App

Plus, there's no telling what Moto360 will offer in terms of app integration. where Pebble already has Foursquare, Starbucks, Runkeeper, and numerous others all for free, Moto360 looks like just an extension of Google Now with some Notifications added in. Google Wear isn't at all selling me on the platform so far.

They have definitely pushed easy Android Wear integration for developers with existing Android apps.

I love my Pebble. Use it with my BlackBerry devices and my Galaxy tab plus my S4 mini. It's a great tool and my alarm clock because I just don't wake reliably to a standard alarm. I've recommended the Pebble on sale to some people I know that are deaf and the vibrating feature is obviously the best, and really only, way they can use a watch with notifications and alarms. Posted via AC App from my S4 mini WITH an LED CrackLight ;-)

Yes and no. If you're looking to have the "new thing" that attracts attention then maybe not. AndroidWear has and will receive much more media attention; the kind that non-tech people will see and understand while the Pebble perhaps is more or less mainly in the tech circles; in my experience anyway. With that said though I agree with BasPilot a lot - AndroidWear is not out yet; we don't know real life battery expectations and whatnot but with a colour screen and such either it can't have as good battery life as a Monochrome Pebble, or it'll be heavier with a bigger battery. In the end, I like the fact that I can not charge the Pebble for days and use it as a watch when I'm away. On topic: I am SO happy that this software provides a DISCONNECT button. I refused to use my Pebble with the new software for the past 3 months because Pebble decided to get rid of the disconnect button! Force closing the app was a horrible band-aid solution.