Path Talk will call local businesses so you don't have to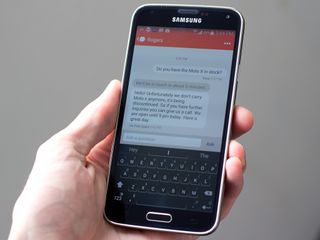 Path Talk has launched a new feature called Places, where you can find a local business within the social networking app, and you can send an instant message to that business. That message actually goes to a Path Agent who will call on your behalf and do stuff like make a reservation, check store hours, or see if they have your size of shirt. Surprisingly enough, this service is offered for free in the U.S. and Canada.
Path Talk is a spin-off instant messaging app from a mobile-first social network with elements of Foursquare and Facebook packaged in a nice, ad-free UI. They sell stickers and offer a premium subscription service, but on the whole the service is really nice, even if it's a bit redundant with the other major networks out there. This new Path Talk feature is a great idea, provided it's reliable. I was able to check stock levels at a Rogers store within five minutes or so. Nobody likes sitting on hold, and having someone else do that for you for free is compelling reason to keep this app installed.
How many of you guys are using Path already? Does Path Talk Places sound good enough to give it a go?
Source: Path
Get the Android Central Newsletter
Instant access to breaking news, the hottest reviews, great deals and helpful tips.
Simon has been covering mobile since before the first iPhone came out. After producing news articles, podcasts, review videos, and everything in between, he's now helping industry partners get the word about their latest products. Get in touch with him at simon@futurenet.com.
Hmm.. I do love not talking to people.

Seems pretty cool. Posted via Nexus 5 using the Android Central App

Another app for lazy assed social misfits

This reminds me of when stores started selling cheese already cut into cubes.
Some people are SO lazy!

Cubed cheese is about more than lazy. Posted via the Android Central App

I heard about a similar app for iPhone on the radio recently... Maybe it was the same one, but somehow the name doesn't ring a bell. But yeah, I see it as useful if I'm super busy to call, but it leads to 'just how lazy have we become??!!' haha.

Just downloaded, I'm gonna give it a shot.

How are the employees paid who actually make the calls, by ad revenue? Posted via Android Central App

Path Talk is collecting information on users such as stores you like to shop at, where you like to eat, and what types of products you are interested in. With GPS data they can even see if you are a local customer or maybe a remote customer shopping online. Depending on how much GPS data they collect, they could potentially guess whether or not you went to the store after to purchase the product. This information is quite valuable for sales and marketing within their company and to be sold to others. Their privacy policy is quite broad and lets them read your text messages, see other information you post, collect location data, etc. They then have permission to use internally or "For any other purpose for which the information was collected." Which basically means, anything they want.

Such a weird concept to me. Outsourcing a phone call to find out if Walmart has ground beef, tire irons, AND Hanes 3-pack t-shirts in stock.

This sounds like a convenient app, but after reading Omgia's comment I'm hesitant about installing it. Posted via AC App on HTC One