PaperBoy: Quick and casual news reading for Android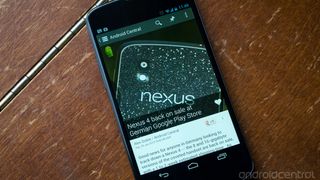 PaperBoy is a quick and easy way to browse through news stories from a useful but concise list of sources. Some of us like to have our Google Reader lists filled with hundreds of RSS feeds at our fingertips, and others (read: most people) just want a casual way to browse through the day's headlines. PaperBoy caters to this market with a simple and smooth UI that presents a curated list of sources and quick snippets of information.
Read along after the break and see what PaperBoy has to offer as a minimalistic news reader.
The UI of PaperBoy is quite basic but has just enough features to not make you feel completely locked down. When you open the app you're prompted to either continue as a guest or log in with your Google account credentials. The sign-in process is simple and in most cases you shouldn't have to enter any additional information. Once sign-in completes you get a tile view of different feeds that are recommended -- Android Central included. The tiles show an unread count for the feed, and pulling the entire page down performs a refresh. The interface is smooth and easy to use, following basic Android design guidelines.
Tapping into a source takes you right into the latest article, which shows the article's image and first paragraph. If you are interested in reading more, tapping anywhere on the post quickly loads a built-in browser with the page. From this point you can push it to your external browser, share the article, or go back to the previous page. You can swipe between articles, viewing just pictures and first paragraphs if you prefer. Swiping in from the left brings up a full list of unread, pinned or all articles available if you don't want to go in chronological order.
Hiding behind a swipe from the left while viewing the main page is an options pane that lets you control the sources available and change your settings. The settings are pretty sparse, including options to load images by default, how to sort articles and options to set up background refreshing of articles. There's really nothing missing here other than some possibilities for UI configurability though.
The list of available sources is grouped into a few different categories - tech, news, entertainment, business, comics, lifestyle auto and sports -- with a pretty diverse set of options in each. These categories definitely aren't filled to the brim with the most obscure feeds, though. You can search for specific feeds but not every site you could think of is included. Normally this would be an issue, but I didn't find any sites that I regularly read missing here. Again going with the casual user mindset, PaperBoy covers most of the major places people go for news. Those who want or need manual control of adding specific RSS feeds are much better served by other apps.
It was hard to find any issues with PaperBoy's UI, usability or content delivery. The app provides a simple way to browse the top headlines from your favorite news sources, and -- probably best of all -- doesn't get caught up trying to offer too much. The app is free in the Play Store, so it's hard not to recommend that you go give it a try.
Get the Android Central Newsletter
Instant access to breaking news, the hottest reviews, great deals and helpful tips.
Andrew was an Executive Editor, U.S. at Android Central between 2012 and 2020.
Looks like a Current's knockoff, lol.

WRONG. Google Current's UI fell in usability recently. It's a good thing that I have this app to fall back on. At least the back button does what I expect it to do!

When I first saw the title I was thinking it was the old game from back in the day on Android. I was starting to get excited.

Same here! I got incredibly excited, only to be let down.

It would be so awesome with tilt controls!

I like it remind me of Newsroom which used to be my favorite app. Paperboy needs way more options but its a good start.

This is Currents slightly modified.

What is different about this then Currents?