Panasonic's insane cameraphone with 1-inch sensor launching in the UK on December 1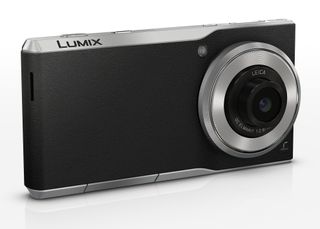 Remember the "connected camera" that Panasonic showed off earlier this year? The vendor is looking to start offering the device in limited quantities in the UK from December 1, with "high demand" quoted as the main reason for bringing the DMC-CM1 to the country following a launch in France and Germany.
The DMC-CM1 features the same 1-inch 20MP imaging sensor that is used in the Lumix DMC-FZ1000 camera, which is seven times larger than what is normally found on smartphones. There's also a f/2.8 Leica DC Elmarit lens that offers the ability to record 4K video, and a dedicated hardware shutter button along with a toggle to switch the device between camera and smartphone modes.
Other specs on the DMC-CM1 include 4.7-inch full-HD display, 2.3 GHz Snapdragon 801 CPU, 2 GB RAM, 16 GB internal memory, microSD slot up to 128 GB, NFC connectivity, Android 4.4 KitKat and a 2,600 mAh battery.
Official pricing wasn't confirmed for the UK yet, but it is estimated to be in the vicinity of the device's €899 ($1,115 / £710) list price in France and Germany.
Press Release:
Limited Number of Panasonic's DMC-CM1 to Make a Welcome Arrival to the UK
24th November 2014 - Due to high demand, Panasonic is pleased to announce that it will be launching a limited number of the much anticipated DMC-CM1, premium compact camera with smartphone technology, in the UK. The CM1 was planned to initially launch in France and Germany only, but due to high interest a number of cameras will be available in the UK from 1st December.
The CM1 has gained such interest due its credentials of a high-end compact – including the very same 1-inch sensor that's used in Panasonic's DMC-FZ1000 flagship bridge camera – and smart connective features on board an Android operating system. Meeting the needs of the cloud-computing era, the CM1 features high speed 4G LTE communications and Swipe and Share function which make it possible to upload image data to social media sites with a single flick. The CM1 is also capable of recording 4K video and raw images. Featuring a LEICA DC Lens, this 20 megapixel camera/smartphone hybrid product pushes the boundaries of expectations and will appeal to those with a passion for photography and who will appreciate the quality and creative control this camera offers.
The CM1s will be available online through Panasonic Direct as well as opportunities to buy through selected retailers. Ensuring a good geographical coverage, the CM1 will be available at the following retailers from 1st December.
Jessops, Oxford St, London.
Dixons, Harrods, London
Wilkinson Cameras, Liverpool
Park Cameras, Burgess Hill,
Panasonic Store, Plymouth
John Lewis, Edinburgh*
Dixons Travel, Heathrow Airport, Terminal 5
As part of the initial launch in the UK, consumers will need to fill in a short questionnaire prior to purchasing the camera. The premium compact camera (opens in new tab) will be sold on a first come, first served basis.
*Subject to confirmation
Harish Jonnalagadda is a Senior Editor overseeing Asia at Android Central. He leads the site's coverage of Chinese phone brands, contributing to reviews, features, and buying guides. He also writes about storage servers, audio products, and the semiconductor industry. Contact him on Twitter at @chunkynerd.
Power users will be catatonically foaming at the mouth if this doesn't get upgraded to Lollipop for the new camera APIs. Is there any word from Panasonic about updates?

The only one that counts is raw support, which it has already. Posted via the Android Central App

Actually they all matter very much. Aperture, shutter speed etc.. Raw is an added bonus. Which is already available on this phone. Raw was only a big deal for Androids because alot of the post processing sucks by the original API.

This has a custom camera app already that controls all that... And I doubt third party apps would deal very well with such a custom and unusual camera build. Would still be nice too see L for it tho.

My concern with this would be dust ingress into the lens. What I like about my Lumia 1020 despite it getting on a bit is that its still a sealed unit. Wouldn't this need a case if kept in the pocket or are they aiming this more as a Camera with smartphone side benefits? Note, not trying to start a WP/Android comparison (typing this on my SHIELD tablet) but just interested in the practicality. Posted via the Android Central App

Dust will undoubtedly get in there if used as a daily driver, it's also pretty brick-ish as a phone given today's standards (more like an OG EVO)... I'm not really sure where Panasonic was going with this tbh. I'm sure it fills a niche for some tho, if I was on a GSM carrier and this wasn't more expensive than the current 1" sensor P&S (RX100 mk3 / G7 X) or even Panasonic's own LX100 (with an even larger m4/3 sensor) I'd probably spring for it as an alternative to my larger camera. Lots of if's in there tho... It's not a good daily driver and for occasional use you're better off with a traditional P&S in your other pocket. I'm a big Panasonic fan (three cameras and about five lenses from then in this household), and I do hope they iterate on this. What's particularly curious is that Panasonic doesn't have a pocket camera with a 1" sensor, so this probably uses the same sensor as the Sony RX line and Canon G7 X. Pretty sure Pany's FZ1000 superzoom uses the same sensor too. Hopefully they actually produce one soon tho...

Looks tasty... Posted via Android Central App

Only wished it had the 805 Snapdragon to handle all that 4k recording better. Even though I think the 1020 is the best camera phone design this is much better than what Samsung offers. Posted via the Android Central App

It says in the article full-HD but I think it's a 720p HD.
Very nice, but expensive. Posted via Android Central App

...Sorry, my mistake. Full HD. Extremely nice. Posted via Android Central App

That battery is way to small. Posted via a beautiful Ebony backed Moto X on Verizon or the amazing Nexus 10 using the Android Central App

I would love this Posted via my Xperia Z2

About 1000MaH's more and an 805 would make this thing real really sweet. It'll probably do just fine with the 801 processor,but that battery is WAY to small for that price. I'm sure a bigger battery would make the thing unwieldy to handle, but a camera like that will devour battery life. Posted via Android Central App

It's already a bit of a brick, far thicker than most phones, and the display will still gobble up far more odd the battery than the camera (except maybe if you're doing 4K recording, which can be pretty CPU intensive)... Gotta use the display to take photos tho so the net result is the same.

Isn't it led flash rather than xenon which seems to be a sticking point for your photographers n5

Interesting, no doubt. However, I don't see this as being pocketable for communications use without damaging that lens, unless you carry a purse/manpurse... Seems to be more like a toy, with a focus on being a camera first, so don't expect much updating.

The lens retracts... I doubt it's any more fragile than any P&S, and I've carried many of those in pockets for over a decade (and a decent one still blows any phone out of the water). Dust could be an issue over time tho, as someone else mentioned, and it IS a brick of a phone if you look up the specs... So I'd have to agree it focuses on being a camera first and would probably be unwieldy as a daily driver. Sony should've made a QX camera module with a 1" sensor and a slim retracing prime lens like this one... If they properly educated people on why a 1" sensor stomps most any phone it would've sold well.

It looks lovely, but is it really a practical device? This will not be popular, but I think your better off buying a good camera instead.

I'd have to agree, you can get a similarly pocketable RX100 mk3 or Canon G7 X for slightly less money... Both have a 1" sensor too, it's another device but you gain a zoom lens with fast aperture, better controls, battery life, etc. Shoot you can get an RX100 mk1 for like half the price, no Wi-Fi on that one tho which is real nice for remote control and sharing. Compact cameras with 1" sensors are closer to a DSLR in IQ than they are to a phone or a typical <$300 P&S, you pay for it tho.

Wow, that's brutal. Posted via Android Central App

If you put it in perspective the new Canon Gx7 with a 1" sensor is about £550 and a Moto G is about £150 for a total of £700. I guess the dedicated Canon camera is better, but the phone-part is in turn better then the Moto G. So the pricing of this beast is quite reasonable.

It's hard to judge pricing like that, this is also FAR less functional than the G7 X... The latter has a 24-105mm zoom range with a very large aperture, this has no zoom whatsoever. I think the 1" compact cameras are rather overpriced anyway, they're your best bet if you want near DSLR quality in a pocket but the fact that Canon and Panasonic are just now entering that market means Sony has been milking it (and raising prices) for three years. If you bought an RX100 mk1 three years ago you could probably still get half of what you paid for it, as it STILL sells for $500 new, which is kind of insane. Hopefully stuff like the LX100 & G7 X will heighten competition and eventually bring prices down (if only for older models at least). Note that I don't have a problem spending big on my photography gear, my main camera is a relatively cheap $450 Panasonic M4/3 body but I've spent about two grand in lenses for it. Spent about $400 on my last P&S too (LF1), and if I didn't have the M4/3 I probably would've spent $700+ for the latest RX100. I guess I'm somewhat more cheap with my phones, still rocking a Nexus 5...
Android Central Newsletter
Get the best of Android Central in in your inbox, every day!
Thank you for signing up to Android Central. You will receive a verification email shortly.
There was a problem. Please refresh the page and try again.